Portugal vs. Holland: Cristiano Ronaldo Must Destroy Netherlands' Comeback Plans
June 16, 2012

Laurence Griffiths/Getty Images
With the Netherlands falling to the bottom of the group of death (Group B) already in the 2012 European Championships, their hopes of mounting an epic comeback will be muted by Cristiano Ronaldo and the Portuguese.
Ronaldo hasn't made the impact his teammates had hoped, but there is no time better than now for the international star to rise to the occasion and destroy Holland's chance of advancing.
As good as the Netherlands were slated to be coming into the group round of the tournament, they have not lived up to the billing and will likely be one of the worst performing teams of the 2012 Euros.
While some fans may be panicking, Portuguese goalkeeper Rui Patricio told Goal.com about Ronaldo's play thus far in the tournament and what his team will have to do to get over the Netherlands Sunday:
Cristiano always plays well. Things not always go the best way, also when it comes to finishing, but only those who play miss chances.

Still, Cristiano had an excellent game, he tried hard and I believe that he will score on Sunday already.

We will have to approach this game the same way we did against Germany and Denmark. We will have to give our all, we will need to be aggressive and do everything that we have done so far.

We will have to believe until the end that we can beat Netherlands. They are a very strong team, with excellent players and great attackers.

Our main goal has always been to reach the quarter-finals. We know we have a very hard game ahead, but we will do everything to progress.
The squad has remained as strong as it has because of its dedication to its star players, Cristiano Ronaldo most notably.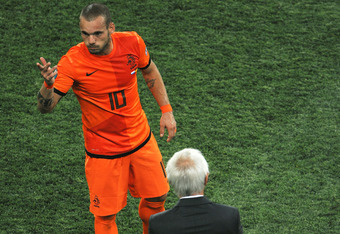 Christopher Lee/Getty Images
Portugal is a unit predicated on pushing the offensive tempo, and everyone commits to getting the play up the pitch to the right players as fast as possible. If the Portuguese wants to beat Holland on Sunday, they must get the ball to Ronaldo early and often, because good things tend to happen when the star is around the action.
With all of this support, Cristiano must step up his game to an elite level.
For as great as the career of Portugal's prodigal son has been, his lack of production on the international stage will eventually damper his legacy.
What better time to make a huge impact than against a down-and-out Netherlands side.
Check back for more on World Football as it comes, and don't miss Bleacher Report's Soccer page to get your fill of all things soccer.