US Open Golf 2012: What Top Stars Must Do to Stay Alive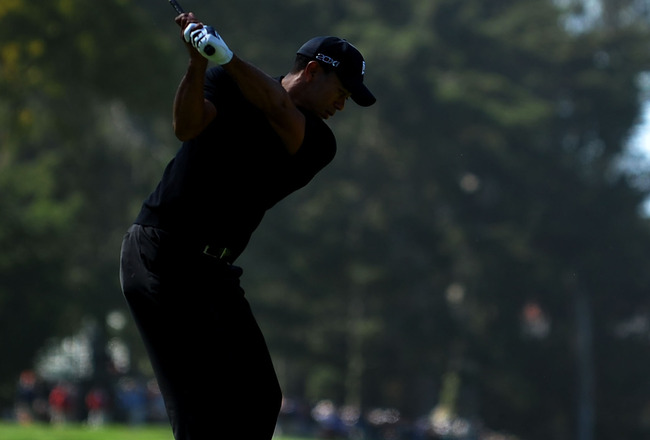 Tiger takes aim at a fourth Open.
Stuart Franklin/Getty Images
The leading score going into the final 36 holes of the United States Open will be just one-under-par.
With three proven winners sharing the lead going into the weekend, the chances of the winning score being much below that, say two- or three-over, is pretty limited. The smarter choice for a target would be in the one- to three-under-par come Sunday night.
The course did play almost a shot easier on Friday than it did Thursday, but we still are talking an average of three-over-par for the round as a whole.
The likelihood of someone other than Tiger Woods, Jim Furyk or David Toms winning the Open is pretty slim.
For those surviving the cut and playing this weekend, the best way to give yourself the best chance to win is to shoot even par.
Any golfer who goes out and shoots a pair of 70s this weekend will move up the leaderboard by enough spaces to either win or collect a big paycheck with a top-20 finish.
We know today that the USGA will push the tee on 16 all the way back to have the hole play the full 670 yards.
That leaves really only two good birdie chances on the course, the short par-four seventh and the other par-five on the course, No. 17.
Here is a closer look at seven crowd favorites and leaders as they try to win the Open.
Phil Mickelson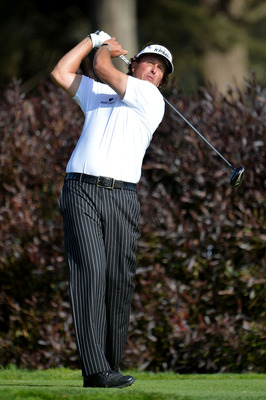 Stuart Franklin/Getty Images
At eight shots back, he virtually has no chance.
While his second round was a marked improvement over his first, he still is not hitting enough fairways to give himself any real say.
No one is going to shoot a 64 or 63 here this week. The course has browned and firmed up since the marine layer burned off at lunch on Thursday.
If Phil does shoot even on the weekend or a shot or two under par, then he moves into a top-20 finish.
His first round knocked him out. There are no real chances to steal strokes on this course.
Watch to see if Phil starts to press down the stretch. He could take a good finish and implode trying to make a great finish instead.
Jason Dufner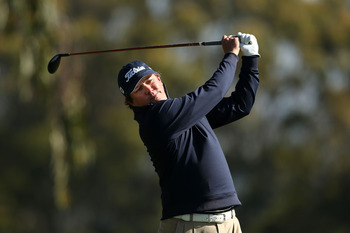 Ezra Shaw/Getty Images
Hanging in just four back at three over par, Jason Dufner still has a chance to win.
He has contended each of the last three major championships on Sunday and is poised to do it again this week.
Dufner knows that Tiger Woods will set the pace this weekend. What Dufner has to do is ignore the leaderboard today and come home with a 69 or 70. If Tiger struggles over par, Dufner's no-nonsense game is well suited to contend.
Greens will speed up as they dry out. He will need to adjust to win.
Dufner is not a player that will beat himself. He has been on such an incredible run this season that if there is a 66 in the cards today, it is more than likely his.
Matt Kuchar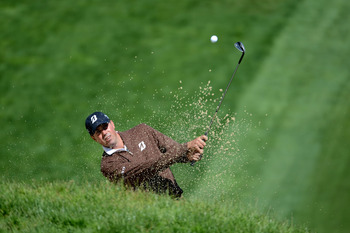 Harry How/Getty Images
For a guy that just smiles all the time, there were times this week that he showed some raw emotion on the course.
If Kucher felt he left shots and putts on the course, he now has to forget that and grind through his third round.
His tie for 14th the last time the Open was held here will work to his benefit along with the 16th hole being a full three-shot par-five for the whole field.
If he is still just three-over by the time he reaches the seventh tee today, then he can take advantage of that short par-four and see how well a 68 or 69 moves him up the leaderboard for Sunday.
Of all the players who are not in the lead, Kuchar still has the best chance to take his first major. A pair of 69s would boost his chances greatly.
Graeme McDowell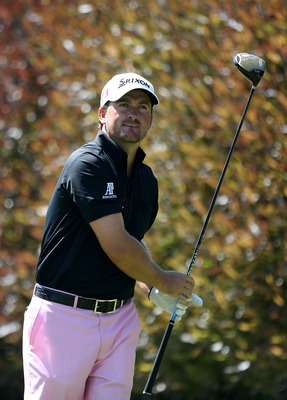 Andrew Redington/Getty Images
At just two over, the 2010 champion seems to be doing more than just hanging in there.
Along with probably the entire playing field, McDowell looked annoyed with himself when he felt he gave a shot away to the course.
A little bit of anger should work to his advantage as long as he learns from his mistakes and does not make any bigger ones.
If somehow he could shoot a 69 today, he really should be no worse than three shots behind going into Sunday. The course fits his game and he has a chance even if he shoots a 72 or 73 today.
His game and approach this week have been on target. If he carries it forward, he will have a great British Open Championship as well.
David Toms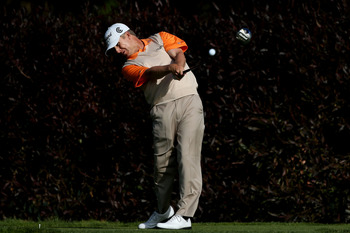 Andrew Redington/Getty Images
Toms avoided the obvious fatigue on Friday that starts to settle into older players that contend for majors.
At some point, they start to realize that they are either in contention or leading and just change the way they think shots through and slip up.
Toms just played a steady round on Friday and looked fairly loose as he went around.
Not playing with Tiger should also helped. While he should get a rather good size gallery being in the next-to-last pairing and co-leading, not having to deal with the Tiger gallery circus will make it easier just to focus on the game at hand—which is nerve-wracking enough.
Toms just has to keep thinking fairways and greens, and that 36 holes at par wins him the Open.
Jim Furyk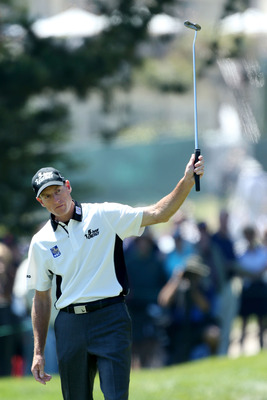 Andrew Redington/Getty Images
This course just plays right into Jim Furyk's game.
This is a shot-maker's course. It is not too long and requires the player to place their tee shots into a position to make a good par.
As a previous Open winner, Furyk has the game to do just that.
Furyk is also pretty unflappable on the course and is familiar with the galleries that will follow him and Tiger throughout the day.
He will play his own game all weekend. If he were to shoot matching 69s, then he could win easily.
It is probable that he and Woods will be paired the entire weekend. Barring a Tiger runaway, Furyk will have an advantage, knowing exactly what he needs to do to win.
Tiger Woods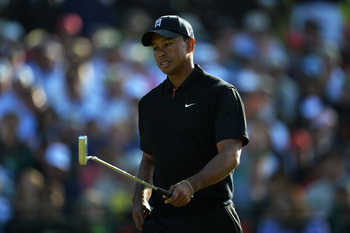 Stuart Franklin/Getty Images
Friday was more of a grinding day, as shots and putts were not landing or falling where Tiger commanded them to. He still shot an even-par 70.
In many ways, Woods is both the turtle and the hare this weekend.
He can end this thing today by going out and shooting a 67. Nos. 7 and 17 are birdie holes if he plays well off the tee and if he takes a full wedge into 16, that could be birdied as well.
He is also patient enough that if Furyk or Toms get hot early, then he knows better than to force his game, especially today.
He did not putt lights out Friday, but he is not leaving long par-saving putts when he hits a green.
His play off the tee is vintage Tiger. If he continues to create his rounds like he has so far, he will be a four-time Open champion come Sunday night.
Keep Reading