Manchester United Are Wasting Their Time on Luka Modric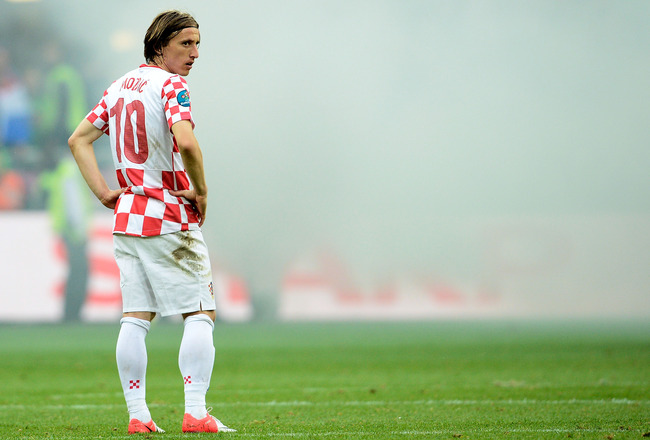 Claudio Villa/Getty Images
If you didn't know any better, you would think that Luka Modric is Paul Scholes with a Croatian passport.
Many have frothed at the mouth about the prospect of Manchester United signing the Tottenham midfielder, wondering how he well he will take the mantle from Scholes and how the two could dovetail as duo.
Of course, a large part of this speculation is based on the idea that Modric is the player that United need to fit into their midfield.
But with the signing of Shinji Kagawa, where is it exactly that Modric will make his mark?
Modric can pick a pass…just don't ask for him to do much more than that and defend.
There are several criticisms of Modric the player, not the least of which is his lack of scoring.
For the reasons that are about to follow, Manchester United would be far better off looking for a different player to fill in their Paul Scholes-sized midfield role.
Modric Doesn't Score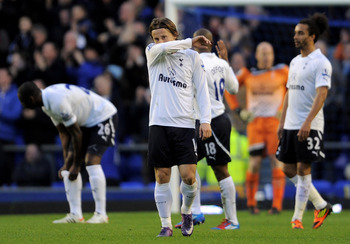 Michael Regan/Getty Images
As mentioned on the first slide, Luka Modric is not a goal scorer.
In his four years at Tottenham, the midfielder has popped in 13 goals in Premier League play over the course of 123 matches, just under a goal every ten matches.
In contrast, Paul Scholes has ten goals in 68 matches. That's roughly one goal every seven games.
Considering we're talking about a player that is eleven years older that Modric, that's not a great ratio to be on the wrong side of.
Looking back to when Scholes was roughly the same age, he had a tally of 29 goals in 129 matches, or roughly one every four to five matches.
If Modric can't even keep Scholes' current rate in a Tottenham squad where he is the fulcrum of the attack, what would he add to United's offense that Scholes isn't now?
Modric Doesn't Set the Table Much, Either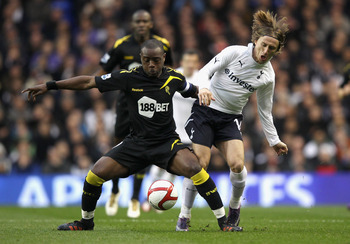 Clive Rose/Getty Images
In the same vein, Scholes and Modric have roughly competing assist numbers.
Modric has fifteen assists in Premier League action, while Scholes has eight. The ratio again is still in Scholes' favor, considering he's practically been a part-time player.
Of course, I can hear that cat calls that say, "But the assists aren't truly what makes each man great!"
That's only part of the story, you know.
Scholes is still one of the premier passers of the ball in the world. More importantly, his passing percentages are absolutely staggering.
Modric is certainly no slouch, but between the ability to hold the ball and put people in position to make other score, Scholes still has no equal, no matter what the price might be.
The Disappearing Act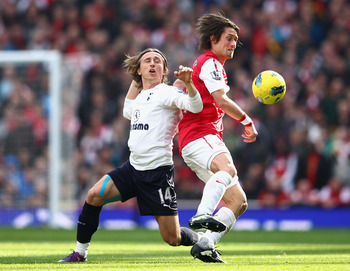 Clive Mason/Getty Images
What perhaps is the most annoying aspect of Modric's play is that the midfielder can oftentimes drift out of the match.
He moves around quite a bit, but, unlike a Mesut Ozil, doesn't drag players around the field with him or even draw extra attention.
While many have said they need to curtail his influence, often times Modric is the man who curtails himself by being in the wrong spot repeatedly.
For example, there were times during the Italy match in the first half where Modric was often trying to receive passes, only he was often running to positions where it made it difficult for the rest of the squad to actually get him the ball.
Now, can the man pick his spots well? Of course he can. But, considering how many opportunities Modric has to hit the defense splitting pass or the outlet ball that leads to the goal, there are far more times when the Croatian misses the mark.
Scholes has a knack for putting players exactly where they need to be to make the final, killer move. Modric isn't terrible, but there are others who can do that at a better rate.
Where Does He Fit In?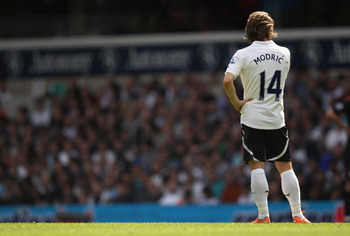 Clive Rose/Getty Images
With the signing of Shinji Kagawa, perhaps Modric might feel at home playing behind someone who will play similar to Rafael van der Vaart.
The only problem is, everywhere you might put him, someone is already doing what he does better.
Kagawa plays in the hole better than Modric does. Michael Carrick can play the deep role, send passes to the flanks and protect the back four better (also another spot United is trying to upgrade). Scholes still passes better than Modric does.
In short, where is he improving the squad at other than the bench?
There are better options as utility players than Modric, who would be expected to start right away in the United midfield.
If that's the case, he has to be better than what he's shown at Tottenham and, as much as I love watching him there, I'm not sure he drastically improves any midfield position at Manchester as much as people would hope.
There Are Better Options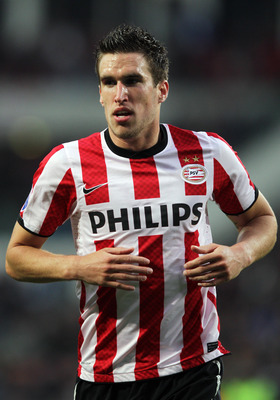 Dean Mouhtaropoulos/Getty Images
Luka Modric is a wonderful player. He's just not the player that Manchester United need to upgrade the midfield in the way they need.
Plus, they could afford to replace both midfield slots (if they wanted to) with a defensive/passing midfield combo for the amount of money it would probably take for Tottenham to finally relent and sell the Croatian.
As has already been mentioned on this site, Kevin Strootman and Christian Eriksen (even if he says he is staying at Ajax) are two players who have been tabbed by Sir Alex Ferguson as potential transfer targets, with both somewhere around the £14 million range.
Claudio Marchisio and Cheick Tiote are two more defensive players that have been kicked around as well, and though their price tags are higher, they have more definitive positions they could take within the United midfield.
As much as the "big name" factor might be in play with Modric, there just isn't any reason that United should be spending the kind of cash on a player that isn't the improvement that most hope (or feel) he might be.
Keep Reading

Manchester United: Like this team?