US Open Golf Scores 2012: Luke Donald's Cutoff Makes Us Question His Validity
June 16, 2012

Andrew Redington/Getty Images
Luke Donald should be ashamed to call himself the No. 1-ranked player in the world after an abysmal second-round cut.
Donald, who was born in England and has yet to win a major championship, came into this event with hopes of silencing his doubters and critics. He has never finished above the eighth spot in a major tournament, and this was his freshest shot at winning such a title.
"I want to win a (major) more than any of you guys know," Donald told ESPN. "And, obviously, I'll continue to try and do that."
Unfortunately, trying was not enough for Donald. Along with McIlroy, Donald was eliminated after only two days of play. This was only the second time since 1995 that the top two players in the world were eliminated before the cut in the same major tournament. The most recent time was last year, when it was Donald who had missed the cut once again.
For many fans, it has become both frustrating and confusing to be a follower of Luke Donald. As a fan, you would expect that the No. 1-ranked player in the world be able to finish out a tournament. In the case of this year's U.S. Open, he was unable to even make it into Round 3.
He finished 11-over par, and was not even close to playing at the level of the No. 1-ranked player in the world. He struggled most with his game within 10 feet this weekend and confessed a struggle of getting a feel for the greens all day.
In five major appearances, he has already missed the cut twice.
As the ESPN UK staff explains:
Maybe Donald's lofty position in the world rankings - earned, deservedly, for a remarkable run of results in regular tour events - has only served to shine a spotlight on a performance record in majors that has always been distinctly underwhelming.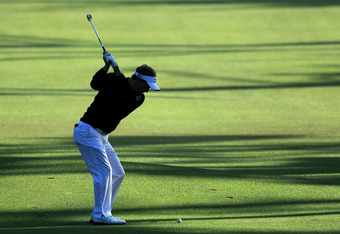 David Cannon/Getty Images
Or maybe he simply isn't as clutch as we'd like him to be. The days of putting blame on an external factor or finding a reason for Donald's failures need to be put behind us. Motivation is what Donald needs to break on through to the other side.
Until then, fans will remember his missed fairways, his consistent plagues of recording bogey after bogey and a dejected attitude with play that demands room for improvement.
"I'll continue," he quietly told the New York Times, "to try to do better."
"That's the one part of my golfing résumé, in the last few years especially, that I need to continually address and continually improve," he added.
And improve he must. If he hopes to remain the No. 1-ranked player in the world and inherit all of the positive aspects of the reputation that comes with it, he will need to finally say that he's won a master's championship. The longer that he takes to do so, the more fans will become skeptical and begin to abandon ship on the star athlete.