L.A. Lakers: 7 Realistic Players to Provide Much-Needed Depth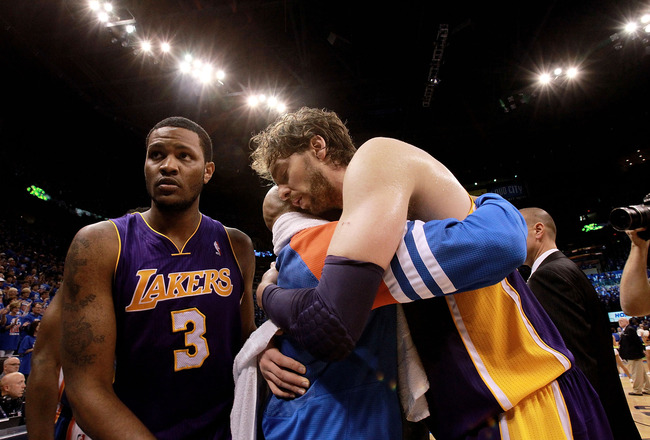 Ronald Martinez/Getty Images
The Los Angeles Lakers, contrary to the norm, no longer seem like a powerhouse team in the Western Conference. Changes to the roster moving forward seem imminent, a sentiment that Lakers general manager Mitch Kupchak has already stated.
The Lakers made two key trades during the season in hopes of bettering their team for the playoffs. With the two deals, Los Angeles gave up two first-round picks, Derek Fisher, Jason Kapono and Luke Walton for Ramon Sessions, Jordan Hill and Christian Eyenga.
Unfortunately for the Lakers, those "upgrades" didn't help the team nearly as much as they hoped, as they were dismantled in the second round of the playoffs at the hands of the Oklahoma City Thunder. That's not to mention the fact that they struggled to win a seven-game series against the Denver Nuggets in Round 1.
Sessions, although he had a decent regular season, dropped off the planet in the playoffs.
With the Lakers during the regular season, Sessions shot 47.9 percent from the field and 48.6 percent from three-point range; in the postseason, Sessions shot 37.7 percent from the field and 16 percent from beyond the arc. Perhaps the only starter who had a worse postseason was Josh Howard of the Utah Jazz.
With that said, the Lakers need to bring in players to add depth to the roster. However, the Lakers are well over the cap.
According to Sham Sports, the Lakers currently sit at more than $30 million over the projected salary cap.
Although Lakers fans want Deron Williams to save the ailing franchise as its point guard of the future, or at least bring Lamar Odom back, neither of those moves are at all viable. According to Mike Bresnahan and Mark Medina of the Los Angeles Times, Odom can't be re-acquired by the Lakers until December.
At this juncture, the Lakers' only hope to add free-agent pieces is the "mini" mid-level exception, which would pay a player approximately $3 million.
So now that we're all on the same page regarding the Lakers' financial woes, here are seven realistic targets for Los Angeles to look at for next season.
7. Andres Nocioni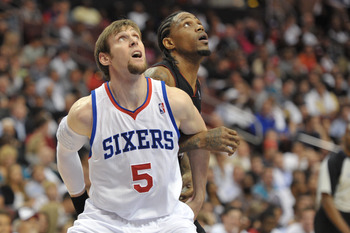 Drew Hallowell/Getty Images
Andres Nocioni has struggled to stay relevant in the NBA in recent years.
This past season, he was released by a deep Philadelphia 76ers team, as he did not fit into their future plans and was not a significant part of the team's rotation.
Nevertheless, Nocioni is a player who could be signed for cheap money due to his recent struggles.
For his career, Nocioni has averaged 10.5 points and 4.5 rebounds per game. While a member of the Chicago Bulls, Nocioni averaged 14.1 points and 13.2 points per game, so he's shown that he can provide an offensive spark off the bench.
It's unclear how much he has left in the tank at this point in his career (he's now 32 years old), but unless he has plans to continue his basketball career in Europe, a team like the Lakers could give him a shot.
6. Marquis Daniels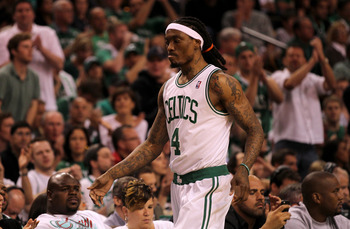 Jim Rogash/Getty Images
Marquis Daniels has been a solid role player in the NBA for a long time on both offense and defense. He's a heady player with a high basketball IQ, although his efforts don't always show up in the stat sheet.
Would Daniels leave the Boston Celtics for their heated rival in the Lakers? It's a possibility, but I wouldn't rule it all that likely.
Considering the fact that Metta World Peace is a pretty inept offensive player, the Lakers may look to target someone more offensively inclined.
5. Jared Jeffries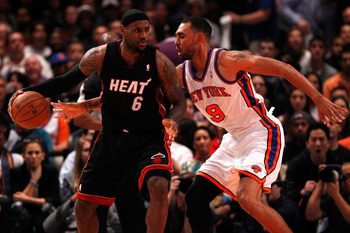 Jeff Zelevansky/Getty Images
Jared Jeffries is a similar player to Marquis Daniels when you consider his hustle off the bench.
Jeffries is a totally hopeless offensive player, but his defensive skills are up there with the best defenders in the NBA. He'd be a solid fit with the Lakers as a guy who could match up defensively with a wide variety of opponents, but again, the Lakers need someone who can come off the bench and provide an offensive spark.
Additionally, Jeffries will likely stick around with the Knicks for another season. Although New York needs to add more interior size to help Tyson Chandler, Jeffries is the only defensive-minded player on their team other than Chandler, so the chances he stays are probably higher than 50 percent.
4. Boris Diaw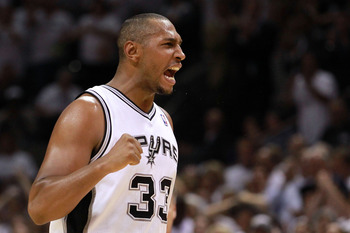 Ronald Martinez/Getty Images
The days of Boris Diaw getting paid approximately $9 million each year are over, unless of course some bone-headed team feels he's worth that much as a 30-year-old.
Diaw is no longer the player he was on the Phoenix Suns teams of old, but he's still a dynamic big man who can pass the ball better than most at his size.
With Kobe Bryant and Andrew Bynum on the roster, bringing in an unselfish player would not be a bad thing for the Lakers moving forward.
3. Terrence Williams
Jim McIsaac/Getty Images
Terrence Williams, who was drafted 11th overall in the 2009 draft by the New Jersey Nets, has had a disappointing career thus far.
For his career to this point, Williams has averaged 7.6 points, 3.9 rebounds and 2.5 assists per game.
He's an extremely athletic small forward when healthy who plays high above the rim. He hasn't reached his full NBA potential because he's bounced around to three different teams in three years and had some injury troubles.
However, Williams is still just 24 years old. If the Lakers could slip under the radar and offer him a spot to play alongside Kobe Bryant and company, they could add a conceivably great bench scorer.
2. Jordan Hill
Jeff Gross/Getty Images
The Los Angeles Lakers added Jordan Hill to the roster in exchange for Derek Fisher and a first-round draft pick. After giving up that much simply to watch Hill leave in free agency after playing just 19 games in a Lakers uniform, fans likely won't be too happy.
Hill had a rough transition to the NBA when he was drafted by the New York Knicks and Mike D'Antoni's run-and-gun offense. Although the former University of Arizona Wildcat is extremely athletic for his size, he had a difficult time cracking D'Antoni's rotation.
Hill appeared comfortable coming off the bench for the Lakers last season and he certainly provides much needed frontcourt depth.
Will the Lakers be able to keep him around at the "mini" mid-level exception next year? I'd say that's entirely up to Hill.
1. Matt Barnes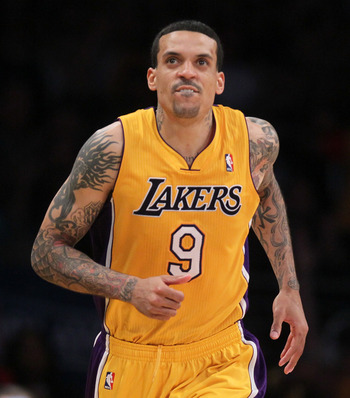 Jeff Gross/Getty Images
Matt Barnes was born in Santa Clara, Calif. and went to college at UCLA, so he clearly has ties to the Los Angeles area and would probably love to stay in town for another year.
He's had trouble gaining consistency in Los Angeles in limited play time since he's buried on the depth chart behind Metta World Peace (a move that only makes sense on the basis that World Peace is earning more than $6 million per season).
However, Barnes shot a respectable 45.2 percent from the field a season ago and grabbed 5.4 rebounds per game, which is impressive given his limited minutes.
Barnes is a hustle player who can hold his own on both sides of the court. I think it makes a lot of sense for Los Angeles to bring him back moving forward as long as Barnes wants to stay.
Keep Reading

Los Angeles Lakers: Like this team?