US Open Golf 2012: Why Experience of Tiger Woods Ensures Dominant Round 3
June 16, 2012

Stuart Franklin/Getty Images
With Tiger Woods tied for the lead following the cut and heading into Round 3 of play, he is the heavy favorite to win the U.S. Open in 2012.
While he shares the lead with David Toms and Jim Furyk, it's Woods who should come away with his 15th major championship. The fundamental reason is simple: No one else has been in this position as many times as Woods has.
Through the first two rounds, Bubba Watson, Rory McIlroy, Luke Donald and Vijay Singh have been cut, while more experienced names like Phil Mickelson and Angel Cabrera are so far out of contention that they stand little chance in the future.
Moving into Day 3, it has become rather clear that Tiger Woods enters as the odds-on front man. Considering his familiarity with the field and the poise that he offers as someone who has "been there before", it's become clear that it will be incredibly difficult for anyone out there to give Woods a sincere run for his money.
Of course, every year there is a surprise and a twist. No one knows what to expect from the Masters and the U.S. Open.
That is, no one knows what to expect from the U.S. Open if they've never been there before. At this point in his career, Woods is so far beyond familiar with the pressure of what is at stake that it's almost unfair. His life experience, both as a golfer and as an individual, is unmatched by any golfer in the tournament, and it isn't even close. Each time that he steps foot onto the greens, he holds a superiority that others can only dream of obtaining.
Take Beau Hossler, for instance.
Hossler may been a fun story and fans across the country, especially in the region of Southern California, are pulling for his success. But at 17-years old, there's only so much that you can expect. He is, after all, in high school and had his prom only one month ago.
This is his second appearance in any major tournament. Woods, on the other hand, turned professional in 1996 when he was only 21-years old. He has grown up around the sport and boasts dozens of professional victories.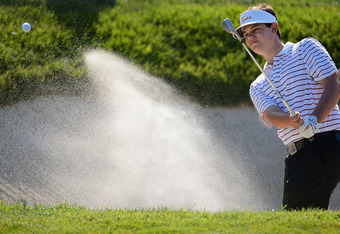 Harry How/Getty Images
The experience factor isn't even close, especially when it comes to understanding the complexities and nuances of the U.S. Open. It's a tournament that he has won outright four times to date. Remember, we're talking about an individual who's used to winning many titles in a year (in six different years, he's won six or more professional tournaments).
If Woods were to falter, I would speculate that it would have happened earlier in the tournament. Perhaps he wasn't feeling the course, or perhaps he was dealing with physical issues that may have slowed him down. Instead, Woods came away from the first half of the tournament on top.
And for the first time since 1994, the defending Masters champion (Bubba Watson) and the defending U.S. Open champion (Rory McIlroy) both missed the cut. Woods is dealing with very little competition with much experience at all.
Having already shown his resilience after recovering from consecutive bogies, Woods has maintained control of his swing. As we enter Round 3, expect Tiger Woods to maintain that exact same dominance that we have now come to be ever so familiar with when hearing his name in the days of old.