I recently did a fantasy football mock draft with some fake football writers and I thought I'd share the results. Isn't it too early to do mock drafts? No, and don't judge me! Early mock drafts help you get a sense of the best strategies to employ. News about individual players might move them up and down your draft boards, but overall the pool of talent stays relatively the same.
The more mocks you do, the easier it is to figure out, on the fly, the best course to take. You can go into a draft with a general strategy, but the draft will quickly head in a direction you aren't ready for. And if you start mocking now, you get a feel of who is being under and over valued. This will allow you to see the trends more clearly as we get closer to the real fake drafts.
This is my fourth mock of the season, so I'm starting to get a feel of some of the trends. I really don't like how this draft went for me, but that's actually better than if it seemed "perfect," because I get to learn from it.
If you will indulge me, I'll take you through the first 10 rounds in this non-points-per-reception league with one quarterback, two running backs, three wide receivers, one tight end, one flex (WR/RB), one defense/special teams and one kicker.
Round 1
Pick Ovr Owner Selection
1.01 1 @MikeBaumSays Foster, Arian HOU RB
1.02 2 @Dexters_Library Rice, Ray BAL RB
1.03 3 @Fantasytaz McCoy, LeSean PHI RB
1.04 4 @Gregsauce Mathews, Ryan SDC RB
1.05 5 @naparker77 Rodgers, Aaron GBP QB
1.06 6 @BraudeM Johnson, Calvin DET WR
1.07 7 @Eric_Yeomans Johnson, Chris TEN RB
1.08 8 @AndrewMiley Graham, Jimmy NOS TE
1.09 9 @Chet_G McFadden, Darren OAK RB
1.10 10 @Sports_25toLife Jones-Drew, Maurice JAC RB
1.11 11 @BBonneville Charles, Jamaal KCC RB
1.12 12 @OrangeBru Brees, Drew NOS QB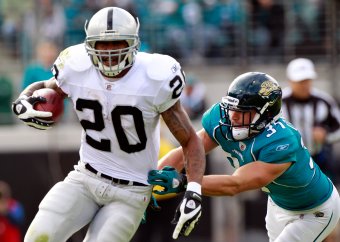 Sam Greenwood/Getty Images
The first round started off as almost all first rounds are going to start off this season, with Arian Foster, Ray Rice and LeSean McCoy going 1-2-3. Rice and McCoy may flip-flop, but Foster is the consensus number one and Rice and McCoy right after. Of course all of these picks can be argued, but those three are the safest players at a position that falls off drastically as the draft goes on.
After the top three it becomes a free-for-all. I have my preferences of course, but there are many paths to take. You can go extremely safe with a quarterback like Aaron Rodgers; fairly safe with a wide receiver like Calvin Johnson; risky with a running back, with a ton of upside, like Ryan Mathews; or very safe, but maybe early, with a tight end like Jimmy Graham. All these things happened as you can see.
I went risky running back with Darren McFadden in the nine hole. It's easy to say that McFadden is too much of an injury risk here, but as running backs come off the board, your chances of getting two that could be top-ten backs become slim. McFadden's foot injury has healed and unlike Adrian Peterson and Jamaal Charles, he didn't have structural damage to his knee, which worries me more. He has the upside to be a top three back easily.
My only qualm with this round may be Jimmy Graham, but only because this isn't a PPR league. In PPR I believe he can easily be a first round pick. He's safer than Rob Gronkowski this season and has much the same value of a top quarterback like Drew Brees or Aaron Rodgers at his position.
Running backs take the lead with eight going in the first round, then quarterbacks with two, and then wide receivers and tight ends with one each. This is about the breakdown you can expect.
Round 2
Pick Ovr Owner Selection
2.01 13 @OrangeBru Fitzgerald, Larry ARI WR
2.02 14 @BBonneville Brady, Tom NEP QB
2.03 15 @Sports_25toLife Newton, Cam CAR QB
2.04 16 @Chet_G Jennings, Greg GBP WR
2.05 17 @AndrewMiley Green, A.J. CIN WR
2.06 18 @Eric_Yeomans Richardson, Trent CLE RB
2.07 19 @BraudeM Peterson, Adrian MIN RB
2.08 20 @naparker77 Lynch, Marshawn SEA RB
2.09 21 @Gregsauce Forte, Matt CHI RB
2.10 22 @Fantasytaz Gronkowski, Rob NEP TE
2.11 23 @Dexters_Library Stafford, Matthew DET QB
2.12 24 @MikeBaumSays Johnson, Andre HOU WR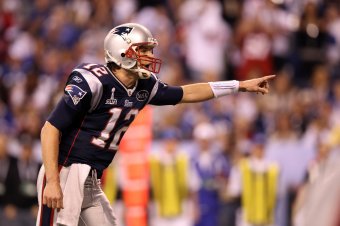 Ezra Shaw/Getty Images
The second round was more diverse as far as positions coming off the board. Four wide receivers, four running backs, three quarterbacks, and one tight end make up this round.
The huge quarterback year from last season is rearing its ugly head now. Six quarterbacks gone by the second round goes against the last five years of average draft position for quarterbacks where there was an average of three quarterbacks taken in the first two rounds. Going with a quarterback seems counter-intuitive to me.
Quarterbacks are throwing more because the rules are making it easier on them, so their stats are increasing each season. Does this mean they should be taken earlier? I don't see why. The numbers have increased throughout the top 12 quarterbacks, and you only need one quarterback starting on your team. The value remains the same as it has in the past.
I chose Greg Jennings who I am really high on this season after an injury depressed his overall numbers last year, but in retrospect I would have chosen Trent Richardson with this pick. I sometimes get into the bad habit of wanting to not go back to back at one position so I don't end up weak at any single position. This is wrong thinking, especially this season when wide receiver is much deeper than any other position.
Overall I don't have too many qualms with the guys going in the second round. I prefer to wait on quarterback as you can tell, but would be happy with Matthew Stafford toward the end of the second round.
Andre Johnson is too risky for me this season, unless he were really to drop in a draft which he most likely won't.
Adrian Peterson is all hype so far. I'd like to see him get hit a couple times before I'm willing to draft him this early, but the upside is always tremendous with his ability.
Round 3
Pick Ovr Owner Selection
3.01 25 @MikeBaumSays Bryant, Dez DAL WR
3.02 26 @Dexters_Library White, Roddy ATL WR
3.03 27 @Fantasytaz Welker, Wes NEP WR
3.04 28 @Gregsauce Cruz, Victor NYG WR
3.05 29 @naparker77 Murray, DeMarco DAL RB
3.06 30 @BraudeM Vick, Michael PHI QB
3.07 31 @Eric_Yeomans Jones, Julio ATL WR
3.08 32 @AndrewMiley Marshall, Brandon CHI WR
3.09 33 @Chet_G Nicks, Hakeem NYG WR
3.10 34 @Sports_25toLife Jackson, Steven STL RB
3.11 35 @BBonneville Sproles, Darren NOS RB
3.12 36 @OrangeBru Bradshaw, Ahmad NYG RB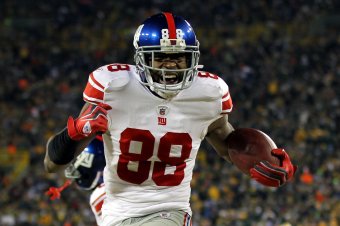 Jamie Squire/Getty Images
The third round is still flush with good wide receivers, but running backs are starting to get scary. Seven receivers, four running backs and one quarterback go off the board this round.
With this being a non-points per reception league, players like Roddy White, Wes Welker, Brandon Marshall and Darren Sproles aren't as coveted. I've seen them fall into the fourth round, but this is where they most likely will go in your drafts.
I missed out on my chance for the running backs I wanted, so I went with another receiver here. Hakeem Nicks' injury is worriesome, but as long as he's ready to go week one, like it looks, I think he puts up big numbers this season.
What I truly learned from this round is the fact that you can get solid number one wide receivers in the third round. I will most likely pass on receivers in the first and second rounds this season.
Round 4
Pick Ovr Owner Selection
4.01 37 @OrangeBru Harvin, Percy MIN WR
4.02 38 @BBonneville Nelson, Jordy GBP WR
4.03 39 @Sports_25toLife Wallace, Mike PIT WR
4.04 40 @Chet_G Turner, Michael ATL RB
4.05 41 @AndrewMiley Thomas, Demaryius DEN WR
4.06 42 @Eric_Yeomans Maclin, Jeremy PHI WR
4.07 43 @BraudeM Smith, Steve CAR WR
4.08 44 @naparker77 Austin, Miles DAL WR
4.09 45 @Gregsauce Jackson, Fred BUF RB
4.10 46 @Fantasytaz Jackson, Vincent TBB WR
4.11 47 @Dexters_Library Martin, Doug TBB RB
4.12 48 @MikeBaumSays Manning, Eli NYG QB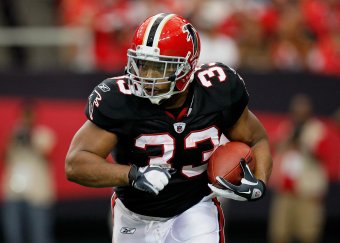 Kevin C. Cox/Getty Images
Round four is upon us and the receivers still look studly. Maybe a little more risk, but much safer than the running backs you'll be grabbing here. Eight wide receivers, three running backs and one quarterback make up this round.
As you can see, my missteps are accumulating upon each other. If I had taken Trent Richardson in the second round, then grabbed my first wide receiver in the third round, I would have been sitting pretty here. But instead I felt compelled to go with a running back. Thankfully I didn't hate my choice of Michael Turner. I do see a fall in production, but as you can read in my post about how I like him whole bunches, in non-PPR a running back who is still set up well for 10 touchdowns is hard to come by in the fourth round.
Otherwise this round is full of good value. I don't feel like any of these picks were made too early and most of them have plenty of room to perform better than their draft position.
Round 5
Pick Ovr Owner Selection
5.01 49 @MikeBaumSays Wells, Beanie ARI RB
5.02 50 @Dexters_Library Bowe, Dwayne KCC WR
5.03 51 @Fantasytaz Colston, Marques NOS WR
5.04 52 @Gregsauce Brown, Antonio PIT WR
5.05 53 @naparker77 Britt, Kenny TEN WR
5.06 54 @BraudeM Helu, Roy WAS RB
5.07 55 @Eric_Yeomans Romo, Tony DAL QB
5.08 56 @AndrewMiley Bush, Reggie MIA RB
5.09 57 @Chet_G Davis, Vernon SFO TE
5.10 58 @Sports_25toLife Jackson, DeSean PHI WR
5.11 59 @BBonneville Gore, Frank SFO RB
5.12 60 @OrangeBru Greene, Shonn NYJ RB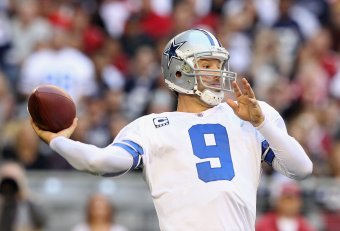 Christian Petersen/Getty Images
The storyline stays the same in round five. There are a ton of good fantasy receivers this season that I'd feel good throwing out there on a daily basis. If picks 50 through 54 go Dwayne Bowe, Marques Colston, Antonio Brown and Kenny Britt, well, don't take receivers early! Okay, I've harped on it enough, but it's true.
My pick was thwarted here. I was ready to take Tony Romo or Reggie Bush and BOTH went right before me! I try to have two picks ready to go just in case and both, BOTH, were scooped up. Them's the breaks of course, but I don't like how I responded. Vernon Davis had an amazing playoff run and if they use him well, could have a break out again this season, but I also like other tight ends later in the draft, for maybe more value.
For my money, Tony Romo has the most value of the second tier quarterbacks. He had some bad luck with receiver injuries last season, but his numbers in the second half were first tier. I'll be targeting him in the fifth round every single time.
Round 6
Pick Ovr Owner Selection
6.01 61 @OrangeBru Starks, James GBP RB
6.02 62 @BBonneville Lloyd, Brandon NEP WR
6.03 63 @Sports_25toLife Gates, Antonio SDC TE
6.04 64 @Chet_G Ryan, Matt ATL QB
6.05 65 @AndrewMiley Johnson, Steve BUF WR
6.06 66 @Eric_Yeomans Hernandez, Aaron NEP TE
6.07 67 @BraudeM Decker, Eric DEN WR
6.08 68 @naparker77 Green-Ellis, BenJarvus CIN RB
6.09 69 @Gregsauce Floyd, Malcom SDC WR
6.10 70 @Fantasytaz Spiller, C.J. BUF RB
6.11 71 @Dexters_Library Brown, Donald IND RB
6.12 72 @MikeBaumSays Griffin III, Robert WAS QB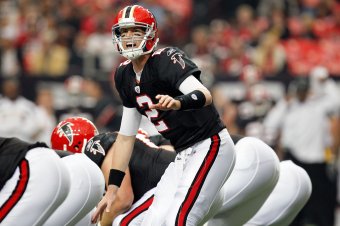 Kevin C. Cox/Getty Images
Round six looks to be the edge of the drop off. This is where you have to start grabbing running backs that you rather not grab this early and reaching for guys you consider "sleepers." There are guys here that may end up winning your league for you or falling off the face of the earth.
This is the round where you start seeing guys who you either love or hate. I love Brandon Lloyd, Malcom Floyd and C.J. Spiller, but hate BenJarvus Green-Ellis and Donald Brown. But of course, at this point in the draft it is nearly impossible to find a "starting" running back, so it is hard to fault someone for grabbing one, even if they are horrid.
My pick of Matt Ryan was on the heels of missing out on Tony Romo. Both Romo and Ryan had great finishes to the 2011 season and I can't seem to stop writing about Matt Ryan so I better put my fake money where my real mouth is.
This does seem extremely early for Robert Griffin III. I love his upside and I've been reaching for him as a backup quarterback this season, but he's way too risky as a starting quarterback.
Round 7

Pick Ovr Owner Selection
7.01 73 @MikeBaumSays Meachem, Robert SDC WR
7.02 74 @Dexters_Library Davis, Fred WAS TE
7.03 75 @Fantasytaz Rivers, Philip SDC QB
7.04 76 @Gregsauce Bush, Michael CHI RB
7.05 77 @naparker77 Boldin, Anquan BAL WR
7.06 78 @BraudeM Finley, Jermichael GBP TE
7.07 79 @Eric_Yeomans Stewart, Jonathan CAR RB
7.08 80 @AndrewMiley Ingram, Mark NOS RB
7.09 81 @Chet_G Wayne, Reggie IND WR
7.10 82 @Sports_25toLife Moore, Denarius OAK WR
7.11 83 @BBonneville Witten, Jason DAL TE
7.12 84 @OrangeBru Smith, Torrey BAL WR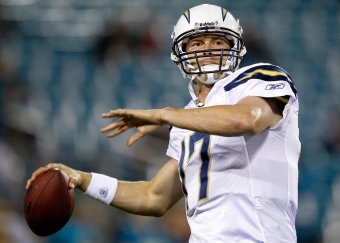 Mike Ehrmann/Getty Images
We are now firmly in the rounds where you are filling holes and grabbing guys you have fake football crushes on. We also see that top quarterbacks are still available with Philip Rivers going 75th overall. My love for Matt Ryan may have clouded my judgement a little, since I see Rivers with more upside. He has a ton of value this late.
I also really like Jermichael Finley here. If I could switch my Vernon Davis pick for Finley, I would do it in a heartbeat. Guys with a ton of talent who have poor seasons are great picks for bounce-back years and I think Finley is one of those guys.
I still needed a third starting wide receiver and I'm a big fan of Reggie Wayne this season. He is the veteran presence on this Colts team that will need to throw the ball a whole lot to try to come from behind. He should have plenty of opportunities to put one more good season together.
Round 8

Pick Ovr Owner Selection
8.01 85 @OrangeBru Redman, Isaac PIT RB
8.02 86 @BBonneville Heyward-Bey, Darrius OAK WR
8.03 87 @Sports_25toLife Tate, Ben HOU RB
8.04 88 @Chet_G Hillman, Ronnie DEN RB
8.05 89 @AndrewMiley Best, Jahvid DET RB
8.06 90 @Eric_Yeomans Holmes, Santonio NYJ WR
8.07 91 @BraudeM Ridley, Stevan NEP RB
8.08 92 @naparker77 Rice, Sidney SEA WR
8.09 93 @Gregsauce Williams, Mike TBB WR
8.10 94 @Fantasytaz Hillis, Peyton KCC RB
8.11 95 @Dexters_Library Blackmon, Justin JAC WR
8.12 96 @MikeBaumSays McGahee, Willis DEN RB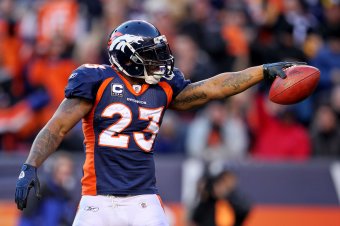 Jeff Gross/Getty Images
Round 8 saw all running backs and wide receivers going off the board. These are mostly flex players at this point, some good, some bad.
My pick was bad-ish. I believe Ronnie Hillman has a legitimate shot to be the main guy in Denver, but with John Fox's proclivity to err on the side of old, I think he'll give Willis McGahee plenty of chances to keep his job. In retrospect I'd probably lean toward taking McGahee first of the two, but I think I, and many of us, have the tendency to want to be ahead of the curve, even if the curve is way down the road. In the eighth round I don't think either is a horrible pick, but next time I'll most likely go with McGahee.
My least favorite pick is probably Justin Blackmon because owning a Jaguar receiver seems like a sure sign of self-loathing.
Round 9

Pick Ovr Owner Selection
9.01 97 @MikeBaumSays Fleener, Coby IND TE
9.02 98 @Dexters_Library Cutler, Jay CHI QB
9.03 99 @Fantasytaz Manning, Peyton DEN QB
9.04 100 @Gregsauce Schaub, Matt HOU QB
9.05 101 @naparker77 Williams, DeAngelo CAR RB
9.06 102 @BraudeM Roethlisberger, Ben PIT QB
9.07 103 @Eric_Yeomans Wilson, David NYG RB
9.08 104 @AndrewMiley Luck, Andrew IND QB
9.09 105 @Chet_G Little, Greg CLE WR
9.10 106 @Sports_25toLife Garcon, Pierre WAS WR
9.11 107 @BBonneville Leshoure, Mikel DET RB
9.12 108 @OrangeBru Celek, Brent PHI TE
Christian Petersen/Getty Images
We had a bit of a quarterback run all the way down here in the ninth round. And it wasn't too bad of one. I like the upside of all these quarterbacks and they come at a cheap price.
My pick of Greg Little is based on a hunch and a belief in his ability. He can most likely be had later, but I believe we'll see the strong armed Brandon Weeden be able to deliver the ball with more consistency. There's no doubt the Browns are a tough team to rely on their passing game, but Little has the ability to be a number one receiver if the cards play right.
Round 10

Pick Ovr Owner Selection
10.01 109 @OrangeBru Thomas, Daniel MIA RB
10.02 110 @BBonneville 49ers, San Francisco SFO Def
10.03 111 @Sports_25toLife Vereen, Shane NEP RB
10.04 112 @Chet_G Tamme, Jacob DEN TE
10.05 113 @AndrewMiley Dalton, Andy CIN QB
10.06 114 @Eric_Yeomans Freeman, Josh TBB QB
10.07 115 @BraudeM Crabtree, Michael SFO WR
10.08 116 @naparker77 Floyd, Michael ARI WR
10.09 117 @Gregsauce Gerhart, Toby MIN RB
10.10 118 @Fantasytaz Gonzalez, Tony ATL TE
10.11 119 @Dexters_Library Cook, Jared TEN TE
10.12 120 @MikeBaumSays Moss, Randy SFO WR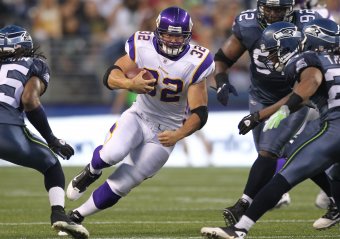 Otto Greule Jr/Getty Images
Bench players start to take precedence in the tenth round. I usually would go running back here and probably should have, but I feel that if all goes as planned, Jacob Tamme could be a top five tight end. Eric Decker and Demaryius Thomas are good, but Tamme has a history with Peyton Manning and if Manning doesn't have the same velocity on his deep passes, we could see a lot of work for Tamme.
But in the grand scheme, taking Shane Vereen or Toby Gerhart would probably have been more prudent. Both have the ability to put up good numbers if given the chance and with the volatility of the running back position, they could easily get their chance.