Tiger Woods: Dissecting Tiger's Day 2 Performance at US Open 2012
June 15, 2012

Ezra Shaw/Getty Images
Tiger Woods is leading the U.S. Open after 36 holes.
It's been a while—ten years to be precise—but it's familiar territory for one of the game's all-time greatest front-runners. At the 2000 U.S. Open at Pebble Beach, Tiger had the lead after two rounds and won. And in 2002 at Bethpage Black, Tiger had the 36-hole lead and got the victory.
If history is to repeat itself, he might not need to do anything more than he's already doing. Tiger Woods is playing outstanding golf.
Tiger shot an even-par round of 70 on Day 2 of the 2012 version of the U.S. Open at the Olympic Club and found himself tied for the lead with Jim Furyk and David Toms at one under par.
Tiger and his marquee afternoon playing partners, Phil Mickelson and Bubba Watson, were greeted by a much faster golf course than the previous day when they enjoyed an early morning start time and more benign conditions.
Well, benign by comparison.
Tiger handled the adversity admirably, continuing to excel with his ball striking by hitting 11-of-14 fairways and 14-of-18 greens in regulation.
"That golf course was some kind of quick," Tiger said in his post-round presser. "It got dried out. The wind was swirling a little bit out there. It was tough. It was really, really tough. I just had to stay as patient as possibly and I did a really good job of that today."
Tiger got his score to two under par with a birdie at No. 3, but he would give it back, and then some, with bogeys on three consecutive holes at Nos. 5, 6 and 7.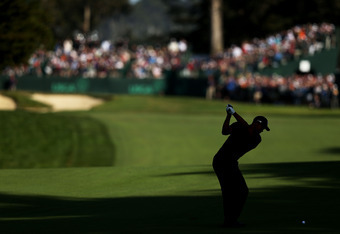 Ezra Shaw/Getty Images
He would steady himself, however, with a couple pars before making a birdie on No. 10 from roughly 30 feet. He would add one more birdie at No. 13 after a nice 7-iron approach to roughly five feet.
Still, I can't help but wonder how low Tiger's score would be if it hadn't been for a few missed short iron approaches, a few missed short putts, and a few bad breaks.
It's not unreasonable to think he could easily be four or five under par at this point. But, that's golf—that's just how the game is sometimes—good shots are not always rewarded.
Tiger had his patience tested as a result.
"Even though I didn't miss a shot in the last three holes I ended up with three pars," Tiger continued. "It was just one of those days where you had to be so patient."
Conditions are expected to be very similar over the weekend, so Tiger will need to take what the difficult Lake course gives him and continue to sometimes accept par as a good score, even when he thinks he should be making birdies.
The end result could be his fourth U.S. Open championship.