Notables Packing: McIlroy, Donald, Bubba, DJ, Ryo Ishikawa Miss Cut at US Open
June 16, 2012

Andrew Redington/Getty Images
It's adding insult to injury. The world's best came to the US Open in hopes of capturing the title and instead they were slapped around by an unforgiving layout, unforgiving greens, unforgiving rough and unforgiving design.
"A little better today, but little consolation," said world No. 1, Luke Donald who finished the first two rounds at plus 11. "It's not going to be good enough to play the weekend and obviously my troubles started yesterday."
Donald said he missed nine putts inside 10 feet in round one and could not get the feel for the greens. 
"If I had putted a little bit better yesterday, I could have ground out a score today and maybe been somewhere decently placed for the weekend."
Many picked him to win this year's US Open.
Donald cited the difficulties of advance preparation on a course that was different than the course conditions when the tournament starts.
"I certainly don't regret anything that I did before teeing up on Thursday," he added.  "I just didn't come here swinging well enough, and obviously my putter was a bit cold this week." 
He feels the hole in his resume.  "I want to win one more than you guys know," he added regarding the absence of major championship medals in his trophy case.  He said it was more a matter of not quite being comfortable with his swing and that he sometimes had that feeling other weeks, but the difficulty of major championship venues magnifies the problems it causes.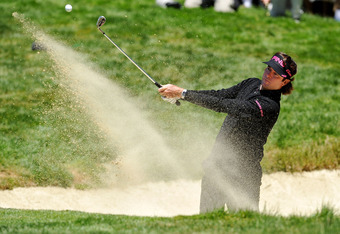 Stuart Franklin/Getty Images
He will take three weeks off and then play the Scottish Open.
Donald is not the only one zipping up the suitcases early.  Rory McIlroy, the defending champ; Masters champ, Bubba Watson; last week's winner, Dustin Johnson; and Japanese star, Ryo Ishikawa are among those packing up early.
Jim Furyk, leader one back or co leader at the end of two rounds said he has been on the side of missing the cut at majors.
"You can't always be on and you can't always be playing well," he said. "It can snowball very quickly out here.  It's tough to kind of put a tourniquet on it and stop the bleeding and get the momentum changed back in the right direction at this golf course or this tournament because there's not a lot of let up."
He reminded everyone that Jack Nicklaus and Tiger Woods had both missed cuts in majors in the past. Checking the records, Woods has missed four cuts in his career in majors. Nicklaus missed nine in his first 30 years as a professional, none from the 1968 Masters to the 1979 PGA, and he entered all the majors in those years. 
Phil Mickelson turned around what looked to be a disaster.  He birdied the last hole claw back to plus 7, which was one better than the cut line of top 60 and ties. 
Eight of 156 players were under par for the day.  Steve Stricker had the low score of 68.
Kathy Bissell is a Golf Writer for Bleacher Report. Unless otherwise noted, all quotes were obtained first-hand or from official interview materials from the USGA, PGA Tour or PGA of America.