Euro 2012: Matchday 2 Review and Matchday 3 Predictions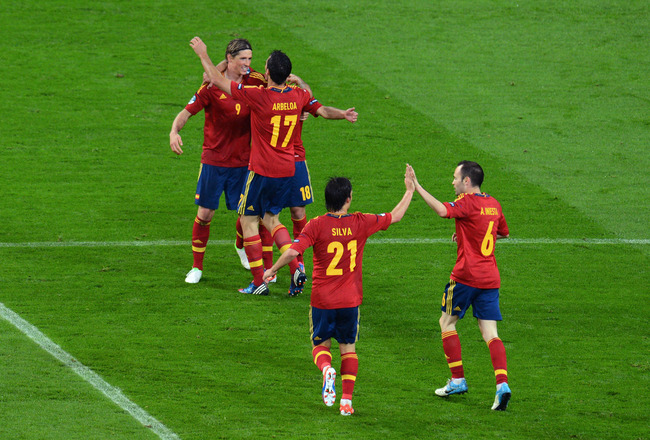 Spain crushed Ireland and look like favorites again.
Shaun Botterill/Getty Images
The second round of group games are behind us at Euro 2012 and the tournament is finally beginning to take shape. Teams that didn't play up to their full potential in the first game opened up the playbook and played much more pleasing soccer over the past four days.
The likes of Spain, Germany and France answered the critics, while the tournament is already over for teams like Ireland and Sweden after a disappointing two games for both.
Here is a look at how the groups stand as we speak, along with predictions, (sure to be wrong), for the next round of games in each group.
Group A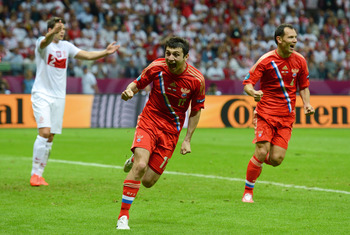 Alan Dzagoev and Russia look to clinch the group against Greece on Saturday.
Shaun Botterill/Getty Images
Russia appear to be the best team in Group A, especially with the game against Greece coming up, while Poland and Czech Republic will most likely fight it out for second place.
On matchday two, Russia and Poland played a fantastic game in front of a hostile crowd in Warsaw, as both teams came away with a point and set themselves up well for the final group game. Russia plays against Greece on Saturday and with the win will secure the top spot in the group.
The Russians are playing extremely well now, and even with the draw against Poland I don't see Greece presenting much of a problem.
The group's other game on Saturday looks to be a cracker, with Poland playing against Czech Republic. Both teams have a chance for advancement and could even get the top spot in the group.
Poland needs to win the game and will most likely push hard in its early stages, while the Czechs can advance with only a draw thanks to their win against Greece.
I see Czech Republic absorbing a lot of pressure on Saturday, while the Czechs will hope to capitalize on a counter against a Polish team needing to win with the pressure of the whole country bearing down on them.
Russia is simply too strong for Greece. I expect them to take care of business with the likes of Dzagoev, Arshavin and Kerzhakov, who have too much firepower for the resilient Greeks.
The group's other game will be a treat, with the weight of a host nation hoping to be enough to will Poland past Czech Republic. I think that this will be an open game, with Poland squeaking a narrow victory and advancing to the quarter-finals.
PREDICTIONS:
Russia vs. Greece 3:1
Poland vs. Czech Republic 2:1
Group B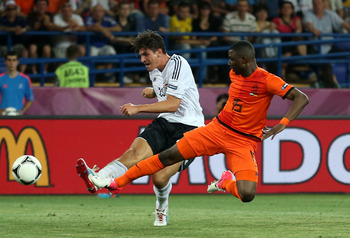 Mario Gomez looks to be hitting top form as the tournament progresses.
Julian Finney/Getty Images
Before the tournament started, the "Group of Death" was seen as a given. "Who will join Germany in the quarters out of Group B," many asked.
After the first two games, nothing has changed.
Germany has two wins out of two games and look the part as one of the favorites of the tournament.
The other three teams in the group all have a chance at advancing, and that's all a neutral fan could ask for.
Portugal beat Denmark late to assure themselves a shot at progressing, while Denmark can still advance as well, albeit they have to beat or draw with Germany along with some help to do so.
The Netherlands, meanwhile, have their work cut out for them. The Dutch have to beat Portugal by a two-goal margin and hope that the Germans finish off the Danes, something most people are expecting.
Netherlands looked awful in the first half against Germany. After some offensive second-half adjustments, they looked much better.
There is no doubt in my mind that the Dutch will not come out with two defensive midfielders against Portugal, and will most likely include either Van der Vaart or Huntelaar in the starting lineup, if not both. They play much better when they are offensively-minded and the two defensive midfielders formation needs to be thrown away—FOREVER.
Portugal will not sit back either, since both group games are at the same time and they will not be sure what Denmark is doing against Germany.
The Portugal vs. Netherlands match looks very much like it could be the match of the tournament, based on what is at stake for both nations.
I see Germany being too strong for a very good Danish side, while the Portugal vs. Netherlands match promises to be a roller coaster with both emotions and play on the field. In the end, a draw might just be enough for Ronaldo and Portugal to advance to the quarter-finals.
PREDICTIONS:
Germany vs. Denmark 2:0
Portugal vs. Netherlands 2:2
Group C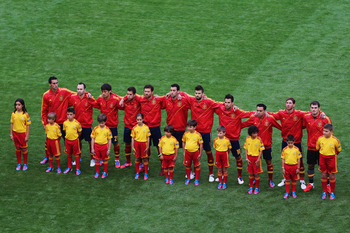 La Furia Roja appear to be finding its form, at last.
Alex Grimm/Getty Images
Spain finally looked like Spain again at the expense of the poor Irish, while Croatia and Italy shared a point, leaving Italy in need of a win against Ireland.
Croatia, in the meantime, have to either draw or beat Spain to progress, with most pundits predicting an Italian victory against Ireland in the group's other game.
Spain displayed the performance of the tournament in their comprehensive victory against Ireland, as Fernando Torres got the start and scored two goals. David Silva and Cesc Fabregas got the other two goals, with Spain getting back to the Spanish way of dissecting defenses with quick, short passing and incredible movement.
The Irish looked completely over-matched and will hope to play the role of spoiler in the upcoming match against Italy. The improvement in their game will have to be massive if they stand to have any chance against an Italy team that needs a win to progress to the quarters.
Croatia played a very disappointing first half versus Italy, but showed much more invention and efficiency in the second half. Mario Mandzukic's third goal of the tournament gave the Croats four points out of the two games, and they will hope for some luck of the Irish in the upcoming game against Spain.
If Croatia can get a draw against Spain, they will get through only if Italy does not beat Ireland by more than two goals based on the goal differential.
Italy simply need to win against Ireland and not worry about the other game. A draw will knock them out of the tournament.
I think a valiant Croatian effort will fall short against the Spaniards, whose slick passing and movement will prove to be too much.
In the other game, I think that Italy will simply have too much for the Irish. The game will intensify the pressure on Giovanni Trapattoni and his choices at Euro 2012.
PREDICTIONS:
Spain vs. Croatia 2:1
Italy vs. Ireland 2:0
Group D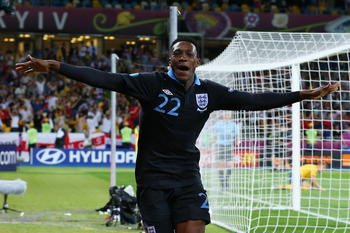 Danny Welbeck scored a wonderful goal against Sweden.
Alex Livesey/Getty Images
France continued its hot form in a very comfortable win against Ukraine, while England snatched a late winner thanks to a fantastic strike by Danny Welbeck.
France looked the part as one of the favorites to win it all with the likes of Benzema, Nasri and Ribery hitting on all cylinders. The defense still looked shaky at times, but a clean sheet will only help the confidence of the Mexes/Rami connection in central defense.
England and Sweden played in a thrilling affair that saw England win through a sublime and cheeky effort by the Manchester United youngster, Danny Welbeck. A see-saw game marred by defensive errors and very questionable goaltending showed the world and other teams in the tournament that England can be had, especially at set pieces.
The return of Wayne Rooney should definitely help further down the line, although both Welbeck and Carroll scored and showed promise.
With one game remaining in the group stage, the scenario for all teams is pretty clear—win and you're in for sure.
France plays already eliminated Sweden, and should have enough to put away the Swedes, who at this point will find it hard to muster up any motivation for the team's last group game.
Even with a couple of lineup changes, I think that France takes care of business and wins the group straight-up.
In the other game, hosts Ukraine will need a win against an England squad looking to secure a quarter-final berth. Ukraine struggled against France, but will have to call upon the team spirit and a massive home crowd support to beat an English side that will defend well and hope to strike on counters.
I think that with the help of a full stadium, Ukraine puts forth a great effort but eventually falls short in its quest to advance to the next round.
PREDICTION:
France vs. Sweden 3:0
England vs. Ukraine 2:1
Keep Reading