Ranking the 10 Gutsiest Players in the NBA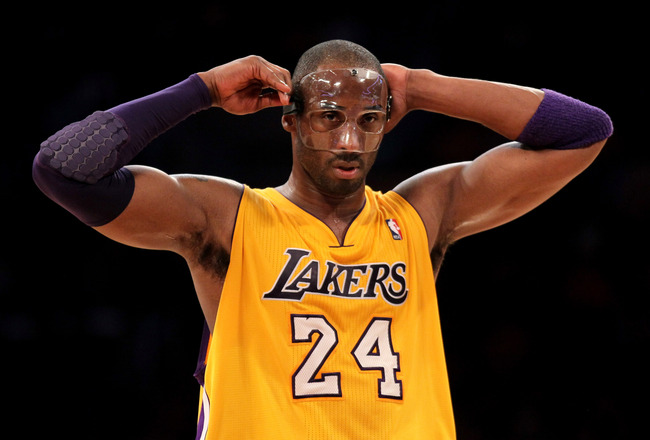 Stephen Dunn/Getty Images
Michael Jordan. Bill Russell. Pete Maravich. Isiah Thomas. Allen Iverson.
Five names of former players synonymous with the word "guts."
Guts is a tough thing to define. Are only short, small players truly gutsy? Is it the big men who are gutsy for battling in the paint? Does a player have to be "the man" on his team, and therefore, the one with all the pressure on him to be truly gutsy?
There's no true definition of the word gutsiest, but as far as I am concerned, there are 10 current players who stand out among the rest.
I now present the list of the top 10 gutsiest players in the NBA today.
No. 1: Kobe Bryant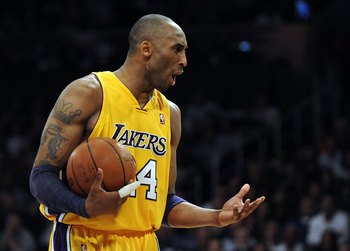 Harry How/Getty Images
LeBron James may be "King James," but Kobe Bryant is the absolute monarch of managing pain, playing through injuries and rising above both physical and emotional difficulties.
Personally, I cannot recall one NBA player in the history of the game who has played through as much pain as the Black Mamba. Not one!
Sure, there have been players who have been plagued with injuries and even those who have been known for playing through them such as Allen Iverson. There have also been players who have dealt with off-the-court difficulties such as Charles Barkley.
However, Kobe Bean Bryant is a cut above the rest—all the rest. From playing with torn ligaments in his wrist to playing on a knee that required surgery to playing with a mangled finger to playing while dealing with food poisoning, Bryant has always risen above the pain to perform at a high level.
He has also continued to play at a high level when dealing with off-the-court issues such being accused of rape by a woman (the case was later dismissed).
The woman, in fact, refused to testify against Bryant and accepted Bryant doing little more than writing a letter of apology which still stated that he believed the entire encounter was consensual.
Kobe Bryant may not be the greatest player in league history (yet) or greater than Michael Jordan, but he is, by far, the G.O.A.T. of gutsiness and playing through both pain and distractions.
No. 2: Chris Paul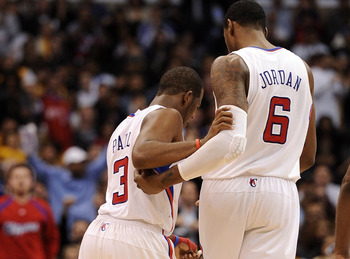 Harry How/Getty Images
Chris Paul is one feisty little dude!
None other than Kobe Bryant himself stated that Chris Paul was one of only two players in the league (the other being No. 3 on this list in Derrick Rose) who has the same sort of "competitive edge" as he does.
I, for one, certainly don't disagree with the Black Mamba on this point.
Chris Paul has always been known as a feisty player, a short man in a tall man's game and a small man with a "Napoleon complex." Such descriptions have served him well—no doubt about it.
Paul, along with air-walker Blake Griffin, has resurrected the once moribund Clippers franchise and given Clips fans a reason to be hopeful.
In fact, had Chauncey Billups not suffered a season-ending injury and had Paul and running-mate Blake Griffin not been gimpy during their second-round matchup with San Antonio, it's quite possible that the Clippers would be representing the Western Conference in the NBA Finals this season.
No. 3: Derrick Rose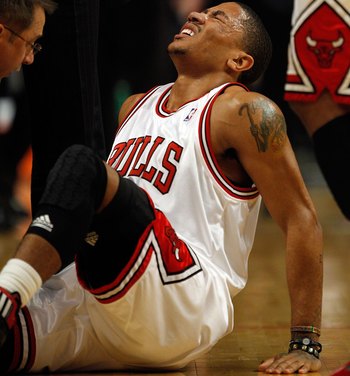 Jonathan Daniel/Getty Images
Derrick Rose is a bad little man—period!
Rose, the youngest-ever winner of the NBA MVP award (yes, I realize LeBron should have won it, but if we judged all past MVP winners the same way, Steve Nash would still be searching for his first award) led his high school team to two state championships, the Memphis Tigers to the NCAA championship game as a freshman and the Chicago Bulls to the conference finals at the ripe young age of 22.
It's one thing to be drafted as a 19-year-old kid and quite another to be drafted to be a top option on an NBA team at that age. However, to be drafted to be the savior of your hometown team as a 19-year-old, wow; talk about pressure!
This was Derrick Rose's lot in life. Amazingly (or strategically depending on how you look at the draft lottery and how much character you feel NBA commissioner David Stern has), the Chicago Bulls won the 2008 draft lottery despite having just a 1.7 percent chance of doing so.
They selected hometown hero Rose, who was born in Chicago and starred for Southside Chicago's Simeon Career Academy Wolverines, to be the new face of their franchise.
Rose hasn't disappointed. In fact, he has exceeded all expectations!
No. 4: Derek Fisher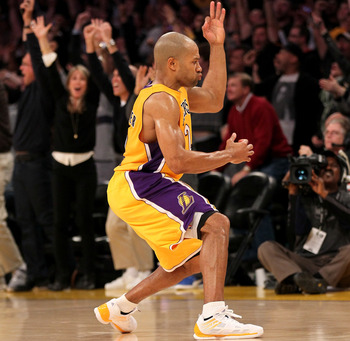 Stephen Dunn/Getty Images
Derek Fisher is nothing, if not, gutsy.
When Fisher was drafted after spending four years at the University of Arkansas at Little Rock, Lakers fans didn't know what to think. Some booed, and others scratched their heads saying "who".
Little did Lakers fans realize that the team had drafted a diamond in the rough with the No. 24 pick in the draft. Not a single player who was drafted later than Fisher had a better career or was even selected to one All-Star game.
In fact, the New York Knicks would have even been better off to trade their three first-round picks that year, every single one of them higher than No. 24, for the draft rights to Fisher!
The names of John Wallace, Walter McCarty and Dontae Jones are infamous in the Big Apple. Three picks, three busts…all in the same draft. Imagine if the Knicks had traded their No. 18 and No. 19 picks to move up to No. 12 and draft Kobe Bryant and then used their No. 21 pick on Derek Fisher? Ouch!
Fisher may have been unheralded coming out of college, but it didn't take him long to become a legend in Lakerland. Six short years after being drafted, Fisher has three NBA title rings, and in the 2004 playoffs, he hit, perhaps, the most memorable shot in Lakers history—"the .4 shot."
Derek Fisher may not go down as one of the greatest point guards to ever play the game or even one of the top 10 Lakers ever, but I do expect to see his jersey hanging from the rafters of the Staples Center one day—no doubt about it!
Number Five: Russell Westbrook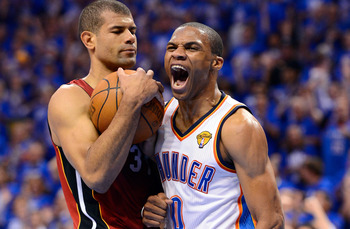 Ronald Martinez/Getty Images
Russell Westbrook is a whirling-dervish of a point guard capable of sparking his team to victory with one outburst of marvelous athleticism.
I remember the first time my wife ever watched a game with me in which Westbrook was playing. The first thing she said after seeing him throw down a monster dunk on a hapless defender, let out a primal scream and glare at the referee in hopes of drawing an and-one whistle was, "Wow, he's intense, look at those eyes."
Such a statement and such a word as "intense" sum up Westbrook perfectly.
Kevin Durant may get most of the press and credit for the Thunder's success, but make no mistake about it, Westbrook is the player who stirs the Thunder's drink—the conductor of the orchestra and the man with the ball in his hands more than any other.
One stat I personally like to rate players by is a stat I call the "BTJ calculation." To come up with a player's BTJ calculation, you simply add up their per game average points, rebounds, assists (times 2.0), steals, blocks and field goal percentage (times 10) and free-throw percentage and subtract their per game average turnovers.
I personally feel this is one of the best ways to judge a player's importance to their respective team.
In just his second season in the NBA, Westbrook eclipsed teammate Kevin Durant in the "BTJ calculation," scoring a total of 45.72 points to Durant's 43.82. While such a "statistic" may not be universally accepted, or should I say accepted by anyone but myself, it's telling.
Westbrook has the ball in his hands more often than Durant, and as such, Durant is dependent to a large degree on Westbrook while Russell is merely the shot-caller in OKC.
Any point guard who has played with a legitimate megastar like Durant, let alone a shoot-first point guard, knows that you need courage, thick skin and guts to be able to not only justify your own shot selection, but the amount of times you get your megastar the ball.
However, with Westbrook, "guts" are something he has vast quantities of.
No. 6: Kevin Durant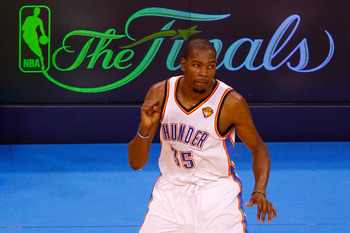 Mike Ehrmann/Getty Images
Kevin Durant is a big-baller, shot-caller, old school gunslinger in the mold of George Gervin—period.
The Durantula is a 6'11 matchup nightmare who's just as comfortable at the shooting guard position as he is at the small forward spot. Kobe Bryant recently called Kevin Durant "a 6'11" me" which is no doubt one of the scariest things many NBA general managers have heard in a long time.
Durant combines the no-conscience shooting of Bryant, and even Michael Jordan, with the efficiency of players like Dirk Nowitzki and Larry Bird. He's nearly unguardable, both on the perimeter and the in the post, thanks to his lightning-quick release, extremely high release point, magnificent athleticism and ballerina-like body control.
Durant was the first-ever college freshman to win the Naismith Award as the nation's top player, and at just 21 years of age, he became the youngest scoring champ in NBA history—an award he has now won three years in a row.
It takes guts to do what Kevin Durant has done and continues to do. If the Durantula continues to grow as a player, he may add multiple NBA MVP awards to his trophy collection to go along with all those scoring titles he seems destined to win.
No. 7: Carmelo Anthony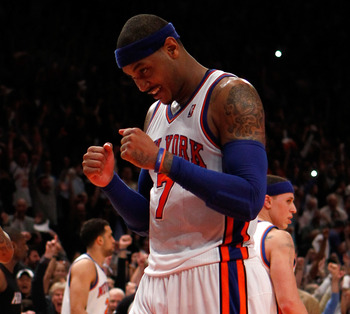 Jeff Zelevansky/Getty Images
Carmelo Anthony is no LeBron James, which, of course, can be both a positive and a negative.
Anthony has never been the passer or rebounder LeBron is, and worse yet, has never dedicated himself to playing solid, let alone dominating defense like King James. However, Anthony, unlike James, has also never shirked his responsibility, never been afraid of the spotlight and never been afraid to fail or get slaughtered in the media. It takes guts to do that.
Anthony has that old Frank Sinatra swag about him. He came into the league doing it his way, and he's going to go out doing it his way, regardless of what anyone else says or thinks. It takes guts to do that.
While LeBron James never seriously considered signing with the Knicks as a free agent two years ago, to become New York's savior, Anthony demanded to be traded to the Gotham from Denver—a city he was already king of. It takes guts to do that.
Since arriving in New York, Anthony has lived up to his billing as being a shot-maker and one of the hardest players in the league to defend. Whether Anthony retires as an all-time great and sure-fire Hall of Famer or merely as an offensive juggernaut who was never able to win a title, one thing is certain.
The man they call Melo will walk away from the game being able to say, "I did it my way!"
No. 8: Rajon Rondo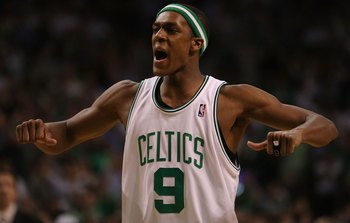 Elsa/Getty Images
Rajon Rondo may be a bit of a head-case and drives his coach, teammates and general manager nuts, but one thing the kid has is guts!
It takes a measure of guts to be able to run the point for any team. It takes a large measure of guts to run the point for a championship-contending team.
However, to run the point for a title-contending team with three future first-ballot Hall of Famers on the roster, while at the same time being the youngest player in the starting lineup, that takes a monstrous measure of guts!
The kid who was once benched by Kentucky coach Tubby Smith in favor of Brandon Stockton, ridiculed in the media for his surly attitude and even "aggressively shopped" by Celtics' general manager Danny Ainge, has become the best player on the star-studded Celtics, and perhaps, the best point guard on planet Earth!
Rajon Rondo has a monstrous measure of guts!
No. 9: Kevin Garnett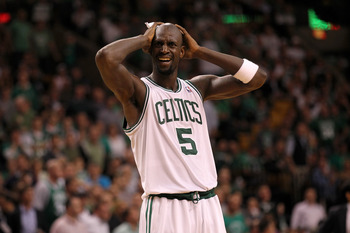 Jim Rogash/Getty Images
Kevin Garnett is known as much for his mouth as he is for his amazing array of skills and warrior-like mentality.
Simply put, Garnett is a master trash-talker. When you're constantly yapping at muscular seven-footers who already dislike you, you need a lot of guts, and the man known as "KG" has that.
Garnett had the guts to become the first player to enter the NBA straight from high school in 20 years, being drafted with the fifth overall pick (ironically the exact same selection as Darryl Dawkins in the 1975 draft) in the 1995 draft.
He had the guts to become the unquestioned leader of the Minnesota Timberwolves in just his second season as a 20-year-old "kid (his nickname at that time)." He had the guts to lead the Boston Celtics franchise to prominence after being traded there from his beloved "frozen Sota."
Kevin Garnett may not be the most liked player in the league, but he's a sure-fire, first-ballot Hall of Famer. He's quite possibly the best power forward to ever play the game of basketball, and above all, one of the gutsiest players in league history.
No. 10: Tim Duncan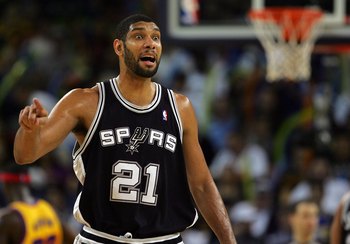 Ezra Shaw/Getty Images
Tim Duncan is one player whom many fans may never think of when the word gutsy is used. He should be one of the first players they think of.
Duncan may have been extremely fortunate to be drafted by a team that already had a superstar big man, let alone, one of such high character, like David Robinson, to show him the ropes and help him realize his vast potential. Duncan may also have been privileged to play with such great players as Tony Parker and Manu Ginobili.
However, the fact of the matter is that Duncan had the guts necessary to take the Spurs franchise to never-before-dreamed-of heights. This small market team set a goal of making the playoffs and dare to dream of winning an NBA title one day. They do not dream of becoming a great NBA dynasty.
Duncan dared to dream of transforming the Spurs into a modern dynasty, and in the nine seasons between 1999 and 2007, Duncan led the Spurs to four NBA titles. To think any player could accomplish such without a massive amount of guts would be a mistake.
Perhaps, the gutsiest thing Duncan has ever done, however, has been to take a back seat to the younger star point guard Tony Parker. Duncan is the greatest Spur ever.
Perhaps, he's the greatest power forward in NBA history, and yet, he seamlessly stepped into the shadows and allowed Parker to become the Spurs superstar and first option. Such an act takes guts—period!
Keep Reading