WWE No Way out 2012: Why John Cena Should Be—But Won't Be—Fired
June 16, 2012

The stakes for Big Show and John Cena's steel cage match at No Way Out have yet again been raised.
In addition to John Laurinaitis' job riding on whether Big Show wins or loses, as of SmackDown the stipulation has been added that if Cena doesn't win, he will also be terminated.
Yes, that's right—another Cena might-be-fired angle.
Just like in 2011 when Cena was almost fired by Vince McMahon for losing the WWE Championship to CM Punk at Money in the Bank.
Or like in 2010 when Cena actually was fired by Wade Barrett of the Nexus, yet still managed to somehow show up on Raw every week.
As a very late addition to the match at No Way Out, is this merely another stipulation to up the ante as Mr. McMahon sits ringside, or does it serve a legitimate plot purpose?
Could this be the beginning of the alleged big summer storyline?
Unlike the last two years, the firing of Cena actually makes a lot of sense this time around.
Cena needs a break, plain and simple.
Since his torn pectoral injury in late 2007 to early 2008, Cena hasn't truly had a break. That's four years of being consistently active at the top of the WWE.
TLC in 2011 was one of the few nights Cena has had off since returning in the 2008 Royal Rumble.
The Bella Twins recently didn't renew their contracts because they felt exhausted and needed time off.
Compared to Cena, their schedule likely wasn't that busy. Cena needs some down time. Wrestling takes a toll on your body, and the best way to last in the industry is to take time off on occasion.
Both within and without of Kayfabe, Cena hasn't been his usual self since WrestleMania.
He needs a rest.
Following his loss to The Rock, and then a brutal beating from Brock Lesnar at Extreme Rules, Cena seemed like he would be taking time off.
Prior to WrestleMania, Cena claimed that if he didn't win, he had nothing. After one last gasp of strength to pull out the victory at Extreme Rules, Cena cut a suspicious promo, hinting at some time away.
Months later and Cena hasn't left yet, but at the same time, matches with Laurinaitis and Michael Cole barely qualify as actively wrestling with the company.
It has been widely observed that Cena has not been at his best, and he seems rather depressed recently (assumedly due to his divorce and the house renovation money troubles which caused it).
The Cena haters out there enjoy towing the line that we need a break from Cena, but ultimately, Cena needs a break from us. He needs to rediscover his passion.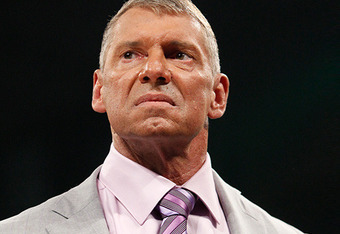 WWE should remember from experience that if you don't give your top talent breaks when they need them, they could very well leave. Kurt Angle did in 2006.
However, chances are that it will not be Cena who receives the famous two words from Mr. McMahon. A John will be fired, but most likely John Laurinaitis.
Despite his tendency to fumble his words and botch the script, Laurinaitis is actually a fairly solid, heat-drawing, corporate heel.
Consider the alternative though. If we lose Laurinaitis, Teddy Long would receive the position. Whether the return of hollering, something about feeling players and tag team main events week-in and week-out would be a good thing is debatable.
Nevertheless, Laurinaitis will be on the chopping block long before Cena.
Why?
Ratings and ticket sales of course. If WWE give Cena time off, ratings will drop, as will live event ticket sales. Even if Cena was fired but showed up at every event, like in 2010, as soon as fans think he's fired, ratings and interest will drop.
Vince McMahon has always said that no one, including himself, is bigger than the WWE. Giving Cena some much needed time off would truly test that, because right now, John Cena is the WWE.
Thanks for reading. You can also follow me on Twitter @dathboc and check out my personal portfolio for more about me.