Spain Euro 12: Biggest Adjustments Vincente Del Bosque Must Make
June 15, 2012

Handout/Getty Images
The Spanish national team may be the best in the Euro tournament, but Vincente Del Bosque is not coaching a perfect team.
In response to my previous article, which discussed the adjustments that English coach Roy Hodgson must make to continue to win in the tournament, I will now do the same for the Spanish manager. Spain, of course, comes in with much more pose and pure talent. They are a better fundamental team on both sides of the speed, and play with a sense of speed and elusiveness that few teams in history can confidently say that they've matched.
After Fernando Torres showed the entire country of Ireland that he was, in fact, an elite scorer, he and the rest of the Spanish national team will have to play the way that they did against the Irish rather than how they played against the Italians. This means that Del Bosque needs to actually utilize the role of the striker, rather than leave him out.
At the end of the day, it is La Roja that has the talent of David Villa and Fernando Torres, not Croatia. Just as the fury of Spain controlled an incredible 62 percent of the ball against Ireland, they will need to do the same when they take on Croatia. Spain and Croatia are currently tied with four points apiece, but if Spain wins decisively and Italy defeats Ireland as expected, this game could act as a serviceable elimination game for either team.
In their first game, Del Bosque decided to play Cesc Fábregas at a "false nine" rather than include any center forwards in his lineup. This decision got heavy criticism, and many Spaniards felt that Del Bosque did not know his team's best lineup.
Luís Aragones, who coached the Spanish national team to a Euro League title in 2008, echoed these critical sentments. "Obviously I respect the coach's decision, but I would have played with a centre forward," he said, according to TheScore.com.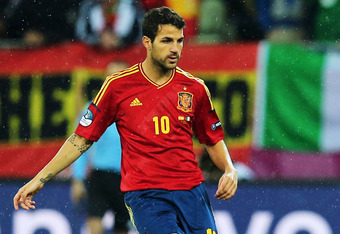 Alex Grimm/Getty Images
"Spain's midfield played really well, but the team was sterile without a striker," added the manager of Real Madrid José Mourinho, according to Goal.com.
While some feel that Del Bosque added Cesc Fábregas as a nod to copy the successes Barcelona FC, it makes more sense to think that he prefers keeping both Xabi Alonso and Sergio Busquets in deep midfield. What makes most sense, however, is that Del Bosque simply enjoys shuffling around his starting eleven to maximize potential in the offense and confuse the opposing defense.
"I am not happy about everything that happened against Italy - there are things we must improve," Bosque explained Radio Ona Madrid. "But I am not unhappy with the options we have."
So what will Del Bosque need to do to improve on the lineup decisions?
"I am flexible and a good listener. Sometimes, if you have to give so many explanations, it's because maybe you are the one who is wrong," he added.
Andrés Iniesta Luján, for instance, stepped up as one of the best players on the field. Regardless of how impressive the names may be, it was he who was the most constant threat on the field and he who was the most dominant against the Italian national team. Del Bosque will be sure to utilize his talents against Spain, playing to his potential rather than a stubborn interest of who had been playing best coming into the tournament or what formation Del Bosque previously had hoped to use.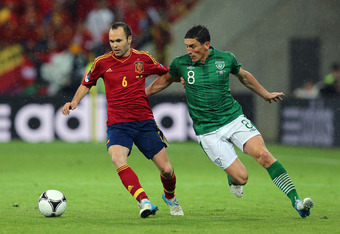 Alex Grimm/Getty Images
In the game against the Irish, Spain this time elected to split the minutes between Torres and Fábregas. This time around, Torres scored twice and Fábregas added another in the 83rd minute.
"We have the same confidence in Fabregas that we had four days ago but we also have other resources that we have to make the most of," Del Bosque told Yahoo!. "Fernando Torres is an option. We had possession of the ball and we had to make the best use of his speed and movement. He played the ideal match and those people who thought he could play the first game as well are also partly right."
To keep playing winning fútbol, Del Bosque will need to play to the day and not to the formation. I have confidence that he will.