Los Angeles Galaxy vs. Portland Timbers Live Blog: Play-by-Play Analysis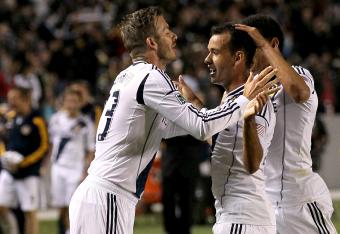 Stephen Dunn/Getty Images
After a long layoff due to the FIFA International Calendar, it's back to work for Bruce Arena's Los Angeles Galaxy, who take on John Spencer's Portland Timbers on Jun. 17 at the Home Depot Center in Carson, Calif.
With a record of 3-8-2 (11 points), the Galaxy sport the worst record in the MLS Western Conference and the third-worst record overall in all of Major League Soccer. Portland aren't faring any better, as they have a record of 3-5-4 (13 points). Both teams will aim to get out of the conference cellar this weekend.
Kickoff is scheduled for 4 p.m. PT/7 p.m. ET. The Live Blog will begin at approximately 2:15 p.m. PT/5:15 p.m. ET. Keep it right here on Bleacher Report for continuing coverage of the 2012 Major League Soccer season and all things world football.
Thanks for following this live blog. A recap of this contest will be posted on Bleacher Report and the View from Victoria Street.
FINAL
Los Angeles Galaxy 1
Todd Dunivant 61'
Portland Timbers 0
90' + 4' - McBean takes his lumps. And that's it.
90' + 3' - And Jack McBean wins a free kick. He will have to do a little bit better when he reports for reserve duty. Here's Juninho and that doesn't work out.
90' + 2' - Cleared out. Troy Perkins comes off his line. And that's a harsh foul by Horst. His own worst enemy today. It's a free kick for Josh Saunders.
90' + 1' - And the crowd boos because they know Portland is a team that can equalize this late in league contests. Long throw.
90' - Let's see how many minutes of stoppage time we get here. Some fans here apparently don't mind a 1-1 draw and are beating postgame traffic. It's a corner to Beckham. They're just going to take it short. Four minutes of additional time.
89' - Portland make a run, but the Galaxy snuff that out.
88' - Free kick for Josh Saunders. LA need to up the intensity level a bit more. That pass from Jack McBean did not materialize.
87' - Sean Franklin cuts that pass off. Horst plays it back. 20,611 in attendance today. Not bad.
86' - Back come the Timbers, in dire need of a equalizer. LA sweep again. What a tackle by Horst. This is great defensive football by both sides.
85' - More solid defending from the G'a. Bad giveaway from David Junior Lopes again.
84' - Well, the Los Angeles Galaxy, truth be told, are a team notorious for giving up goals late. So what if Josh Saunders is in goal. The proof is still in the pudding. Throw-in for Jack Jewsbury.
83' - Nice attempt for Marcelo Sarvas but he was held up.
82' - Substitution Los Angeles Galaxy
IN 32 Jack McBean
OUT 9 Chad Barrett
Let's see what Jack Mac can do. Decent possession off the bat.
81' - LA back on it. Long pass from Donovan is picked off. Wide attempt for Portland. Goal kick, Josh Saunders.
80' - Josh Saunders take his time to redistribute. That didn't turn out well for Portland.
Substitution Los Angeles Galaxy
IN 28 Kyle Nakazawa
OUT 6 Bryan Jordan
79' - Substitution Portland Timbers
IN 17 Eric Alexander
OUT 11 Kalif Alhassan
78' - This is some good possession here from LA. And that fizzles out. Jordan is hurt.
77' - The Timbers continue to press. Throw-in. And LA sweep.
76' - Well A.J. DeLaGarza tried to strip that one cleanly. Didn't work out. It's a free kick for Portland. Cleared.
75' - That's too high and wide. Goal kick, Josh Saunders.
74' - 74 minutes in, 1-0 LA.
73' - It's been a tough day at the office for Kris Boyd. Had a few good looks on goal, but that's all to show for it. Up to the supporting cast and Danny Mwanga to up the ante.
72' - This is a testy locale for David Beckham. Short distance, means he need to bend this. He does, and it hits the side netting. Well, you can't say he didn't try. Best chance of the day.
Substitution Portland Timbers
IN 2 Mike Fucito
OUT 9 Kris Boyd
This article is
What is the duplicate article?
Why is this article offensive?
Where is this article plagiarized from?
Why is this article poorly edited?