100 Hottest Female Olympians of 2012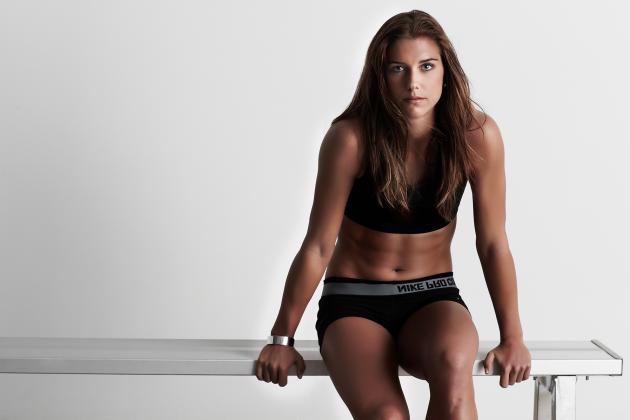 Image via victorwangstudios.com
The 2012 Summer Olympics in London are only a month away, and almost all of the athletes have already qualified or are in the process of qualifying to represent their home country.
This is the best time of year for any fan of the Olympics. There are athletes fighting with everything they have left to make their national teams—many of them women.
Now, I understand that some of these women might not make it or have not qualified yet, but let's just pretend that they will all make it. And if not, you still have a name of a beautiful female athlete to admire for the next four years.
And who doesn't enjoy reading about hot female athletes? Seriously, who?
Here are the 100 Hottest Olympic Athletes of 2012. Enjoy.
[Editor's note: Minor revisions have been made in compliance with editorial standards.]
Begin Slideshow

»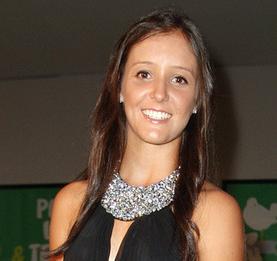 Image via zimbio.com
At only 18 years of age, Laura Robson comes in as one of the youngest female athletes of the 100 that made the list.
But that hasn't slowed down the British tennis star from earning her way onto the British tennis team. Will she be in London? Sure. Will she be playing tennis in London? We won't know for sure for a few weeks, but the odds are in her favor.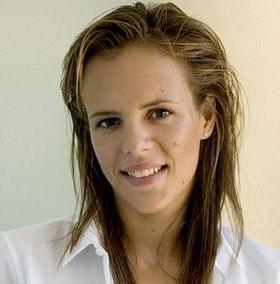 Image via portfolio.soirmag.lesoir.be
Where has Laure Manaudou been over the last two years?
She has been out on maternity leave and has taken a brief two-year break from swimming to raise her newborn daughter, Manon.
Despite failing to achieve the levels of success in 2008 that she had in Athens back in 2004, she is back and looks better than ever, having trained in 2011 where she lives in Auburn, Alabama.
Now it's time to swim.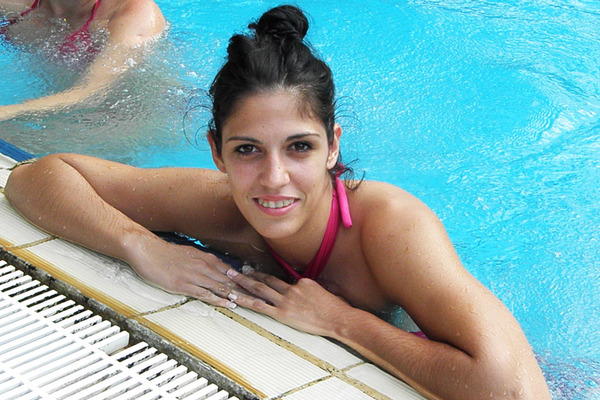 Image via koprivnica.net
Handball is a sport where hockey meets volleyball meets lacrosse. It is a crazy sport that can be really fun to watch, especially when you have beautiful women to watch, too.
Marta Zderic is a Croatian handball goalkeeper. Her job is to make sure no one throws the handball in her net. It is her net and no one else's. She must protect it with her life.
When she plays, she does it well.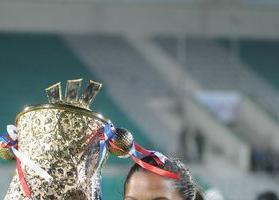 Image via sportlive.co.za
South Africa's women's field hockey team has not finished better than ninth at the Olympics. It was in 2004.
Since then, they have seen a dramatic improvement, including qualifying for the 2012 Summer Games by winning the first round of Olympic qualifying. They won the African qualifier but felt the tournament was sub-standard and gave up their automatic bid.
Marsha Marescia, in other news, was named the best player of their first-round pool of qualifying.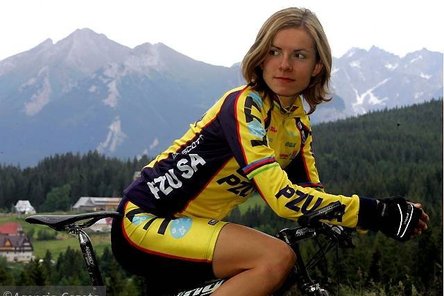 Image via sport.pl
If you win a silver medal in any Olympic games, you want to return in four years and win a gold.
Maja Wloszczowska won a silver in the women's cross-country back in 2008 and is back for gold.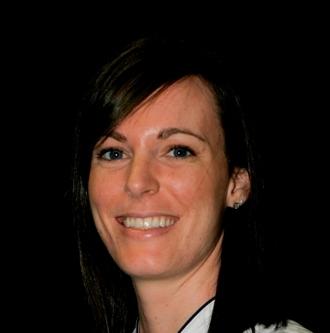 Image via britishvolleyball.org
Stacey O'Connor earned her fame when she played for St. Mary's College from 2001-2005.
Of course, this is still the first I am hearing about her, but what else do you expect? It is an Olympic year and that means we get to meet all kinds of new attractive athletes like Stacey.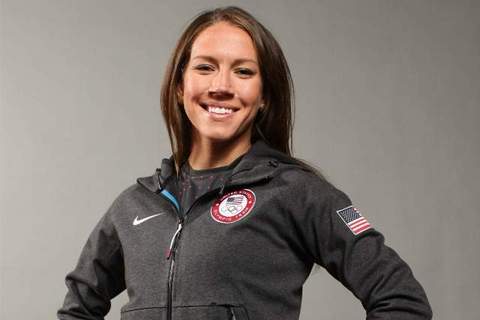 Image via abcactionnews.com
When Abby Wambach broke her leg in 2008 and had to withdraw from the Olympic team, Lauren got put into the lineup and made a few appearances.
If you had to name the cutest athlete of the U.S. national women's soccer team, I find it hard to pass on Lauren Cheney.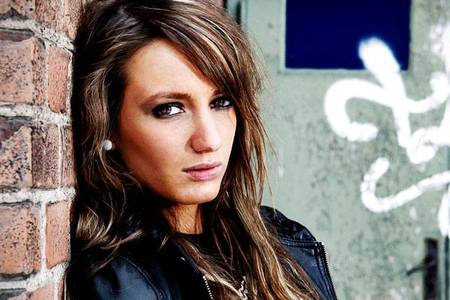 Image via bigsoccer.com
Kosovare Asllani was born in Kristianstad, Sweden, and currently plays for Sweden's national team, as well as professionally for the Kristianstads DFF.
My spell check is going nuts right now.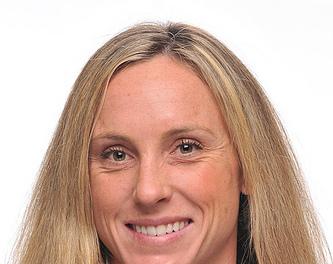 Image via images.mitrasites.com
In 2006, Lauren Wenger was named the best collegiate water polo player in NCAA D-1, winning the Peter J. Cutino Award.
Now, I know nothing about water polo except that it is one of the best Olympic sports to watch every four years. She just makes it that much more interesting.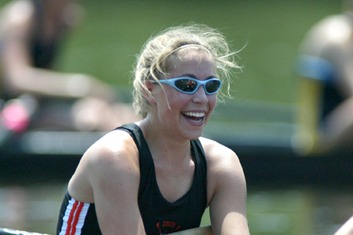 Image via towntopics.com
Rowing is a sport that gets no love. That might be because, unless you have grown up around the sport, it is boring. You are watching a team of women row a boat faster than the other women. Uh, yawn.
But there is a six-foot, 157-pound reason to enjoy it this year. Her name is Gevvie Stone. She is not a favorite to win a medal in 2012, but anything can happen. Just ask Stony Brook.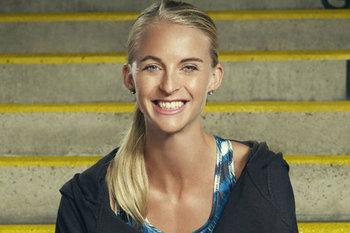 Image via skysports.com
The British middle-distance runner Hannah England has a perfect name. That is like being called Joe America or Cynthia Czech Republic.
But if she was born in Canada, it might be a bit confusing.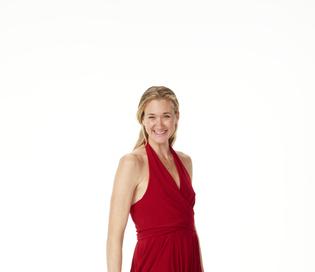 Image via volleywood.net
Kerri Walsh Jennings is only one half of the beach volleyball duo that has dominated the previous two Olympic games, winning gold medals in both and never losing a set.
They had an unbeaten streak of 108 games before finally dropping a game. They might not be coming in as the favorites this time, but when the games begin, they might continue that incredible Olympic run.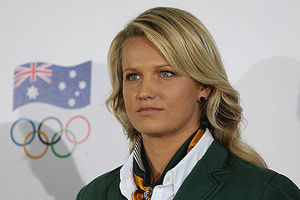 Image via au.sports.yahoo.com
Naomi Flood is an athlete. She can do anything if you give her a few weeks to prepare. She is a six-time NSW Ironwoman champion in Australia.
That means she has won an event that tests your endurance, power, skill and speed in six locations across the Australian beaches in some of the toughest conditions imaginable.
And she won it six times. So naturally, she took up kayaking.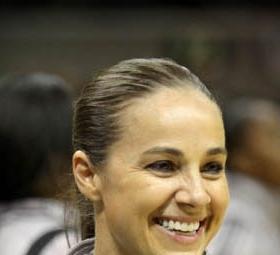 Image via sportspagemagazine.com
Can someone explain why Becky Hammon plays for Russia every four years and not the United States?
No, never mind. I understand why someone would play for Russia in basketball. They pay $250,000 to the players if they win a gold medal.
Uh, check please.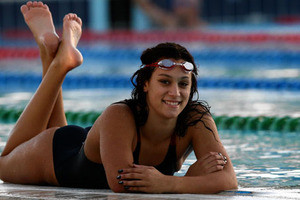 Image via au.news.yahoo.com
I have never won a medal in my life. Not just Olympics, I have never won a medal in anything. I have won trophies in little league, but everyone wins those things.
Blair Evans is only 21 years old and has already claimed six swimming medals in international competition. That is awesome with a capital incredible.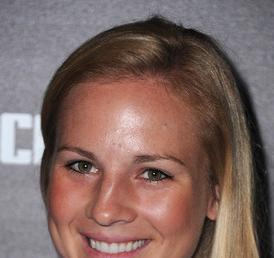 Image via soccerpubs.com
Following the U.S. national team's epic World Cup run in 2011, Amy Rodriguez went back home and married her boyfriend and fellow USC athlete Adam Shilling.
So before you ask, no, she is not single.
And even if she were, your chances are as good as mine—slim to none.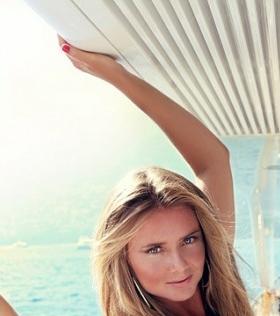 Image via piccsy.com
Daniela Hantuchova has been dealing with injuries and personal issues and has had problems hitting her stride in 2012.
Maybe London will be the kick start she needs to get going in 2012.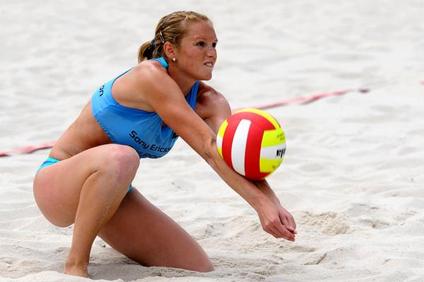 Image via sedmicka.cz
In the Czech Republic, Kristyna Kolocova is one of the best female beach volleyball players in the country. She is paired up with Marketa Slukova, to form a duo who could cause some issues for other teams in London.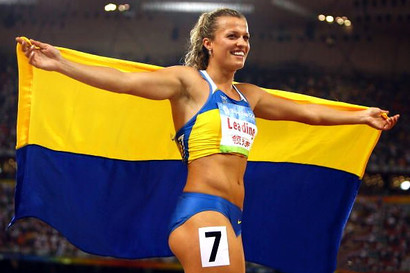 Image via olympicgirls.net
A heptathlon is a competition that features seven different events over the course of two days. It involves the 100m hurdles, high jump, shot put, 200m, long jump, javelin and 800m.
Nataliya Dobrynska cannot only do these seven events, but she is the best in the world at it, too. She won a gold medal in 2008 and should repeat in 2012.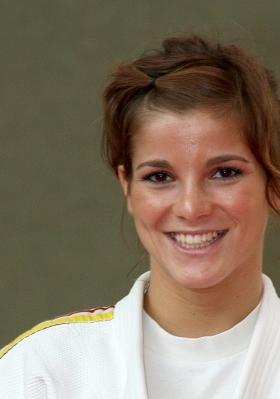 Image via judoclub90.de
Romy Tarangul is a German...judoist? Judoite? Let's just say she competes in judo.
She took bronze in the 2009 World Judo Championships, so I'm not sure if she'll make it all the way to London, but we're definitely rooting for her.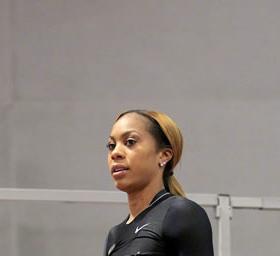 Image via runblogrun.com
Team USA women have won a gold medal in the 4x400m relay the last two Olympics. Can they take home a third in a row?
If Sanya Richards-Ross has anything to do about it, they will. She is coming back for another run for gold in the relay but also in the 400m individual, where she took home a bronze in 2008.
She is married to NFL defensive back Aaron Ross.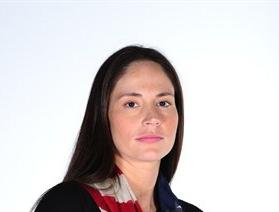 Image via nbcolympics.com
Sue Bird has been making these lists for the past 10 years because she is one of the most attractive female basketball players the United States has ever produced. But also because she is one of the best players of all time.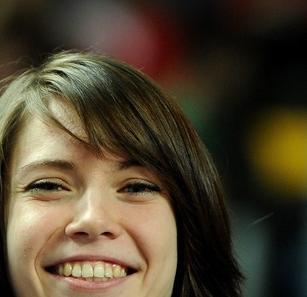 Image via daylife.com
A hurdle is a small metal structure that stands about 33 inches high and is placed eight meters apart from each other on a track of 100m in length. There are 10 of them.
Alina Talay is good looking. This is something we know. But she has the athletic ability to run fast and jump these things with ease. That is the real victory.
Don't think so? You try it.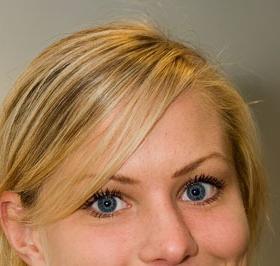 Image via idrottonline.se
Is it just me or is handball becoming a very interesting sport to watch in the Olympics?
Sweden has never won a women's team handball Olympic gold medal in the entire history of the sport. In fact, this is only the second time the Swedish team has qualified for the Olympics.
Angelica Wallen might not be a superstar, but I promise you that she will be once they upset everyone else and win a gold medal this year.
Remember who said that in August.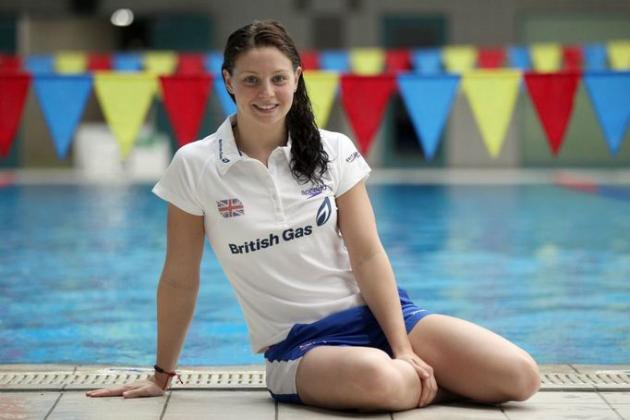 Image via digitalnewsagency.com
From the looks of this photo, Ellen Gandy must be involved in aquatics for Great Britain. I might not be a medical doctor, but the chances are very high that she is an Olympic swimmer.
Ellen will be competing in a few different swim events this year for the butterfly, one of the toughest strokes in swimming. That is the Amanda Beard event, and she made it look easy.
Image via zimbio.com
Why do so many people send me hate mail about Serena Williams, saying she is ugly? I just don't understand it.
You go girl, just keep silencing the haters.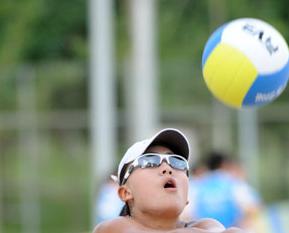 Image via china.org.cn
Xue Chen is an incredible six-foot plus. It is one thing to be tall, but it is another when you carry around such a long and skinny frame and a game that ranks as one of the world's best. She is truly amazing.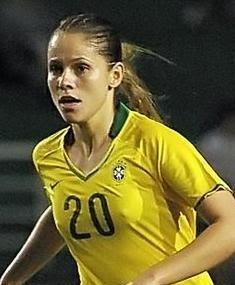 Image via rudeortrue.com
With a name like Erika Cristiano Dos Santos, coming up with a shorter version is inevitable. So her teammates know the 2008 Silver medalist as Erika. Just plain Erika.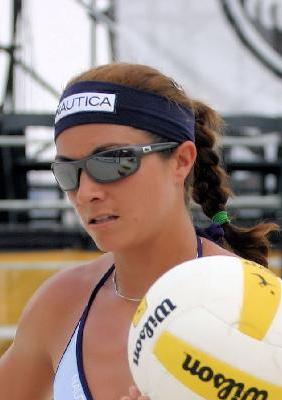 Image by Melissa Crone Carvell
Misty May-Treanor is the other half of the US duo who should win a medal—hopefully the gold—in London later this year.
I can spew off all the ridiculous stats of the May/Walsh duo, but I think you already know all about them. They're probably the most famous Americans at the Olympics not named Michael Phelps.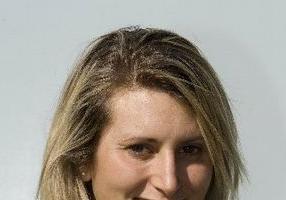 Image via bayofplentytimes.co.nz
I hope I don't offend anyone here, but I had no idea canoeing was an Olympic sport. But it, apparently, has been since the 1936 Summer Games in Berlin.
Luuka Jones is the best female New Zealand has to offer in the sport and hopes to bring a medal of any kind back home. They have only won eight medals in the last 76 years, so it would be a nice addition to the trophy room.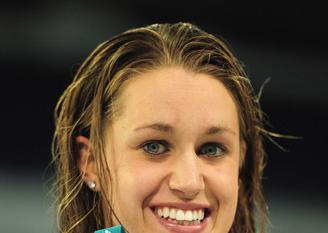 Image via newsroom.speedo.com
Katie Hoff is as under the radar as they come for Olympians with a few medals in their closet, but shouldn't be for too much longer.
If things go as planned, she will be taking home a few medals—and some of them of the golden variety. Once she wins the medals, the fame will follow. Trust me. Just ask Amanda Beard.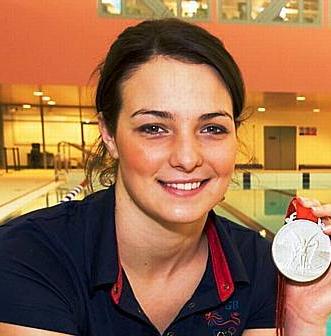 Image via femaleimagination.wordpress.com
Keri Anne Payne is not your typical Olympic swimmer. She specializes in the one event that only a few highly trained athletes can compete in, the 10km open water marathon.
This is one of the newest events of the Olympics. In fact, it has only been around since 2008, and Keri holds the only silver medal awarded in the event. She should take home a gold in 2012. If not, at least she knows she could survive in the ocean if she is on a sinking ship.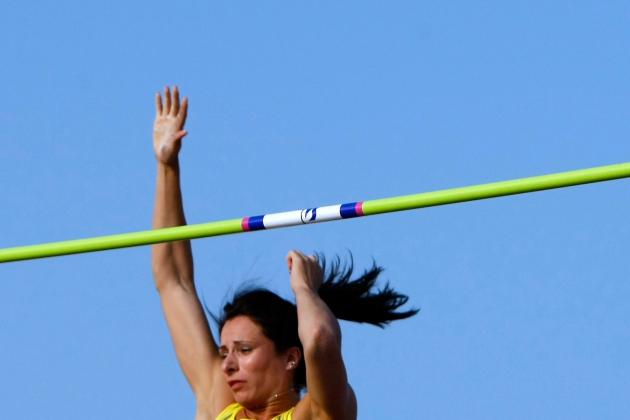 Jeff Gross/Getty Images

Jenn Suhr is the third best female pole vaulter in the world. She is, however, the best in America and is our lone hope for a gold medal in the event. She did take home a silver in Beijing back in 2008.
Now that we are done talking numbers, does anyone else notice that amazing six pack? Forget about P90x; I am going pole vaulting.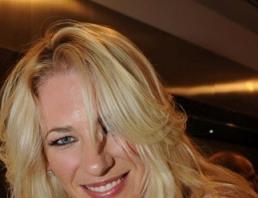 Image via mediasearch.com.au
For a woman, if you are 6'5'', your options for sports are limited. You can play volleyball or basketball. Lauren Jackson chose the latter.
She is the most dominant player in the WNBA, averaging 19.2 points a game and 7.8 rebounds a game for her career. Her list of awards and honors are too long to mention, so I will just remind you that she plays for the Australian national team that took home the silver medal for the past three Olympics thanks to Lauren.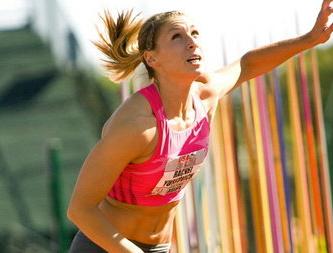 Image via oregonlive.com
Rachel Yurkovich makes throwing a javelin look easy. She also makes it look good.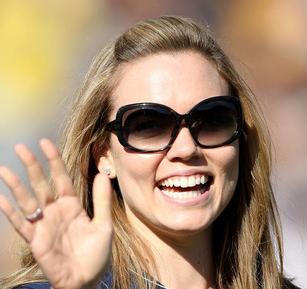 Image via zimbio.com
Natalie Coughlin isn't a flash in the pan, she is the real deal, having won 11 Olympic medals, three of them gold, since 2004. She doesn't dominate—she just beats everyone else.
And if that wasn't good enough, she has won American Swimmer of the Year three times and the World Swimmer of the Year once.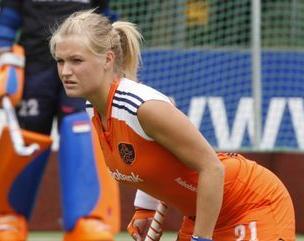 Image via forums.sailinganarchy.com
The Netherlands are the defending Olympic champions in women's field hockey. Sophie Polkamp is a part of this Dutch powerhouse that should be bringing home one more gold in 2012.
If Sophie Polkamp, a great name, wants to retire after this year, I think she would have no problems getting a job as a model in the States.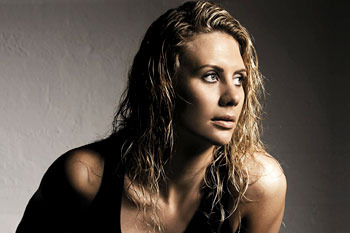 Image via itsalwayssunnyindetroit.com
Penny Taylor plays in the WNBA, but that is not why I love her. I love her because of those unbelievable uniforms the Australian national team wore in 2008.
You remember those, right? The skin tight spandex? Those were hilarious.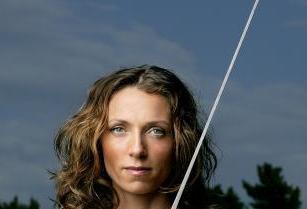 Image via sportige.blogspot.com
In the past 20 years, Valentina Vezzali has won so many medals, it isn't even worth the time to talk about every single one of them.
But since we all have a few minutes, I will tell you that she has won seven Olympic medals, five of them gold, and since 1995 she won 37 medals from European and World championships.
Dominant? Yes, precisely.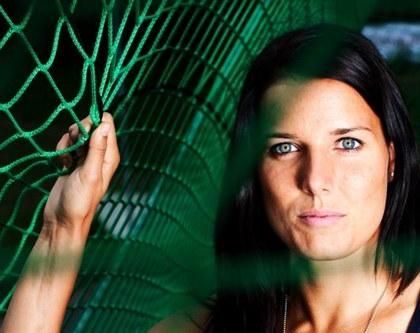 Image via ffc.frankfurt.tumblr.com
The Summer Olympics feature one of my favorite female sports, soccer. I don't know what it is about the sport that I love, but I do love it.
Jessica Landstrom plays for Sweden, and although they have never placed higher than fourth place, they still have a solid team filled with a handful of lookers like Landstrom.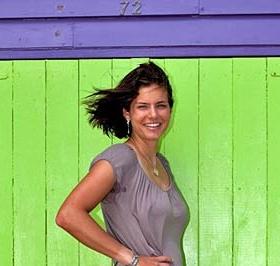 Image via tennisfeminin
Julie Goerges is scary.
She continues to get better with every season she plays in the WTA. If you look at her numbers, they have steadily improved, year after year. She even owns a record that most women only wish they had—while Caroline Wozniacki is No. 1, Goerges is perfect against her. She has beaten Wozniacki twice when she was the top-ranked female.
That is not only impressive, it is something to build on for her career.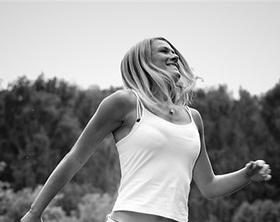 Image via beautifulrus.com
Lesya Makhno plays for Russia in case you couldn't tell from the skinny six-foot frame and long blond hair.
She plays for a team that might make some noise in London next month. They took home a silver medal in 2000 and 2004 but finished in a tie for fifth place in Beijing in 2008.
The last thing anyone wants is a group of angry Russians playing for redemption.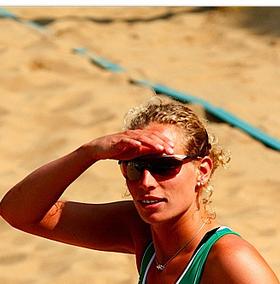 Image via flickr.com
Beach volleyball is one of my favorite sports to watch at the Olympics. There's sun, sand...the only thing that's missing is a cooler of Corona Light on the sidelines.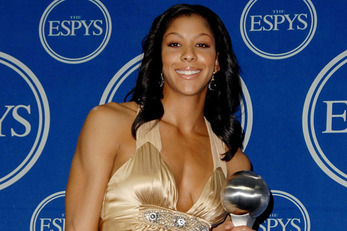 Image via toptenstop.com
Does anyone else wish they could take on Candace Parker in a one-on-one match?
She would not only tower over me, but she would easily beat me without even allowing me a point. This I can assure you.
But it would still be nice to give it a shot against her.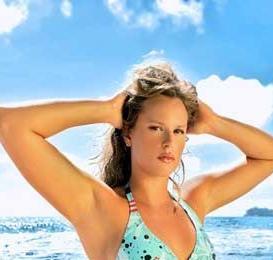 Image via allstarpics.net
Outside of Federica Pellegrini, Italy does not have a highly feared group of Olympic swimmers. In fact, Federica is the only Italian swimmer to take home a gold medal in 2008.
Surprisingly, Pellegrini has won 25 percent of their Olympic gold medals since the arrival of the sport in the Summer Olympics. Italy has only won four gold medals in 100 years.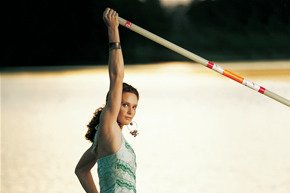 Image via greennobles.com
For the next Olympics, I will try to pay more attention to track and field. With the dominance of Usain Bolt, I have felt that it was lacking any suspense. He is so fast that he wins races, changes his clothes, does a few interviews, and checks his Twitter account before the others even have a chance to start.
But Fabiana Murer has given me hope. I want to watch women's pole vaulting now that I know all the players. These women can do wonders to get over a bar that high.
It is an amazing sport.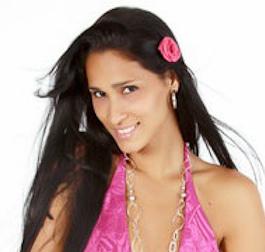 Image via flickr.com
Indoor volleyball may not be as fun to watch as beach volleyball, but at least you don't need to spend as much money on sunscreen.
Also, there's Jaqueline Carvalho.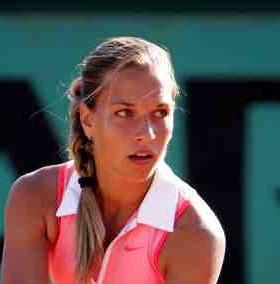 Image via russianwomentruth.com
Dominika Cibulkova is currently ranked 12th in the world. She recently upset the world's best player, Victoria Azarenka, during the fourth round of the French Open. So I guess you can say she got game.
She is the coolest thing to come out of Slovakia since the parachute.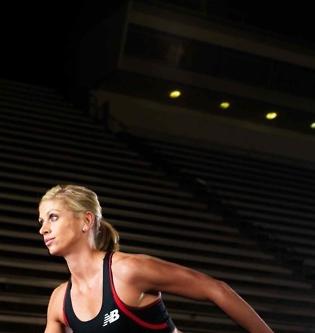 Image via maggievessey.com
Maggie Vessey is more than a member of the United States track and field team. She is an athlete who competes in the 800m.
Just to give you a point of reference. That is like running from your house to the end of your street fifty times. It is around a half a mile. Oh, and she can run it in under two minutes.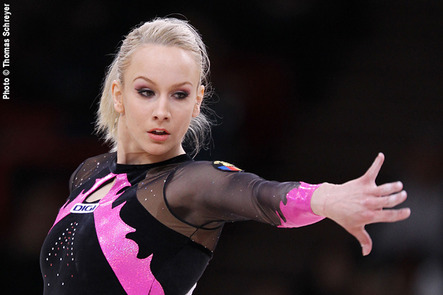 Image via intlgymnast.com
If you thought cheerleaders were ripped, you need to check out professional gymnasts. These ladies are built like a statue carved from marble.
Sandra Izbasa represents Romania, a country filled with beautiful women, as the favorite to take home the gold medal in the floor exercise, much like she did in 2008.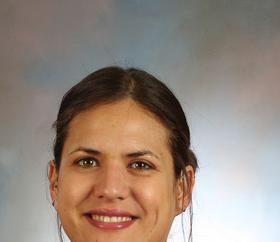 Image via usavolleyball.org
Logan Tom is one of the best in the world and should help bring home a gold medal for Team USA this year. We lost the gold medal game in 2008 but hope to take home a gold in 2012.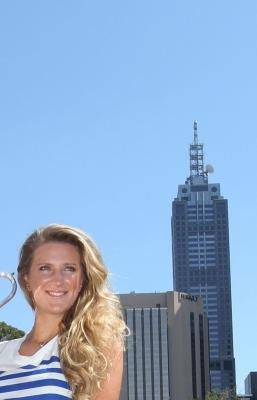 Image via listal.com
Victoria Azarenka was once ranked as high as No. 1 in the world but has since fallen off the charts and dropped to No. 2 in the WTA rankings. I guess that happens when you only win the Australian Open and nothing else in 2012.
Of course, sarcasm was used aplenty in the last paragraph. But if you didn't get that, you might want to reconsider reading my other work.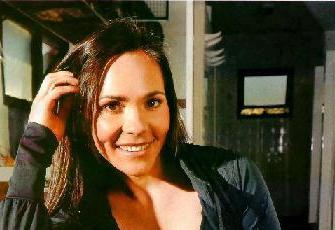 Image via polinodeangostura.blogspot.com
All women from Argentina are beautiful. That's just my personal experience.
Noel Barrionuevo is a field hockey player who underlines my last statement. She is a great representative of of her great country.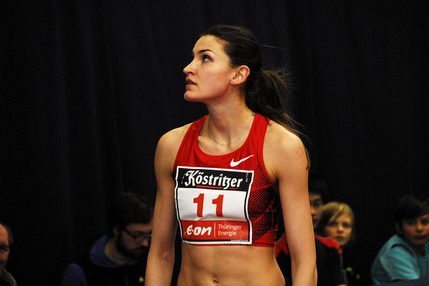 Image via flickr.com
Anna Chicherova is stunning. This is what we know already. But what we might not know is that she is also a bronze medalist high jumper from Russia.
And if you have ever attempted to high jump, you understand just how difficult it is to clear a pole six feet in the air simply from running and jumping over it without any tools.
You might have to lower the pole five feet before I could do it.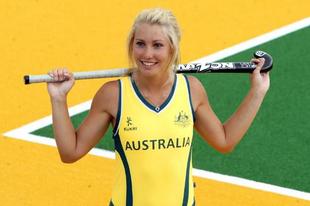 Image via theage.com.au
Field hockey really does seem to have an inordinate amount of attractive athletes. It's hard, too. Have you ever tried to play? Did you know you can't use the back side of the stick? It's insanity.
Props to these ladies for being able to handle this sport.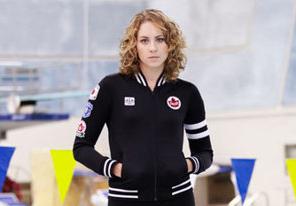 Image via ca.news.yahoo.com
Canada is not known for their swimming. They have only won 40 Olympic medals in the sport over the last 100 or so years. To give you a comparison, the United States has won 489 medals in the same amount of time.
So if Julia Wilkinson is going to do something, she might want to make it happen in 2012. Not too sure they will have a better shot at winning a gold medal in the sport this year aside from her.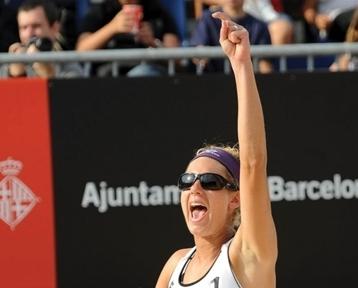 Image via volleyballmag.com
Thank you, Hawaii. Thank you, California.
Thanks to both states for bringing us the sexiest sport we have ever had the pleasure of watching.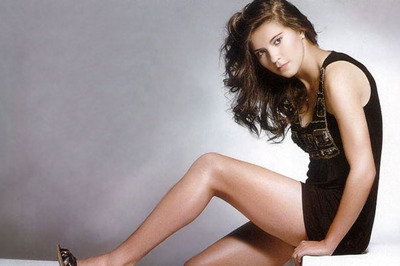 Image via very-funny-pictures123.blogspot.com
Tatiana Ariza makes the list at 43 because she is a beautiful young woman and soccer star for the Colombian national team.
Her identical twin sister, Natalia, did not make the list because she lacks the same level of soccer skills that Tatiana possesses. Otherwise, she would be right here next to her.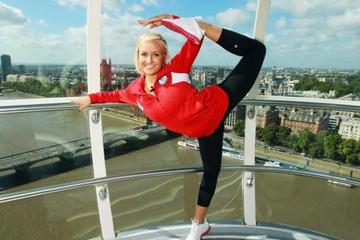 Image via topsportsstar.blogspot.com
Nastia Liukin is looking to become the first woman in 50 years to repeat and win the gold medal in the women's all-around event. The last time it was done was in 1960, by Larisa Latynina. But I bet you already knew that.
She hasn't looked great in 2012, but she hasn't been bad, either. She is just middle of the road right now, but we are all hoping the gymnast can find her stride and win the gold.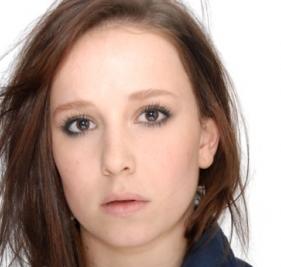 Image via gseagency.com
Hannah Whelan is not the best gymnast in the world. She is not even the best in Great Britain.
But in 2012, she has become a fan favorite and could shock some people later this year in London. And why not? She has home-court advantage.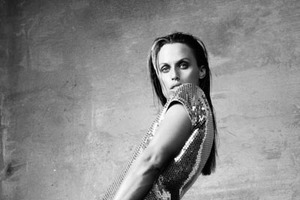 Image via emma-ostilly-2012.blogspot.com
Amanda Beard went from being a cute swimmer to posing for Playboy, Maxim, and FHM. Then she fell off the map.
Now, she is fighting to regain her spot among the greatest U.S. swimmers of all time. I think she just might do it, too.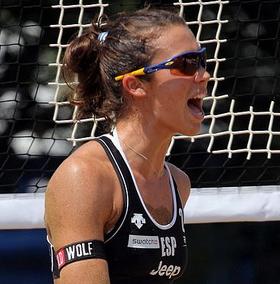 Image via flickr.com/photos/parismadrid/
Elsa Baquerizo is living in New York but plays for Spain. She hasn't been all that impressive in international play, finishing as high as fourth place twice.
Even if she doesn't medal, simply getting to the Olympics would be a feat in and of itself.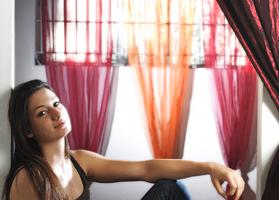 Image via supervolley.it
I can get used to seeing more beautiful women from Italy.
Raphaela Folie is one of them and best of all, she plays volleyball. So if you haven't watched the sport before, you might want to set your DVR for the games in London this year. It will be worth it.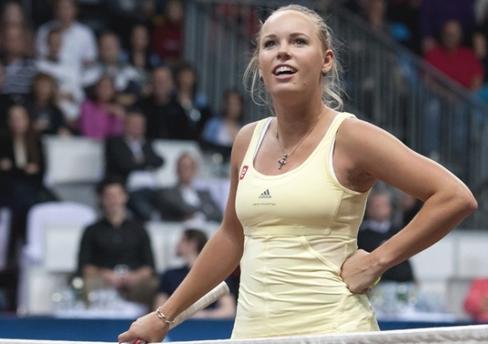 Image via listal.com
Caroline Wozniacki was much younger and less impressive in 2008 when she upset a higher ranked Daniela Hantuchova in Beijing. She didn't win a medal, but that was then.
This is now.
She has come a long way in four years and could be taking home her first Olympic medal and Denmark's second ever in tennis.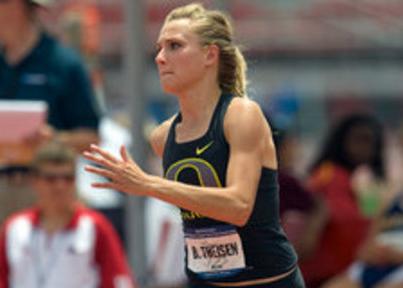 Image via oregonlive.com
Brianne Theisen, the Canadian heptathlete, makes running look good. She also makes the shot put, javelin, and whatever event she is competing in during the heptathlon look good.
If she wins a gold medal in London, she will even make that look good.
Are you getting the theme here?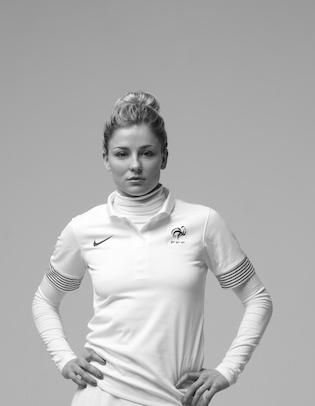 Image via howtomakeit.com
Soccer does not get much hotter than Laure Boulleau.
Her speed is one of the most impressive things about her. She has the ability to run down any ball. All she needs now is an Olympic medal.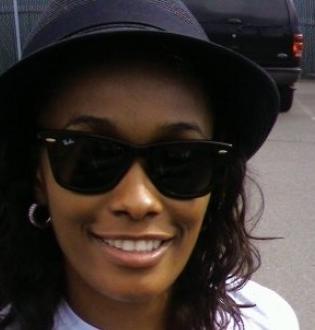 Image via marie-renee.hubpages.com
I am not going to lie to my fans and readers. I do not follow the WNBA. I apologize to any players or fans, but I just can't get into it. I love basketball but can't stand the WNBA.
So I had no idea Swin Cash, who is looking better than ever by the way, was still playing basketball. But she is and should be one of the main reasons the USA wins an Olympic gold medal.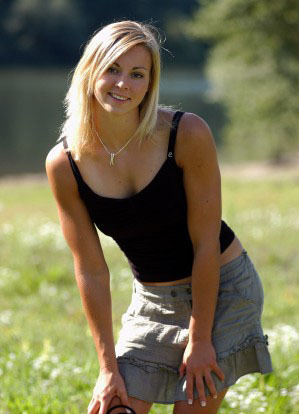 Image via lazygirls.info
Nicole Reinhardt is a German canoeing specialist. She won a gold medal in Beijing in 2008 for the K-4 500m event.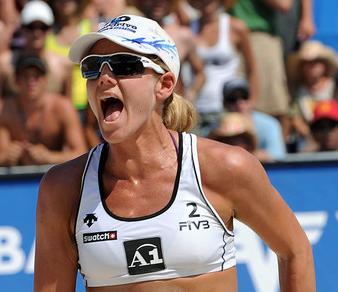 Image via joebrackets.blogspot.com
If not for the Walsh/May duo in beach volleyball, Jen Kessy just might have become the best the U.S. had to offer in 2008.
But when life throws you lemonades, grab some vodka and start a party. Jen Kessy needs to get the party started and beat them out anyway if she wants to play in London.
Image via mirror.co.uk
Jessica Ennis can do any event in track and field. She can sprint, jog, throw, jump, hurdle, hop, spin, or anything else they can think of to ask her to do. She can do it.
She competes in the heptathlon, so we already know she can do seven events, but she also can do the pentathlon, which is a five-event competition.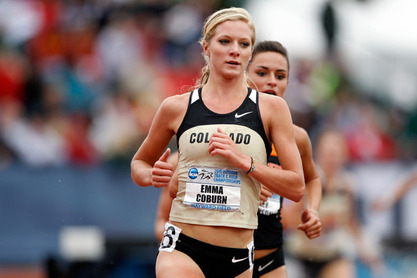 Image via allbuffs.com
Emma Coburn is a participant in the 3000m steeplechase.
The steeplechase is a combination obstacle course/track event. To give you a better idea of how it looks, it used to be run by horses.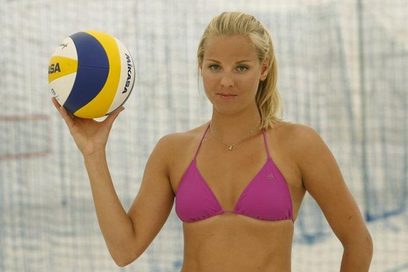 Image via sport.cz
Marketa Slukova is a beach volleyball player from the Czech Republic.
She's a pretty cool girl. Just check out her interview here.
Which colour describes you the best?.........and why not red?
Yellow.... Because yellow :-)
Yellow. Totally.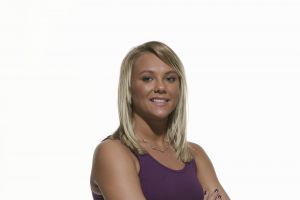 Image via fitness.families.com
Kelci Bryant is the first diver to make the list. The University of Minnesota beauty will be attempting to bring the U.S. its first Olympic medal in diving since 2000.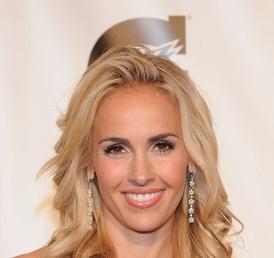 Image via zimbio.com
Heather Mitts is a soccer star for Team USA. If she makes the team this year—which she should—then she will have a chance at being the only woman in U.S. history to medal in three Olympic games.
She didn't play too much last year due to an injury, but she is now back to form.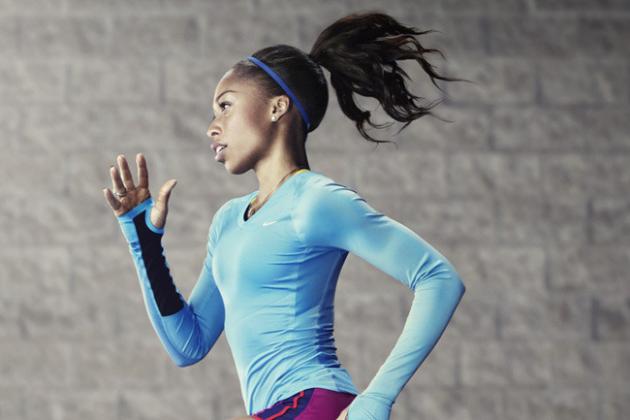 Image via eukicks.com
Allyson Felix has won three Olympic medals in the past two Olympics, but she can win even more this year in London.
At 26 years of age, this could be the last time we see her in an Olympic event, so she better make the most of it. When she retires, she'll probably become a fitness model. I would buy her products.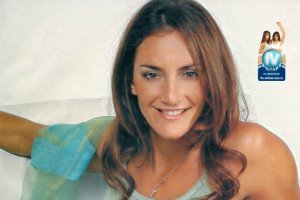 Image via lasdelblogd.blogspot.com
Field hockey does not get much better than Luciana Aymar. She is not only a great field hockey player, she is one of the best ever.
She is a seven-time FIH Player of the Year. Seven times! Those are MJ numbers.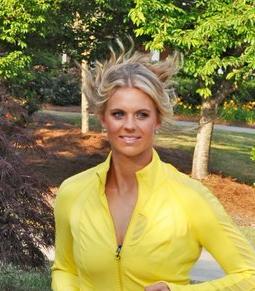 Image via ngleisure.com
This lovely lady is a "Professional Soccer player for the Canadian National Team, Purdue Alumni, Model, Writer, Actress, Entrepreneur" according to her Twitter bio.
Can we say "ambitious?"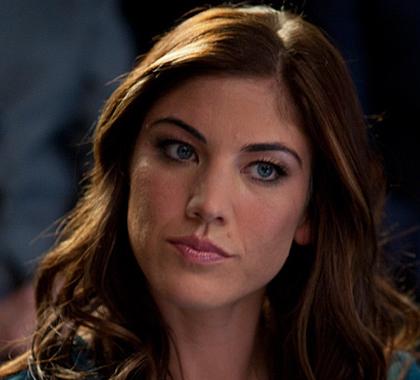 Image via terezowens.com
Hope Solo is the main reason I watched the 2011 Women's World Cup.
She's a keeper. Get it?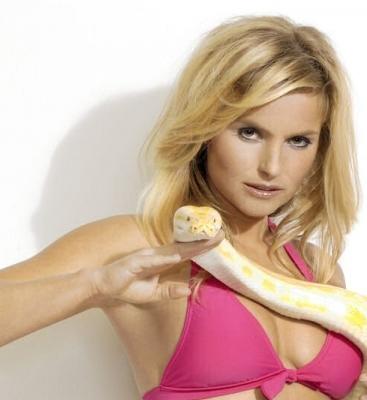 Image via listal.com
Fatima Moreira de Melo might not be playing too much field hockey these days—you can find her in the poker rooms as a professional poker star—but at least she will show up in London with the Netherlands national team for one more run.
Will she play? Who knows. We will see in a month.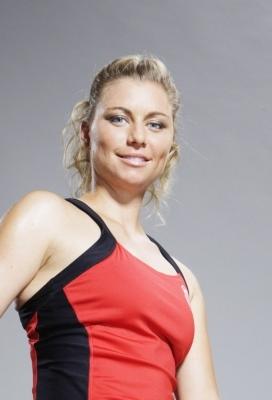 Image via listal.com
Vera Zvonareva is holding down the luckiest ranking of her career, holding steady at No. 13 overall.
The tennis star is not the best to come out of Russia, but she is one of the better players and should win a few games in London. But it will be hard to defeat the top-ranked Maria Sharapova.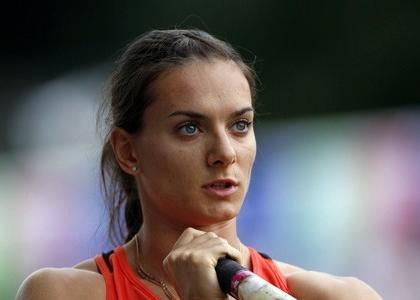 Image via fpa.es
If you try to pole vault without having any training, there is a high probability that you will not only fail but you will end up standing up with a pole sized hole in your chest.
Yelena Isinbayeva makes it look easy, as she is the best in the world.
Maybe you should go try it, though. Give it a shot, but don't come crying to me when you get hurt.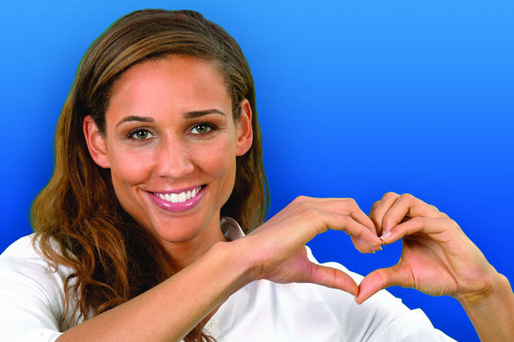 Image via vice.com
If the hurdles were easy, everyone would do it.
It takes a certain amount of talent to jump over a hurdle that stands almost three-feet high while also running pretty fast.
There is nothing about this event that looks easy.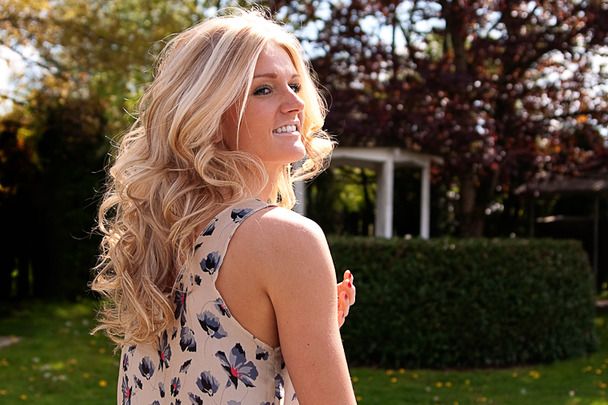 Image via onlysportsplayers.blogspot.com
The Canadian soccer star is making a name for herself on and off the soccer pitch.
It might be time to start giving Canada some more credit.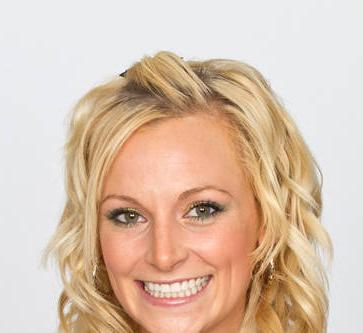 Image via diving.about.com
Ladies and gentleman, let me introduce you to Jaele Patrick, the Australian and Texas A&M diver.
I wish I would have found her sooner, but I am just glad I came across her at all. I would say you are welcome, but that would be taking credit for someone who has been around for a few years now.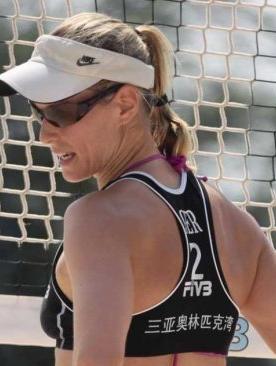 Image via monstersandcritics.com
Sara Goller isn't an Olympic medalist yet. She has won a few medals in the European championships—including a gold medal in 2008—but her success in Europe has failed to carry over to the Olympics.
That is just the right amount of motivation anyone needs to win a medal.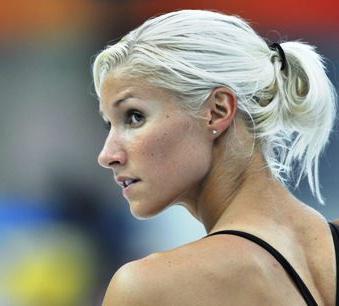 Image via girlswithmuscle.com
If you had to guess where Hanna-Maria Seppala is from, which country, based on this photo alone, would you guess?
Did you guess Sweden? Well, you're wrong. She is from Finland, and boy is she ripped.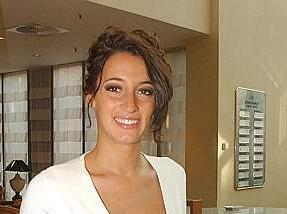 Image via grognards2011.blogspot.com
Fencing is a great sport. It requires a certain set of skills that keeps even the best of the best on edge. One slight mishap and you can fall off the charts and go home without any medals.
Elisa Di Francisca hasn't been able to claim an Olympic medal yet, but that doesn't take away from her already impressive resume of 16 fencing medals.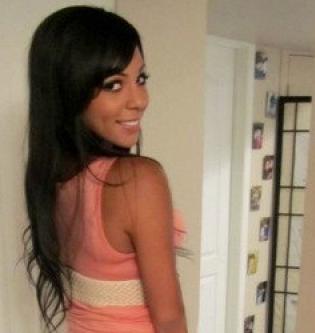 Image via bigsoccer.com
Sydney Leroux is beautiful. She is also the only female soccer player in the United States who is eligible to play for multiple countries. She can play for Team USA, which she does, or she can head on over to Canada and play for them.
She would rather take home a gold medal, so she rocks the red, white and blue. Glad to have her on our side.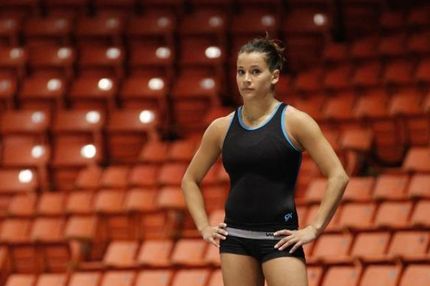 Image via chron.com
No American female gymnast has won more medals at the World Championships than Alicia Sacramone. She has taken home 10 medals in her career.
But will she come back and become the star she was four years ago following her Achilles injury? I think I speak for everyone when I say, yes, she will.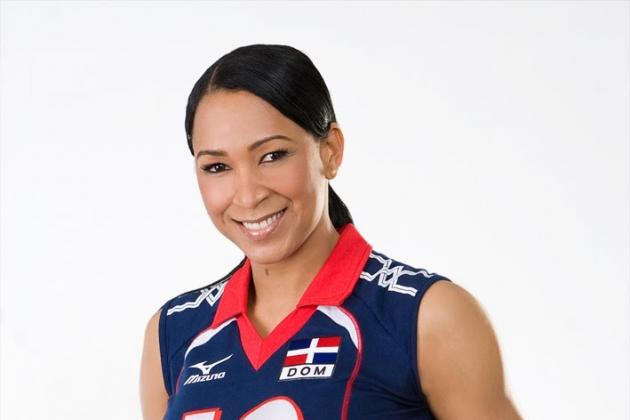 Image via maxysfoto.blogspot.com
I think I may have just become a fan of the Dominican Republic. Anyone else?
Milagros Cabral might not make the team heading to London this year but if she does, please tell me the schedule of games. Thanks.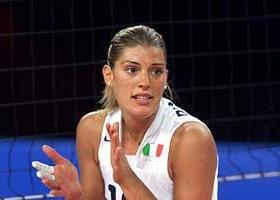 Image via 123people.es
Francesca Piccinini made some waves when she posed nude for Men's Health in 2004. Don't let that take away from her athletic ability though, because as soon as you forget it, she'll spike a volleyball in your face.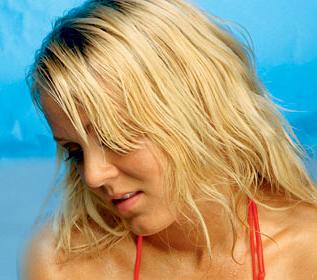 Image via thesportsbank.net
Josefine Oqvist already has proven she is one of the best players in the world, helping Sweden take home the bronze medal at the 2011 FIFA Women's World Cup, playing in every game.
Her beauty has given her a level of stardom that rivals that of a famous swimsuit model. But she has remained humble. We respect that.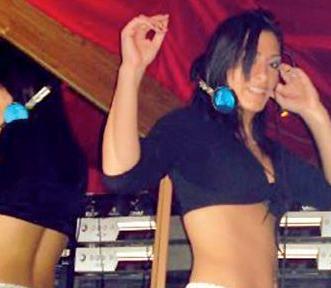 Image via dlh.ro
Since taking home three gold medals at the 2004 Athens Summer Olympics, Catalina Ponor has had some difficulty hitting that same level of success.
She has had to deal with injuries and two comebacks, but she is finally back and could be in contention for another Olympic medal.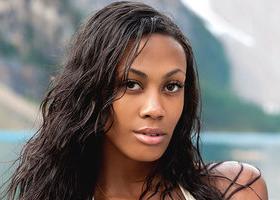 Image via coolspotters.com
If Hope Solo was the reason I watched the 2011 FIFA Women's World Cup, then Kim Glass is the reason I began watching Olympic volleyball.
It is the beauty of Kim Glass that truly caught my eye. I might have to watch volleyball yet again in 2012.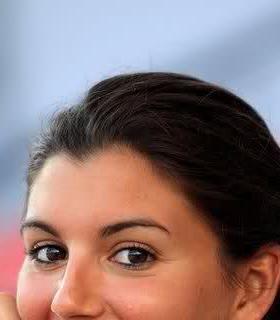 Image via facebook.com
This Italian beach volleyball player is apparently a terrific defensive player. She'll block your spike and your pickup line at a bar.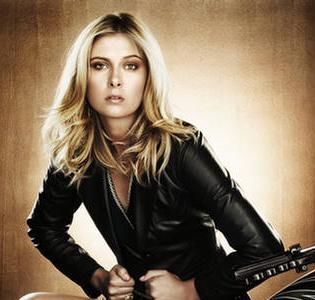 Image via magxone.com
Now that Maria Sharapova has won the French Open, she has become the 10th woman in tennis history to complete a career Grand Slam. And she still has Wimbledon in a few weeks before the Olympics.
She will head into the tournament ranked No. 1 for the first time in her career.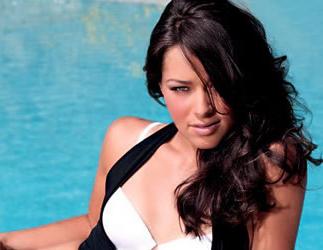 Image via askmen.com
Ana Ivanovic has fallen off quite a bit since being ranked No. 1in the world for women's tennis, but there's always hope for a comeback. We're definitely rooting for her. It would be great to see her succeed in the Olympics.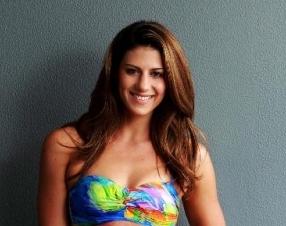 Image via stephanierice.com.au
Stephanie Rice has been a fan favorite for almost five years now. When I say fan favorite, I mean my favorite.
I have been a huge fan of the amazing Aussie not only because she is gorgeous—duh—but because she is one of the best swimmers in the world, year after year. She even had shoulder surgery earlier this year but is still right where she left off in 2008.
She will bring home a few medals in 2012. That is a fact.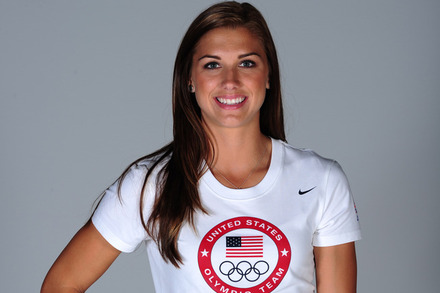 Image via sportsplayin.blogspot.com
Alex Morgan has become the face of Team USA soccer. She is the most popular star from the women's team thanks to her amazing play and a beautiful smile.
Her speed and goal scoring abilities are one of the main reasons the U.S. will win a medal in 2012. Then she can get ready for the 2015 Women's World Cup.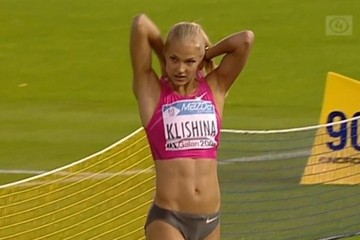 Image via Daryaklishina.com
Darya Klishina was once known as a long jumper, but shockingly has decided to quit the long jump and become a long distance runner instead.
I don't care how she makes it to London, just as long as she does.