MLB Prospects: 5 Red-Hot Pitchers at Every Minor League Level
Matt Barnes // Courtesy of MiLB.com
Earlier today, I offered a look at five red-hot hitters at every minor-league level. Well, for every hitter raking in at their respective minor-league level, there are even more pitchers who are absolutely dominating.
While some of these great arms are nearing a big-league call-up, others are making a case for a midseason promotion to a higher level.
Regardless, they are some of the brightest pitching prospects in all of baseball.
Triple-A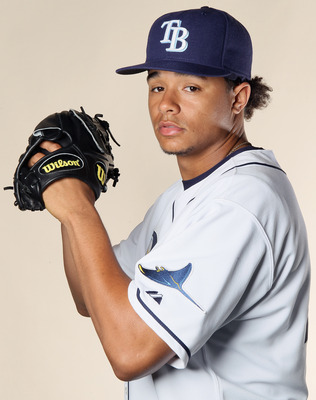 Chris Archer: Shaky control but top-notch pure stuff
Elsa/Getty Images
Tyler Cloyd, RHP, Philadelphia Phillies
6-1, 58.2 IP, 2.15 ERA, 0.89 WHIP, 42 K/12 BB (9 GS)
Leading the International League in both ERA and WHIP
Matt Harvey, RHP, New York Mets
5-3, 74.1 IP, 3.87 ERA, 1.39 WHIP, 74 K/35 BB (14 GS)
Coming off arguably his best start of the year in which he allowed three runs on three and hits and fanned 10 over seven innings
Tommy Hottovy, LHP, Kansas City Royals
22.2 IP, 6 SV, 1.19 ERA, 0.88 WHIP, 32 K/6 BB (18 G)
Doing what he can to work his way back into the Royals' big-league bullpen
Kevin Whelan, RHP, New York Yankees
25.1 IP, 12 SV, 3.55 ERA, 1.54 WHIP, 36 K/16 BB (24 G)
Expect to see him in the big leagues in the near future
Chris Archer, RHP, Tampa Bay Rays
4-8, 76.2 IP, 4.81 ERA, 1.43 WHIP, 90 K/45 BB (14 GS)
He doesn't know where the ball is going half the time, but he has some of the best swing-and-miss stuff in the minors.
Double-A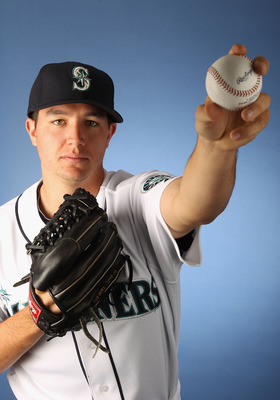 Christian Petersen/Getty Images
Zack Wheeler, RHP, New York Mets
6-2, 65.2 IP, 1.92 ERA, 1.01 WHIP, 70 K/27 BB (11 GS)
Is proving why he should be considered one of the top pitching prospects in the minors
Daniel Rosenbaum, LHP, Washington Nationals
7-2, 88 IP, 1.94 ERA, 1.02 WHIP, 55 K/14 BB (13 G)
He's cooled off as of late but is still having a great season; once again, best last name in all of baseball.
Danny Hultzen, LHP, Seattle Mariners
8-3, 75.1 IP, 1.19 ERA, 0.93 WHIP, 79 K/32 BB (13 GS)
The 2011 first round hasn't allowed an earned run in his last four starts spanning 24.2 IP. See you in Seattle soon, Danny.
Justin Grimm, RHP, Texas Rangers
8-3, 77 IP, 1.87 ERA, 1.03 WHIP, 67 K/14 BB (13 GS)
Ready to make his big-league debut against the Astros on Saturday
Daniel Straily, RHP, Oakland Athletics
3-4, 77.1 IP, 3.61 ERA, 1.19 WHIP, 99 K/23 BB (13 GS)
Continues to notch a ridiculous amount of strikeouts
High-A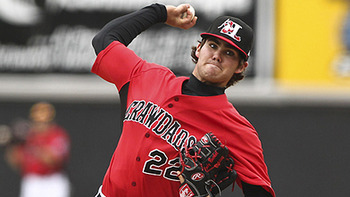 Cody Buckel // Courtesy of MiLB.com
Matt Barnes, RHP, Boston Red Sox
5-1, 46 IP, 1.37 ERA, .201 BAA, 53 K/8 BB (8 GS)
After only eight starts at High-A, I feel confident saying that he has nothing left to prove at the level.
Cody Buckel, RHP, Texas Rangers
5-3, 75.2 IP, 1.31 ERA, 0.98 WHIP, 91 K/25 BB (13 GS)
Leading the Carolina League in ERA and strikeouts; making a case for Top-50 prospect consideration.
Dylan Bundy, RHP, Baltimore Orioles
2-2, 18.2 IP, 4.34 ERA, .261 BAA, 23 K/6 BB (4 GS)
Getting hit a bit at High-A, but he's still been highly impressive.
Donn Roach, RHP, San Diego Padres
10-1, 88.1 IP, 1.94 ERA, 1.03 WHIP, 3.77 GB/FB, 73 K/14 BB (13 GS)
Has been dominant since trade to the Padres
Tyler Matzek, LHP, Colorado Rockies
4.3, 75 IP, 3.24 ERA, 1.39 WHIP, 83 K/52 BB (14 GS)
Still too many walks, but it looks as though he's officially back—I'm happy for him (and the Rockies).
Low-A
J. Meric/Getty Images
Sean Nolin, LHP, Toronto Blue Jays
7-0, 72.2 IP, 2.35 ERA, 1.09 WHIP, 73 K/17 BB (13 GS)
One of many low-minors pitchers that the Blue Jays are grooming to be a star
Gerrit Cole, RHP, Pittsburgh Pirates
5-1, 67 IP, 2.55 ERA, 1.10 WHIP, 69 K/21 BB (13 GS)
Finally figuring out his command and the results have been great.
Jesse Biddle, LHP, Philadelphia Phillies
3-3, 60.1 IP, 2.98 ERA, 1.24 WHIP, 70 K/21 BB (12 GS)
Having the season everyone hoped he would
Jose Fernandez, RHP, Miami Marlins
6-0, 71 IP, 1.27 ERA, .179 BAA, 88 K/17 BB (13 GS)
Flashing more and more ace potential with every start
Aaron Sanchez, RHP, Toronto Blue Jays
6-0, 43 IP, 0.84 ERA, .155 BAA, 48 K/23 BB (13 G; 6 GS)
See Nolin, Sean.
Keep Reading