Kentucky Basketball: 6 Newcomers to Watch in 2012-13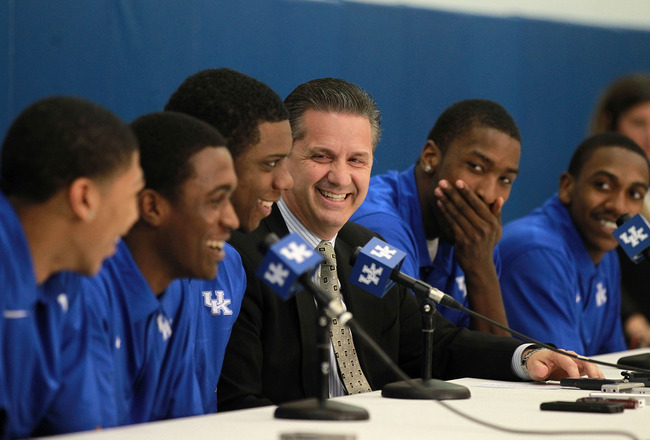 There's a lot to smile about in Lexington these days
Andy Lyons/Getty Images
This must be what it feels like to climb back down Mt. Everest after reaching the top.
In a year in which the University of Kentucky and John Calipari fielded what some say was the most talented college team of all time, winning the school's eighth National Championship, sending six players into the NBA Draft and becoming the first team to have teammates go first and second overall, the task is now to rebuild for another run at a title.
Kentucky is one of the few schools, and John Calipari one of the few coaches, who can lose six players to the NBA Draft and have a reasonable argument to be the preseason No. 1 team in the country the following year.
With most schools, filling in a few positions every season can be a daunting task. But for John Calipari, he must find a way to replace an entire starting lineup, plus the senior leadership of sixth man Darius Miller. In fact, only reserve sophomore forward Kyle Wiltjer (5.0PPG, 1.8RPG) remains from the previous seven-man rotation that tied the NCAA record for wins with 38.
But with all this going on, you would be surprised to find that folks in Lexington aren't concerned the slightest with replacing another talented crop of underclassmen gone on to NBA riches. Instead, they daydream about what Kentucky's fourth consecutive No. 1 recruiting class can bring home next season.
C Nerlens Noel (No. 1 Overall Recruit)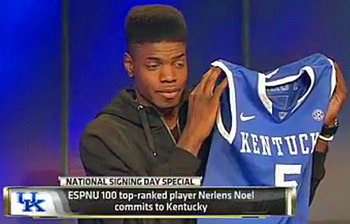 #1 Recruit Nerlens Noel Chooses Kentucky
Exit, Anthony Davis.
There is a strong case that no NCAA player in history had a better season than Davis, who brought home six National Player of the Year awards: National Defensive Player of the Year; SEC Player, Defensive Player, and Newcomer of the Year; along with First-Team All-American and All-SEC awards. Davis also led Kentucky to a National Championship and became the unanimous decision to be the No. 1 pick in the NBA Draft by the New Orleans Hornets, coincidentally, the same city where he won the NCAA Title.
With Davis' defensive prowess missing from the Wildcat paint, there should be cause for worry, unless the person replacing him is just as good if not better at ending the life of a layup with his bare hands.
"I can't block the ball like he blocks. He can block with either hand. I kind of tip it with my left. (The) only difference is he likes to throw it into the crowd," Davis said, via ukathletics.com. "I like to keep it in play. I'm pretty sure they'll change that here though."
Pretty high praise coming from a man that legendary coach Bobby Knight says (via ESPN) is a "young Bill Russell."
But Kentucky fans shouldn't rush to anoint Noel the next savior of college basketball's most storied tradition, which has been a tall task for the Big Blue Nation since the 6'11" center reclassified from the 2013 class to enroll a year early. His offensive game is somewhat limited at this point to around the basket and put backs, and unlike Davis, he doesn't enter the college game with as many perimeter skills.
However, his ability to block shots ambidextrously as Davis stated, and his tenacity in rebounding and defending, combined with superior athleticism will give the Big Blue faithful plenty of highlights this coming winter. The biggest key for Noel will be to separate himself from the shadow of one of the best players to ever put on a Kentucky uniform.
F Alex Poythress (No. 7 Overall Recruit)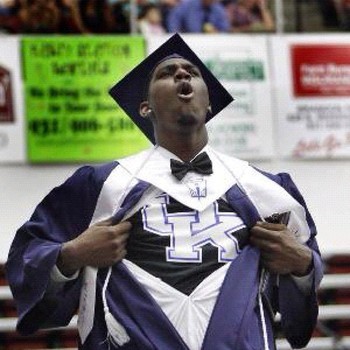 Alex Poythress Showing Off His New Digs At Graduation
When you're projected by NBADraft.net to be a top-10 pick in the 2013 NBA draft three months before you even write your first lecture notes in college, expectations are pretty high. Especially when you're Alex Poythress, who is charged with the tall task of, along with Nerlens Noel, rebuilding Kentucky's frontcourt left vacant by first-rounders Anthony Davis and Terrence Jones.
Poythress is a man-child, in every form, shape or meaning of the word. Standing at 6'8" and built like a cement wall, Poythress should be a capable replacement for Jones from an athletic standpoint. The real test will be in the intensity he brings to the court for defense and doing the dirty work.
Poythress' athletic prowess will serve him well in Kentucky's dribble drive offense, in part because he has shown great promise in slashing to the basket as a bigger combo forward. He also shows great range out to the three-point line for as big as he is, something that will stretch the defense out, creating opportunities for him or others to drive the lane.
He is not without flaws however, he could definitely stand to work on his ball-handling and get to work discovering his post game, which could be a huge factor in his maturation, especially with someone of that size. All in all, Poythress will be one of if not the leading scorer for Kentucky based purely off of his versatility on the offensive end.
G Archie Goodwin (No. 14 Overall Recruit)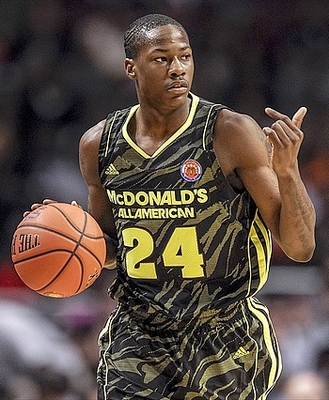 Archie Goodwin Figures To Have The Ball In His Hands A Lot At Kentucky
With as many questions as Kentucky has to answer in the frontcourt this season, it may come as a surprise that there are even more questions in the backcourt. With the departure of PG Marquis Teague, SG Doron Lamb and ball-handling combo guards Michael Kidd-Gilchrist and Darius Miller, someone has to have the ball in their hands this season, and Archie Goodwin will have it a lot.
Archie Goodwin will be a poor man's Michael Kidd-Gilchrist, but not by a lot. Goodwin is an incredible athlete whose motor (like Kidd-Gilchrist's) is constantly on full throttle. Coaches and scouts at all levels and all-star events have raved about Goodwin's attacking mentality and will to win, which is what makes him a perfect fit for Kentucky, given everything they've lost this offseason.
Goodwin figures to start at the 2 or the 3, which in Kentucky's offense is not an enormous difference. His real value to the Wildcats will be in his aggressiveness, because much like Kidd-Gilchrist last year, he is a streaky shooter with a somewhat awkward release on his jump shot. Where Goodwin excels is in slashing to the basket and in his defensive presence.
At 6'5", he has the ability to guard three positions on the floor, and the quickness and overall athleticism to guard all three at a high level. He could be one of the primary ball-handlers, spelling minutes at the PG spot if sophomore transfer Ryan Harrow finds himself on the bench. If Goodwin can improve from the perimeter and shoot the three at a respectable level, it will work wonders for his already outstanding ability to get to the basket and draw fouls.
C Willie Cauley-Stein (#48 Overall Recruit)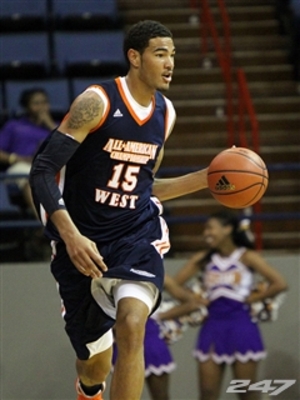 Cauley-Stein's Impact Will Be Felt On The Fast Break
Willie Cauley-Stein may be the first "project" of the John Calipari era at Kentucky, if that's even something you're allowed to call a player ranked as one of the Top 50 out of high school. What he certainly is, however, is the least heralded player in UK's 2012 recruiting haul, which is also inaccurate if you're speaking with John Calipari, who has raved about the 7' center's improvement since reaching campus.
What Willie lacks on the offensive end of the floor as far as scoring in the post, he more than makes up for it with his speed, length and leaping ability, which is astounding for someone measuring 7-feet in shoes. According to Kentucky's official site, Calipari noted after one of their summer practice sessions that Cauley-Stein is "extremely fast" and that "he gallops like a gazelle". A definite exhibit of Cauley-Stein's athletic ability is the fact that as tall as he is, he was also a stand out wide receiver for the football team at Olathe Northwest High School in Kansas, leading Kansas' largest school classification, 6A, in receiving yards his senior season and showcasing a quickness that is rare for someone as tall and long as him.
Cauley-Stein's impact for Kentucky this season will be mostly on the defensive end, as his offensive game is much less developed, more than likely due to football consuming most of his offseason time in high school. If there is one thing we do know though, it's that John Calipari is a great judge of talent, and if he says that he is impressed by the production he has seen from Willie in the short amount of time they've worked with each other, than it's nearly certain he will prove more than a few doubters wrong this season.
G Ryan Harrow (NC State Transfer)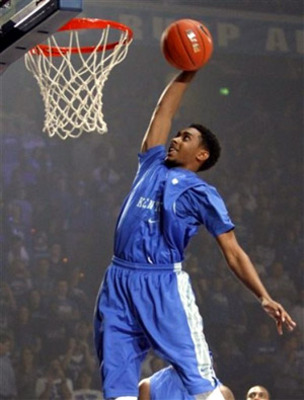 Ryan Harrow Dunks During Last Year's Big Blue Madness
Derrick Rose, Tyreke Evans, John Wall, Brandon Knight, Marquis Teague and now, Ryan Harrow.
Of all positions to have a question mark under John Calipari, point guard may be the one that the Big Blue Nation may not have to worry as much about this season. In the long line of Calipari-coached point guards who have gone on to NBA riches, Harrow has one distinct advantage over them all: This isn't new to him.
Harrow, who played his freshman season at NC State, transferred to Kentucky before last season after the Wolfpack fired head coach Sidney Lowe, and sat out all year as a redshirt per NCAA rules. He will be a sophomore this upcoming season.
In summary, Harrow has an entire season under his belt running the dribble drive offense, which he did practicing everyday last season against one of the best defensive teams in recent NCAA history. However, despite Harrow's similarity with Lexington and the Big Blue faithful, Harrow himself remains a mystery to most fans.
At 5'11" and 170 lbs soaking wet, he isn't an imposing figure on the court, but he will definitely be one of, if not the most athletic point guards in the nation—part of the reason he was rated as the No. 19 overall player in the 2010 class, and the third ranked PG behind former Kentucky star Brandon Knight and Memphis G Joe Jackson.
Harrow has incredible leaping ability, as showcased by the dozens of YouTube videos dedicated to one of his flamboyant alley-oops or windmill dunks. Harrow was effective for NC State as a freshman, averaging nearly 10 PPG, but was often sloppy with the ball trying to push the tempo on a mediocre team.
In Lexington, the amount of talent around him will place less pressure on him having to make plays. Much like Marquis Teague coming in last season, Harrow has a scorer's mentality from the point, and according to John Calipari, is one of the best outside shooters on the team behind F Kyle Wiltjer and transfer G Julius Mays. He is also an excellent ball-handler, and absurdly quick with the ball, stemming from his time being coached by Mark Edwards, who also trained And1 Mixtape star Hot Sauce.
If the last five years have been any evidence, and given the amount of time he's been part of the program, I expect Harrow to have a breakout season running the point for the Wildcats.
G Julius Mays (Wright State Transfer)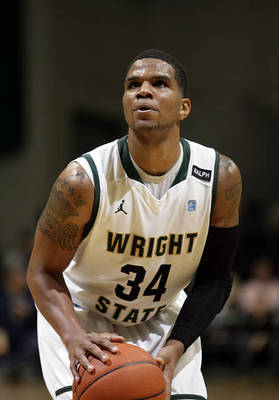 Julius Mays Will Be Expected To Shoot. A Lot.
Rounding out the newcomers is Julius Mays, a combo guard by way of Wright State. With the loss of Doron Lamb and Darius Miller, Kentucky also lost most of their outside shooting from last season.
Enter, Julius Mays.
Kentucky will be Mays' third college, coming in averaging 14.1 PPG in his lone season at Wright State, after he transferred from NC State following his sophomore season. He was the final pick up in this year's recruiting class, mainly due to his outside shooting. During his two seasons at NC State, he shot a combined 37.2 percent from three-point range, averaging four points and playing only 18 minutes a game. However, in his one season at Wright State, he shot 42.4 percent from beyond the arc, playing 33 MPG.
With the lack of experienced depth in UK's backcourt, Mays will more than likely be called on to either start alongside Harrow and Goodwin in a smaller lineup, or come off the bench as the sixth man to provide an outside scoring boost. What Mays lacks in the elite-level athleticism that the other newcomers bring, he brings with him a craftiness that only a fifth-year senior carries, as well as a tremendous ability to get to the foul line, as shown by his game last year against Illinois-Chicago, where he scored 33 points on 19-of-20 shooting from the free-throw stripe.
If Mays can offer half of the scoring that NBA draftee Doron Lamb did last season, then the Wildcats will be in more than good shape from the get go this season.
Keep Reading

Kentucky Wildcats Basketball: Like this team?