Euro 2012: Forget Wayne Rooney, Key Player Missing for England Is Jack Wilshere
June 16, 2012

David Cannon/Getty Images
England have now played two games in this years European Championships, and look set to qualify for the quarter finals.
Needing only a draw against one of the poorest sides in the tournament—Ukraine—and with a returning Wayne Rooney to look forward to, everything for England seems to be going according to Roy Hodgson's meticulous plans.
However, England's points tally masks faults in the team that are obvious even to the usually oblivious Alan Shearer's eyes. 
Simply put, this England team struggles to pass the ball with anything remotely approaching composure or real purpose. For all his qualities, this is not something Wayne Rooney will magically be able to fix upon his return.
People may point to England's excellent winner against Sweden last night—a superbly simple move ended with a delightful finish from Danny Welbeck—but this is very much an exception in their play, not the rule.
This is, of course, not Roy Hodgson's fault. Injuries to Wilshere, Gareth Barry and Frank Lampard, combined with Michael Carrick's reported refusal to be a part of a squad in which he was not a first choice player, has left the centre of England's midfield woefully short of anyone who can incisively pass a football. 
Scott Parker is an integral part of the current setup. His role as destroyer, to hustle and harry the opposition, looks likely to remain largely unchallenged, unless Phil Jones gains more experience in this position at Manchester United.
Steven Gerrard on the other hand should, in my opinion, be nowhere near this England team if any of the four players named above were fit or willing to play. 
While the tactical anarchy that both restricted and drove on his game in recent years has been curtailed, the flaws in his passing game have been revealed.
While he is still capable of the occasional Hollywood long ball, such as his brilliant assist for Andy Carroll's header yesterday, his overall ability to effectively pass a ball is simply not up to the modern standards required in international football.
With Parker and Gerrard either holding the centre of a straight 4-4-2, or at the base of a more suitable 4-2-3-1, England find themselves in a similar position to the Netherlands in this tournament. 
The consequences have obviously not been as drastic for England, but the lack of a player in that central area who can both help to cut open an opposing defence, as well as effectively retain possession when under pressure, has been sharply felt by both teams. 
Rooney will undoubtedly improve England's play when he makes his tournament debut against the joint hosts.
Against France, Young was almost playing higher at times than Welbeck, looking to get behind the defence with his pace.
And the Carroll and Welbeck partnership, whilst yielding results, made England look horribly disjointed. There was little connection between the midfield and attack.
It was only after the introduction of Theo Walcott to terrify the Swedes with his sheer pace that England managed to play with any sort of rhythm.
Some of these problems will hopefully be eradicated with Rooney's introduction.
The Manchester United striker will drop deep to receive the ball, and will attempt to link up with the wide players on a far more regular basis than Young.
He will also drift all over the pitch in search of the ball, to offer an option, something that far too few English players seem to do once they pull the Three Lions jersey over their heads.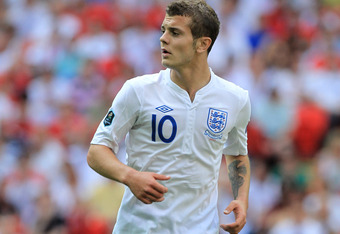 David Cannon/Getty Images
This accusation is something that cannot be leveled at Wilshere, and it is here that we come to the crux of my argument. 
Wilshere's short career as a footballer has been characterised by his single-minded desire to be a part of his team's play.
He is always looking for the ball, and simply lends it out, moving on to try and quickly receive it again. It is a trait England desperately needs—a player other than Rooney who can grab a game by the scruff of the neck and try to dictate the play.
In playing style, Wilshere looks somewhere between Xavi and Iniesta, now considered the archetypes of the modern midfielder. 
He sits in a similar position to Xavi, typically the middle player in a midfield three. But, he has a dynamism and desire to attack more akin to Iniesta. 
Although not on the same level as these Barcelona pass masters, his range of passing is far more varied and adept than the contenders for his place in the England team. Before his injury, he looked to have struck an effective partnership with Parker.
Since then, and without his endeavour and creativity in the middle of the pitch, Rooney continues to have to drop deeper and deeper in search of the ball. Then, England loses a degree of his attacking potency. 
The team also struggles to tick quickly and efficiently. Many teams have shown the value of simply moving the ball around the pitch as a tactic to open up the opposition and create space, but England does not have the personnel right now to do this without Wilshere.
It is Wilshere for me, rather than Rooney, that is the player England are most sorely missing.
While they may progress through the group, the later stages will be a far more difficult proposition without a player who can both effectively join in the attack, defend, and calmly see a game out. 
Jack Wilshere is the future for England, and they are a far worse team in this tournament without his presence.