MLB All-Star Game: Updated Predictions for Both Leagues' Complete Rosters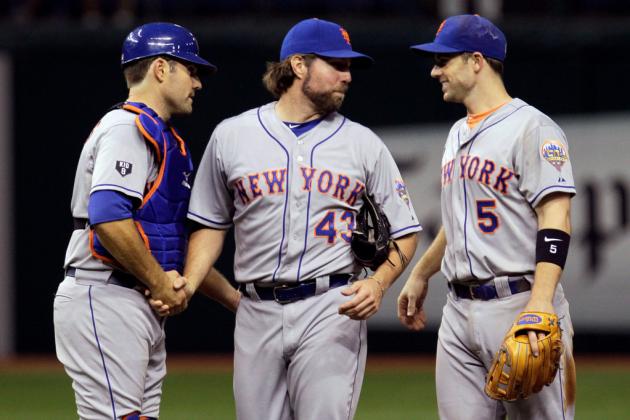 Chris O'Meara/AP
MLB players aspiring to represent their league in the 2012 All-Star Game are running out of time to bolster their candidacy.
We can already confidently predict who will comprise the AL and NL rosters, which both have 34 spots to fill.
Fans voting for the starting position players have until June 28 to submit their ballots. Once Major League Baseball tallies up the winners, the pitchers and reserves will be selected through a combination of player voting and selections by the All-Star managers, Ron Washington and Tony La Russa.
The silly rule that requires all 30 teams to send at least one player will inevitably snub some stars, who are listed in the final slides of this article.
Begin Slideshow

»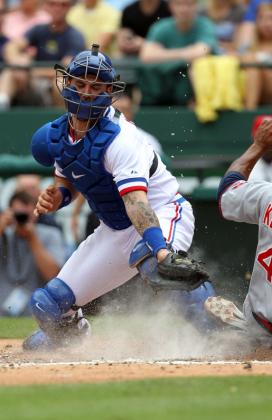 Layne Murdoch/Getty Images
Starter: Mike Napoli (Texas Rangers)
The June 18 update on American League All-Star fan voting revealed that Mike Napoli was nearly one million votes ahead of the next closest catcher. Such a lead is practically insurmountable, so expect Ron Washington to have his backstop in the starting lineup.
Napoli hasn't been extraordinary in 2012. He's striking out constantly—about once every three at-bats—and consequently, his batting average has dipped.
Because he spends significant time at first base, half of the AL candidates on the ballot have caught more innings.
On the other hand, Napoli has stayed healthy and mashed double-digit home runs. Evidently, those are stats that fans are focusing on.
Reserves: Joe Mauer (Minnesota Twins), Matt Wieters (Baltimore Orioles)
Napoli will need two backups in Kansas City.
Similar to the probable starter, Joe Mauer isn't making much of a defensive impact. However, his position-leading batting average, on-base percentage and stolen-base total will earn him a selection.
Matt Wieters is just the opposite. The 2011 All-Star has looked great behind the plate, and the metrics verify that. He deserves a lot of credit for the early-season dominance of the Baltimore Orioles pitching staff.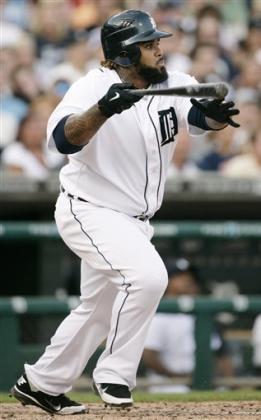 Duane Burleson/AP
Starter: Prince Fielder (Detroit Tigers)
In his debut for the Tigers, Prince Fielder isn't flaunting power like he has in the past. The dimensions of Comerica Park are largely responsible for that.
Fielder has still been very productive with the most runs batted in among first basemen. Overall, he is adjusting well to American League pitching.
It must be mentioned, though, that his fielding is atrocious.
Reserve: Paul Konerko (Chicago White Sox)
Paul Konerko has arguably been better than Fielder this season. Unfortunately, there aren't enough Chicago White Sox fans selecting him on their ballots.
Even if the league's leading hitter can't make up his deficit in the polls, he'll surely find himself on the AL roster.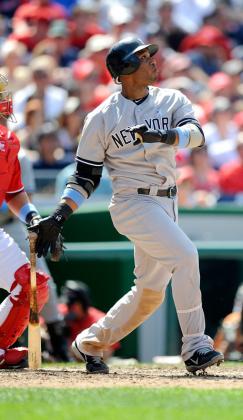 Greg Fiume/Getty Images
Starter: Robinson Cano (New York Yankees)
The slick second baseman is vying for his third consecutive All-Star start and fourth career selection.
Cano leads his position in a host of offensive categories despite underachieving in April. No competitor has an OPS within 100 points of his.
His defense is the clincher. Sure-handed and strong-armed, Cano handles nearly every ball hit in his direction.
Reserves: Ian Kinsler (Texas Rangers), Jason Kipnis (Cleveland Indians)
Kinsler has been neck-and-neck with Cano throughout the fan voting process, but expect him to finish as runner-up in this race.
Working in his favor are a handful of multi-hit games and stolen bases in the second half of June. He also has scored more runs than any other American League player.
However, Kinsler's case is compromised by the indisputable truth—his New York Yankee rival has out-played him in 2012.
Jason Kipnis—I expect—will be the Tribe's lone representative at the 83rd Midsummer Classic, but he's certainly not receiving an obligatory invitation.
His power-speed numbers are outstanding by middle infielder standards.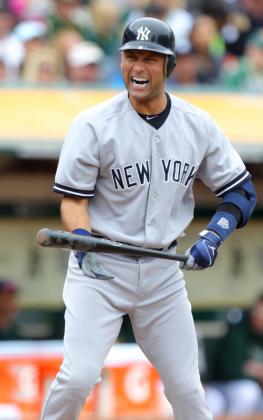 Jed Jacobsohn/Getty Images
Starter: Derek Jeter (New York Yankees)
"Captain Clutch" was controversially chosen to start in 2011. His popularity took precedent over his pedestrian performance.
Therefore, it isn't surprising to see him above all other shortstops in fan voting yet again. Considering his .300-plus batting average, elevated home run total and semi-decent fielding, I'd say he's actually deserving of the honor.
Reserves: Alcides Escobar (Kansas City Royals)
Escobar, 25, would be making his first All-Star appearance at his home stadium! In front of his fans!
Escobar is stealing bases efficiently in his third full MLB season and shining with the glove.
The latter is noteworthy because the Royals have played four different second basemen alongside him in 2012. The volatility hasn't bothered him.
Primary AL reserves are elected by players, coaches and managers, and would they say no to this face?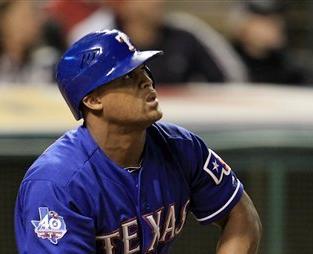 Tony Dejak/AP
Starter: Adrian Beltre (Texas Rangers)
The 381,577-vote cushion Beltre had in fan balloting with 10 days to go should be substantial enough to hold off the other candidates.
The Gold Glover isn't playing the hot corner like we've come to expect, but his bat is still dangerous. Right-handers, in particular, have been abused by Beltre all season.
Reserves: Miguel Cabrera (Detroit Tigers) and Mark Trumbo (Los Angeles Angels of Anaheim)
Miggy is the only challenger who could potentially catch up to Beltre in the polls.
He drives in nearly a run per game and can take a pitcher deep out of any ballpark (look at where this one landed). Cabrera is very disciplined and gifted with one of baseball's most picturesque swings.
Mark Trumbo is categorized as a third baseman though he only spent 63 innings at the position (and frankly, stunk at it). However, he has the versatility to occupy first base or a corner outfield spot.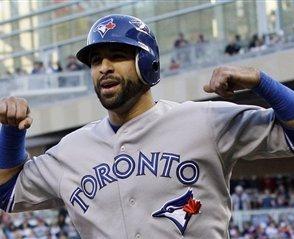 The Associated Press
Jose Bautista (Toronto Blue Jays), Curtis Granderson (New York Yankees), Josh Hamilton (Texas Rangers)
AL fans love the longball, which explains why the top three vote-getting outfielders are each beyond the 20-home run mark.
Jose Bautista slumped to begin the season. Hitting bombs regularly put him back in the All-Star discussion. His production during road trips proves that he is not merely a creation of Rogers Centre.
Curtis Granderson has adopted a less aggressive approach on the basepaths, but is otherwise duplicating his eye-popping 2011 stats. The fact that he has started every Yankees game in center field—and barely missed an inning—is a testament to his durability.
On the other hand, Josh Hamilton is notoriously injury-prone. To his credit, Hamilton hasn't landed on the disabled list in 2012.
He tied an MLB record with four home runs against the Baltimore Orioles on May 8.
There are no weaknesses to his game.
Bautista, Granderson and Hamilton comprised last year's starting outfield.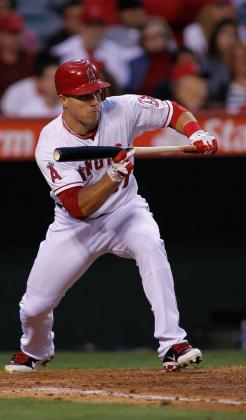 Jeff Golden/Getty Images
Austin Jackson (Detroit Tigers), Adam Jones (Baltimore Orioles), Mike Trout (Los Angeles Angels of Anaheim)
I can't recall the last time that the American League was loaded with so many stud center fielders.
Detroit fans began to appreciate Austin Jackson while he was sidelined in late May and early June. In that span, the Tigers were a mediocre 8-13.
After tweaking his swing this spring, Jackson is striking out less frequently than ever before (via clickondetroit.com). He has also displayed more patience at the plate and is consequently maintaining a sky-high on-base percentage.
No player deserves as much credit for Baltimore's surprise rise in the standings as Adam Jones. He can impact a game in so many ways.
Opposing baserunners are unwilling to test his throwing arm after he totaled 16 outfield assists a season ago. He is nearly a power threat of the same caliber as the probable starters.
Unlisted on the fan ballot, L.A.'s Mike Trout is receiving ample write-in recognition.
Despite spending a chunk of this summer at Triple-A, his value in 2012—according to the FanGraphs.com wins above replacement (WAR) statistic—rivals that of Josh Hamilton and Jones.
His AL peers are in awe of his skills and should choose him as a reserve.
If they snub him out of envy, Ron Washington won't. Trout has a .417/.464/.667 triple slash line versus his Texas Rangers. I imagine Wash wants to find out what it's like to command such a weapon.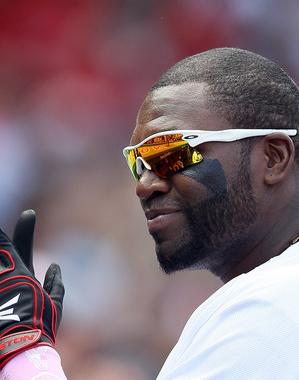 Elsa/Getty Images
Starter: David Ortiz (Boston Red Sox)
Big Papi appeared to be rapidly declining back in early 2009, but has miraculously revived his career in the several seasons since (h/t YESNetwork.com).
His consistency in 2012 has helped carry a Red Sox lineup that is being dragged down by former All-Stars Adrian Gonzalez and Kevin Youkilis.
Ortiz can't play a lick of defense, but no other AL designated hitter is hitting at his level.
Reserve: Edwin Encarnacion (Toronto Blue Jays)
Encarnacion has been a terrific bargain for the Jays, matching Jose Bautista blast-for-blast for a measly $3.5 million salary.
He excels with runners in scoring position and in generally high-leverage situations.
But Encarnacion isn't a one-trick player. The Dominican has experience at both corner infield positions, and he'll swipe a base on occasion.
Leon Halip/Getty Images
Starter: Justin Verlander (Detroit Tigers)
Halfway through his historic 2011 campaign, Verlander had the qualifications to serve as the American League's starting pitcher. He was ineligible to pitch in Arizona because he had taken the mound for the Tigers the previous Sunday.
Hopefully, Jim Leyland aligns Detroit's rotation in such a way that will make his ace available.
Verlander often pitches into the later innings and always lasts at least six. The ability to locate his fastball—which he can throw with triple-digit velocity—allows him to get ahead in the count and put batters away with filthy breaking balls.
Reserves: Chris Sale (Chicago White Sox), Jered Weaver and C.J. Wilson (Los Angeles Angels of Anaheim)
Count on 23-year-old Chris Sale being the second-youngest AL All-Star.
The southpaw has more strikeouts than innings pitched and a sub-.200 batting average against. He has surrendered three-plus runs only once in this first half.
Teammates Jered Weaver and C.J. Wilson frustrate the opposition. Neither throw hard, but have nonetheless maintained stellar earned run averages in 2012.
At times, they are practically unhittable. The lanky Weaver literally was against the Minnesota Twins on May 2 (via Fox Sports).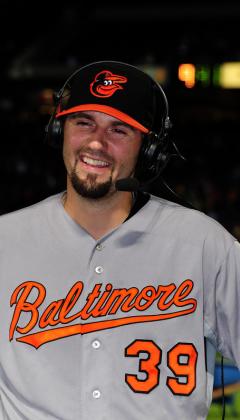 Scott Cunningham/Getty Images
Reserves: Jason Hammel (Baltimore Orioles), Colby Lewis (Texas Rangers), Jake Peavy (Chicago White Sox)
If Adam Jones is the most important Orioles player, Jason Hammel is a close No. 2.
His career has turned around, understandably a result of leaving Coors Field and its high altitude.
Hammel entices batters to chase outside the strike zone. AL East competition hasn't overwhelmed him (3-1, 3.27 ERA) and he's difficult to run against.
Ron Washington will be able to select a couple starting pitchers, but only one of his own Texas Rangers is worthy—Colby Lewis.
Lewis has a 68 percent strike percentage and microscopic total of 12 walks in 96 innings pitched. Both are indicative of his extraordinary command. His main deficiency is allowing too many home runs.
The Chicago White Sox have a $22 million team option to retain Jake Peavy for 2013. If the injury-prone right-hander keeps cruising through the schedule, they would be happy to pay him.
Peavy is tied for the league lead with three complete games.
Through almost 100 innings, would-be base-stealers are 0-for-4 against him.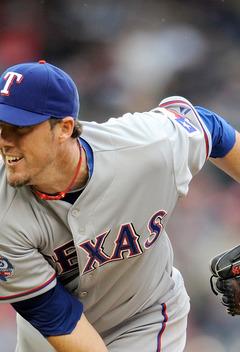 Hannah Foslien/Getty Images
Closer: Joe Nathan (Texas Rangers)
Nathan has silenced the skeptics who said he would never return to form after 2010 Tommy John surgery.
The former Minnesota Twins closer boasts an astronomical strikeout-to-walk ratio, and he hasn't given up an earned run since May 13.
He previously appeared in the 2004, 2005 and 2008 All-Star Games.
Setup men: Ernesto Frieri (Los Angeles Angels of Anaheim), Jim Johnson (Baltimore Orioles)
The Angels were hamstrung by a weak bullpen...until they acquired Ernesto Frieri.
Though Frieri is protected by an athletic defense, he seldom allows contact. About two-thirds of plate appearances against him end in the catcher's mitt.
Jim Johnson is his antithesis, a reliever who doesn't depend on swing-and-misses.
One consequence of Baltimore's strong first half has been an abundance of save opportunities. To date, Johnson has blown only one.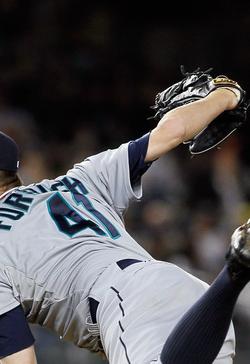 Mike Stobe/Getty Images
Setup men: Ryan Cook (Oakland Athletics), Charlie Furbush (Seattle Mariners), Fernando Rodney (Tampa Bay Rays)
Few players on the A's, M's and Rays are in the middle of noteworthy individual seasons.
However, all three clubs will send effective, late-inning relievers to Kansas City. After all, they need representation.
Ryan Cook is a hard-throwing setup man who's under legitimate consideration for AL Rookie of the Year. He compliments his four-seamer with a nasty slider.
Furbush's left-handedness should make him valuable to Ron Washington in matchups with powerful National League batters. His pitching has improved each month.
Veteran Fernando Rodney completes the 34-man roster. During the preseason, predicting such a thing would have generated a lot of laughs.
His monstrous 1.688 WHIP in 2011 while with the Los Angeles Angels of Anaheim deterred most suitors.
The Tampa Bay Rays inked him to a very team-friendly deal before spring training. That bought them a flame-thrower who for the first time in his career, knows exactly where the ball is going.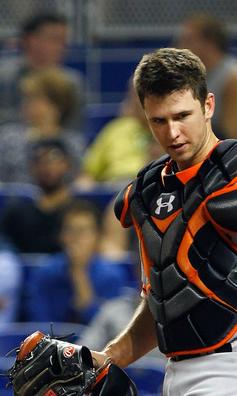 Mike Ehrmann/Getty Images
Starter: Buster Posey (San Francisco Giants)
Based on MLB.com's latest fan voting update, Buster Posey remains the front-runner for the NL starting catching gig.
He has flirted with a .300 batting average all season and was well above that mark in April. He struggles to reach the seats in vast AT&T Park, but frequently finds the gaps.
Posey caught Matt Cain's perfect game early this month and allegedly called every pitch of it (h/t AOL Sporting News).
Reserves: Yadier Molina (St. Louis Cardinals), Carlos Ruiz (Philadelphia Phillies)
Molina's vote total has been close behind Posey's throughout the process.
He steals more bases than any other National League backstop. When behind the plate, he doesn't let many be swiped.
The Cardinals pitching staff has been without Chris Carpenter in 2012, yet his catcher's ERA is still respectably under 4.00.
Molina's streak of three consecutive All-Star starts is in jeopardy.
Carlos Ruiz—a lifetime .265 hitter entering this season—is actually a contender for the NL batting title!
His offensive outburst has kept the Phillies afloat while they've been without Ryan Howard and Chase Utley.
Ruiz is a great defensive catcher, too. Pretty much on par with Molina and Miguel Montero of the Arizona Diamondbacks.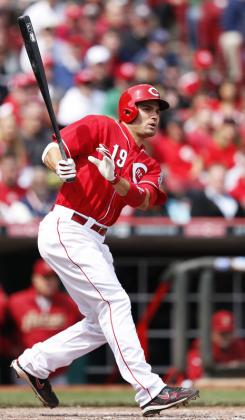 Joe Robbins/Getty Images
Starter: Joey Votto (Cincinnati Reds)
In his blog post titled "Joey Votto hitting like the Bambino," Jayson Stark of ESPN.com explains that the Cincinnati first baseman is on pace for an "un-be-friggin'-lievable" offensive year.
The majority of pitchers are afraid to throw him strikes. Those who aren't wind up embarrassed.
He has unquestionably earned a place in the starting lineup.
Reserve: Bryan LaHair (Chicago Cubs)
LaHair will likely be a full-time right fielder by July 10 (Anthony Rizzo is coming up soon, via AOL Sporting News), but I'm sure he wouldn't mind switching back for one night.
His offensive numbers have normalized since a torrid April. Through 20 games, he possessed a .600 batting average on balls in play, which obviously wasn't sustainable.
However, as the months have changed, LaHair has not lost any home run ability.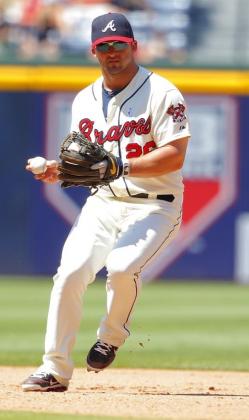 Todd Kirkland/Getty Images
Starter: Dan Uggla (Atlanta Braves)
Uggla was last an All-Star in 2008. His record-breaking performance (via NBC Sports) was memorable for all the wrong reasons.
The good news? If Uggla starts, he'll be replaced in the middle innings and unable to screw up with home-field advantage for the World Series hanging in the balance.
He leads all NL second basemen in runs scored, but his strikeouts are piling up, too.
Reserves: Aaron Hill (Arizona Diamondbacks), Brandon Phillips (Cincinnati Reds)
Going into late June, Aaron Hill is possibly the hottest hitter in the world.
He cycled in the first game of a recent series versus the Seattle Mariners. He then recorded a home run and multiple hits in each of the following two clashes.
The D-Backs—I predict—will not have any other 2012 selections.
Similar to Hill, Brandon Phillips has just started heating up at the plate.
His defense was never in a slump, though. The Gold Glover makes flashy plays on a nightly basis.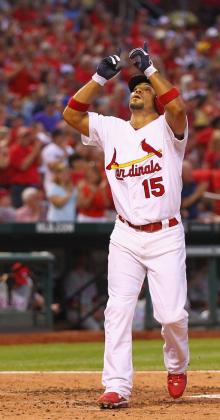 Dilip Vishwanat/Getty Images
Starter: Rafael Furcal (St. Louis Cardinals)
The 34-year-old Furcal is fading on the diamond, but not in fan voting. His main challenger for the starting assignment is Troy Tulowitzki, who spent three weeks trying to recover from a groin injury before opting to get it surgically mended.
Furcal, on the other hand, has played regularly and ignited an elite batting order from the leadoff spot.
Reserves: Jed Lowrie (Houston Astros), Jose Reyes (Miami Marlins)
Lowrie is Houston's top power hitter, which can be mostly attributed to his talent (though admittedly, the Astros are a team devoid of pop). He's taller than Furcal and not really a base-stealer.
This will be his first complete MLB season if he stays healthy. Also, this would be his first All-Star selection.
Working over the break won't be anything new for Jose Reyes, who has represented the National League four times already.
Reyes continues to be a subpar shortstop. His offensive production pales in comparison to his 2011 brilliance. At least he's putting the ball in play.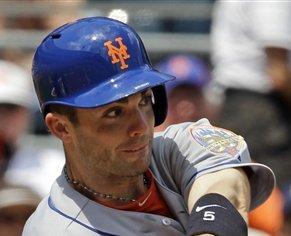 Gene J. Puskar/AP
Starter: David Wright (New York Mets)
No Mets player besides David Wright knows the thrill of getting to the postseason with a New York sports team. He's doing everything possible to keep the 2012 club in contention.
In a lineup of unaccomplished batters, Wright is seeing fewer strikes. Still, he's putting good swings on whichever balls get close. Many of his hits have gone for extra bases, too.
Between 2006 and 2010, he was a staple of the ASG. Perhaps this will be the beginning of a new multi-year run.
Reserves: David Freese (St. Louis Cardinals), Chase Headley (San Diego Padres)
If NL manager Tony La Russa is going to make any personal picks, I'm confident that 2011 World Series MVP David Freese will be among them. His clutch performance last October gave the skipper his opportunity to walk off into the sunset with a fresh championship.
Naturally, Freese wouldn't be considered unless he was having a decent season. He has been swinging the stick rather well in 2012.
It's an especially noncompetitive era for the Padres, who will be represented solely by Headley. He contributes to their sporadic winning in several ways, notably with his polished fielding.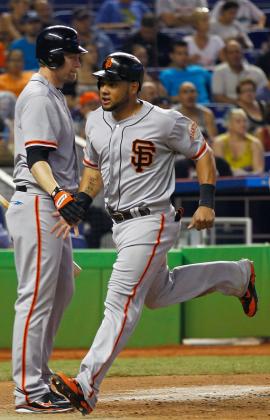 Mike Ehrmann/Getty Images
Carlos Beltran (St. Louis Cardinals), Melky Cabrera (San Francisco Giants), Matt Kemp (Los Angeles Dodgers)
At age 35, Beltran is attempting to finish this summer with his highest OPS as a major leaguer. Though no longer an exceptional defensive outfielder, he's raking at an All-Star level.
Melky Cabrera became the first MLB player to surpass 100 hits this season. He is surprisingly the focal point of a lineup that also includes Buster Posey and Pablo Sandoval. Then again, he should be motivated to step up in a contract year.
His utter dominance of the National League has earned him a cult following of "Melk Men."
Dodgers center fielder Matt Kemp remains optimistic that he'll play in the Midsummer Classic (h/t USA Today). Whether or not management will allow him to risk aggravating his injured hamstring is another matter entirely.
He has missed nearly half of his team's games because of two DL stints. When active, however, his impact has been game-changing.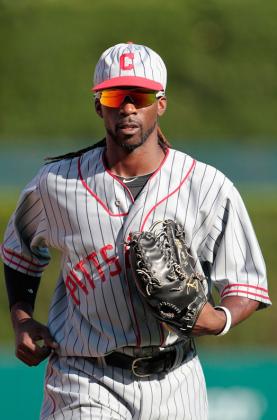 Leon Halip/Getty Images
Ryan Braun (Milwaukee Brewers), Andre Ethier (Los Angeles Dodgers), Carlos Gonzalez (Colorado Rockies), Andrew McCutchen (Pittsburgh Pirates)
The reigning NL MVP is assured a spot on the roster. The question for Braun—an offensive juggernaut—is whether or not he'll start.
Don't be alarmed if the sizable San Francisco Giants fanbase keeps Melky Cabrera in front.
L.A.'s cleanup hitter is the league's No. 1 run producer. Particularly, Ethier has been delivering with two outs to lead the Dodgers into June 22 as the only NL franchise with a .600-plus winning percentage.
Carlos Gonzalez and Andrew McCutchen are comparable to Braun in terms of their power-speed combination. Both are thriving despite a lack of surrounding talent.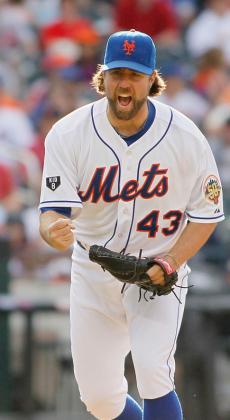 Mike Stobe/Getty Images
Starter: R.A. Dickey (New York Mets)
Conceding zero earned runs in a month's time is generally going to attract attention. Because R.A. Dickey was even pitching well before the scoreless streak, I'd say he's locked into the starting role.
The knuckle-baller is mowing down batters unlike any right-hander with that pitch ever has.
Eight of Dickey's starts have been rated a 70 or higher by the Bill James stat, game score (via FanGraphs). Two of those outings were one-hitters.
Reserves: Matt Cain (San Francisco Giants), James McDonald (Pittsburgh Pirates), Stephen Strasburg (Washington Nationals)
Matt Cain one-upped Dickey and tossed a perfect game earlier in June, the first in San Francisco Giants history. Between that performance and a massive contract extension, Cain doesn't fly under the radar anymore.
McDonald is a pre-arbitration eligible star. The Pirates have a 9-5 record in his starts, and he has been the only member of their pitching staff capable of monitoring opposing baserunners (40 percent caught stealing percentage).
Then there's Strasburg, who needs no introduction.
His strikeout total is unmatched even though the coaching staff limits him to an average six innings per start.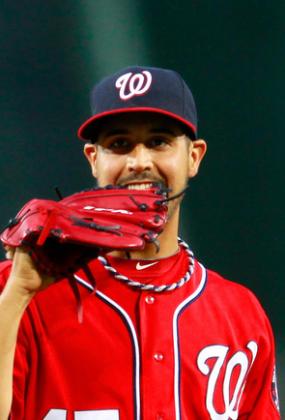 Kevin C. Cox/Getty Images
Reserves: Brandon Beachy (Atlanta Braves), Gio Gonzalez (Washington Nationals), Clayton Kershaw (Los Angeles Dodgers)
Because he underwent Tommy John surgery (via MLB.com), Brandon Beachy can be ruled out for the rest of 2012 (and about half of 2013). That doesn't mean his 81 innings of awesomeness should be ignored.
Beachy had clearly advanced from his rookie year, as he was sticking around deep into games and pitching to a .171 batting average against.
One of my NL snubs will serve as an injury replacement.
Gio Gonzalez and Clayton Kershaw are battling for the Warren Spahn Award, which is presented to baseball's best left-hander. Gonzalez has yielded one home run all season, while Kershaw was flawless in an All-Star appearance last July.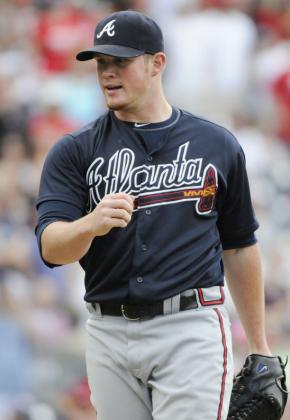 Jonathan Ernst/Getty Images
Closer: Craig Kimbrel (Atlanta Braves)
Kimbrel overcame rocky months of April and May to find his place on the 2011 All-Star squad. No struggles to speak of in his age-24 season.
A double by Jose Tabata is the only extra-base hit to be recorded against him. He last blew a save opportunity on May 2, but it was in a game that the Braves eventually won.
Left-handed batters don't have a prayer.
Setup men: Aroldis Chapman (Cincinnati Reds), Jonathan Papelbon (Philadelphia Phillies)
The "Cuban Missile" has learned to throw strikes, which makes him close to unbeatable. Chapman maintained a spotless earned run average until June 7 and has recorded a strikeout in 29 of 30 appearances.
Jonathan Papelbon doesn't have many friends among National League batters. He is inducing a lot of ground balls and sporting a near-perfect save percentage.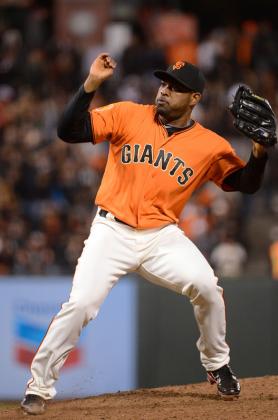 Thearon W. Henderson/Getty Images
Setup men: Santiago Casilla (San Francisco Giants), Tyler Clippard (Washington Nationals), Kenley Jansen (Los Angeles Dodgers)
Giants fans were unhappy when Brian Wilson went under the knife for elbow surgery.
Though they lost a hilarious character, their bullpen is just as effective. Santiago Casilla took on Wilson's responsibilities and is the main reason why San Francisco relievers have the National's League lowest ERA in the ninth inning or later.
Tyler Clippard and Kenley Jansen were also promoted since Opening Day, Clippard because of injury and Jansen on his own merit. The former led all NL relievers with 88.1 innings pitched a year ago and was selected as an All-Star.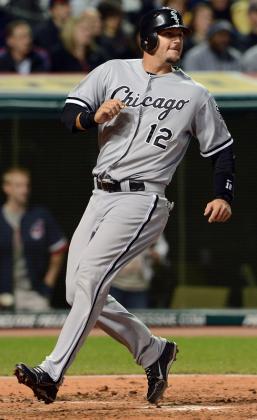 Jason Miller/Getty Images
These American League players have had strong first halves. You may see them in the All-Star Game as injury replacements:
Scott Atchison (Boston Red Sox), Joaquin Benoit (Detroit Tigers), Jonathan Broxton (Kansas City Royals), Asdrubal Cabrera (Cleveland Indians), Adam Dunn and A.J. Pierzynski (Chicago White Sox), David Price (Tampa Bay Rays), Albert Pujols (Los Angeles Angels of Anaheim), Brandon McCarthy and Josh Reddick (Oakland Athletics), CC Sabathia (New York Yankees).
Sarah Glenn/Getty Images
Similarly, these solid performers could be emergency additions for the Senior Circuit:
Jose Altuve (Houston Astros), Chris Capuano (Los Angeles Dodgers), Johnny Cueto (Cincinnati Reds), Ryan Dempster (Chicago Cubs), Zack Greinke (Milwaukee Brewers), Paul Goldschmidt, Wade Miley and Miguel Montero (Arizona Diamondbacks), Cole Hamels and Hunter Pence (Philadelphia Phillies), Joel Hanrahan (Pittsburgh Pirates), Lance Lynn (St. Louis Cardinals), Michael Bourn and Martin Prado (Atlanta Braves), Giancarlo Stanton (Miami Marlins).