2012 MMA to-Do List for Each Top-10 Welterweight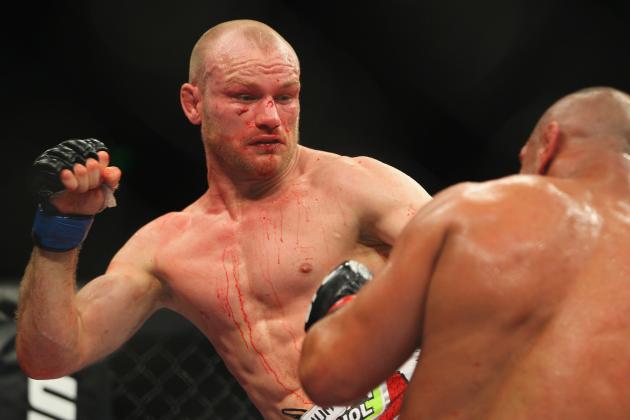 Mark Kolbe/Getty Images

There is perhaps no division in MMA as muddled as the welterweight division.
I, of course, speak in reference to the swelling mass of title contenders building inside the UFC's 170-pound weight class.
Here, we will examine what those who comprise the title-holding and title-contending entities must do before the end of the calender year to separate themselves from the rest of the horde.
If you are wondering why the UFC-centric approach should dominate a discussion of the world's top 10 welterweights, look no further than Bleacher Report's own fighter rankings—with the exception of Bellator's Ben Askren, all of the division's top 10 reside in the UFC.
Let's begin.
Still to Come
2012 MMA to-do Lists for Each Top-10 Lightweight
2012 MMA to-do Lists for Each Top-10 Featherweight
2012 MMA to-do Lists for Each Top-10 Bantamweight
2012 MMA to-do Lists for Each Top-10 Flyweight
Begin Slideshow

»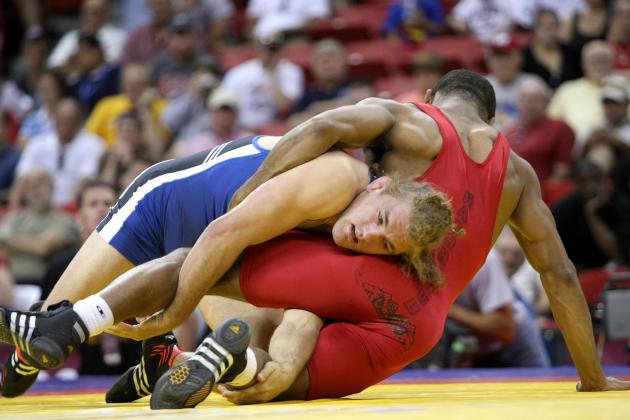 Jonathan Ferrey/Getty Images

Askren's To-Do List
Keep developing secondary and tertiary skills to supplement that dominant wrestling
Ben Askren is a wrestler—he will always be a wrestler—but the more he rounds the rest of his game, the more successful a mixed martial artist he will ultimately become.
While he has been able to defeat the best Bellator has to offer on a regular basis, eventually someone will come along who can thwart his style. That, or he will end up fighting in the UFC against a handful of fighters who will figure him out.
While Askren's wrestling is some of the best in MMA, in order to climb the ladder he needs to develop his striking and sweep defense, which he neglects, preferring to regroup during ensuing scrambles.
Decide whether or not he wants to care about what people think of him
Until his win over Douglas Lima, I was impressed with how Askren handled his critics. He knows what he needs to do to win fights and he does it, even when it bores fans half to death.
To me, there is something refreshing about a guy who throws away the machoisms attached to MMA, which dictate that if you don't close your eyes and swing for the fences, you are a sissy. I like that he wants to win above all else. I also like that he didn't care when people called him boring or one-dimensional.
But now, he is lashing out at fans and at the media, though he insists that he still doesn't care what they think. I don't believe him anymore.
You know who most utters the phrase "I don't care what people think?" It's people who care what other people think.
Either ignore it or fight it, but don't say you don't care and then whine about criticism.
Finish a fight
Because of his sensational wrestling, Ben Askren will control the majority of the fights he is in. However, the chances are higher that a competitor drops a bout that he controls for 14 minutes than one he ends in 30 seconds.
So far, grinding out decisions has worked, but to minimize the chances of faltering, Askren needs to figure out how to end a bout the fun way.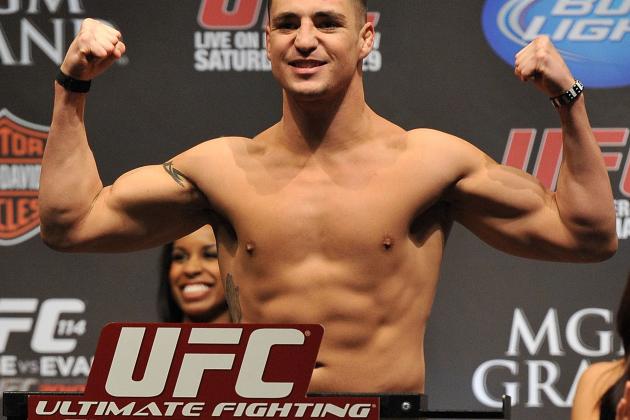 Jon Kopaloff/Getty Images

Sanchez's To-Do List:
Get in shape at welterweight or drop back to lightweight
Diego has always been a very aggressive fighter who has relied on endless cardio. In his most recent fight, a loss to Jake Ellenberger, he came in doughier than ever before.
Not a good sign for a fighter that pushes the pace like Sanchez does.
In that fight, he did exhibit better energy than Ellenberger did in the final round, but we know Diego can get himself into better shape. To beat the best of the best, it will take everything he's got, and getting into better shape is one area that he can certainly improve upon.
Don't let the Ellenberger loss start a downward spiral
Sanchez has never lost just one fight at a time. Prior to the Ellenberger loss, Sanchez's four losses came in pairs of two. He cannot let this trend continue.
Before his most recent loss, Sanchez had compiled back-to-back wins over Paulo Thiago and Martin Kampmann. If he succeeds in his next bout, he can erase the memory of his last loss, and if he does that, he will still have decent momentum
Perform an in-Octagon exorcism
If you are going to run to the cage wielding a crucifix, the least you can do is banish a demonic presence from the earthly plane.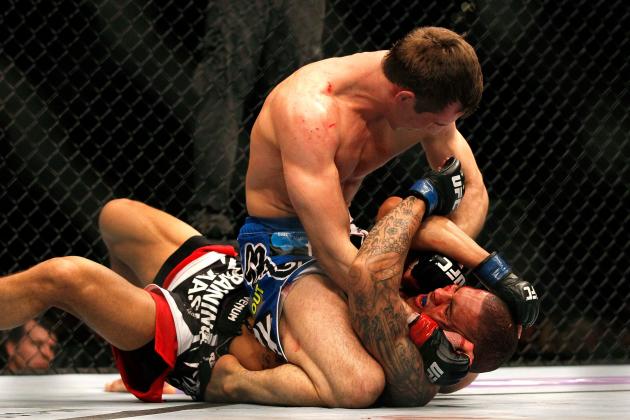 Kevin C. Cox/Getty Images

MacDonald's To-Do List:
Re-retire B.J. Penn
People complained when MacDonald was matched up against Che Mills, saying the fight was a gimme. Now, those same people are saying the UFC is attempting to give MacDonald a safe fight against a name that carries a lot of weight.
There may be some truth to this, but Penn is still not a fighter to be taken lightly. Furthermore, a win over Penn—even if it isn't what it used to be—would be a nice feather in the cap of a youngster looking to become one of the best fighters on the planet.
Inquire about a New Year's Eve bout
MacDonald will take on Penn at UFC 152, which is set for September. As a 22-year-old up-and-comer, it is in his best interest to take as many fights as he can get at this point, as the more experience he obtains, the quicker he will develop.
While there is no option for fighting before September, MacDonald should push to make sure that the bout with Penn is not his last in 2012.
Work on avoiding damage on the feet
Rory is a very well-rounded fighter, but the area he needs to improve most is his striking defense.
Before scoring a takedown against Che Mills, MacDonald ate some solid strikes. MacDonald's sole loss in the UFC was a product of Carlos Condit's aggressive striking. Even Mike Guymon dropped Rory to one knee in his first fight with the promotion.
While he is a solid striker himself and has displayed a good chin to this point in his career, MacDonald would be wise to avoid damage rather than absorb it from here on.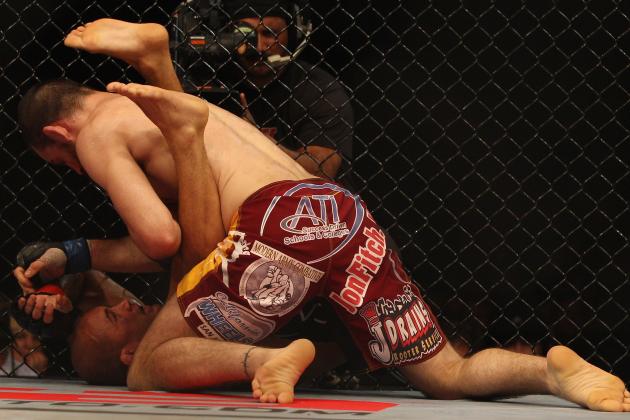 Mark Kolbe/Getty Images

Fitch's To-Do List:
Don't push the panic button
Everyone gets caught. Just because it happened to Jon Fitch does not mean there is reason for him to reinvent the wheel for his next fight. Fitch employs a tried-and-true grinding strategy that has led him to a 13-2-1 UFC record, and one recent loss does not diminish all he has accomplished.
Before losing to Hendricks in December of 2011, Fitch's last loss came in August of 2008, to Georges St-Pierre.
Just stay the course.
Rebound with a win
Fitch needs to win his next fight. If he doesn't, then it may be time to push the panic button.
While a fighter who is used to succeeding may be tempted to make amends for a loss, Fitch would be unwise to push too hard for an impressive finish in his next bout.
Sure, a finish would be great, but a loss would be absolutely devastating. Secure the win—anything else is bonus.
Get active
Fitch has fought just four times over the past 27 months and has no plans solidified for an upcoming fight.
Weather it is because of his methodical style or the convincing way that GSP defeated him the first time the two squared off, the UFC has maintained a less than eager stance on getting Fitch into a title fight.
At 34 years old, Fitch needs to put together a run sooner rather than later, especially considering his ladder seems longer than that of some other welterweight contenders. If he takes a couple years to string together some wins, then loses just once, he may not have enough left in the tank for another run.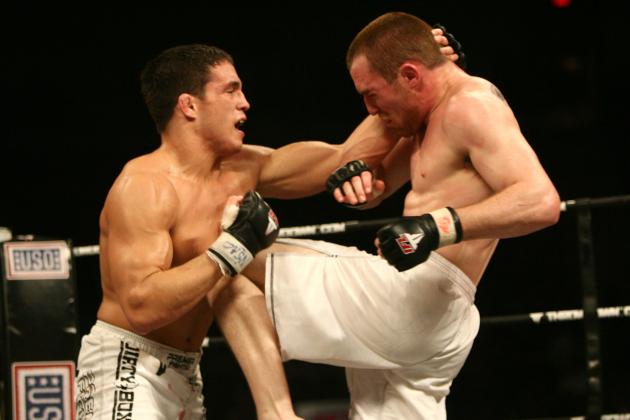 Ethan Miller/Getty Images

Ellenberger's To-Do List:
Like Fitch, do not push the panic button
Ellenberger's loss to Martin Kampmann came at a bad time, but it does nothing to suggest Ellenberger is a bad fighter. In fact, the Juggernaut controlled most of the contest before getting clipped with punches and knees.
Ellenberger remains a force in the UFC's welterweight division, and there is no reason for him to panic after losing earlier this June.
Improve cardio
Ellenberger explodes out of the gates. We saw this against Sean Pierson, Jake Shields and Martin Kampmann.
To a distant extent, this works for him. However, in the third round of his bout with Diego Sanchez, Ellenberger was clearly gassed. This cannot happen again.
Consequently, Ellenberger has two options. One, he can better pace himself. Two, he can improve his cardio.
Given that his aggressive starts are largely responsible for making him a top welterweight fighter, the latter option seems to be the better of the two.
Stay with the pack
While the Kampmann loss was a setback, Ellenberger is not that far from the UFC welterweight title. He may need two or three wins, but only Kampmann, Hendricks, Condit and St-Pierre are clearly ahead of him.
If Ellenberger can beat a fellow contender—say, Jon Fitch or Josh Koscheck—in his next bout, he may find himself back in the title discussions sooner rather than later.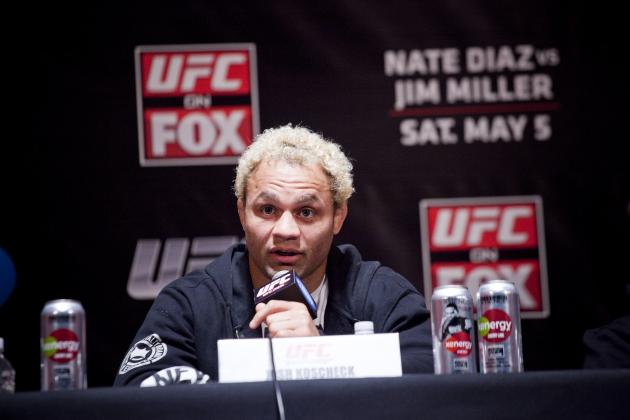 Michael Nagle/Getty Images

Koscheck's To-Do List:
Hit the panic button
Unlike Fitch and Ellenberger, it's time for Koscheck to worry.
Leading up to his second bout with Georges St-Pierre, many wondered what Koscheck would do if he lost. GSP had already soundly defeated him once, and a second loss would seem to construct a future of fighting to be No. 2.
Well, Koscheck did lose to St-Pierre and he hasn't been the same since. He blasted an over-the-hill Matt Hughes to follow up the St-Pierre loss, then won a very controversial split decision over Mike Pierce, who out-landed Koscheck and controlled most of the fight.
Most recently, Koscheck dropped a close split decision to Johny Hendricks.
Something needs to change here.
Try wrestling
I applaud Koscheck for developing such an advanced striking game, but why not use that NCAA National Championship wrestling a touch more?
It may be unfair criticism to launch at Koscheck, as he has been pitted against fellow wrestlers in all of his recent bouts, but going to that skill set more in the future would be a good move for the American.
Find some inspiration
Maybe GSP did break Koscheck when he beat him for a second time, maybe not. But Koscheck has looked uninspired since that fight, and his performance has lagged with his seeming lack of enthusiasm.
It is beyond me to question a fighter's will to win, but maybe he just needs a change of scenery. If he could make a deal with the devil, maybe a drop to 155 pounds wouldn't be the worst thing in the world.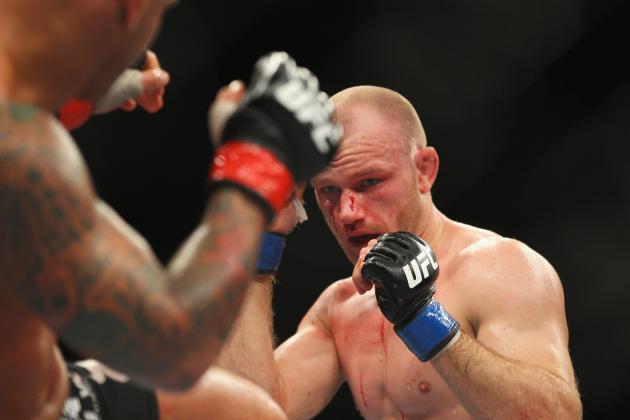 Mark Kolbe/Getty Images

Kampmann's To-Do List:
Run the last leg of the title race
Kampmann is in the midst of a serious run at the welterweight title. Wins over Rick Story, Thiago Alves and Jake Ellenberger have got him oh so close. There is just one obstacle remaining in his way.
That obstacle is Johny Hendricks, who has been on an impressive run of his own. Kampmann and Hendricks will face off this November for the right to face the winner of Carlos Condit-Georges St-Pierre.
Take the easy way for a change
Kampmann seems to believe that in order to win a fight, he must receive a beating and briefly lose consciousness.
I mean, whatever works; but if he could figure out a way to win without doing those things, it would probably be a positive for him in the long run.
Start faster
Hand in hand with my last point, Kampmann needs to get in the game from the opening bell.
He has struggled to find his rhythm in the first round of each of his last two contests, and that is something he needs to fix before his next bout.
Why? Well, just ask Jon Fitch what happens if you come out sluggish against Johny Hendricks.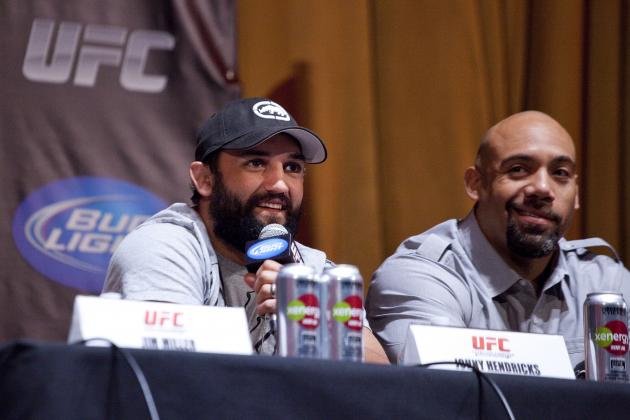 Michael Nagle/Getty Images

Hendricks' To-Do List:
Beat Kampmann
Plain and simple, Hendricks' biggest "to-do" is beat Martin Kampmann this November. The title run of each man has put them on a collision course, and now it is time that they meet.
For all the momentum Hendricks has amassed of late, failing to achieve this goal will give 2012 a sour flavor for the wrestling powerhouse.
Bring a hammer and stake to the Kampmann fight
Obviously, beating Kampmann would be great, but here is something to keep in mind—beating Kampmann senseless does not equate to beating him in a fight.
Jake Ellenberger, a fighter who employs the same type of aggressive striking that Hendricks favors, came about as close to finishing Kampmann as possible without actually doing so.
If Hendricks goes all-out looking for the early finish, he has to be damn sure that Kampmann is done, or he may be in for an unwelcome surprise.
Clone yourself, then train against yourself
The wins have been coming fast and furious for Hendricks, but not all have come with equal ease.
Over his last four contests, Hendricks has fought three high-level wrestlers. He scored an early knockout over Jon Fitch, but the other two—Mike Pierce and Josh Koscheck—pushed him to the limit, forcing a split decision.
While they still go into the books as wins, Hendricks needs to more conclusively crack the code of the wrestling-based opponent—opponents like him—before those hotly contested decisions become losses—losses like the one to Rick Story, Hendricks' only career defeat.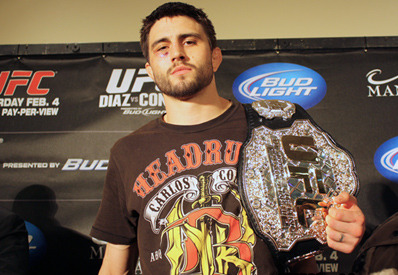 Via mmajunkie.com
Condit's To-Do List:
Show everyone that waiting was the right move
I was a critic of Condit's decision to wait out Georges St-Pierre's injury. When Condit declared his intentions, I predicted that the wait would ultimately dull his iron when he returns. I also feel that avoiding competition to cling to your position as a No. 1 contender is counter-intuitive to holding the position.
But I digress. One thing Condit needs to do this year is show up to his upcoming title fight and look sharp.
Drill that takedown defense
Condit is a very well-rounded fighter, but if he has a weakness it is his takedown defense. He has had the good fortune of avoiding most of the division's best wrestlers, but he did exhibit deficiency in this area against Jake Ellenberger in 2009.
Considering how efficiently GSP takes guys to the mat, this issue may just come up when Condit tries for the belt later this year.
Begin a new reign in the welterweight division
2012 started off nicely for Condit, who defeated Nick Diaz back in February. But, whether this year will ultimately be classified as a success is still to be determined.
A loss thrusts Condit back into an endless pile of contenders. A win announces the ascension of a new king.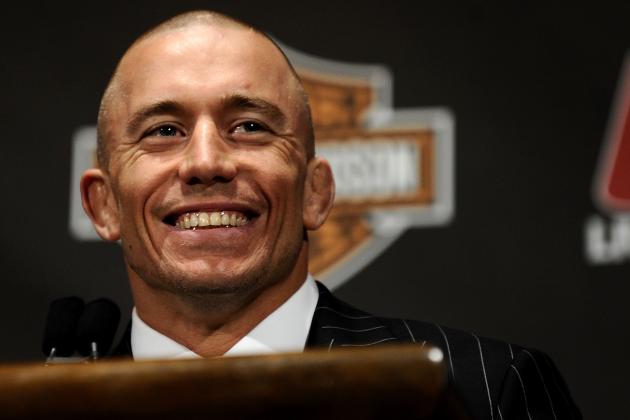 Jeff Zelevansky/Getty Images

St-Pierre's To-Do List:
Get healthy
Obviously, not a whole lot can be done before this.
Win first, finish second
While critics of St-Pierre bash him every time he fails to finish a fight, trying too eagerly to do so comes with no small risk, especially when we are talking about Condit.
St-Pierre's greatest advantage against Condit is his wrestling, and to ensure success he should look for the takedown early and often. If a finish comes from a submission or ground-and-pound, then great. If not, life goes on.
Re-establish order in the welterweight division
When the cat is away the mice will play.
St-Pierre has been on the sidelines for over a year, and in that time a number of upstart welterweights have begun making bids for the welterweight title. There is Condit, sure, but that is just the tip of the iceberg.
Martin Kampmann, Johny Hendricks and Jake Ellenberger have all announced their presence in a big way. Familiar faces like Josh Koscheck and Jon Fitch continue to loom. New prospects like Erick Silva and Rory MacDonald threaten to upset the balance, and Nick Diaz remains a wild card.
St-Pierre needs to remind everyone whom the 170-pound division belongs to. If he dominates Condit this November, he will indeed remind everyone that they are all fighting for second place.