US Open Golf 2012 Tee Times: Pairings and Predictions for Saturday
June 16, 2012

Stuart Franklin/Getty Images
While star golfers such as Lee Westwood and Rickie Fowler struggled at the 112th U.S. Open over the first two rounds, Tiger Woods is once again a threat to win another major championship.
Woods looks more comfortable at the Olympic Club than he did at the Masters in April, and he will certainly be one of the reasons to pay attention to the U.S. Open this weekend.
Let's look at tee times and pairings and make some predictions for Saturday's important third round.
Tee Times, Pairings for Notable Players
| | | |
| --- | --- | --- |
| Time (PT) | Golfer | Golfer |
| 10:55 a.m. | Alex Cejka | Phil Mickelson |
| 12:45 p.m. | John Senden | Lee Westwood |
| 1:25 p.m. | Justin Rose | Ernie Else |
| 2:15 p.m. | Jason Dufner | Matt Kuchar |
| 2:55 p.m. | John Peterson | David Toms |
| 3:05 p.m. | Jim Furyk | Tiger Woods |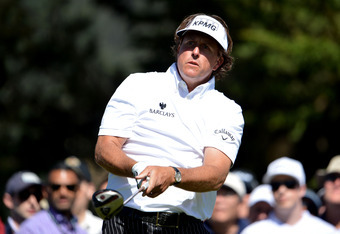 Stuart Franklin/Getty Images
Predictions
Tiger Woods: In what will be a pivotal third round on Saturday for Tiger Woods, expect the 14-time major champion to dominate and either take the lead or have a share of it heading into Sunday's final round.
Beau Hossler: The 17-year-old amateur was one of the stars of the second round, and I expect him to be even better on Saturday. Hossler competing with Woods for the U.S. Open title on Sunday would be an amazing scenario for golf fans.
Ernie Els: The veteran golfer began the U.S. Open with a terrible round on Thursday by shooting a 75, but he shot a 69 on Friday to make the cut at four-over par. Els will continue his climb up the leaderboard on Saturday and become a contender for the championship in the final round.