NBA Finals 2012: Kendrick Perkins Must Take Permanent Seat on Thunder Bench
June 15, 2012

Ronald Martinez/Getty Images
Kendrick Perkins was a big reason the Oklahoma City Thunder made the 2012 NBA Finals, but after two games, it has become crystal clear he's a terrible matchup against the Miami Heat.
He has started both games, and by no coincidence the Heat have dominated the opening period in both. They outscored the Thunder by seven in Game 1, and began Game 2 on an 18-2 run behind three botched layups by Perkins. Grantland's Sebastian Pruiti is wondering if a change will ever be made:
When is Scott Brooks going to get tired of falling behind early because Kendrick Perkins is in?

— SebastianPruiti (@SebastianPruiti) June 15, 2012
Is it a coincidence the Heat have only outscored the Thunder in first quarters of this series? Certainly there is more to it than just Perkins, but his immobility and lack of a perimeter game renders him all but useless in this series.
Miami doesn't have a true center like Perk, so they counter with a much faster lineup that allows the "center," Chris Bosh, to float around on the perimeter, forcing Perkins away from the basket. His lack of foot speed and agility were exposed, and the result was 16 points and 15 boards for Bosh on Thursday night.
While 15 rebounds in two games while only averaging 22.5 minutes is great, his ability to alter shots is all but vanished. His strengths are neutralized on the defensive end of the floor, but he should be able to get his shot off against smaller defenders in the post at will, right?
Wrong.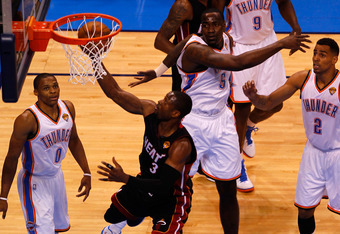 Mike Ehrmann/Getty Images
He has scored four points in both games, while shooting 3-of-7 combined. He has gone to the line once. Perkins rarely touches the ball, yet has still found a way to commit five turnovers. So far in the series, the Thunder has been outscored by 18 points when their big center is on the floor.
Considering they won by 11 in one game and lost by four in the other, that's a pretty incredible "achievement."
I'm not here to bask Perkins. The Thunder were smart to acquire him to defend bigs on teams like the Spurs, Clippers, Lakers and Grizzlies. This is simply a bad matchup for him, and it's time for coach Scott Brooks to make the necessary adjustment. He should start the smaller, but more athletic Nick Collison, and play Perkins when Joel Anthony is inserted into the lineup.
Starting James Harden is also an option, but I love the scoring and energy off the bench when the Heat's first team is winded.
With a similar skill set and more athleticism in Serge Ibaka, Perkins is rendered useless in this particular series.
The coaching staffs of both teams are frantically figuring out what adjustments need to be made, and the Thunder only have one glaring issue to address.
Starting Bosh in Game 2 made a huge difference for the Heat, now it's time for the Thunder to counter by sitting Perkins.