2012 NBA Mock Draft: Undersized Prospects Who Will Hold Their Own
June 15, 2012

Jared Wickerham/Getty Images
No sport cares about height quite like the NBA.
Considering the object is to reach a 10-foot basket, it makes plenty of sense.
Every year we see teams taking players that may not be as talented as others, but have something you can't teach: length.
But fear not short prospects, there is certainly room in the NBA for you. If you can shoot, move at the speed of light and play defense, you still have plenty of value to NBA talent evaluators.
As we move through the latest 2012 NBA Mock Draft, the emphasis is on players who may get knocked down a peg due to their vertical shortcomings, but will ultimately make a significant impact at the next level.
(Undersized stars highlighted in italics)
1. New Orleans Hornets: Anthony Davis, PF, Kentucky
Undersized? Ha.
At 6'11'', Davis has all the height you could ever ask for. He has a 7'5'' wingspan which allows him to block shots without even jumping.
While I have concerns about his offensive game early on, there is no doubt he'll instantly make New Orleans one of the better defensive teams in the NBA.
2. Charlotte Bobcats: Thomas Robinson, PF, Kansas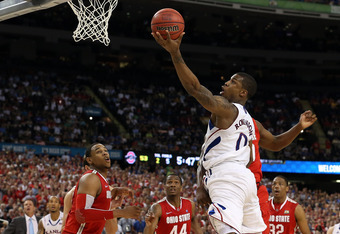 Jeff Gross/Getty Images
The Bobcats need the player who can help them the most right now. Robinson may be a tad undersized at 6'9'', but his incredible junior season (especially in the NCAA tournament) suggests he can instantly be the leading scorer for this anemic offense, although I'm not a huge fan of his potential to be one of the greats in the game.
3. Washington Wizards: Michael Kidd-Gilchrist, SF, Kentucky
The Wizards are sick of guys like JaVale McGee and Nick Young.
The culture change is underway and Kidd-Gilchrist will be a great fit in this department. He was very humble at the draft combine and is a natural leader who can make his teammates better by leading through example.
Toss in his potential to be an incredible defender and you have a guy the Wizards desperately need.
4. Cleveland Cavaliers: Harrison Barnes, SF, North Carolina
I think Bradley Beal is a better fit, but it's hard to ignore the report by Sports Illustarated's Sam Amick that the Cavs have fallen in love with the 20-year-old and will not let him go past them at No. 4.
At 6'8'' and 230 pounds, he can finish against bigger players and has the agility and speed to be a terror on the perimeter as well.
5. Sacramento Kings: Andre Drummond, PF/C, Connecticut
Size is the only reason Drummond goes this high.
While you have to love his height (7'0''), I'm terrified of his weight (280).
His motor has always been questioned, and he is incredibly raw on offense. The Kings could have an outstanding frontcourt alongside DeMarcus Cousins someday…but how long will it take?
6. Portland Trail Blazers (from Brooklyn): Bradley Beal, SG, Florida
While 6'5'' is extremely tall in almost every profession, you'd like your scoring shooting guard to be a tad taller.
But that's okay, because Beal makes up for it with an incredible blend of talents that have his former coach Billy Donovan comparing him to Ray Allen.
He has long arms which allow him to be a pesky defender, and is oddly a very strong rebounder. Beal isn't afraid to take contact around the paint and is strong enough, at 200 pounds, to finish.
Oh yeah, he can shoot the lights out as well.
7. Golden State Warriors: Jared Sullinger, PF, Ohio State
Sully is undersized for a power forward at 6'9'', but can survive in the paint with a 7'1'' wingspan.
Simply put, this guy is a basketball player. He knows the finer points of the game, has natural instincts and a very high IQ. He dominated with his back to the basket in college, but will have to develop a 20-foot jumper to ensure offensive success at the NBA level.
Defensively he may never be a shot blocker, but is strong enough to hold his own, and disciplined enough to alter plenty of shots.
Lots of ifs with Sullinger, but he has the mental makeup to answer all of the question marks.
8. Toronto Raptors: Kendall Marshall, PG, North Carolina
I'm very high on Marshall because at 6'4'', he is taller than most defenders, and that gives him spectacular vision.
Combine that with superb passing skills (averaged 9.8 assists last year), and the athleticism to beat defenders off the dribble and stay in front of opponents on the defensive end of the floor.  
9. Detroit Pistons: John Henson, PF, North Carolina
Henson is Anthony Davis-like on defensive, with the ability to instantly block two to three shots per game while grabbing 10 boards.
Yet at 6'11'' and only 216 pounds, Henson will be getting pushed around for quite some time until he bulks up.
10. New Orleans (from Minnesota): Damian Lillard, PG, Weber State
The King of the Combine has made quite the leap in the past month.
CBS Sports Jeff Goodman reported that he had the "best pure perimeter shot in the entire camp" and he showed a high basketball IQ as well.
At 6'3'' he is the ideal size to run the point.
11. Portland Trail Blazers: Dion Waiters, SG, Syracuse
Waiters is only 6'4'', but is relentless in attacking the basket and can be almost unstoppable on the fast break.
Waiters' agent told him to leave the combine festivities because a team in the lottery guaranteed he'll be selected there, so I'm assuming he'll go somewhere in the 10-13 range.
If Portland lands both Beal and Waiters, they'll have to convert one of them to a point guard, and I think with the first step of Waiters (and shaky jumper), he is the better candidate.
12. Milwaukee Bucks: Meyers Leonard, C, Illinois
When he measured at 7'1'' with a 9'0'' standing reach at the combine, his spot in the lottery was sealed. The Bucks are without a center after trading Andrew Bogut and can get an instant return from Leonard.
13. Phoenix Suns: Jeremy Lamb, SG, Connecticut

Not a huge fan of Lamb.
He may be incredibly smooth and an effortless scorer, but I question his psyche. Does he want to be the best? Or is he content being just a solid player? Weighing only 179 pounds, Lamb is going to struggle until he adds 15 pounds to his frame.
Until then he's nothing more than a shooter.
14. Houston Rockets: Tyler Zeller, C, North Carolina
No offensive to Zeller, but if he wasn't 7'1'' he wouldn't get drafted.
But he is, and can bring a relentless motor and surreal knack for grabbing boards to a Rockets team looking for a player who can contribute now.
That's exactly what their getting with the reliable Zeller.
15. Philadelphia 76ers: Austin Rivers, SG, Duke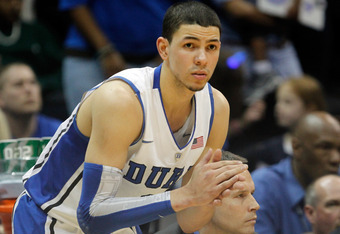 Streeter Lecka/Getty Images
Rivers is very quick with the ball and shouldn't have a problem getting off his own shot in the NBA. He still needs to improve his long-range jumper, but has a bright future if given a year or two to develop.
The deep 76ers have the time.
16. Houston Rockets (from New York): Terrence Jones, SF, Kentucky
Nobody's placement in the draft is more fluid than Jones.
At 6'10'' and 250 pounds, he has an NBA body with a variety of talents. My problem is that he doesn't have one particular skill that stands out.
17. Dallas Mavericks: Marcus Teague, PG, Kentucky
With Jason Kidd on his last legs, drafting a point guard who is still a year away from handling the majority of the load is ideal, and Teague is a terrific fit.
He doesn't have a scoring mentality, but is a lightning bolt that can push the pace while staying under control.
He'll fine tune his offensive game as he gets older, and eventually become one of the better point guards in the league.
18. Minnesota Timberwolves: Perry Jones III, PF, Baylor
Could you imagine if the 6'11'' Jones played alongside Kevin Love?
That would be one dangerous front-line, but is Perry capable of mentally toughening up and utilizing all of his natural talents?
19. Orlando Magic: Royce White, SF/PF, Iowa State
At 6'8'' and 260 pounds, he is a load to move, yet has a point-forward mentality with outstanding dribbling skills and a jump shot that will be an asset at the next level.
His height concerns some considering he likes to play in the post, but I think White is a special talent that has far too many incredible skills to ignore.
White is one of the more polarizing prospects in the entire draft.
20. Denver Nuggets: Jeffery Taylor, SF, Vanderbilt
The smoothest jumper in the draft can instantly help a Nuggets team that needs a shooter who can consistently drain threes from the corner.
21. Boston Celtics: Terrence Ross, SG, Washington
Ross has great size (6'7'', 200 pounds), and the athleticism to be a terrific wing player for a Celtics team that is going to look very different next year.
22. Boston Celtics (from LA Clippers): Andrew Nicholson, PF, St. Bonaventure
The senior Nicholson is one of the most NBA-ready players in the draft, but is certainly undersized for a power forward at 6'9''.
Yet there is a lot to like here.
He has a polished inside game with a soft touch, has incredible footwork, knows how to pass from the block and has shown improvement in his jump shot each and every year of college. As long as he can hit a 20-footer in the NBA, he'll be effective.
23. Atlanta Hawks: Tony Wroten, PG, Washington
When will the Hawks find their point guard?
Wroten is a terrific height for the position at 6'6", and has the ability to be a prolific scorer in the NBA, but has serious work to do on his jumper before being a real threat.
Lots of potential here.
24. Cleveland Cavaliers (from LA Lakers): Moe Harkless, SF, St. John's
The Big East Rookie of the Year is very intriguing. He has sound athleticism, can play in the paint and on the perimeter and has the ability to be a prolific rebounder as well.
The Cavs will need to have patience, but there is no question he has tremendous upside.
25. Memphis Grizzlies: Will Barton, SG, Memphis
A 6'6'' swingman with a silky smooth jumper who averaged eight rebounds a game last year?
Sounds like the perfect fit for both parties, with the additional bonus that Barton already has a built in fan base in Memphis.
26. Indiana Pacers: Arnett Moultrie, PF, Mississippi State
His 6'11'' frame will get him drafted in the first round, but he is far from a finished product. A UTEP transfer, he only has one year of experience in a major conference and certainly needs to mature.
Yet the tantalizing possibility of pairing Moultrie alongside Roy Hibbert is too good to pass up.
27. Miami Heat: Fab Melo, C, Syracuse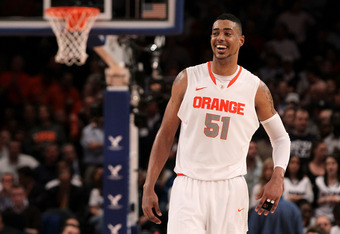 Jim McIsaac/Getty Images
One of the best rebounders in all of college a year ago is exactly what Miami needs. Clocking in at 7'0'', he can help them right off the bat.
Take a hike Joel Anthony.
28. Oklahoma City Thunder: Draymond Green, SG, Michigan State
When you are 6'8'' and average over 10 rebounds in a 40-minute college game…you have special talent.
While Green may not be super athletic, I love his toughness and ability to compete against players much taller.
29. Chicago Bulls: Festus Ezeli, C, Vanderbilt
Guys who standing at 7'0'' and 265 pounds are coveted in the NBA and the Bulls could use him for more depth. He is a seasoned college player who can help right away.
30. Golden State (from San Antonio Spurs): Quincy Miller, SF, Baylor
The only reason he'll get drafted in the first round is because he stands at 6'10''.
He tore his ACL in high school and was extremely inconsistent in his freshman season. He is a huge project that may take three years (or more) to feel comfortable on an NBA floor.