Words with Frenz AFC East Mailbag, June 15 Edition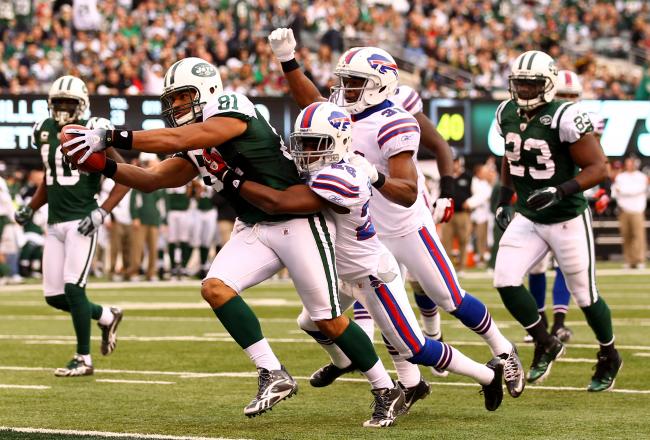 This week dragged on, but we found our burst and carried ourselves to the finish line. Even with defenders draped on our backs. Okay, not really.
Al Bello/Getty Images
Another week of coverage on the AFC East blog is coming to a close, which means it's time to dump out the mailbag.
The majority of questions center around the make-ups of each roster as well as the roles specific players will play on their team.
And of course, it wouldn't be complete without questions about Wes Welker and Chad Ochocinco.
Enough pretense. To the tweets!
@ErikFrenz which #bills CB will be odd man and why, or alternatively, will they carry 6 CBs and which other position will suffer bc of it

— Sigmund Bloom (@SigmundBloom) June 15, 2012
Good question to lead us off, Sigmund.
The Buffalo News reported recently that the Bills are expected to keep six cornerbacks on their roster. That was before they cut cornerback Drayton Florence, but even without him, they have six viable corners on the roster.
If they don't keep all six, Prince Miller is the best candidate to get a bump off the roster. It wouldn't be his first time; he's been a journeyman in his two seasons in the league, playing for the Lions, Ravens and Colts in that span.
Rookie cornerbacks Stephon Gilmore and Ron Brooks are guaranteed roster spots.
Rick Stewart/Getty Images
Cornerback Leodis McKelvin has looked good in camp and isn't doubting himself despite the thickening battle at cornerback. Cornerback Terrence McGee is the steady veteran presence of the group, but how much does he have left? Likely–at least enough for a roster spot.
At that point, it comes down to Miller and Justin Rogers. With Rogers earning reps on the outside and impressing reporters at OTAs, it looks like he's the front-runner between the two.
@ErikFrenz Let me throw you a question. How many TE's do you think the Patriots will keep on the 53 man roster this year?

— LJ (@Show_1) June 15, 2012
No reason for that number to be higher than three, LJ.
Even last year, when the team tried to sneak both Will Yeatman and Lee Smith onto the practice squad, they were still only keeping three tight ends on the roster.
The battle for the third tight end spot looks to pit Bo Scaife, Jake Ballard, Daniel Fells and Tyler Urban.
The most capable and versatile of the group will be the one who wins the job. Right now, that looks like Fells. Ballard isn't quite capable, as he doesn't know if he'll be back in 2012. Scaife hasn't looked great in practice. Urban could be put on the practice squad, as an undrafted free agent.
@ErikFrenz Every time a "team sale" is mentioned buffalo name is in it. Do you believe its more about the lack of winning season or market?

— Twan (@TWAN_585) June 8, 2012
A really thought-provoking question, and one that I unfortunately don't have a clear answer to.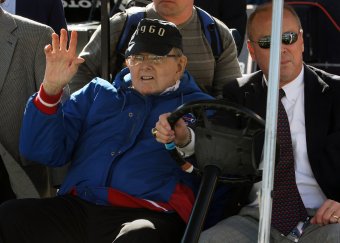 Tom Szczerbowski/Getty Images
I could see it being either one, or a combination of the two. The Bills have a rabid fan base that is starving for success. That's a tempting proposition for a new ownership group.
Beyond that, owner Ralph Wilson is 93 years old. Who will take over when he's no longer the owner?
It's uncertain as of yet, but there's a lot going on behind-the-scenes to get an answer to that question.
@ErikFrenz Do you see the patriots extending Aaron Hernadez over Wes Welker? Also who would you extend between the two?

— Andrew Frye (@AndrewFrye3) June 8, 2012
Thanks, Andrew.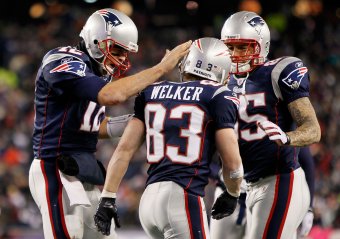 Pat on the head for the little guy!
Jim Rogash/Getty Images
It wouldn't be very Belichickian to extend Hernandez after the Patriots just handed another player at his position a top-end contract, not unless Hernandez is willing to take a very team-friendly deal.
The Welker situation remains an unknown, and according to James Walker of ESPN, talks remain stagnant and as of June 15, they have one month to get something worked out before the clock runs up.
I wouldn't put my money on them extending either one.
As for which I would extend, it would depend on the length of the deal, but I'd be willing to give either one a two-year deal and if that's the case, I'd go for Hernandez. He's a very similar player in skill set, and because of his time split at tight end and wide receiver, he'd likely get a deal similar to the one Jermichael Finley signed.
Welker, on the other hand, would likely take a bit more in dollars and is 31 years old; his future production is in question at that age.
@ErikFrenz Do you think signing Ochocinco was a "get fans in the stands" kind of move by Miami or do you think he will contribute in 2012?

— Alex Hall (@AlexKHall) June 15, 2012
Thanks for the question, Alex (and nice meeting you at the writer's meetup!)

The Dolphins, quite simply, don't have any proven veteran talent on the roster. Ochocinco, although his career might be on the downswing and although he struggled mightily in 2011, has proven himself in the past.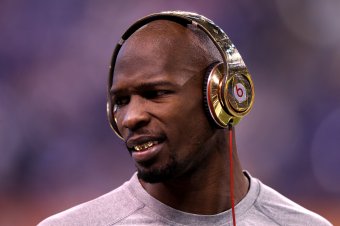 Gold headphones, gold teeth. And people wonder why he's seen as a "PR signing"?
Elsa/Getty Images
I wouldn't say the move was strictly to get fans in the stands, but it will help generate interest around the team headed into HBO's
Hard Knocks.
As for contributing in 2012, that's another question entirely. It's on him to learn the playbook, and to prove he's still got it.
From a football perspective, though, I like the idea of letting younger receivers develop into their roles in the offense. Why plug in the 31-year-old veteran whose career may be closer to the end than the beginning when there are so many available fresh sets of legs? It's not as though the Dolphins are that close to a championship team that adding Ochocinco puts them over the hump.
Got room for one more, and we haven't gotten to the Jets yet, so let's get to them.
@ErikFrenz Okay. Do you see Q.Coples being utilized primarily as a DT, where he was most effective in college, as opposed to an edge rusher?

— RumfordJohnny (@RumfordJohnny) June 15, 2012
Great question to end it. Thanks, Johnny.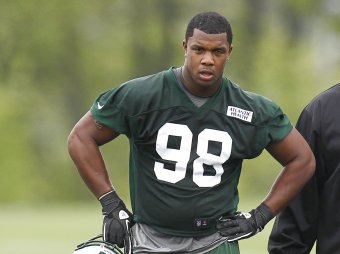 All business for Quinton Coples.
Jeff Zelevansky/Getty Images
The Jets will be running much more of the 4-3 alignment than they have in the past, and with Coples' best fit clearly at defensive tackle, expect him to be a primary pass rusher up the middle. He may not be a full-time player to start, but could rotate with defensive tackle Mike Devito, seen as more of a run-plugging defensive tackle.
He could be utilized multiple ways, though. Defensive line coach Karl Dunbar looks forward to Coples' versatility, per Jenny Vrentas of the Star-Ledger:
Dunbar believes Coples is "an awesome fit" for the 46 defense. He said Coples could line up as a "3-technique," which is over the outside shoulder of the guard, or as a defensive end. He also sees Coples used as a "wide nine," a pure pass-rushing spot outside the tight end.
He could play the five-technique when the Jets run a 3-4, even if that will be much more rare than it has been in season's past.
He's at his best when going up the middle, so the Jets would be wise to utilize him as much as they can in that role.
That's all I've got for you guys this week. Thanks for your questions, everyone, and further questions can be sent to me via Twitter or Facebook at the links below, or even in the comments section.
Erik Frenz is the AFC East lead blogger for Bleacher Report. Be sure to follow Erik on Twitter and "like" the AFC East blog on Facebook to keep up with all the updates.
This article is
What is the duplicate article?
Why is this article offensive?
Where is this article plagiarized from?
Why is this article poorly edited?