Bryce Harper vs. Yankees and Top 10 Interleague Weekend Storylines to Watch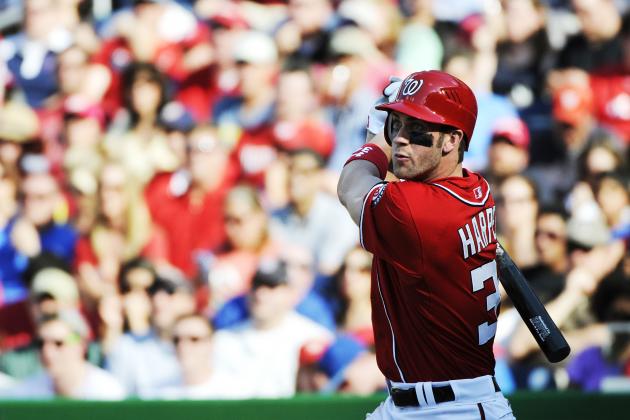 Jonathan Ernst/Getty Images
Bryce Harper is set to take on the Bronx Bombers for the first time.
It's time for another weekend of interleague play in Major League Baseball. Will you be watching?
Of course you will be. It's baseball, for one, and MLB definitely has the numbers to back up its insistence that interleague play is loved by fans. The novelty of it wore off a long time ago, but the attendance and TV numbers say that people still dig interleague play.
This weekend's interleague slate offers plenty of reasons to watch. There are some rivalry series on tap, and there will also be a potential World Series preview taking place in the nation's capital. And as is usually the case when it comes to baseball, there are various pockets of intrigue to be found here and there.
Here's a look at the top-10 interleague storylines to watch this weekend.
Begin Slideshow

»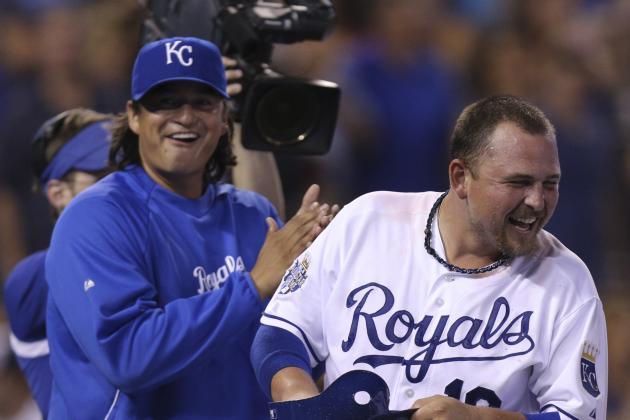 Ed Zurga/Getty Images
"Whatever it is, I don't want to look at it!"
Technically, the Kansas City Royals and St. Louis Cardinals share a regional rivalry. When they hook up, they call it the "Show-Me Series," which is one of the catchier series nicknames out there.
This isn't much of a rivalry, though. The Cardinals hold an all-time record of 38-28 against the Royals, according to Baseball-Reference.com, and they've won 12 of their last 17 games against the Royals.
The Royals, of course, have been stuck in a rut for nearly 30 years. The last time they actually stood out on the baseball landscape was back in 1985, when they just so happened to beat the Cardinals in the World Series. Those were happy days that, unfortunately, are fading further and further into memory every year.
That series will be referenced many times over this weekend, and the 2012 Royals will do their best to do right by the 1985 Royals, even if many of the team's current players have no memory whatsoever of that team. They'll look to give the defending World Champion Cardinals a run for their money.
For their part, the Cardinals will merely go about putting the Royals in their place, as they usually do. They will probably succeed once again. Despite their recent struggles, the Cardinals remain a damn good team.
Outside of the state of Missouri, people will respond to this series by shrugging, knowing full-well that the "Show-Me Series" is a Show-Me State thing.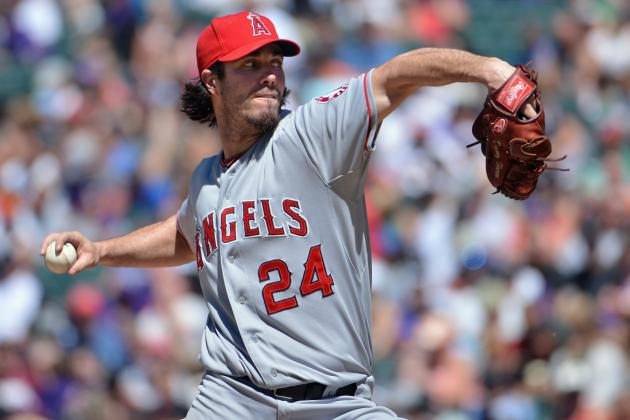 Doug Pensinger/Getty Images
"Ya'll traded me for Joe Saunders and Tyler Skaggs? I can live with that."
When the Arizona Diamondbacks hooked up with the Oakland A's last week, that series featured a pitching matchup between Jarrod Parker and Trevor Cahill, who were traded for one another over the offseason.
This weekend's series between the Diamondbacks and Los Angeles Angels very nearly features a similar pitching matchup between Joe Saunders and Dan Haren. But alas, Haren is scheduled to start on Friday, and Saunders is scheduled to start Saturday.
Nuts.
It should be a fun series anyway. Haren will put his nasty fastball-splitter combination to work against a Diamondbacks lineup that features quite a few guys with a tendency to swing and miss. On Saturday, Saunders will square off against Ervin Santana, who leads baseball with 18 home runs allowed.
Saunders will probably win that one. If he doesn't, he will have shamed himself, the Diamondbacks, and the human race in its entirety.
If the weird Saunders-Haren correlation doesn't float your boat, you could watch this series because it features two teams that won the World Series in back-to-back years in 2001 and 2002.
The 2001 World Series is one of the greatest Fall Classics ever. The 2002 World Series is the greatest Fall Classic that nobody watched.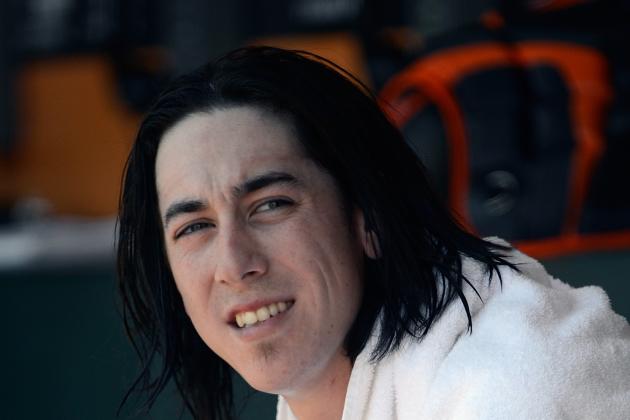 Thearon W. Henderson/Getty Images
"Maybe I should start throwing left-handed..."
We're in the middle of June, and two-time Cy Young award winner Tim Lincecum is 2-7 with an ERA of 6.00. The Giants have lost each of his last eight starts.
Yup, it's pretty bad. On days Lincecum is starting for the Giants, the team can't feel good about its chances.
There are all sorts of storylines regarding Lincecum's start against the Seattle Mariners on Saturday. It will be his first start since Bruce Bochy and Brian Sabean had a discussion about possibly moving Big Time Timmy Jim to the bullpen. He'll also be trying to follow Matt Cain's perfect game with a standout performance of his own.
And he'll by trying to do that in his old stomping grounds. Lincecum is a Washington native, and he went to school at the University of Washington. He'll be making his first start ever at Safeco Field, where he is sure to have plenty of friends and family members in the stands.
He'll be facing a Seattle lineup that ranks among baseball's worst in virtually ever major offensive category, but it's a lineup that is not to be underestimated. You never know when the Mariners might explode and score six or seven runs in a given inning.
Since Lincecum is suffering from a bad case of one-bad-inning syndrome this season, things could go south for him a hurry in Seattle on Saturday.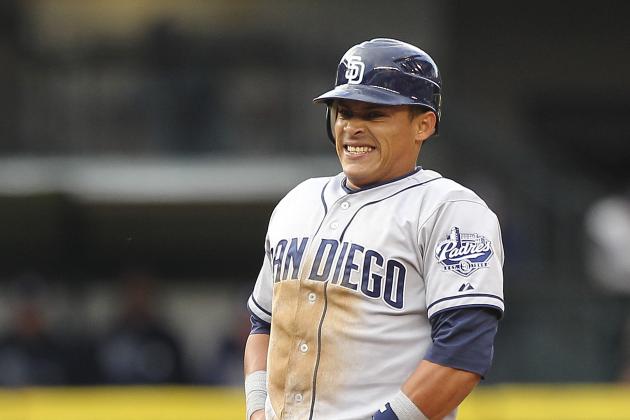 Otto Greule Jr/Getty Images
"I wonder how many people watching me adjust right now even know my name."
Speaking of bad offensive teams, two of the worst in all of baseball will occupy the same stadium this weekend. If you like a little offense with your baseball, the series between the San Diego Padres and Oakland A's won't be your cup of tea.
When it comes to swinging the bats, the Padres are hopeless. They rank 29th in baseball in runs scored, 28th in batting average, 26th in on-base percentage and dead-last in slugging percentage. They've hit only 35 home runs all season—the fewest in baseball.
The A's are better, but not by much. They rank 25th in runs scored, 30th in team batting average, 28th in on-base percentage and 28th in slugging percentage. If it wasn't for Josh Reddick, they'd be doomed.
With these two teams sharing the field, there's actually a halfway decent chance that we'll see three straight 1-0 games. I'd put good money on all of them going to extra innings, in which case the winning runs will probably be scored by accident.
If things get bad enough, we might see the A's call up Manny Ramirez, who could surely help them score more ru...
Bahahahahahaha!
Sorry, I couldn't say that last part with a straight face.
Doug Pensinger/Getty Images
"What genius in the Rockies' front office figured I would be a good fit in Coors Field?"
Since I told you where not to look if you like high-scoring games, I suppose it's only fair that I should tell you where to look if you do want to watch a high-scoring game.
Look no further than Sunday's game between the Colorado Rockies and Detroit Tigers at Comerica Park. It will feature a pitching matchup between Jeremy Guthrie and Max Scherzer.
Ah yes, now we're cooking with gas.
Colorado hasn't agreed with Guthrie. He has a 6.91 ERA and a .328 opponents' batting average this season, and he's already allowed 15 home runs in 56 innings pitched. His start in Detroit could be his last for a while, as The Denver Post reported a couple days ago that Guthrie is on a short leash.
The bright side for him is that Scherzer is also one of baseball's most hittable pitchers. He can definitely strike dudes out, but he has an ERA near 6.00 and an opponents' batting average just south of .300. He's given up multiple home runs in three of his last five starts.
With these two guys on the mound, I'd put the over/under for total runs scored in Sunday's game at right around 20.
I'll take the over. How 'bout you guys?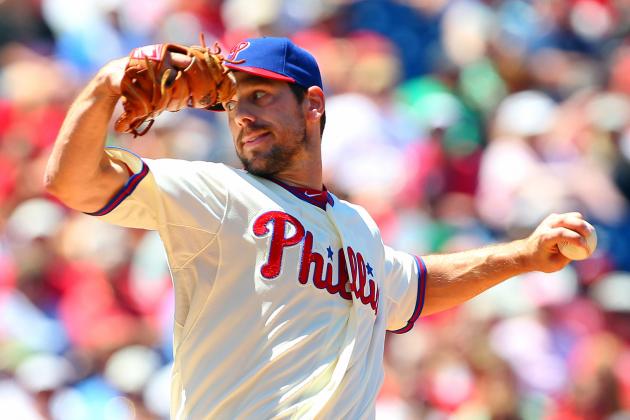 Rich Schultz/Getty Images
"What did I do to deserve this?"
Last weekend, the Toronto Blue Jays squared off against the Atlanta Braves in a rematch of the 1992 World Series.
This weekend, they'll square off against the Philadelphia Phillies in a rematch of the 1993 World Series. Well played, scheduling people.
It's a bummer that former Blue Jay Roy Halladay won't be pitching in this series, but Cliff Lee will. He'll go on Saturday against Ricky Romero, and he'll be hoping to get his first win.
Yeah, he's still sitting on zero. It's further proof that life just isn't fair.
With both teams playing bad baseball lately, there's actually a lot riding on this series. The Phillies can ill afford to fall further behind in the NL East while they wait for Chase Utley and Ryan Howard to return, and the Blue Jays can ill afford to fall further behind in an AL East that puts every other division in baseball to shame.
If these two teams can't settle things in a traditional baseball fashion, I'd recommend a bare-knuckle boxing match between Brett Lawrie and Jonathan Papelbon. That would be a dandy.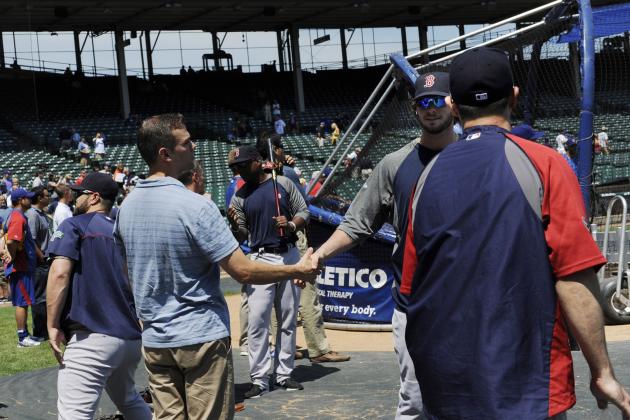 David Banks/Getty Images
"Don't worry, Theo. You're not missing much."
About 10 years ago, an interleague series between the Boston Red Sox and Chicago Cubs would have really meant something.
Now, not so much. The Red Sox are no longer cursed after having won two World Series, so they can be excused if they feel like strolling into Wrigley Field, shouting "Ha!" and then leaving without another word.
Unfortunately, these two teams must play baseball, so anybody planning on showing up at Wrigley this weekend should be prepared to drink a few beers. The Red Sox are mediocre and the Cubs are just plain bad, so things could get pretty ugly.
If the Cubs manage to win the series, Theo Epstein should waltz right into Boston's clubhouse, shout "Ha!" and then leave without another word. If so, he should do it in a gorilla suit, just for old times' sake.
If he really wanted to rub it in, he could call up Ben Cherington and get him to agree to take Alfonso Soriano's contract off the Cubs' hands while getting a boatload of prospects in return.
That would be the ultimate troll.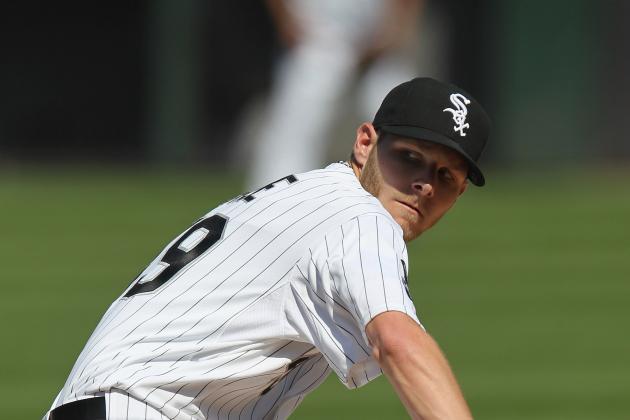 Jonathan Daniel/Getty Images
"Clayton Kershaw? He some kind of cowboy?"
On Friday night, Chris Sale and Clayton Kershaw will square off at Dodger Stadium.
Don't even think about watching it. You are not worthy. Nobody is.
Sale and Kershaw are the two best left-handed pitchers in baseball at the moment. Sale has been unhittable in his last four starts, and he currently ranks first in the American League in both ERA (2.05) and WHIP (0.92). He looks like a young, skinny version of Randy Johnson, and he's pitching like one too.
Kershaw, of course, is the reigning NL Cy Young award winner. He hasn't been quite as sharp this year as he was last year, but his 2.65 ERA and 1.00 WHIP are not to be scoffed at. He can still pitch, and he can still strike dudes out in bunches. In fact, he struck out 12 last time out.
So if you're looking for a great pitcher's duel to watch this weekend, Friday night's game between the White Sox and Dodgers is where it's at.
As a side note, those of you with MLB.TV will have the option of tuning in and listening to either the best broadcaster in baseball, or the worst broadcaster in baseball. The choice is yours whether you want to listen to Vin Scully or Hawk Harrelson.
I trust you'll make the correct choice.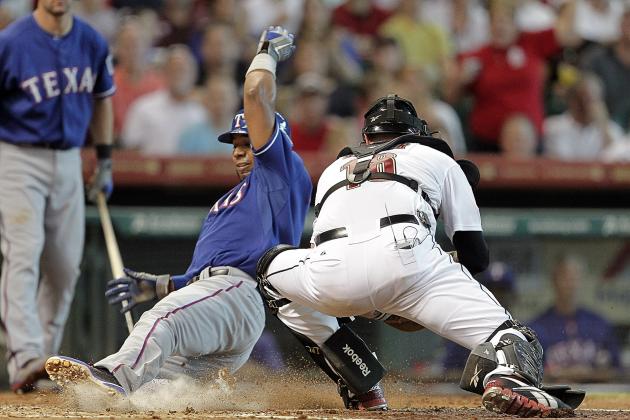 Bob Levey/Getty Images
Soon to be a regular occurrence.
This is it. The last of the Lone Star Series. After this, the rivalry between the Houston Astros and Texas Rangers will become just another intra-division rivalry.
The Astros and Rangers will play a three-game series at Rangers Ballpark in Arlington this weekend, and then they'll go their separate ways. The next time they meet will be in 2013, when both teams will be members of the American League West.
So let's all enjoy this weekend's battle for the Silver Boot. Once the Astros and Rangers are finished, the Silver Boot will become a moot point compared to the precious division games that these two teams will be playing in 2013 and beyond.
The fun will die this weekend, as this rivalry will go from being a fun thing to a very, very serious thing.
Its passing should be honored to the tune of taps and a 21-gun salute.
Seriously, why not? I trust it wouldn't be too hard to round up 21 Texas gun owners.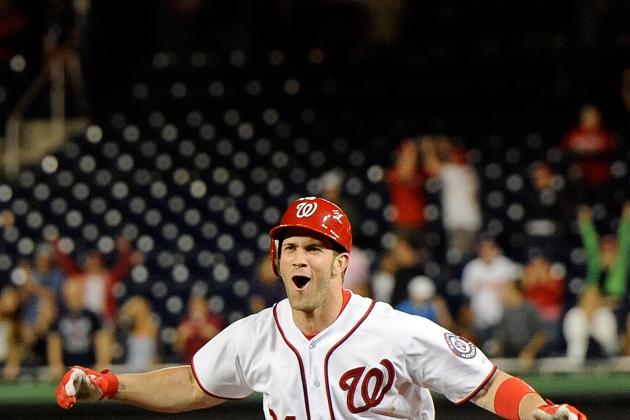 Patrick McDermott/Getty Images
"Come at me, Yankees!"
This weekend's series between the New York Yankees and Washington Nationals is proof that the baseball gods love us and want us to be happy.
This series has everything. It's the big, bad, and old Yankees versus the young, hip, and cool Nationals. It's baseball's most frumpy team versus baseball's most swaggerific team.
Given the quality of both teams, this could very well be a World Series preview, so be sure to watch closely.
And of course, this is Bryce Harper's first exposure to the mighty Yankees. He's kicked all sorts of butt since being called up to the majors in late April, making many statements along the way. But kicking butt against the Yankees is the ultimate statement for a young player, and it's one of the only things Harper hasn't done yet.
Harper isn't one to be intimidated, but there's an off chance he's at least a little bit nervous about this weekend's series. He grew up idolizing Mickey Mantle, and it's also been confirmed that he grew up a Yankees fan. Which, since he was a Mantle fan, makes perfect sense.
So Harper will be a sort of lab rat in this series. How will he react to all the strange new variables that will be hanging over his head for the next three days?
...Or is that a clown question?
If you want to talk baseball, hit me up on Twitter.