US Open Golf 2012: Favorites with Best Shots at Keeping Up with Tiger
June 15, 2012

Ezra Shaw/Getty Images
Tiger Woods doesn't tee off for a couple of hours on Day 2 at Olympic, but there are plenty of guys who got an early start on Friday and are threatening to catch him in second place on the leaderboard.
Tiger, who tees off at 4:18 p.m. ET, sits behind only Michael Thompson after shooting a 69 on Day 1. Here are the guys who have spent the morning attempting to creep up the leaderboard in order to keep pace with the 6-1 favorite.

Lee Westwood (12-1, via Bovada)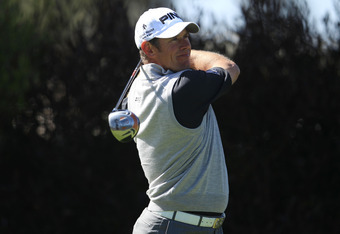 David Cannon/Getty Images
Most people who didn't pick Tiger to win the US Open picked Westwood, and for good reason: Despite the fact that he's never won a major, his game is perfect for the narrow fairways at Olympic.
Westwood—part of the second marquee grouping at Olympic that also features Rory McIlroy and Luke Donald—struggled at the outset of Day 1, double-bogeying the very first hole and bogeying three more on the front nine. He made up for it with an excellent back nine, however, birdying the 17th and parring every other hole except to end with a three-over 73.
Through 14 holes on Friday, his performance fortunately resembled his back-nine experience from Thursday, as he birdied the 11th and bogeyed the 18th and the third to sit at five-over. Slow and steady might win the race this year at Olympic, and if Westwood can maintain his composure and not implode with double-bogeys like he did on Thursday, he could pull this out.
Jason Dufner (25-1)
Despite peppering his scorecard with bogeys on Day 1, Dufner managed to finish the day with a two-over 72, thanks to a couple of birdies on the first and the seventh. He did what Westwood couldn't do: eliminate the double-bogeys. That's how he kept himself in contention through Day 1.
Unfortunately, his luck didn't last in the early going on Friday: In the first four holes, he registered a bogey and a double-bogey, but he began to make up for it with birdies on two of the last three holes to close out the front nine. With seven left to play on Day 2 at Olympic, he sits at three-over.
Though he's never won a major, Dufner came the closest at last year's PGA Championship, when he lost a four-hole playoff to Keegan Bradley.
Matt Kuchar (30-1)
Kuchar came into the US Open on the heels of a big win in The Players Championship, but the majors have always eluded him. Still, he's shown up for the big ones this year, including at the Masters, where he finished tied for third, and in the early going of the US Open, where he's currently three-over through 12.
Kuchar was solid on Day 1 at Olympic, tallying two birdies and two bogeys, which wasn't bad at all, compared with the rest of the field. On Day 2, he got off to a rocky start with a double-bogey and a bogey in the first three holes, and another bogey on the eighth, but he still has time to reel it in. Once he gets into a flow, he has the ability to become very consistent and locked in, so he can't be counted out till he's cut.