Euro 2012 Bracket: Overachieving Teams Heading for Reality Check
June 15, 2012

Laurence Griffiths/Getty Images
While Euro 2012 has gone largely according to plan in terms of favorites winning matches, there have been a few pleasant surprises and upsets. Teams who weren't supposed to make much noise have done a good job of rattling the cages of the favorites, and in some cases, they've even knocked a favorite or two off en route to the top of the table. 
Unfortunately for some of those overachieving sides, all good things must come to an end, and for them, it will mean a return to the normal order of things. Sure, they may still survive the group stage, but for these teams, the reality check will come in the form of a sound beating by a superior squad in the quarterfinals.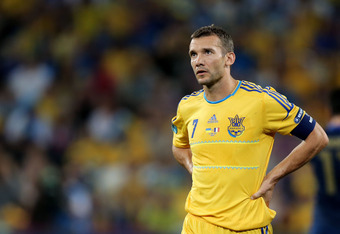 Ian Walton/Getty Images
Ukraine
The Ukrainians have been the feel-good story of the tournament thus far, after stunning favorite Sweden in their opening match to sit atop the table of Group D, pending the results of their clash with France today. 
The tournament co-hosts have used some magic from talismanic striker Andriy Shevchenko and a fun, wide-open style of play to fluster and harangue opposing defenses, while riding the overwhelming support they've received while playing in their own backyards. 
But don't let that strong start fool you; the Ukrainians are still a supremely flawed team. Sheva is 35 and running low in the tank, and the offense, while wide open and fast-paced, lacks the touch around the net you'd like to see from your wingers and attacking midfielders.
On top of that, the Ukranians' defense is very much a work in progress. They were exposed by Zlatan Ibrahimovich in the clash with Sweden, and France has done an excellent job picking them apart for chances today. To make matters worse, their goalkeeper situation remains in flux, and while Andriy Pyatov has done yeoman's work against France, it's unclear just how reliable he'll be going forward. In the end, look for Ukraine to get a serious reality check once they reach the quarterfinals, if not before.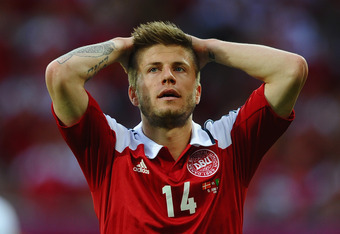 Laurence Griffiths/Getty Images
Denmark
Coming into the tournament, few gave the Danes any chance of gaining points in any of their three matches, much less winning one. But, much as they did in 1992, the Danes are showing how happy they are to be at Euro 2012 by playing like they plan on staying a while, upsetting the Netherlands 2-1, and pushing Portugal to the limit in a 3-2 loss to sit well within the realm of qualification for the quarterfinals. 
But, while Denmark's potent offense has wreaked havoc in the Group of Death, their defense has been routinely exposed by both of their first two opponents. They were unable to maintain the tie against Portugal, coughing up a draw in the final minutes of the clash, and gave up a soft goal to the Dutch to let them back into their match as well. 
On top of that, the Danes are one of the youngest teams in this tournament, with a plethora of young talent that could easily crumble under the pressure of their final group stage match, or fall apart in the quarterfinals. Put it all together, and you have a team heading for a serious reality check when they face an explosive German squad in the final group stage clash.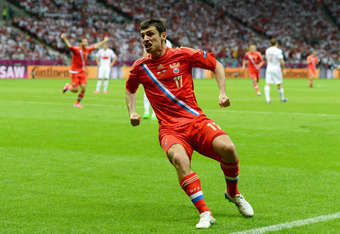 Shaun Botterill/Getty Images
Russia
The Russians have ranked among the class of the tournament through their first two matches, decimating the Czechs in a 4-1 win, then rolling to a draw with co-hosts Poland to sit atop Group A. Riding an explosive attack and a suddenly stingy defense, the Russians appear to finally be living up to their considerable talent. 
But, anyone who has watched Russia over the years knows that this strong play won't last. While they rank among the more talented squads in the tournament, the Russians lack the guts and work ethic to be considered favorites, and are the poster children for inconsistent, frustrating play. Their offensive players (with the exception of youngster Alan Dzagoev) have a habit of disappearing at random, and you can bet it's going to happen again
Combine that inconsistent history with a defense that is porous at best and lousy at worst, and you have a recipe for a team that's likely to win it's group, and get a nasty beatdown at the hands of Group B's runners up.