Cristiano Ronaldo: Portuguese Star's Play Proves He Needs Help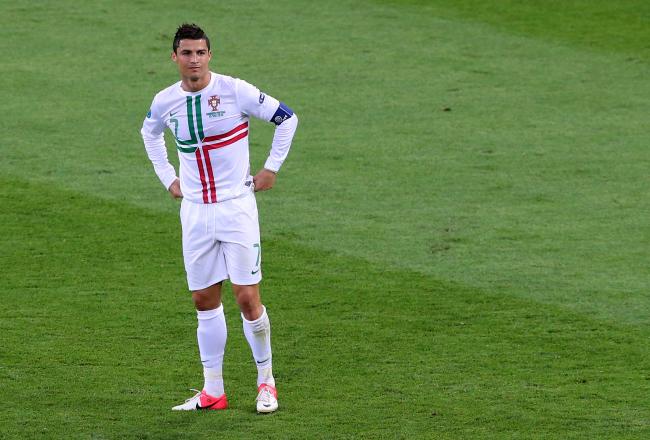 All alone, Cristiano? Not the way Portugal is playing.
Alex Livesey/Getty Images
Cristiano Ronaldo scored a career-high 60 goals this season for Real Madrid; Portugal is hoping they can get just one.
Every time the international superstar puts on his nation's shirt things change. It isn't immediately evident, but when scoring opportunities arise Ronaldo turns into a ghost of his club persona.
This remarkable, yet astonishing truth was never more evident than in Portugal's narrow 3-2 win over Denmark.
No. 7 had two opportunities that would be sure-fire goals in La Liga play, but neither of them found the back of the Denmark net. The question quickly became, is Ronaldo out-of-whack, or does Portugal not have enough talent to surround him with?
Although Denmark, currently ranked 9th by FIFA and surprise winners over the Netherlands, are no pushovers, they're hardly considered a threat to the world powers.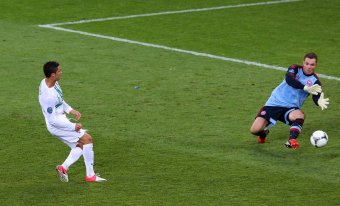 Ronaldo fails to beat Denmark keeper Andersen
Alex Livesey/Getty Images
So while Portugal was able to defeat their Group B foes, it wasn't like it came out of nowhere.
The problem with Ronaldo is that he seems to think too much when he finally sees the ball.
In their first match with Germany, Ronaldo accounted for four of their seven shots on goal, but he had only 38 touches on the ball.
They did a much better job of finding him against Denmark, but he completely spazzed when presented with an opportunity. A combination of pressure, expectations and anxiety seemed to take over and cause Ronaldo to look like someone we don't even know.
The 27-year-old has scored only 32 career international goals in 92 caps for Portugal. During his run with the squad, the nation has finished as runners-up of Euro 2004, fourth place at the 2006 World Cup, quarterfinalists of Euro 2008 and advanced to round of 16 at the 2010 World Cup.
How Far Will Portugal Advance at Euro 2012?
Unfortunately, as Ronaldo's star has grown, the Portuguese national team has gotten worse.
He simply puts too much on himself at the biggest moments in his country's matches. The best thing they can do, given the talent level they have to work with, is continue to find success without Ronaldo's help. If he can think for one second that they can win without him we could see something finally click.
He's the star for Real Madrid, but he's one of many stars. For Portugal to have success with their best player in some time, they need to make sure he doesn't think he's the only one on the team.
This article is
What is the duplicate article?
Why is this article offensive?
Where is this article plagiarized from?
Why is this article poorly edited?