Baltimore Orioles: O's 5-6-7 Hitters Share AL Best of the Night Honors
June 15, 2012

Rob Carr/Getty Images
The American League "Best of the Night" award is a sacred honor reserved for individual players who kicked some serious butt the day before. 
The "individual" part is quite important. Never before has the AL "Best of the Night" award been shared between several different players.
Until now. It's Friday and I'm feeling oddly demented, so today is going to mark the first time in the (very, very brief) history of the AL "Best of the Night" award that a couple different players are going to share it.
Shocker, I know. But please, try and contain yourselves.
Today, the AL "Best of the Night" award is going to three Baltimore Orioles: catcher Matt Wieters, first baseman Mark Reynolds and outfielder Steve Pearce. They batted 5-6-7 in Baltimore's batting order against the Pittsburgh Pirates on Thursday, and they put on one heck of a show.
Batting fifth behind AL MVP candidate Adam Jones, Wieters collected four hits in five trips to the plate with five RBIs. Each of his four hits drove in a run.
Batting sixth, Reynolds also had four hits in five at-bats with a home run and two RBIs. And, in a rare occurrence, he didn't even strike out!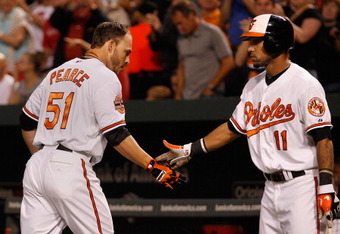 Rob Carr/Getty Images
Batting seventh, Pearce had two hits in four at-bats with a home run. Like Wieters, he also drove in five, with the big blow being his three-run home run in the fourth inning.
If you're just now hearing Pearce's name for the first time, that's probably because he was in the New York Yankees' farm system not too long ago. The Orioles acquired him for cash (and possibly a case of beer as well, waiting for my sources to confirm).
He's currently hitting .320 with a homer and eight RBIs in seven games for the O's. Pretty good purchase.
All told, the Wieters-Reynolds-Pearce fearsome threesome combined to go 10-for-14 with a pair of home runs on Thursday, and they drove in all 12 of the runs that the Orioles used to beat the Pirates 12-6, thus completing a three-game sweep.
Golf clap, guys. Golf clap. 
Or, if you prefer, we can react in this manner:
Awesome indeed.
In case you're wondering, a minor bit of history was made in yesterday's game. According to the Associated Press, Wieters and Pearce are the second pair of Orioles to collect five RBIs each in a single game. The only other pair of Orioles to accomplish that feat was Cal Ripken, Jr. and Will Clark in 1999.
Pretty good company right there.
Say what you will about their pitching, but these Orioles can score runs, man. And though many people left them for dead a couple weeks ago, they've now won five in a row and have moved to within a half a game of the Yankees in the AL East.
Might this be the start of the Curse of Steve Pearce?
Since that would make a hell of a story, I hope so.
Don't let me down, Pearce.
If you do, well, it just so happens that I have an American League "Worst of the Night" award to give out every day too.
If you ever want to nominate a player for the American League "Best of the Night" award, hit me up on Twitter.