US Open 2012 Leaderboard: Golfers Who Will Fall Down Board
June 15, 2012

Stuart Franklin/Getty Images
The U.S. Open may be the most entertaining of all major golf tournaments.
Regardless of where the tournament is played, players are challenged, and scores tend to be higher. It makes for competition at its finest.
If the first round was any indication, the 2012 U.S. Open is certain to push golfers to their limits. Of the 156 players in the tournament, all but ten are over-par after Thursday's round. Bubba Watson, coming off his dramatic win at the Masters, struggled all day to find a rhythm and carded a nightmare round of eight-over par, 78.
Part of a dream pairing for Thursday and Friday, Watson's nightmare first-round was shared with Phil Mickelson, who is currently tied for 89th place at six-over par. The massive crowd following Watson and Mickelson would have been very disappointed if it weren't for Tiger Woods.
Woods currently sits in second place after playing the first round at one-under par, thus peaking the country's interest in its national championship and potentially changing the weekend plans of golf fans.
While the level of excitement for golf is directly related to Woods being in contention on Sunday, the man currently standing head-and-shoulders above the rest of the field is Michael Thompson at four-under.
It's quite common to find a largely unknown player towards the top of the leaderboard following the initial round of a tournament, and often times, these players fall back to the pack as the pressure rises. Whether it's due to a lack of experience or a certain Tiger on the prowl, several golfers currently in contention will likely be nowhere near the top by the end of the weekend.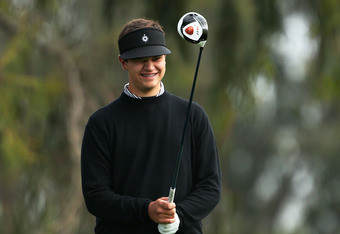 Andrew Redington/Getty Images
Thompson, despite a sensational first round, has just two years of PGA Tour experience and only one top-three finish in his 46 tournament appearances. Granted, there's a first time for everything, but it seems unlikely that Thompson's first Tour win would come on a stage as big as the U.S. Open.
Not only has Thompson failed to be in serious contention for a tournament in the 2012 season, he's made the cut in just ten of his 15 tournament appearances this year. Just over a month ago, Thompson was in a similar situation at THE PLAYERS Championship.
In the first round at TPC Sawgrass, Thompson carded a four-under round of 68 and trailed the leader by just two strokes. Yet, as the tournament continued and the pressure mounted, Thompson crumbled in the final two rounds, shooting three-over on Saturday and four-over on Sunday in the final round.
However, if Thompson is able to build on his tournament-leading first round, he'll be the happiest man on tour as he hoists the U.S. Open Trophy on Sunday.
The shining, ear-to-ear grins from past champions become fond memories of golf fans, but rarely does a golfer's smile shine due the sun reflecting off the braces on his teeth. Seventeen-year-old amateur Beau Hossler was one of the ten players to play the first round at even-par or better.
Earlier in the week, Hossler played a practice round with his idol, Phil Mickelson, and neither would have expected the high school student to be leading the four-time major champion by six strokes after the first round of the U.S. Open.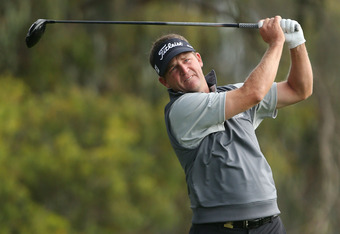 Andrew Redington/Getty Images
Hossler has a very bright future in the sport, as he is the first high school player since the 1950s to qualify for consecutive U.S. Opens. Although the success of the brace-faced golfer makes for a great story, it's very unlikely that he'll be a serious contender as the weekend continues.
Johnny Goodman earned $1,000 when he won the U.S. Open as an amateur in 1933, but 79 years have passed since the last time an amateur has emerged victorious. Keep an eye on Hossler's career, but don't be afraid to look elsewhere for a winner on Sunday.
For much of the first round, Jason Bohn looked like he might be a serious contender through the weekend.
Bohn wasn't fazed by the difficult layout at Olympic, and on a course where par is considered to be a great score, Bohn was three-under par after 11 holes and led the tournament for a while.
Although he still remains in contention, Bohn's round went from exceptional to solid during a five-hole stretch on the back-nine. After bogeying the par-four 14th, Bohn recorded a bogey on the 17th, and then capped off his round with a bogey on 18. The disappointing finish to an otherwise impressive round leaves Bohn four shots back of Thompson at even-par.
Prior to this weekend, Bohn has missed the cut in three of his previous five tournaments, including his most recent appearance at the St. Jude Classic. It's possible that Bohn could put it all together, correct his woes and stay in contention on Sunday, but U.S. Open Champions usually show more "signs of life" prior to the tournament than Bohn has recently.
When Father's Day rolls around this Sunday, millions will be glued to the television, especially if a certain man in red is within striking distance. Whether it's Tiger or somebody else, the winner of the 2012 U.S. Open will likely be a name golf fans will recognize.