Introducing the All-AFC North Defense, Offseason Edition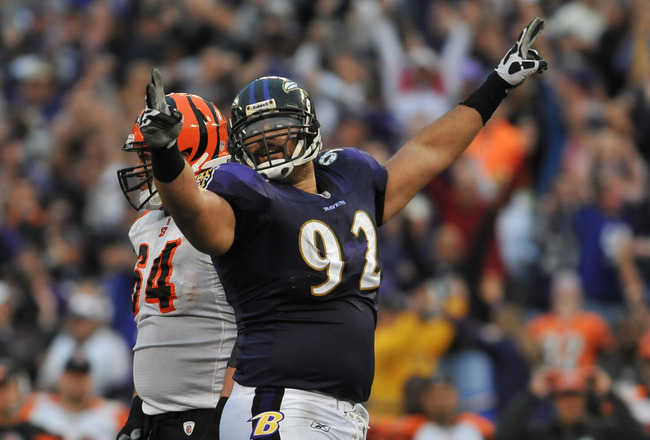 The division's best 3-4 nose tackle, Haloti Ngata, clearly belongs on this list.
Larry French/Getty Images
Earlier this week, I gave you the All-AFC North Team's offensive players, and today, it's time to reveal the defense.
With two teams in the division running a 4-3 and two running a 3-4, it's hard to figure out the right way to do this. So I've included two defensive ends and two defensive tackles, as well as two inside linebackers and two outside backers in order to have a full complement of players who can run either system.
So, without further ado, here is your All-AFC North defense as we head into the 2012 season. This is a division rife with defensive talent, so picking the best of the best isn't the easiest task. Think I missed someone? Let me know in the comments.
DEs: Carlos Dunlap, Cincinnati Bengals; Brett Keisel, Pittsburgh Steelers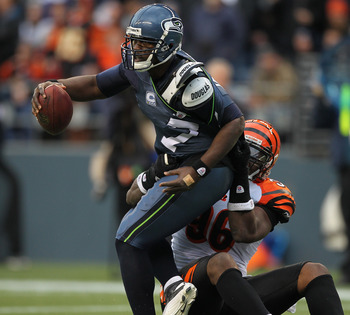 What are you doing, Carlos Dunlap? Oh, rushing the passer? Carry on.
Otto Greule Jr/Getty Images
Easily, Cincinnati Bengals defensive end Carlos Dunlap was the best at his position last season, despite dealing with a hamstring injury that slowed him as the year wore on. He had 23 tackles last year, 4.5 sacks (and 13 more quarterback hits) and a fumble recovery for a touchdown.
Joining him on this mythical 3-4/4-3 AFC North hybrid defensive line is Pittsburgh Steelers defensive end Brett Keisel. The bearded one had 48 total tackles, 3.5 sacks, two forced fumbles and a fumble recovery in the Steelers' 3-4 system last season.
Both are prodigious at getting at the quarterback, despite the differences in their respective defenses, and should continue to play at a high level this year, warranting their inclusion on the All-AFC North roster.
(One thing to note: The Baltimore Ravens' Terrell Suggs operates as a hybrid defensive end/outside linebacker, but for the purposes of this roster, I am labeling him a linebacker only.)
DTs: Haloti Ngata, Baltimore Ravens; Geno Atkins, Cincinnati Bengals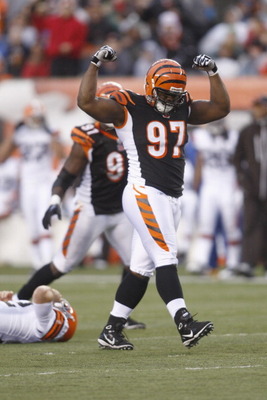 Geno Atkins, walking away from his prey.
John Grieshop/Getty Images
Though 2011 wasn't the best season for Baltimore Ravens nose tackle Haloti Ngata, it certainly wasn't a bad one, either.
He had 64 tackles (including 31 total tackles and sacks for losses), five sacks, two forced fumbles, three fumble recoveries and one recovery for a touchdown. Ngata also knocked down five passes and applied immense pressure on opposing quarterbacks, all while eating offensive linemen for lunch.
The Cincinnati Bengals' Geno Atkins gave quarterbacks the worst time last season, with 49 pressures to his name. He totaled 47 tackles in 2011, 7.5 sacks, had two forced fumbles, two fumble recoveries and one recovery for a touchdown.
With both of these men on the AFC North's defensive line, it's clear we are well into building the most aggressive and scary defense imaginable. Both players should be beasts in 2012 as well.
ILBs: D'Qwell Jackson, Cleveland Browns; Ray Lewis, Baltimore Ravens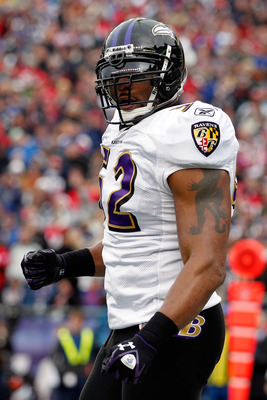 If you want to stop the run, you need Ray Lewis on your defense.
Rob Carr/Getty Images
With 158 total tackles, Cleveland Browns inside linebacker D'Qwell Jackson was the most prolific tackler in the AFC North last season.
While the Browns' defense as a whole struggled to stop the run—including Jackson, who had just nine tackles for a loss last season—Jackson was a bright spot in an otherwise dark linebacking corps. He also notched 3.5 sacks, an interception, a forced fumble and recovered three more fumbles. With more help up front this year, Jackson should be even more successful.
On one hand, 2011 wasn't Ray Lewis' best season, but the fact that he had the most tackles of any Ravens defender (91), notched two sacks, an interception and two fumble recoveries and helped the defense be the second-best unit in the league at stopping the run all while battling turf toe says just how talented he really is.
Much will be asked of Lewis this year, as the Ravens' defense has undergone a number of changes, but it's nothing he can't handle.
OLBs: Terrell Suggs, Baltimore Ravens; LaMarr Woodley, Pittsburgh Steelers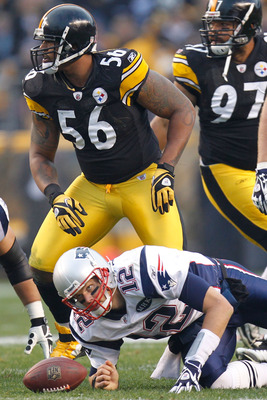 LaMarr Woodley is quickly taking over for James Harrison as the Steelers' scariest OLB.
Gregory Shamus/Getty Images
OK, I know, there's a chance that Ravens linebacker Terrell Suggs may not play at all this year, what with that torn Achilles tendon, but he still has a rightful place in the All-AFC North defensive roster.
He's the reigning NFL Defensive Player of the Year and had 70 total tackles (10 for a loss), 14 sacks, two interceptions and seven forced fumbles last year, so he's not worth bypassing simply because of this injury.
As long as he doesn't rush his return to the field, Suggs shouldn't lose much of his explosiveness that earned him the league's highest defensive honor last year.
LaMarr Woodley would have had a better 2011 season if he hadn't dealt with a nagging hamstring injury that caused him to miss six games. Woodley had 39 tackles last year, as well as nine sacks (7.5 of which came in the four-game span that fellow backer James Harrison was out with a broken orbital bone) and an interception.
At full health, Woodley is the Steelers' best linebacker. He's the future of their defense and certainly worthy of inclusion on this All-AFC North defensive roster.
CBs: Lardarius Webb, Baltimore Ravens; Joe Haden, Cleveland Browns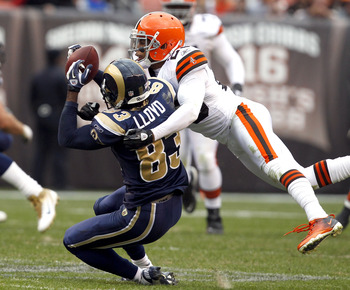 Browns CB Joe Haden has practically no ceiling when it comes to what he can accomplish.
Matt Sullivan/Getty Images
Clearly, the Baltimore Ravens know the worth of their top cornerback, Lardarius Webb, giving him a six-year, $50 million contract extension this offseason. He had five interceptions last season, defended 20 passes and was one of just two full-time starting corners to not allow a touchdown in 2011 (the other being Darrelle Revis).
Obviously, Webb is the AFC North's best corner, and obviously he's on the All-AFC North defensive roster. He's joined by the Cleveland Browns' Joe Haden, who defended 17 passes last year, had 65 tackles and one sack and a forced fumble with one recovery.
Though Haden didn't have an interception last year, that speaks to two things: One, teams didn't want to throw to him (he did get beat at times, but he's still a threat) and two, the Browns gave up so much yardage on the ground, opposing quarterbacks didn't have to throw that often last season, period.
That still doesn't discredit his serious talent, and for a player so young, on a team with a much-improved overall defense, he should have an excellent 2012 season.
SS: Troy Polamalu, Pittsburgh Steelers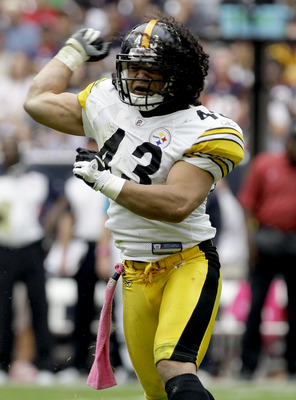 Troy Polamalu seems to be tailor-made for Dick LeBeau's defense.
Thomas B. Shea/Getty Images
The Steelers' Troy Polamalu is one of the best, if not the best strong safety to ever play in the NFL. Though his numbers in 2011 weren't particularly amazing—one sack, two interceptions, one fumble recovery—what he does to stop the run is invaluable to the Steelers' defense.
One look at those 91 tackles from last season, and what they represent, proves that he's still as fast, dangerous and skilled as ever.
It was a down year for turnovers for the entire Steeler defense. Polamalu should rebound well from that low number of forced turnovers this season. And if not, he'll still be all over the field, coming practically out of nowhere to make sure opposing running backs and receivers cannot make it to the end zone.
FS: Ed Reed, Baltimore Ravens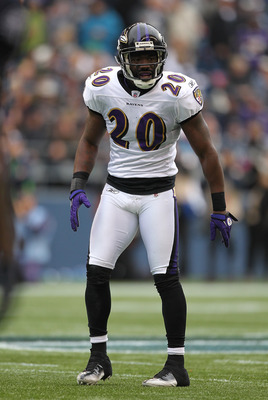 Ed Reed: The prototypical free safety all NFL teams wish they had.
Otto Greule Jr/Getty Images
Was there any question that the Ravens' Ed Reed wouldn't be named to the All-AFC North defensive squad? He's spent years duking it out with Polamalu for the rightful title of best safety in the division, but the truth is, they do two different things. Think of it not like comparing apples and oranges, however, but comparing two different kinds of oranges. One is more sweet; one is more tart—and yes, they are both in fact oranges.
Right now, Reed is sitting out offseason workouts for reasons still unknown, and he's interested in a contract extension. But he'll doubtless take the field this year and again be a major difference-maker in the Ravens' talent-rich secondary.
Reed had 52 tackles, one sack, three interceptions and a forced fumble last season—again, not his best showing either—but in pass coverage, there are few better free safeties in the league, let alone the division.
The Steelers' Ryan Clark comes close, but when it comes to the body of work, Reed clearly edges him out and makes the All-AFC North roster this year.
Keep Reading