The Hottest Fans at Euro 2012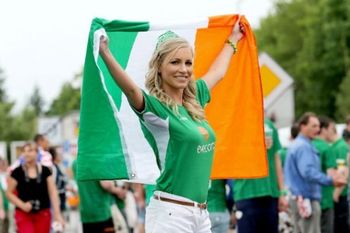 Image via brobible.com
With the 2012 UEFA European Football Championship well underway, let's take a moment to review the results so far.
And no, we don't mean the matchups, key injuries and controversial calls. We're far more interested in the beautiful support flooding the venues.
So sit back, relax and enjoy the diverse collection of soccer maniacs perusing our screens one breathtaking smile at a time.
Fandom has never been so beautiful.
20. From Russia with Love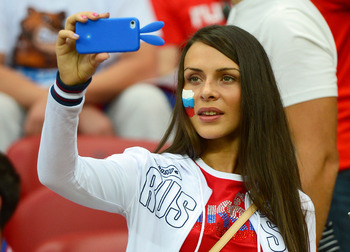 Shaun Botterill/Getty Images
Don't be fooled for a second that this sexy diehard isn't capturing her own award-winning smile on camera.
She's got plenty of other cameramen as backup just in case.
19. Romanian Gladiators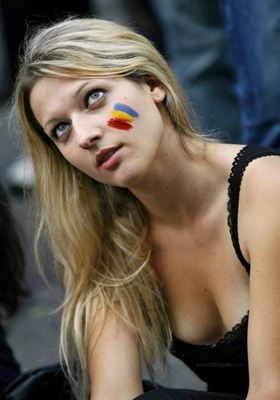 Image via thechive.com
18. A Fashion Statement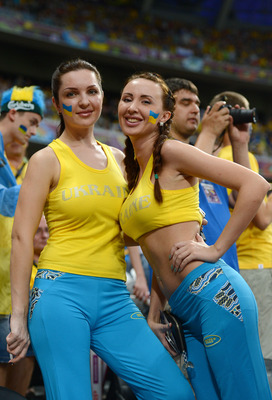 Lars Baron/Getty Images
Ukraine needs all the help they can get when they face France and its new Nike getup.
Half a smile should do it.
17. An Offer We Can't Refuse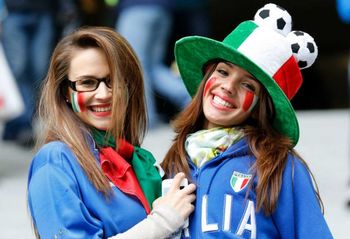 Image via ajc.com
Missed opportunities continue to haunt the Italian soccer team.
Blaming it on the distracting fans seems fair.
16. Shifting Focus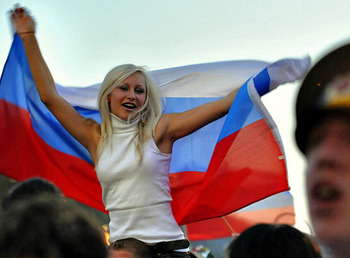 Image via istoryadista.blogspot.com
This Russian squad clearly knows what it takes to win.
The necessary flag dance.
15. Checkered Enthusiasm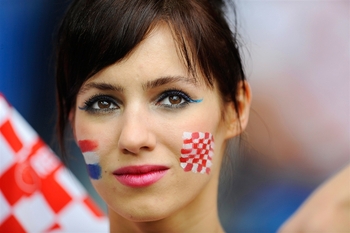 Image via photoblog.msnbc.msn.com
This Croatian fan seemed inspired by her team's performance against Italy.
On the other hand, a 1-1 draw isn't so exciting.
14. Croatian Invasion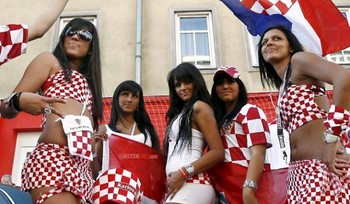 Image via foxestalk.co.uk
Two's a hangout; three's a party; four's a crowd.
Five's perfection.
13. A Portuguese Influence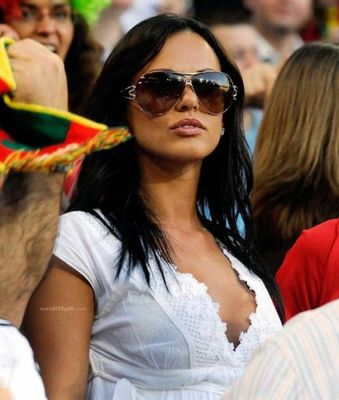 Image via cristianoronaldo-live.blogspot.com
The epic Ray-Ban sunglasses. It doesn't get any more incognito.
Or classy.
12. Breathtakingly Subtle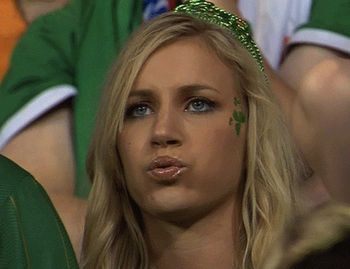 Image via brobible.com
Watching her beloved Irish club get trounced by Spain 4-0 must've been tough for this looker.
But she made it bearable for all her neighbors.
11. The Mystery Woman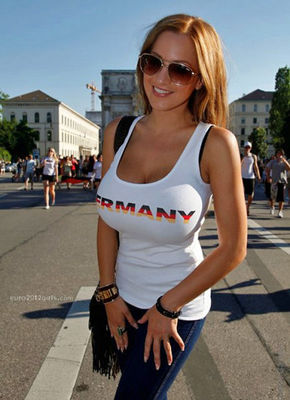 Image via piximus.net
Just in case you're not aware, she's rooting for Germany.
10. Picture Perfect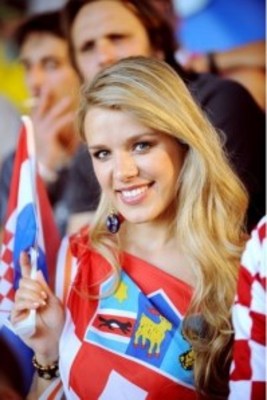 Image via greatersurbiton.wordpress.com
With everything frozen behind her, this one delightful fan captures an eager lens by surprise.
Colliding on a masterpiece.
9. Hearty Support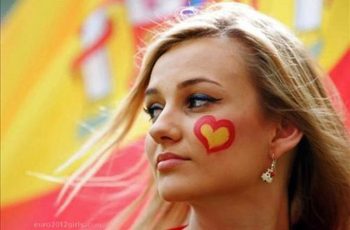 Image via babajana.com
Simply showing her neighbors that this fan wears her heart on her cheek.
Wearing it on the sleeve is old news.
8. Big Fat Greek Supporting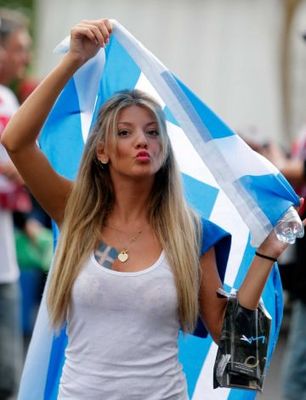 Image via turknorthamerica.com
Falafel, feta-covered salad and beautiful women...that's what Greece does.
A round of applause.
7. The Polish Sensation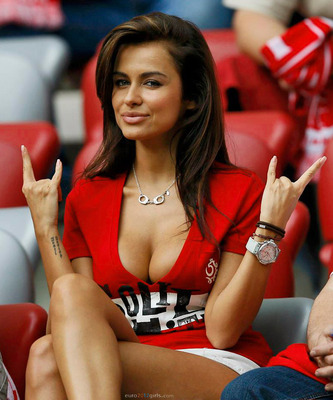 Image via coedmagazine.com
6. The Fields of Athenry
Image via brobible.com
Just leading her Irish followers by example.
Although we can't really focus on anyone else.
5. Danish Elegance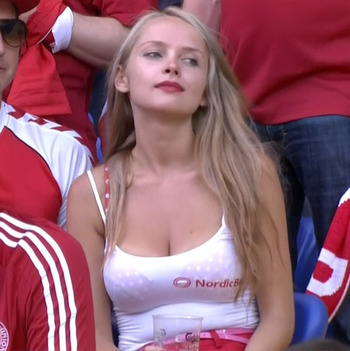 Image via soccer.indonewyork.com
Denmark is obviously on the rise.
And we don't mean on the field.
4. Swedish Fish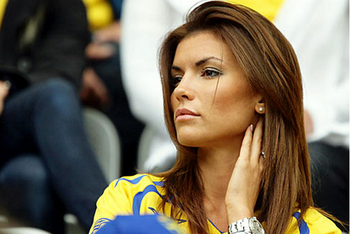 Image via nairaland.com
Just a slight curl of the hair gets every cameraman in the stadium shifting focus.
A legendary stare indeed.
3. Nature's Beauty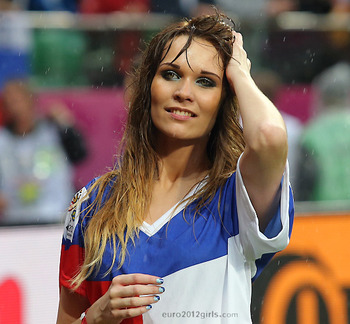 Image via toprq.com
Rain perfectly falling down? Czech. A slight smile that gets the crowd swirling? Czech. Spelling the word "check" as Czech? Czech.
2. Light at the End of the Tunnel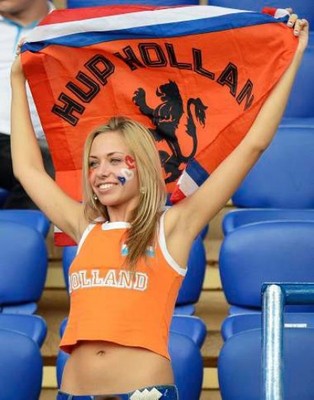 Image via totalprosports.com
1. Port of Beauty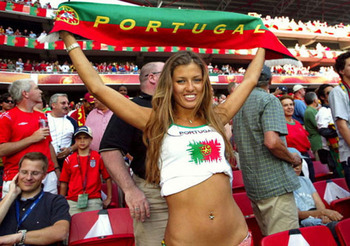 Image via istoryadista.blogspot.com
Just another breathtaking Cristiano Ronaldo fan sharing her passion with the rest of the world.
She should have no problem garnering attention.
Keep Reading