Euro 2012: Sweden Draws Fire from Prime Minister over Naked Training Game
June 15, 2012

Oh, you Europeans and your wacky and crazy games. The latest from Sweden has caused quite the stir as one national team player drops his pants and the Prime Minister cries foul. 
The story of a goalkeeper who bared his booty for his teammates to take shots at with soccer balls comes from NBC Sports by way of Swedish news site The Local. 
The whole exchange took place at Tuesday's training session. That's where the boys began a game called, "the pig." 
The end of which puts the loser near a wall where he apparently drops his trousers and bends over. At that point, the rest of the players take shots trying to kick the ball into the newly formed target. 
There, I made it through that description without saying butt. D'oh. 
You can see the video at The Local here.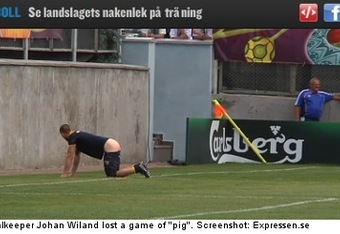 That is where you will see reserve goal keeper Johan Wiland bare his butt for his teammates to take potshots at with soccer balls. It is a good thing for him that their aim is horrible. 
That may explain their 2-1 loss to Ukraine to open the Euro Cup. 
We used to call this game "butts up." However, we only had balls thrown our way and never disrobed in any shape or form. The thought just never crossed our minds. Also, we were in third grade.  
Why grown men would want to do this for fun is harder to understand than the layout of your local IKEA. I am sure the crew from Jackass are already thinking of how to improve this grand 'ol game. 
Many have sounded off with their concern over the game, the most prominent being Prime Minister Fredrik Reinfeldt. 
People who carry expectations should be aware of that and act accordingly. It's important to reflect on how what one does in order to meet expectations.

The most important thing for the Swedish people is that we win against England. 
While this is absurd and unbecoming for a national team, I like how the Prime Minister shifted focus to Friday's match with the Three Lions. 
Hell, if Sweden wins they can have at their bare-butted game all they want. They will have earned it. Rock on, you crazy Europeans. 
Follow me on Twitter for the funkiest of times.