England Euro 12: Joe Hart and Players Most Vital to Squad's Success
June 15, 2012

Julian Finney/Getty Images
As England's second Euro 2012 group stage clash nears, the team is at a crucial juncture in their campaign. 
The Three Lions are sitting tied for second with France in Group D with one point and now face a tricky clash with Sweden. If they win, it would go a long way towards advancing into the knockout stage of the tournament. 
However, for the English to advance beyond Group D and make any kind of run in Poland and The Ukraine, they need some of their biggest stars to step up and deliver performances worthy of their considerable talents. They need heroic performances and the kind of impact showing we know these stars can deliver, particularly with Wayne Rooney out until the final group stage clash. 
So, which stars are the most important to the Three Lions' hopes? Take a look: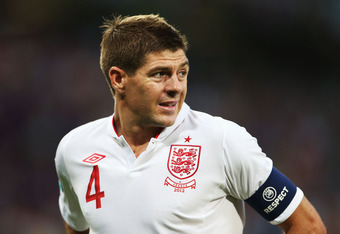 Scott Heavey/Getty Images
Steven Gerrard
The Liverpool standout has been delivering strong international showings throughout his career, but with Rooney out, the veteran midfielder is going to be counted on today more than ever before. Gerrard may not have the pace he used to as a younger star, but the 32-year-old's offensive gifts with the ball at his feet are crucial to England's success.
With Rooney missing today, the Three Lions will still be hunting for goals wherever they can get them, and Gerrard is a prime candidate to find the net. He's the best playmaker in England's midfield and has unparalleled offensive instincts. With Roy Hodgson's possession and pass-heavy format, Gerrard's skills will be heavily relied upon as the English look to attack a vulnerable Swedish defense. 
He may be a defensive liability against quicker midfielders, but the English need his offensive skills and his ability to score from virtually anywhere more than anything. If he struggles against the Swedes, don't be surprised to see the Three Lions fall.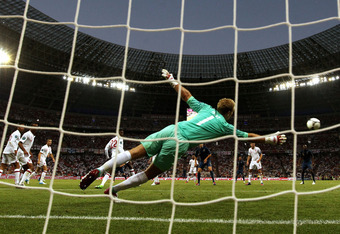 Ian Walton/Getty Images
Joe Hart
More than anyone else, Manchester City keeper Hart needs to step up and deliver performances for the ages if the English hope to make a deep run in the Euros. The 25-year-old netminder reached new heights during last season at Ethiad Stadium, taking his place as the best English keeper by a fairly wide margin. With his size, reflexes and positioning, he's capable of absolute dominance. 
With a defense that is incredibly thin up the middle (with Gary Cahill gone) and inconsistent on the wings, Hart's skills are going to be put to the test against a Sweden team anxious to make up for a poor showing against Ukraine. Hart has the ability to shut down Zlatan Ibrahimovich and the Swedish attack and will likely be counted on to make several big saves and keep an inconsistent back line well-organized and focused. 
If Hart shines, it's going to be tough to take England out of the match, but if he struggles, then the Three Lions are in deep trouble.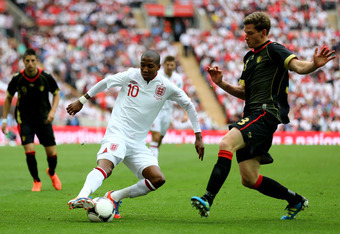 Clive Mason/Getty Images
Ashley Young
Facing a Swedish team whose defense is extremely vulnerable at the back on the outside, the English are going to need the good version of Ashley Young to show up today. However, with the Man United winger, it's always a mystery. 
The 26-year-old has the pace to wreak havoc on the Swedes' vulnerable flanks, and his scoring touch and passing make him impossible to ignore. But, while Young is capable of brilliance with the ball at his feet, he has struggled with his consistency throughout his career, occasionally disappearing when he's needed most. 
He's arguably the most creative winger the English have, and that creativity is crucial to their hopes for success. If the flopping, sulky Young shows up against Sweden, you can bet this team will struggle to find a rhythm.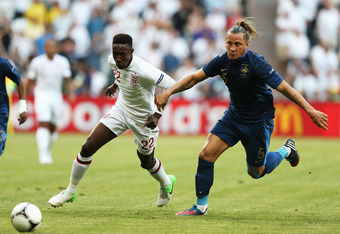 Julian Finney/Getty Images
Danny Welbeck
The young Manchester United striker shone in the final English friendly and showed the world what he was capable of, wreaking havoc against the Belgians. But, as his no-show in 89 minutes against France showed us, the 21-year-old forward is still as inconsistent as you'd expect. He'll need to come up big for the English against Sweden if they want to advance.
With Rooney out, Welbeck is without a doubt the best striker on the roster. He's skilled with the ball at his feet, capable of moments of brilliance and is as fast as anyone in the tournament. He has a nose for goal and needs to fill Wayne Rooney's playmaking forward role against the Swedes. 
While he doesn't have as much pressure to score as he did in the last match, now that Andy Carroll is starting alongside him, he needs to make an impact in what could very well be his final start. If he no-shows like he did against France, the English won't come away from today's match with three points.