Brooklyn Nets: Must Resist Desperate Free Agent Signings in Summer 2012
June 15, 2012

Christian Petersen/Getty Images
Over-valuation is desperation's ugly daughter.  Perhaps no other team in the NBA knows this quite as well as the Brooklyn Nets do right now. 
Early this spring, in a desperation attempt to placate their often malcontent star point guard Deron Williams, the Nets traded their 2012 draft rights to the Portland Trail Blazers for some immediate star power in small forward Gerald Wallace. 
When the Nets acquired the 30-year-old Wallace, he had two years left on his contract for 9.5 million a year with a player option for the 2012-13 season. 
A one time all-star, Wallace's output peaked in 2008 when he averaged 18 ppg / 10 rpg for an otherwise mediocre Charlotte Bobcats squad.  Since then, Wallace has been injury-ridden and his scoring output and rebounding have dropped significantly.
Fortunately for the Nets, Wallace chose to exercise his player option yesterday and test the free-agent market.  The Nets now have a second chance to avoid signing the maligned eleven-year veteran to a multi-year contract at around $10 million a year. 
The next step for the Nets is to show some shrewdness and patience in the 2012 offseason.  They should avoid splurging on other desperate attempts to acquire either an overvalued marginal star or to sign former stars in the twilight of their careers just to gamble on keeping Deron Williams, or attracting a potential franchise player (e.g. Dwight Howard). 
A focus on attaining skill players, keeping a potential 2013 draft pick off the trade market, and acquiring one or two players from this treasure of 2013 free-agents is the by far more prudent strategy.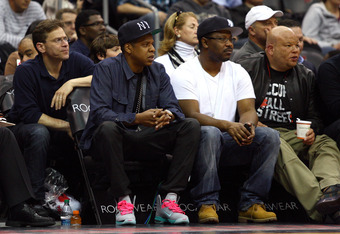 Chris Chambers/Getty Images
In the meanwhile, for the Nets that means avoiding a two year, $30 - $40 million contract for free-agent point guard Steve Nash. 
Granted, the acquisition of the 37-year-old has some short-term value.  It would bolster the Nets record just south of an Eastern Conference 8 seed and engender a fair share of media goodwill.
However, the former two-time MVP is on the precipice of his career decline.  You just never know once you get a player on the wrong side of 35 years old when his game will plummet. 
Most importantly, picking up Nash would clog the Nets ability to pick up the following young crop of terrific free-agent point guards in 2013:  John Wall, Stephen Curry, Jrue Holiday, Ty Lawson, or Brandon Jennings. 
The Nets must also avoid the overvalued, marginal-star trap.  For instance, you may see the Nets try to attain Philadelphia 76ers sixth-man Louis Williams early in the off season.  This would be another desperation attempt to appease to DWill.
The 25 year old free-agent received some nice media kudos this year for being the leading scorer for the 76ers while coming off the bench. The 76ers appearance in the 2nd Round of the 2012 Eastern Conference playoffs round will also artificially bolster Williams's value.
The 76ers were an anemic scoring squad in 2012 with no legitimate #1 option, so being the team's scoring leader off the bench is no great feat.  Williams averaged 14ppg on 40% shooting and is an average passer and defender.  His playoff numbers - 11.5 ppg on 35% FG - were poor. 
It is true that if the Nets focus summer acquisitions on seemingly bland skill-set players, their 2012 debut at the newly constructed Barlays Center in Brooklyn may be a let down (unless D.Will prefers solid surrounding players and decides to sign a long-term deal with the Nets).
However, between Center Director Jay-Z's myriad entertainment showcases, his 40-40 Club opening, and media coverage surrounding the Center's first year in Brooklyn, Nets basketball can afford to fall under the radar for a year.  
It's patiently under the radar when some of the best groundwork gets laid.  For the Nets, solid skill-set player acquisitions like Omer Asik, Ersen Ilyasova, or Nic Batum will give them the proper foundation for a playoff-contender squad when greener draft and free-agent pastures await in 2013.