NBA Finals 2012: 5 Do-or-Die Adjustments for OKC Thunder
June 15, 2012

Ronald Martinez/Getty Images
The Oklahoma City Thunder needed to win both games at home to begin the NBA Finals.
They didn't.
Now as they head to Miami for the next three games, the pressure is suddenly on the Thunder to steal a game or two at AmericanAirlines Arena. In order to do that, the Thunder must make some adjustments.
That's something Scott Brooks has been very good at throughout the postseason to date.
For the Thunder to return to Oklahoma City with a series lead, here's a look at five adjustments the Thunder need to make.
Start James Harden
I love Harden coming off the bench, but OKC cannot continue to dig itself big holes at the start of games.
Despite having a chance to tie the game in the final seconds, ultimately the 18-2 hole to start the game proved too big to climb out of. The Thunder need to get off to a good start, and if that means starting Harden, then that is something Brooks must consider.
Less Kendrick Perkins, More Serge Ibaka and Nick Collison
Chris Bosh had an easy time with Kendrick Perkins, and it helped Miami not only get off to a good start, but also get easy buckets throughout.
The Thunder can deal with Bosh's 16 points. What they can't deal with are his 15 rebounds (seven offensive).
Right now, Ibaka and Collison give the Thunder a better defensive effort, and when Oklahoma City gets stops, they can get out in transition. That's especially key early in the game to set the tempo.
Make Russell Westbrook a Point Guard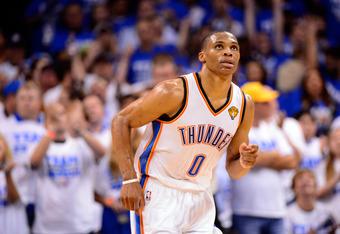 Ronald Martinez/Getty Images
I know it's not his strong suit, but Westbrook showed in the final four games of the Spurs series that he is capable of being a facilitator for his team. That's the way OKC can win this series.
Westbrook has to create more opportunities for his teammates and less for himself. He's part of the reason for the slow starts.
Westbrook started Game 2 1-of-7 from the floor, and while he's scored 27 points in each game of the finals, he's only made 20 of 50 shots. In comparison, Kevin Durant has taken only 42 shots through two games and Harden only 17.
Tighten Up Defensively
The Thunder did a great job in Game 1 by forcing Dwyane Wade and LeBron James to be jump shooters in the second half.
That wasn't the case in Game 2 as Wade was able to aggressively get to the rim from the start and James was able to get a ton of high-percentage looks in the post.
If I'm Brooks, I'm aggressive on Wade as LeBron is going to get his, and using Ibaka more on Bosh should pay dividends. Preventing Wade from getting off to a good start is a recipe for winning. If Miami is going to win, players like Shane Battier are going to have to beat me.
Sure Battier had 17 points in back-to-back games, but I will take my chances that he can't sustain that rather than allowing Wade a lot of single-coverage opportunities to get to the basket.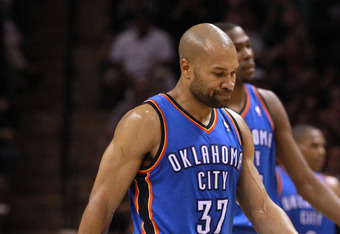 Ronald Martinez/Getty Images
Move the Ball
Westbrook will take the heat for it, but there was entirely too much standing around from the entire Thunder team in Game 2.
Brooks has enough depth to where he can tinker with his rotations, but he really doesn't have to if the Thunder move the ball as a team.
One option could be moving Westbrook off the ball for stretches and using Harden or Derek Fisher as the primary ball handler. But if the ball is moving enough, everyone is going to get better looks and the shots should start falling.
The adjustments Brooks need to make are simple ones. The players have to execute them though.