Liverpool Might Lose Sigurdsson, Andy Carroll Leaving and Other Transfer Rumors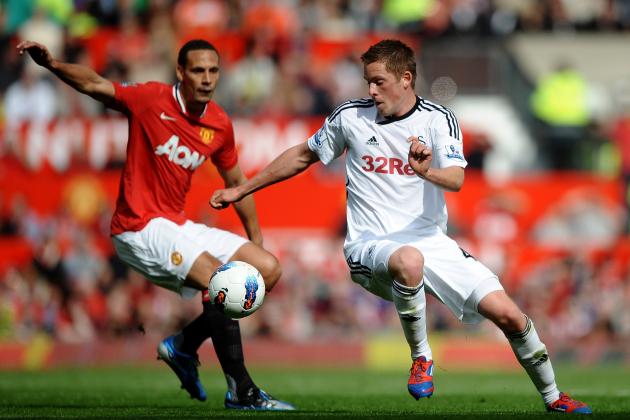 Laurence Griffiths/Getty Images

Despite the transfer window not officially opening in England until July 1, that doesn't stop the seemingly endless transfer speculation.
Liverpool appear to be a club that will make a few moves this summer.
After finishing eighth in the Premier League last season, some shakeup in the squad is necessary.
However, supporters are unlikely to see the kind of money spent in the transfer window under former manager Kenny Dalglish.
That might be a good thing though, as Jordan Henderson and Stewart Downing look little value for money.
Here's a quick roundup of some transfer rumors breaking over the last few days.
Begin Slideshow

»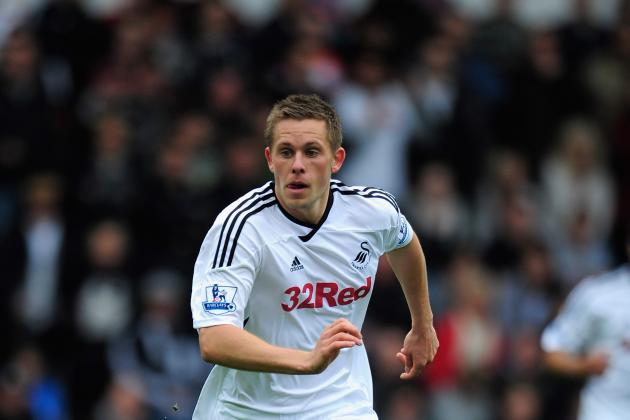 Stu Forster/Getty Images

One of the most publicized rumors is that of Gylfi Sigurdsson coming to Anfield.
New manager Brendan Rodgers signed him on loan at Swansea last year, and as a result made the move permanent for £6.8 million.
Rodgers has since left Swansea, and it was assumed that Sigurdsson would follow.
However, The Guardian has quoted Rodgers as saying:
I wanted to sign him for Swansea but, like I've said to him and his representatives, that has to be his first port of call. If he comes into the market for whatever reason – and I'm sure there'll be a number of clubs interested in Gylfi – then of course I would like to be in a position to put our case here at Liverpool to sign him.

But I've always said, I think he's a player Swansea have had an agreement with and they have to have every chance to try and sign him. That's only right. If anything changes from that, we'll look at it from there.
Although Swansea still have the first option on him, it's hard to envision the club keeping a player who doesn't want to be there.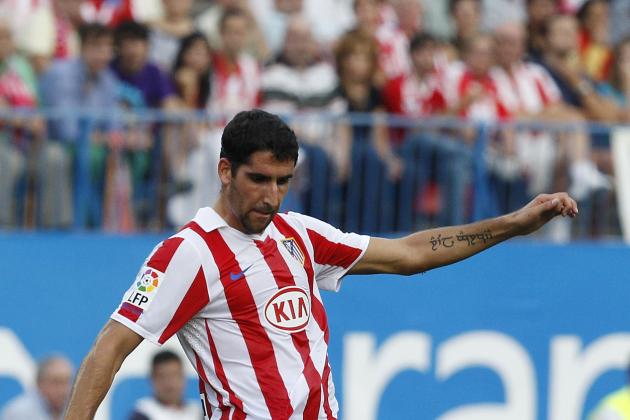 Angel Martinez/Getty Images

The Daily Mail is reporting that Atletico Madrid midfielder Raul Garcia is on Liverpool's radar, with a price tag of £6.5 million.
Garcia has been an object of derision among Atletico Madrid supporters over the past couple of years for his disappointing performances.
He was loaned out to Osasuna last year and performed very well, scoring 11 goals and adding six assists in 32 games. It's even more impressive because Garcia only managed to score seven goals with seven assists over four seasons for Atletico.
Only 25, it may just be that Garcia is finally coming into his own as a footballer.
With the loss of playmaker Diego, it's a bit surprising to see Atletico willing to part with Garcia after the season he had. However, they have signed Turkish midfielder Emre and may want to get whatever they can from Garcia in the transfer market.
Garcia's solid showing last year might be down to a comfort level as well. Born in Pamplona, Osasuna is his boyhood club.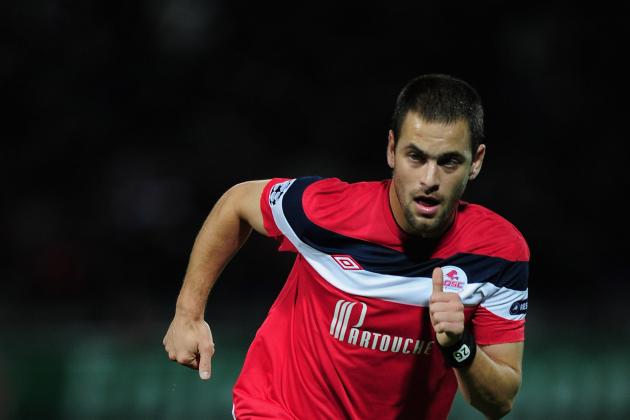 Jamie McDonald/Getty Images

Joe Cole struggled mightily in his season season at Liverpool.
As a result, he was loaned out to Lille and it did wonders for the midfielder. Cole's preference would likely have been to stay at Lille, but the French club wasn't able to meet his wage demands, as Liverpool was paying a hefty chunk during the loan spell.
Now that Liverpool is the only option, Cole is determined to make the most of it. And it appears that he will be offered plenty of chances to prove his worth to the Reds.
Sky Sports is reporting that Brendan Rodgers is very eager to welcome Cole back. He said:
I certainly know he's looking to come back. I've got to assess all the players.
With the likes of Joe - he's a very talented player. He's obviously gone out to Lille and done very well and he has the opportunity to come back here and show his qualities.

For me it's fresh for everyone. I'll be new into the club. Of course I know lots of the players and their qualities but Joe is obviously a player who'll want to come back and show his worth to the group.

There are a lot of players I'm aware of and they wouldn't be at Liverpool if they didn't have the qualities.
This is exactly what Cole needs to get his career at Anfield back on track. His creativity will be well-suited to Rodger's attacking style as well.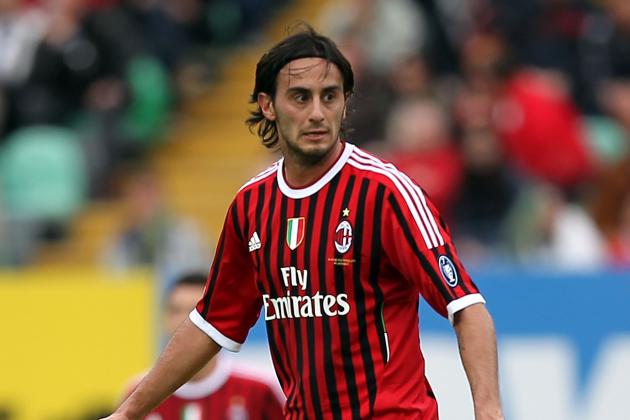 Gabriele Maltinti/Getty Images

There is a little part of you that has to feel a little sorry for Alberto Aquilani.
He arrived at Anfield for £17 million carrying an injury. This led to him featuring in the starting 11 very little. Then, when Aquilani was presumed to be fully fit, Rafa Benitez hardly played him.
The Italian has moved to Juventus and AC Milan on loan and performed well, only to see both clubs balk at the fee Liverpool set to make the move permanent.
The Independent, among others, is reporting that Aquilani's future at Liverpool is going to be resolved "within the week."
Despite the promise that he has shown throughout his career, Aquiliani has always struggled to remain fit for an entire season.
He is the kind of central midfield playmaker the club lacks right now, but with wages in the £70,000-80,000 range, it's doubtful that the Reds will want to hold on to him.
Also, at 27 years old, there's no reason to expect him to stay healthy in the future.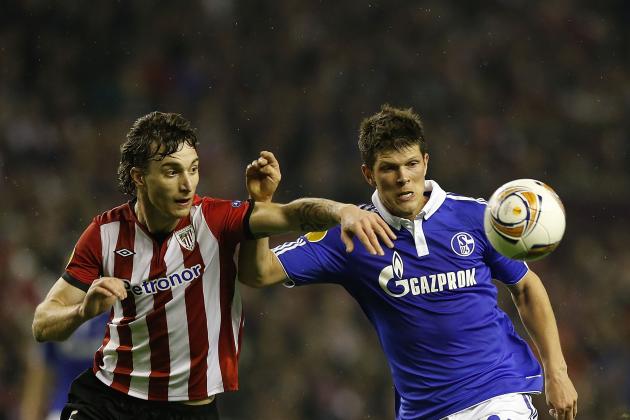 Angel Martinez/Getty Images

Klaas-Jan Huntelaar last year debunked the myth that he was just another striker who could score tons of goals in the Eredivisie.
He found the net 29 times for Schalke in 2011/12, thus making him the first Dutchman ever to lead the Bundesliga in scoring.
That prolific goal record has gotten him noticed by many clubs across the globe. According to Caught Offside, Liverpool is one of those clubs who's showing serious interest.
This shouldn't come as a shock to anyone as the thing the Reds needed the most last season was someone lethal in front of the goal. Also, almost any transfer rumor mill is likely to involve the Reds' interest in Huntelaar.
However, even if Liverpool offers £18 million, it's highly improbable that Huntelaar will be making the move to Merseyside. Schalke qualified for the Champions League this season and it's not as if the Bundesliga is some second-rate league.
It would take a massive wage increase to tempt Huntelaar away from Germany, and that's something that the ownership probably wouldn't allow.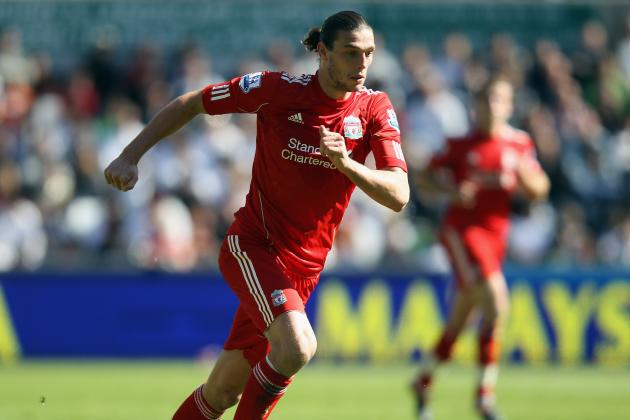 Bryn Lennon/Getty Images

File this one under "So Crazy It Might be True." Paris Saint-Germain are reportedly lining up a £12.5 million bid for Andy Carroll.
As everyone knows, Carroll has struggled mightily since making the £35 million move from Newcastle to Liverpool. However, toward the end of last season, he appeared to be getting it together on the pitch.
Then, just as things were looking good, Liverpool hired Brendan Rodgers and his pass-and-move style of attacking football. It's a style that doesn't look to suit Carroll's game at all.
Carroll will try to adapt, but he doesn't have the kind of ability to hold the ball up that Rodgers will look for in a striker.
While ownership might not want to deem Carroll a failure already and get a return of so little compared to the initial cost, a fee that PSG is offering might be the best the Reds can get.
That's why a move to the French club has to be appealing for both the club and player. The only question is, why would PSG offer £12.5 million for Carroll?
Much like the Huntelaar rumors, this just sounds too good to be true.