Spain at Euro 2012: World Football Should Follow La Roja's Example
June 15, 2012

Michael Steele/Getty Images
Following Spain's slick 4-0 dismantling of the Republic of Ireland in Group C at Euro 2012, one thing about La Roja became clear—in world football terms, they are the model nation.
Against the Irish they gave their opponents and the watching world a master class in how to play football.
The 4-0 scoreline, which thrust them to the top of Group C with almost a certain chance of getting a step closer to defending their European Championship crown, did not flatter Spain in the slightest.
In fact, you could say they definitely should have scored more.
It's not that Ireland were very poor—they stuck to manager Giovanni Trapattoni's tactics very well. They kept a compact shape, man-marked players and counter-attacked with pace, while up-front captain Robbie Keane's movement was exemplary and at the back Shay Given made some stunning saves and no errors.
And for their part Spain were no more tactically adept than their opponents. Vicente Del Bosque implemented some clever tactics with passing and movement, but there was nothing more ingenious coming from the Spanish dugout as opposed to the Irish.
In reality there was just one main difference between Spain and Ireland—the victors were simply superior in their technical ability. Very superior.
The Spanish players were all highly comfortable on the ball.
Their control of passes wasted no time and gave them the space they first afforded themselves with their movement to execute exactly what they planned to do.
And their control of the ball when dribbling allowed the Spanish to dictate the pace of every single forward movement, or you could use the word "play," to coin a term from the NFL.
Just look at the opener from Fernando Torres. His perfect dribbling control allowed him the pace and movement to directly cut across left-back Stephen Ward and open up the space to shoot. Then, with the momentum he gained, he was able to strike the ball with maximum power.
Spain's famous passing ability is second to none, but it wasn't just the FC Barcelona boys like Xavi Hernandez, Andres Iniesta, Sergio Busquets, etc. It was the whole team, including all the substitutes, as each player hit almost every pass with pinpoint precision.
When there's a team full of great passers, their confidence to pick out greater passes increases, creating better passing vision and tons more creativity. 
It's why the Spanish have hit 17 through balls so far in the tournament, more than any other team and a whopping seven more than the second-best side, Russia.
And it's why against Ireland, Spain were able to use its passing ability to give the Irish no chance whatsoever.
To put into perspective how vastly superior they were, the Spanish hit 18 key passes (direct goalscoring chances created), 34 accurate long balls and two accurate through balls, while no outfield player had a pass success rate below 84 percent.
In comparison, Ireland made five key passes, 16 accurate long balls and no accurate through balls, while only one player—Aiden McGeady—had a pass success rate above 84 percent.
Jasper Juinen/Getty Images
The technical ability from the Spanish makes them a far superior side than most in world football, as their ability on the ball gives its players the confidence to do everything they want.
And given how well such technical proficiency continues to serve Spain, it's a basic foundation that countries and clubs worldwide should follow.
Such focus on technical ability is why Spain are current Euro and World Cup champions. It is why they are ranked the best team in the world, while England for example have not won a major international honour since 1966 and are dismissed as a decaying football dynasty.
In grassroots football in England, the focus is on winning, with coaches at youth level teaching aspiring footballers the importance of being competitive, working as a team and making sure that their team wins the game.
Such burning competitive desire does have its merits and has worked wonders for England as they won the 1966 World Cup, reached the semifinals at the 1968 and 1996 European Championships and made the World Cup semifinals in 1990.
However, that kind of approach also has its downfalls—the main one being that English players are limited in what they can do with the ball.
For young footballers in England, the focus is on making sure the team wins, as opposed to placing the emphasis on ensuring each player knows the perfect technique for dribbling, controlling the ball, long-range passing, short-range passing, shooting, etc.
In countries like Spain and Germany, on the other hand, winning at a young level isn't important.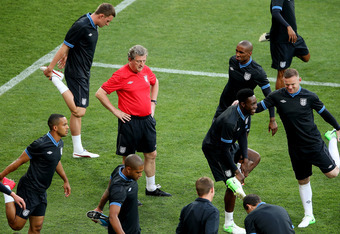 Scott Heavey/Getty Images
A kid's team could lose 10-0, but as long as that kid can hit an accurate pass 40 yards, has the vision to create chances for teammates, makes no mistakes when dribbling or controlling the ball, can see when to intercept an opponent's pass and can tackle cleanly—for the Spanish, Germans, etc, that's all that matters.
Because when that child is older and representing his country on the big stage, he'll have the confidence and ability to do everything his manager asks and will be able to make the right decisions and execute them perfectly.
Over the past two decades, Spanish grassroots football has gained a more individual mentality, ensuring that each and every player is equipped with the right technical ability, allowing them to execute almost any tactic in the game.
With a World Cup and a European Championship in the bag within the space of just four years, with the strong possibility of another Euro crown on the way this summer, such an approach to the game in today's world of football is clearly the right one.
If countries like England, France, etc, want to solve their current grassroots problems and return to such glory days, there's only one solution—follow Spain's example.