Counting Down the Top 5 Players in the NFC North: No. 1, Aaron Rodgers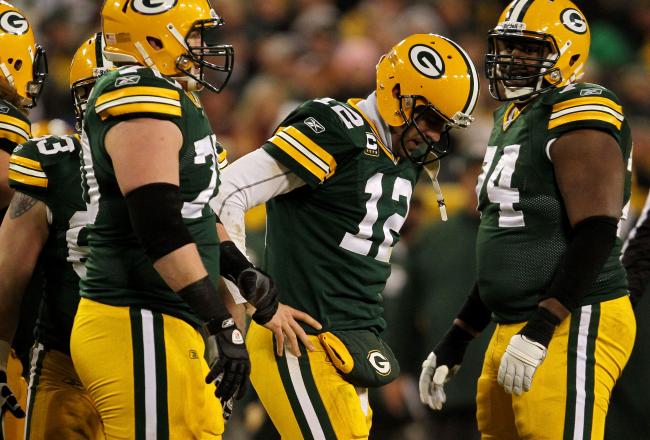 Jonathan Daniel/Getty Images
To nobody's surprise, Aaron Rodgers leads the list.
People will say, "He's MVP! Of Course he's the first," but it's about more than that. Being the best is about more than winning the MVP one season.
Aaron Rodgers deserves more respect than that.
I've spoken at length about how good he is and why. He is the best player in this division and one of the best (one could argue the best) in the league.
It's well documented—the toughness behind an inconsistent offensive line. The tremendous accuracy and mobility. The leadership.
Heck, even the way he handled Brett Favre's waffling speaks to a high level of professionalism which many players could do well to emulate.
We can talk about his corps of wide receivers, one of the best groups in the league. However, to talk about his weapons leads people to think that, in a different situation, he wouldn't be Aaron Rodgers, but more of a David Carr type of player.
It definitely helped him, sitting behind Favre and he could very well have struggled terribly had he been on another team and thrown straight to the wolves (or Ravens or Giants or Bears or Patriots).
That said, he would have succeeded. Perhaps more slowly, perhaps with more speed bumps, but succeeded nonetheless.
We've seen the talent he has. Being on a bad team didn't kill Peyton Manning's career. It didn't kill Matt Stafford (well, yet).
I could go on. The point is, you can play the 'if X, then Y' all you want but one fact is undeniable—Rodgers can flat out play.
If I were to rank the fiercest competitors in this division, he'd have to be near the top as well. (side note: read the first three or so paragraphs of that article and tell me it doesn't just make you laugh out loud)
Let's say I'm drafting a team from scratch—from the ground up. I can't think of many players I would take over Rodgers. He's still young enough to have a lot of years left (hard to say that about Drew Brees or Tom Brady), has proven to be durable (Stafford might be on his way but isn't quite there and Peyton Manning hasn't taken a post-neck surgery hit yet) and productive.
Eli Manning seems to have all three things, Stafford might as well. However, neither of them touch Rodgers.
Even Calvin Johnson, as fabulous as he is, isn't quite as good as Rodgers.
At the end of the day, the list ends as it had to. Sure, we can debate about it (because it's fun), but ultimately Rodgers is a cut above the rest.
This article is
What is the duplicate article?
Why is this article offensive?
Where is this article plagiarized from?
Why is this article poorly edited?

Green Bay Packers: Like this team?