Euro 2012: Teams Sure to Squeak Through After Rough Start
June 15, 2012

Scott Heavey/Getty Images
The opening group match at the Euro Championship cannot end a campaign, but it can severely damage it. In some instances, even a draw is dangerous when a sleeper teams springs a surprise upset.
At Euro 2012, for instance, nobody expected Denmark to upend Netherlands or Ukraine to steal three points from Sweden.
Those upstart nations have put a few others, who've failed to impress thus far, in a bind.
But with one more match (two in the case of Group D teams) a lot is still possible.
Here are three nations sure to advance to the knockout round after a rough start.
France
Les Bleus' start wasn't necessarily rough, but it was disappointing. They allowed England to steal one point by scoring a goal on the only shot they put on net.
The French, meanwhile, put 15 of their 19 shots on net.
France hasn't won a game in major tournament play in eight straight matches. Something has to change for them and it needs to be in this tournament.
Sweden has scoring talent and Ukraine is a great story, but France is a superior team to both. If they put their heads on straight they should easily advance as the Group D winner.
Netherlands
It is absolutely incredible that the Dutch, who've lost both games in the "Group of Death" so far, are still alive. They have Portugal to thank for it and they're going to get an opportunity to do just that in person when they meet in the Group B finale.
If Germany defeats Denmark (and they should because they're not guaranteed to advance yet either because of Portugal and will be out to hammer home a message) the Dutch can sneak in with a win over Portugal themselves.
Lars Baron/Getty Images
A lot has to happen, and the tie-breaking process is beyond confusing to some (it's different than the World Cup), but Netherlands are talented enough to put on a huge performance against a counter-striking Portugal team whose best player's head is on another planet right now.
Czech Republic
An opening match loss to Russia hurt the Czech's but they came back out and stole one from the Greeks in their second match.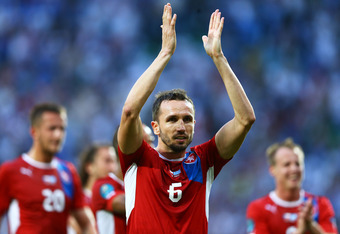 Clive Mason/Getty Images
Now they have a chance to take on co-host nation Poland. The young Poles have been good, but haven't been able to break through for a win.
The Czech Republic seemed to come to life against Greece (although they had to hold off a rallying attack in the second half), and an early goal against Poland could crush their spirits.
Russia is likely to knock off Greece, and a Czech win or draw will put them through to the next round.