Heat vs Thunder: 3 Ways Oklahoma City Can Reclaim the Series Lead
June 15, 2012

Ronald Martinez/Getty Images
Whether or not LeBron James fouled Kevin Durant in the most critical play of the game is irrelevant at this point. The Thunder needed to wake up sometime before the fourth quarter in order to take down the Heat in Game 2 of the NBA Finals, and they showed up to the party too late.
Game 2 was all about the stars, and Miami's Big 3 outplayed the Thunder's in a 100-96 win.
Chris Bosh and Dwyane Wade finally provided some assistance for King James (maybe LeBron's stab in the back did some good here), and Durant, rather than LeBron, became the one who couldn't do everything himself.
As the series transitions to Miami for the next three games, here's how the Thunder can reclaim the lead.

Russell Westbrook Can't Fire Off 26 Shots Per Game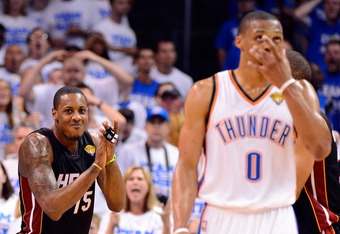 Ronald Martinez/Getty Images
Well, that's not exactly true. If he's on fire and he wants to take 26 shots, go ahead. But when he's only hitting 10 of them, he needs to find a way to, in LeBron's words, defer more.
Missing that much creates far too many transition opportunities for a Heat team that can really burn you.
In Thursday's loss, Westbrook took more shots than anyone, including Durant (12-22) and LeBron (10-22), both of whom outscored him.
OKC pulled down 10 offensive rebounds and the Heat garnered 29 defensive rebounds.
Westbrook either needs to shoot less or make more, but the more conservative option is obviously the former. And this isn't an isolated incident, either: Westbrook took 24 shots in Game 1 and got away with it that time, despite going 0-for-4 from three.
Being aggressive is one of this Thunder team's selling points, but there has to be a better way than this.
It's time for Westbrook to be smarter with the ball. 

Perk Needs to Show Up
This happened in the last series, too: Kendrick Perkins was quiet in Games 1 and 2, which the Thunder lost, but once he figured out how to beat the bigs in San Antonio's frontcourt, the Thunder looked like a different team.
In the first two games combined against the Spurs in the last series, Perk had seven rebounds. Over the next three, he had 27, as well as 23 points.
In the Finals, his presence against the Heat's bigs is particularly important as Chris Bosh continues to rediscover his rhythm.
Bosh got the best of Perk on Thursday and had his best game of the postseason, registering 16 points and 15 boards, and that can't happen again if the Thunder are going to have a chance in the next game.
It's bad news for OKC that Bosh is starting to show up again because this Miami team was completely different—and a lot more vulnerable—when he wasn't dominating up front. When he reemerged against the Celtics at the end of the last series, Boston didn't have a chance, especially in Game 7. As a result, Perk needs to counteract his impact stat.

Find a Way to Contain Shane Battier
Battier has been a relatively silent assassin for the Heat throughout this postseason, and that didn't stop on Thursday.
As the Heat attempted to bury the Thunder early in the first half, Battier played a massive role in it, registering his second consecutive 17-point game and going 5-for-7 from three. The Thunder, meanwhile, shot a combined 34.6 percent from beyond the arc.
Battier is one of the oldest, most experienced players on this Miami team, and he's shot 38.2 percent from long range in his career. If the Thunder let him keep shooting with the kind of consistency he's shown in this series, they're going to have their backs against the wall very soon.
In the Heat's three losses to the Celtics in the Eastern Conference Finals, Battier combined for 11 points and five rebounds. Without his offensive impact, the Heat are a totally different team and much more beatable.