NFC South Morning Jog: Bucs Unsure If Aqib Talib Will Return for Training Camp
March 9, 2017
Grant Halverson/Getty Images
Each morning, I like to start the day off with a workout—usually a morning jog. I can clear my head, plan my day, and think about what's going on around the NFC South.
The Buccaneers coaching staff has no idea whether they'll have corner Aqib Talib when the team reconvenes for training camp late next month. Talib will stand trial on June 26 on a felony charge of aggravated assault with a deadly weapon, according to the Tampa Tribune.
Catching a punt doesn't sound like the hardest thing on the planet to do, unless you're asking an offensive tackle to do it. After weeks of bragging about his athleticism, left tackle Donald Penn was given a chance to end practice early. Coach Greg Schiano said if he caught a 40-yard punt shot from a machine he'd let the guys go early. But Penn was only given one shot, he had to come through on the first try. Penn caught the punt, the players cheered and then they all went home. [Tampa Tribune]
New defensive coordinator Mike Nolan is more aggressive than Brian VanGorder, according to William Moore in an Atlanta Field Report article. Moore also mentioned that the safeties would be much more active in Atlanta's new scheme.
Daniel Cox of AtlantaFalcons.com said that Akeem Dent and Lofa Tatupu are in for a classic position battle for the middle linebacker position that was left open when Curtis Lofton left via free agency.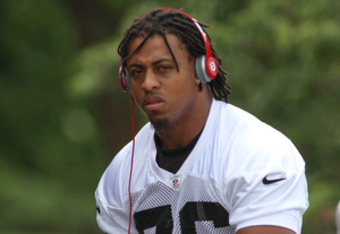 Linebacker Jon Beason said that once training camp begins next month he will be going full speed with no limitations, according to the Charlotte Observer. Beason just wrapped up a three-day minicamp where he tested his Achilles with full-speed action. Everything seemed to check out.
Defensive end Greg Hardy gained 20 pounds of muscle in the offseason, according to the Charlotte Observer. Hardy gave up his motorcycle and hit the gym and now may be in the best shape of his life.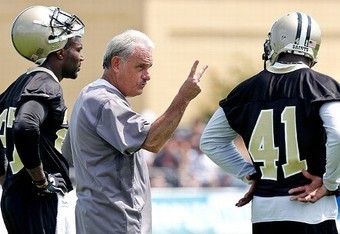 The NFL must provide evidence on Friday in the case against the suspended Saints players. The appeals hearing for the four players is set for Monday and the evidence must be presented three days prior. But a Times-Picayune report states that it won't be all the evidence in the case, just what the NFL plans to use Monday.
New linebacker Curtis Lofton has worked hard in the offseason to shed 10 pounds and is working even harder to learn a new system in New Orleans under a new coordinator in Steve Spagnuolo. [New Orleans Saints Website]