Terrell Thomas: New York Giants Cornerback Should Be Hungriest Player in 2012
June 15, 2012

Al Bello/Getty Images
New York Giants cornerback Terrell Thomas has already faced a lot of adversity in his short NFL career.  After watching his team win the Super Bowl last February, Thomas should be more motivated than ever to dominate the upcoming 2012 season.
Drafted out of USC in the second round of the 2008 draft, Thomas was a helpful addition to a squad that had won a championship the season before.  Surrounded by 41 players that had won a ring in 2007, Thomas' rookie year was a constant reminder of what his ultimate goal should be.  While his new teammates visited the White House, the rookie began work on cracking the starting lineup.
Behind Corey Webster and Aaron Ross on the depth chart, Thomas saw limited action early on, starting only two games late in his rookie campaign.  When Ross was unable overcome a hamstring injury in training camp the following year, Thomas was inserted into the starting lineup.
The hard-working corner started every game of the 2009 season, never relinquishing the starting job.  An 85-tackle, five-interception performance made Thomas a shoo-in for the starting job in 2010.
As the No. 1 corner in 2010, Thomas led a Giants defense that ranked ninth against the pass (via ESPN.com).  With two seasons under his belt, Thomas had developed into one of the Giants' most valuable defensive players.
With five interceptions and 21 passes defended, Thomas had proven to be one of the best pass defenders in the NFL.  However, Thomas' tackling ability and run defending may have been more impressive than his pass defending.  Thomas posted a team-leading 101 total tackles in 2010.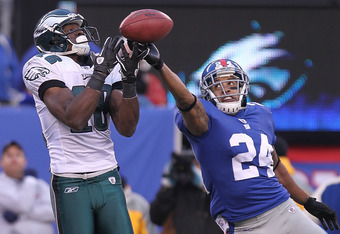 Nick Laham/Getty Images
Thomas' hard work and hustle skyrocketed him into the elite ranks.  Fueled by a Pro Bowl snub in 2010, many believed he would return for an even more productive 2011 season.
Poised to be a top cornerback in 2011, Thomas' season ended before it even began.  In the Giants' second preseason game versus the Chicago Bears, Thomas tore his ACL trying to block a punt, costing him the entire season. 
With his Pro Bowl aspirations shot, Thomas began the long process of rehabbing from a major knee injury.
Thomas' rehab only got tougher when his team get hot late in the season.  As he watched the Giants make an improbable Super Bowl run as a member of the injured reserves, Thomas could do nothing other than prepare himself for the 2012 season.
Now, six weeks before the start of training camp, Thomas finds himself back at square one.  Even with Ross out of the picture, Thomas is faced with the challenge of squeezing into an extremely congested defensive backfield.
With 2010 first-round draft pick Prince Amukamara, 2011 third-round pick Jayron Hosley, free-agent acquisition Antwaun Molden and returning players Michael Coe and Justin Tryon clogging up the cornerback position, Thomas will have to fight in order to earn back his spot in the starting lineup. 
The Giants' coaching staff believes that Thomas can be effective as a slot corner (with Webster and Amukamara on the outsides).  However, it may take a while for Thomas to re-enter the Pro Bowl discussion that he was a part of when he was the Giants' mainstay strong-side cornerback.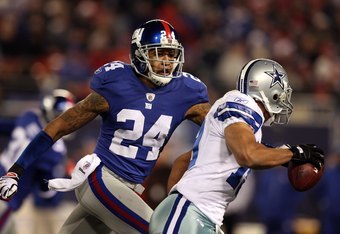 Jim McIsaac/Getty Images
As he was entering a contract year when he blew out his knee, Thomas received little attention on the free-agent market earlier this summer.  The Giants ultimately elected to bring Thomas back, dangling the majority of his four-year, $28 million back-loaded deal in front of his nose. 
In 2012, Thomas must be dying to win back his starting spot, return to Pro Bowl form and get a chance to play in the Super Bowl.  It's safe to say that will not come easy.  However, Thomas has shown the determination necessary to persevere in a similar situation from his college days.
The first time Thomas tore a ligament in his knee, his sophomore year in college, he lost his starting spot after playing only two games.  The following year, not only did Thomas take back his starting position, he also earned himself a second-team All-Pac 10 honor.
It will take a great deal of effort to make a similar comeback in 2012, but New York will surely benefit from a healthy Thomas.
In Thomas' absence, the Giants defense struggled against the pass.  Communication breakdowns became characteristic of the Thomas-less defense, as the Giants finished 29th in the league against the pass (via ESPN.com). 
If Thomas can make a full recovery in 2012, his return will strengthen the Giants' defensive backfield.  Thomas is a valuable asset and, if defensive coordinator Perry Fewell can find an effective combination of healthy starters, the Giants defense could become one of the most dominant in the NFL.