Predicting Two-Deep New York Giants Depth Chart, Pre-Training Camp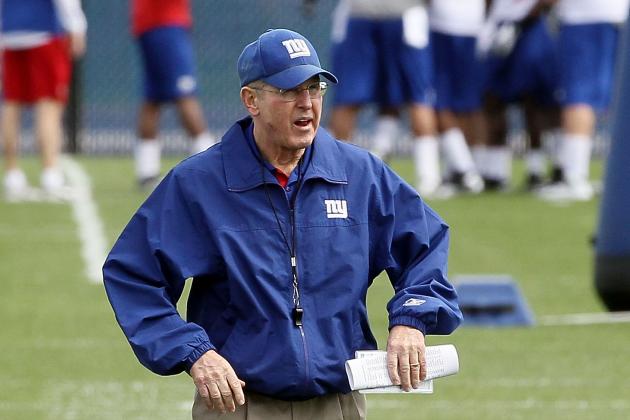 Jim McIsaac/Getty Images

The New York Giants have set their training camp schedule for the University of Albany, and will begin practices on July 26.
Who are the players you should be watching at camp? There are a number of them, but this slideshow will give you a two-deep depth chart at every position.
The Giants, on paper, look primed to defend their Super Bowl title. If they can finally have a healthy regular season, they could win 12-13 games and have a top seed in the NFC.
Of course, it doesn't always work that way.
That said, they have added depth at key positions, and this slideshow will reflect that. Enjoy.
Begin Slideshow

»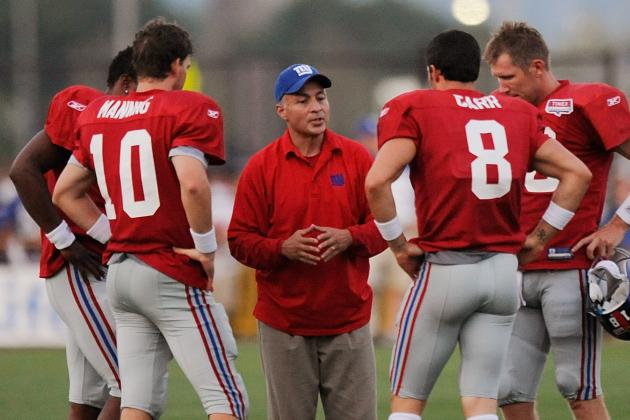 Patrick McDermott/Getty Images

Starter: Eli Manning
This is a no-brainer. When you start having discussions of a player's Hall of Fame worthiness, there is little doubt he will be their starter for the rest of his career—so long as he remains healthy.
Eli Manning is a top five quarterback in the league right now.
Reserve: David Carr
The Giants have one of the better backup quarterback situations. Should anything happen to Eli, Carr has enough experience in the offense that he might be able to weather the storm.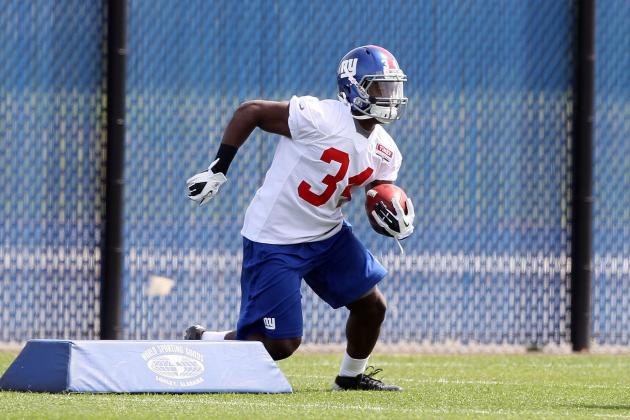 Jim McIsaac/Getty Images

Starter: Ahmad Bradshaw
There is little doubt Bradshaw will be the starter to begin the season, though he is coming off a poor season, finishing with just 659 yards at 3.9 yards per carry. He also missed four games due to a foot injury. With a history of these foot injuries, Bradshaw should be looking over his shoulder for David Wilson.
Reserve: David Wilson
Speaking of Wilson, it's been nothing but compliments from the coaching staff—mostly about how explosive he is. In fact, offensive coordinator Kevin Gilbride doesn't think the Giants have had a more explosive player under his tenure, according to ESPN.
"I don't know if we've had a guy as explosive, regardless of position, here. That's kind of exciting to see."
The Giants were ecstatic to get Wilson at the end of the first round, and expect him to contribute in a big way his rookie season.
Fullback Starter: Henry Hynoski
Hynoski doesn't have much competition for the job, but he'd better watch out for undrafted Free Agent Joe Martinek, who is extremely versatile.
Reserve: Bear Pascoe
Pascoe will be the team's No. 1 or 2 tight end option, but he also doubles as a fullback.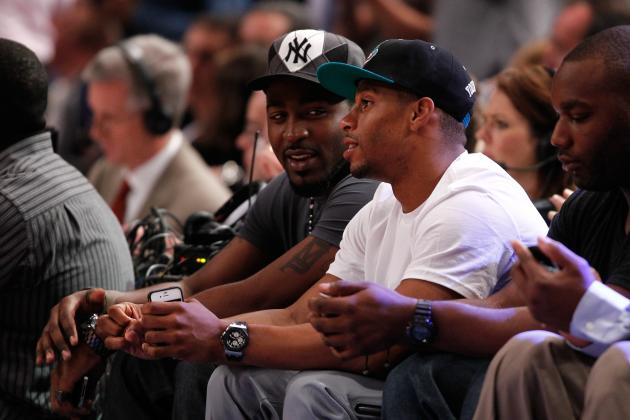 Jeff Zelevansky/Getty Images
Giants starters Victor Cruz and Hakeem Nicks enjoying the Heat game courtside
Starters: Victor Cruz and Hakeem Nicks

I'm getting to the point where I shouldn't have to defend some of these predictions, but I will anyways. Cruz had perhaps the best breakout season of any NFL player last year, erupting for a franchise-record 1,536 yards along with 82 catches and nine TDs.
Nicks was not far behind him with 76 catches, 1,192 yards and seven TDs. The two make up the most formidable duo of wide receivers in the NFL.
Reserves: Domenik Hixon and Rueben Randle
Though Hixon and Randle seem to be getting the most out of Nicks' absence at OTAs right now, Jerrel Jernigan and Ramses Barden have been working well with David Carr and the second unit, according to ESPN.
The Giants should have an incredibly dominant group of wide receivers this season, should everyone stay healthy.

Elsa/Getty Images

Starter: Bear Pascoe
Considering this is the pre-training camp edition, I'm going to preface this by saying I do not believe Pascoe will last as the starter once Martellus Bennett learns the offense. Pascoe ran with the first string unit at OTAs this week, which a lot has to do with Bennett being new and injuring his hamstring in the voluntary OTAs last month (via ESPN).
That is not to say Pascoe couldn't handle the starting job, but Bennett is the better blocker, which I think will ultimately win him the job.
Reserve: Martellus Bennett
Bennett has to learn the offense before he can take over the starting job, but the Giants did not bring him in to ride the bench. He'll get his opportunities.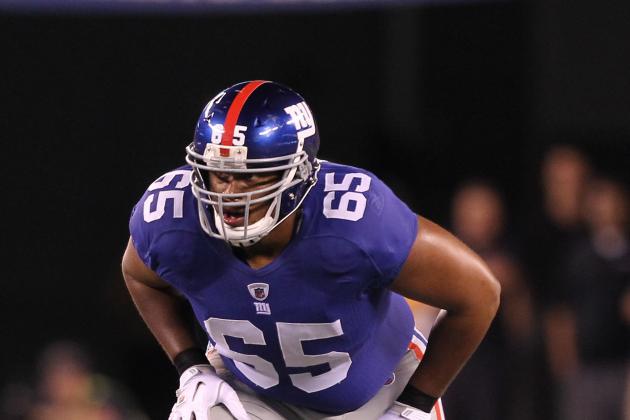 Al Bello/Getty Images

Starter: Will Beatty
Will Beatty has been sitting out OTAs while being cautious about a back problem, but by the time camp roles around he should be good to go. He will return to the starting position he won in last year's camp, and hopefully he improves on a subpar 2011 season protecting Eli Manning.
Reserve: James Brewer
Though Sean Locklear got some reps as the left tackle in the starting unit on Wednesday, according to ESPN New York's Ohm Youngmisuk, Brewer is better suited to back up Beatty and has gotten his share of reps with the first unit. Training camp will be a much better time to evaluate the lineman because the pads will finally be on.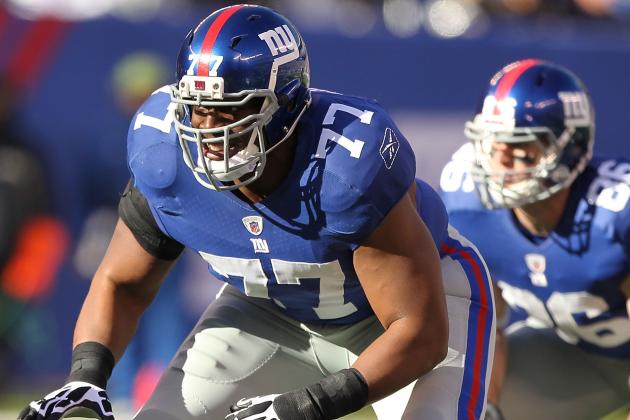 Al Bello/Getty Images

Starter: Kevin Boothe
Boothe seems to have won the favor of the coaching staff as he begun the OTAs this offseason as the starting left guard. It was up in the air as to who would get the starting nod. That is not to say the competition is over, far from it, but Boothe getting the job to start out is a vote of confidence.
Boothe is a solid pass-blocker, but he must improve his run-blocking to be considered worthy of his starting position. Up to this point in his career, he's been little more than a serviceable backup. Maybe 2012 could change that.
Reserve: Mitch Petrus
All eyes will be watching the battle between Boothe and Petrus as Boothe looks to hold off the 2010 fifth-round pick capable of repping 455 pounds on the bench press. Petrus is an absolute mauler as a run blocker, but he could stand to improve his knowledge of the offense and pass-blocking.
Right now Boothe holds an edge over Petrus in his experience and pass-blocking, which the Giants clearly favor.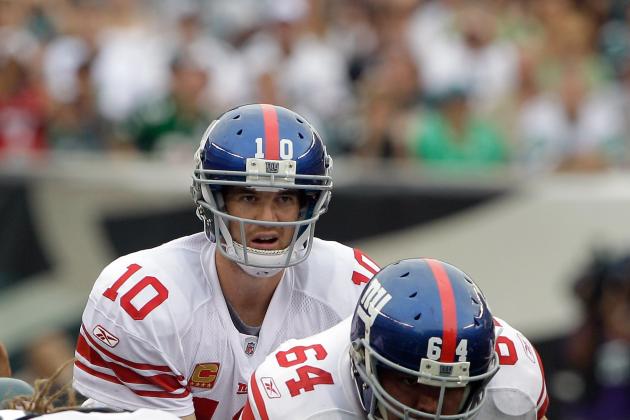 Rob Carr/Getty Images

Starter: David Baas
Baas played poorly in just 11 games last season, not living up to the five-year, $27 million contract the Giants gave him last offseason. The offensive line actually looked improve during a stretch late in the year with Baas on the sidelines.
For now, the Giants are chalking that up to the lockout and his injuries. Hopefully with a full offseason and a healthy year, Baas can gel with his teammates and become the player he was in San Francisco.
Reserve: Kevin Boothe
Boothe proved last year he should be the backup center. Though he struggled early in his career making the transition, he filled in admirably for Baas last season.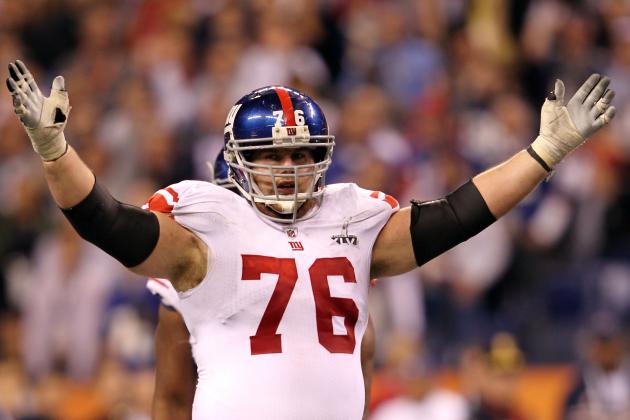 Jamie Squire/Getty Images

Starter: Chris Snee
Snee has subsequently been one of the best and most underrated players on the Giants his entire career. He's made multiple Pro Bowls and is the leader on the Giants' offensive line. He'll be the starter until he decides to hang 'em up.
Reserve: Brandon Mosley
When the Giants drafted offensive tackle Brandon Mosley out of Auburn, Tom Coughlin hinted that they could slide him inside to guard (via the Giants Football Blog). Mosley has seen time at left guard with the second unit at OTAs, so obviously the scouting department saw something in Mosley that made them believe he could make the transition (via Metro.us).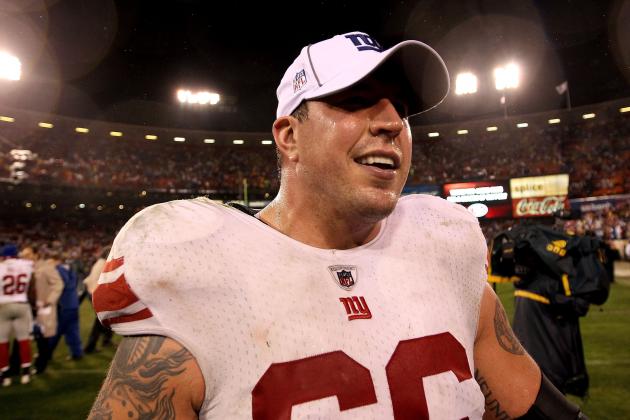 Ezra Shaw/Getty Images

Starter: David Diehl
Apparently the Giants seem content to let David Diehl man a starting position, despite the fact that he had his worst season as a pro. I'm not sure sliding him over to right tackle is going to turn back the clock, but the Giants have seen enough of him to know what they are getting themselves in to.
Obviously James Brewer is not ready to start, otherwise he would be replacing Kareem McKenzie and not an over-the-hill Diehl.
Reserve: Sean Locklear
As noted previously, Locklear got reps with the first unit at left tackle with Beatty out, but he is more comfortable on the right side. He spent his entire career with the Seattle Seahawks as their right tackle, starting for their Super Bowl unit in 2005.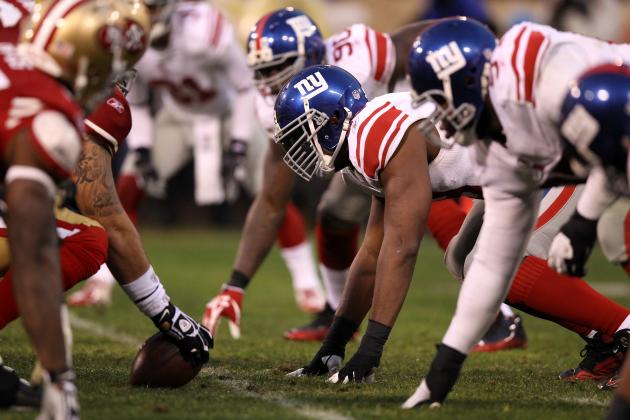 Ezra Shaw/Getty Images

Starters: Chris Canty and Linval Joseph
No, they are not the best defensive tackle duo in the league, but Canty and Joseph are largely overshadowed by a star-studded defensive end group. The reality is they are both solid players and fill their role with the team beautifully.
Joseph is a run stuffer and Canty brings pressure up the middle, having experience as a defensive end, which feeds quarterbacks to the hungry defensive ends.
Reserves: Marvin Austin and Rocky Bernard
The Giants shocked me when they waived Jake Ballard in an effort to bring in Rocky Bernard. The move proved costly as the New England Patriots claimed Ballard off waivers, in what seems to be a move made purely for spite.
The Giants are deep at this position, and hopefully Austin turns into the player Jerry Reese called a top 15 talent after he was drafted in 2011 (via the NY Times).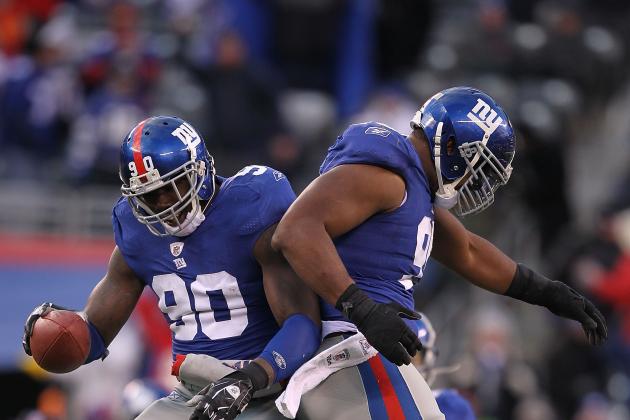 Al Bello/Getty Images

Starters: Jason Pierre-Paul and Justin Tuck
It is scary to think that Jason Pierre-Paul could actually improve on his 16.5 sack performance in 2011. He is entering his third year in the league and is only 23 years old.
Tuck could also see an improvement from last season after battling through neck and hip injuries. It showed in the playoffs how much better the Giants are with their three stud pass-rushers completely healthy.
Reserves: Osi Umenyiora and Justin Trattou
Obviously Osi is a backup, but he will get time like a starter with how much the Giants like to get after the quarterback. Perry Fewell said Justin Trattou and Adrian Tracy are the likeliest of candidates to replace Dave Tollefson as the fourth defense end.
I'll give the early edge to Trattou.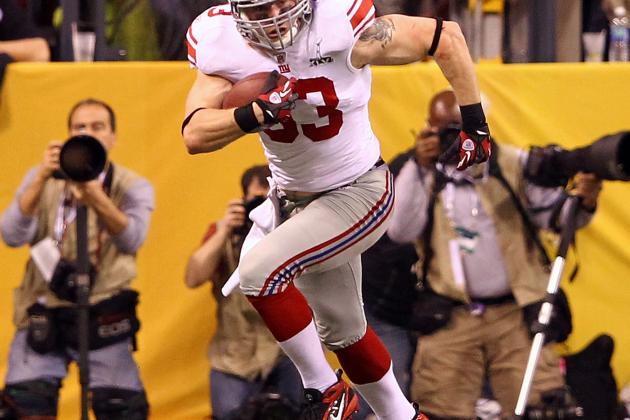 Al Bello/Getty Images

Weak Side Starter: Michael Boley
Boley had an incredible year for the Giants, stepping up as both a leader and the play-caller for the defense. He wore the head set in his helmet and made the pre-snap adjustments as well. Oh, and he played pretty well too, recording the second most tackles on the team with 93 and a team high-tying three fumble recoveries.
Reserve: Keith Rivers
The Giants acquired Rivers for a fifth-round pick prior to the 2012 NFL draft, and the thinking has to be to get him in the starting lineup at some point.
But when? Perry Fewell has toyed with the idea of putting him in the middle, but is worried about overwhelming him with learning a new defense (via ESPN).
For now he is playing his normal position and absorbing the new language, but don't be surprised if he takes over the middle spot early in the season.
Middle Starter: Chase Blackburn
Fewell has been adamant about Blackburn being the starter, but will not say definitively if he will be there long term.
Via ESPN:
I can't say he will stay there permanently, but right now Chase is our guy and no one has clearly beaten him out for the position. Chase has some distinct advantages over some of the other guys.
Blackburn played well down the stretch, mostly on first and second down. He made the play of the game for the defense when he intercepted a Tom Brady pass in Super Bowl XLVI. For the time being, he is the starter.
Reserve: Keith Rivers
I think it is pretty safe to say Rivers is the backup to both Boley and Blackburn at this point. Mark Herzlich has seen time behind Blackburn, but Rivers is much more talented.
Strong Side Starter: Mathias Kiwanuka
Kiwanuka was arguably one of the best all around defenders for the Giants last season. He played the run beautifully from the linebacker spot and showed off his versatility in the all-defensive-end front four formation, dubbed the "NASCAR" group. With Tollefson out the door, Kiwanuka could see more time with his hand in the dirt, but he will still start games as a linebacker.
Reserve: Jacquian Williams
Williams showed a ton of improvement and flashes of his potential at times during last season, none more so than his 10-tackle performance against the Philadelphia Eagles. His emergence could give the Giants license to have Kiwanuka rushing the passer more often.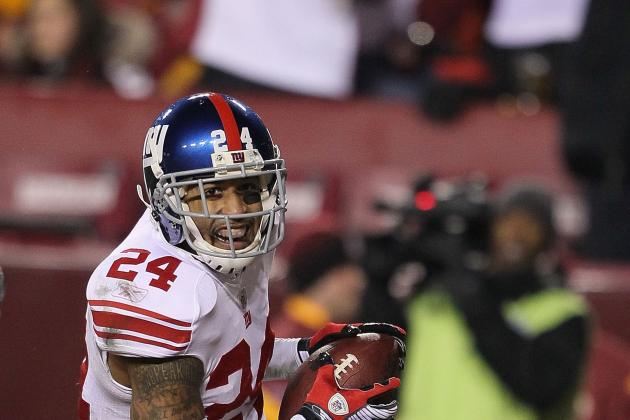 Al Bello/Getty Images

Starters: Corey Webster and Terrell Thomas
The Giants clearly missed Thomas in 2011. With him out for the year and Aaron Ross as his replacement, the Giants went from ninth in 2010 to 29th in 2011 against the pass.
The health, or lack thereof, of the defensive line did not help in 2011 either, but losing one of the team's best defenders for the year is going to have its effect. Webster has been a mainstay since the 2007 season, and he and Thomas playing together should help get the Giants back to a dominant unit.
Reserves: Prince Amukamara and Justin Tryon
What? No Antwaun Molden, Jayron Hosley, or even Bruce Johnson? That's right, a name you would have to have heard only if you follow the Giants closely, Justin Tryon is someone the Giants like enough to have him as a starter with Webster, Thomas and Amukamara all resting injuries during OTAs (via ESPN).
Coughlin has raved about him in the past, and he could surprise a lot of people this year by making a roster that is absolutely loaded with talent at the cornerback position.
Coughlin also likes what he has seen of Amukamara so far (via NJ.com).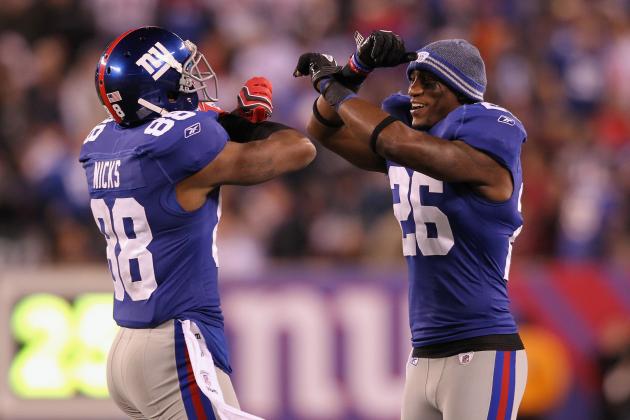 Nick Laham/Getty Images

Starters: Antrel Rolle and Kenny Phillips
As we round out the starting unit, there shouldn't have been any surprises, and the safeties are no exception. Though they went through some growing pains without a dominant pass rush (at times) and a lackluster group of corners behind Corey Webster, Rolle and Phillips were rocks at the back end of Fewell's defense.
Rolle led the team with 96 tackles and Phillips was not far behind with 82, good for fifth on the team. They combined to collect six interceptions, and with Deon Grant not on the roster—for now—the Giants could look to give Phillips more playing time.
They have been careful and mindful of his knee condition that caused him to miss most of the 2009 season.
The Giants' secondary could be one of the best groups in the NFL, especially if they play like the did down the stretch last year.
Reserves: Tyler Sash and Stevie Brown
Sash should not be a surprise, but what has surprised me is how often I've read positive reports about Stevie Brown this offseason. The Giants signed Brown this offseason, which was mostly seen as a special teams move at the time. The high praised continued from Perry Fewell today via ESPN, who is impressed with what he sees in Brown.
Brown really showed me some things that I didn't see in his workout. He was a guy that I thought, "hey we can do some multiple things with." I didn't think that initially but after OTAs and minicamp, I thought he did some nice things for us.
I originally liked Janzen Jackson to have a role on the team, but he's been relatively quiet at OTAs.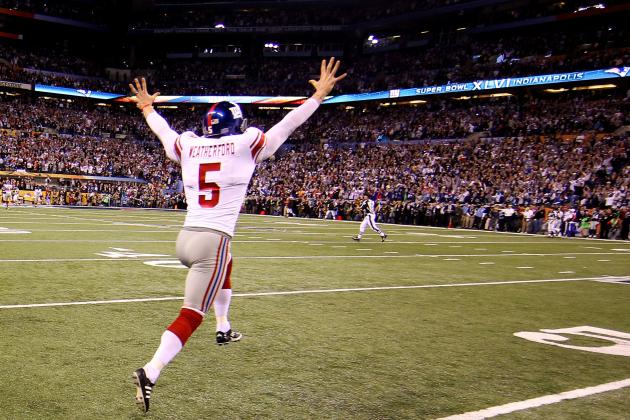 Ezra Shaw/Getty Images

Starters: Lawrence Tynes (K), Steve Weatherford (P), Zak DeOssie (LS)
I feel like I've said enough of these guys throughout the offseason. There is no indication the Giants have any plans to replace these three. Tynes may not have the biggest leg, but he's accurate and that's all Tom Coughlin can ask for.
Weatherford may have been the Giants' best pickup last offseason, and he proved to be a huge weapon in the playoffs. The Giants won the field position battle in each of their four playoff wins, and that helped immensely.