Los Angeles Dodgers: How They Can Guarantee a Title in 2013
Jeff Golden/Getty Images
There's nobody more pleasantly surprised at the Dodgers' ridiculously hot first half than yours truly, who sheepishly predicted a third-place finish for his favorite team prior to Opening Day. And boy, were those just the most wonderfully delicious words I'll ever eat!
Even with Matt Kemp sidelined for a significant portion of the season, the Dodgers have managed to scrap together the best record in baseball behind the number two pitching staff in MLB and a few timely hits.
Undoubtedly, the Dodgers will be a potential playoff team this year. Time will tell if they can stave off the rival Giants in the NL West, or officially earn a spot in the postseason at all. But if they continue this level of play, they definitely will be.
Is a rotation with only one proven, consistent starter, a lineup composed of two sluggers and a lot of young, inexperienced players and utility men, and an exceptionally young bullpen really contend for the ring?
Possibly. But the playoffs are a whole different beast. My gut tells me this version of the Dodgers would be overwhelmed in a five or seven-game series against the Giants, Nationals, Cardinals, Reds or Braves.
Then again, my gut told me to pick them third before the season started. Don't necessarily trust my gut. It gurgles.
Anyway, there is one thing I know for sure. The Dodgers are a heck of a lot richer than they were when 2012 began. With the change in ownership, this team has financial flexibility and potential to make moves that they haven't seen in years.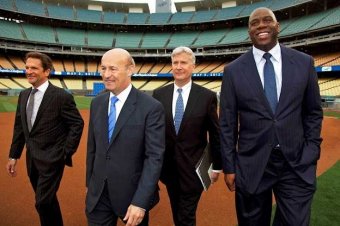 And all signs are pointing to Stan Kasten, Magic Johnson and Co. being willing to reach deep into those pockets to put a World Series contender on the field every season.
Now, Dodger fans have money signs dancing in front of our eyes. And as glorious as it sounds, Josh Hamilton, Cole Hamels, Zack Greinke, Kevin Youkilis and David Wright won't all be wearing Dodger Blue next season. Sorry, optimists.
Let me give you a more realistic scenario:
Trade with the Cubs:
Cubs get: Dee Gordon, Chad Billingsley, Javy Guerra, Jerry Sands, and Allen Webster
Dodgers get: Starlin Castro, Ryan Dempster and Ronald Torreyes
Cut Juan Uribe (for multiple reasons, mostly his .297 career on-base percentage, his $7 million per year contract, and our young infield talent making him expendable)
Hear me out. First things first; the Cubs are sellers. Big time sellers. In fact, GM Theo Epstein recently said nearly all players are available for trade. Initially he listed only starter Jeff Samardzija as untouchable, but he's since back tracked and listed Castro as the player they most want to build around.
But not only are the Cubs in desperate need of pieces, they are arguably the worst team in baseball. We know Dempster is on the block, but could Castro be had? I think a package like the one I propose above would definitely light a fire under Epstein.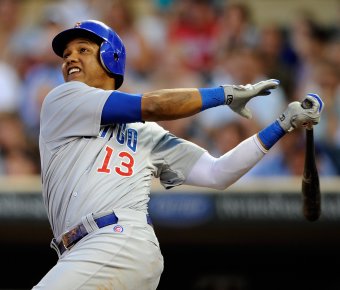 Hannah Foslien/Getty Images
The chance to have a speedster like Gordon learning the leadoff spot for what is bound to be a lot less money than Castro is a good start. But getting a still very young Billingsley and Guerra, and tons of potential in Sands and Webster.
Many might complain upon seeing Webster, one of the Dodgers most highly-ranked pitching prospects included in the deal, but remember names like Zach Lee and Rubby De La Rosa have much higher ceilings and are close to major league-ready. Besides, it's not like Webster has been great since getting drafted (7-12 with a 5.12 ERA in Double-A over two seasons).
And who's this mystery man, Torreyes? Take a look for yourself. He's tiny, but knows how to wield a bat. He reminds me a lot of Jose Altuve. The Cubs are high on him, but have a plethora of young middle infielders they can develop through the system with similar potential.
Castro is a ridiculous talent with a crappy attitude, but what better role models to smooth a young kid's demeanor out than Kemp, Ethier and Don Mattingly? He would thrive in L.A. around teammates like that. And let us not forget that Castro is under team control in arbitration eligible years until 2016—he's still just 22 years old.
Billingsley, Guerra, and Sands are all expendable. While all three still possess great potential and are relatively young (Billingsley is the oldest at age 27), none of them have grabbed their major league opportunities by the horns, no matter how plentiful, and made a statement to be a core, franchise player.
Dempster's current contract is only a couple million dollars more per season right now than we are paying Billingsley, so you can call that a wash.
Would you pull the trigger on this trade if you were Ned Colletti?
Sign a full-time LF:
Top five choices, best option first:
1. Melky Cabrera
2. Shane Victorino
3. B.J. Upton
4. Carlos Quentin
5. Nick Swisher/Angel Pagan
Speaking of signing a full time left fielder, how about this list of available free agents after the 2012 season? I know Josh Hamilton will also be available, but he's older than these guys, injury prone and will command a ridiculous contract.
Cabrera could probably be snagged from the Giants for about $10 million less than Hamilton. (He's only making $6 million this season.) And Victorino or Upton would do great things in a lineup with Kemp, Ethier and Starlin Castro around them.
I know the dream is a Hamilton/Kemp/Ethier outfield, but it's just not realistic. Los Angeles is a terrible place for Hamilton to go, considering his personal issues, and it would lock up the Dodgers' payroll for the foreseeable future. Besides, Cabrera is only 28 and just entering his prime, much like Kemp. On the flip side, Hamilton is on the wrong side of 30 and has constant injury problems.
Out of the LF listed, who's your 1st choice?
Sign Cole Hamels:
Aside from extending current ace Clayton Kershaw, this should be the Dodgers' number one priority in my opinion. Hamels will be 29 on Opening Day in 2013, and will likely command the biggest free agent pitcher salary this winter. Not to mention, the kid is from Southern California.
Does he deserve it? Absolutely. Not only has the guy brought home a World Series MVP trophy, but his average season statistics have a decent ring to them: 15-10 record, 3.39 ERA, 1.14 WHIP and 208 strikeouts.
His contract will probably hover around $20 million per season at the top level. Anyone who gives him that much will definitely be overpaying by a few million, but I beg Ned Colletti to make the Dodgers be that team. Having a 1-2 lefty punch of Kershaw and Hamels at the top of the rotation would be better than any team in baseball, the Phillies included.
Add in a new number three starter in Dempster, and the staff improves dramatically. The fourth and fifth spots could be filled by Chris Capuano in the fourth, and then any combination of Ted Lilly (he would probably start the season there, and when inevitably injured, would be replaced), Nathan Eovaldi, Rubby De La Rosa and Zach Lee in the fifth.
Dempster is 35 this season, and will only be worth another two or three years, but the Dodgers would be wise to give him a contract with a length he prefers, with options at the back end that allow them to trade him or get out of the agreement in his near 40-year-old season.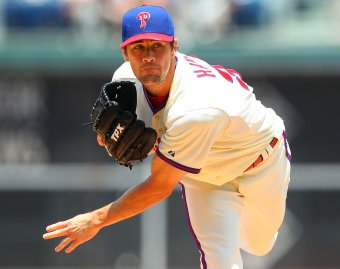 Rich Schultz/Getty Images
Lilly, Capuano and Aaron Harang are all signed through the 2013 season, and are definitely expendable. My heart says to keep Capuano if at all possible, but I know he can't keep up the numbers he's posted so far in 2012.
I'd much rather get the top three in the rotation firmed up, and see what the young stars can do in those reduced-pressure roles at the back end in 2014.
So, with these three moves, the estimated payroll would be around $130-135 million for 2013. That's not a huge raise from 2012's $90 million, but enough to make the Dodgers the obvious favorites in the National League.
Here's how the team would shape up for 2013, at a decently low payroll increase that ignores big, injury-prone names like Josh Hamilton. Go grab a bib, Dodgers fans, you're about to drool:
1. Elian Herrera, 3B
2. Starlin Castro, SS
3. Matt Kemp, CF
4. Andre Ethier, RF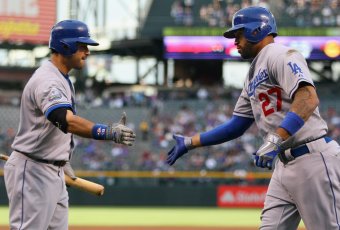 Doug Pensinger/Getty Images
5. Melky Cabrera, LF
6. James Loney/Juan Rivera, 1B
7. A.J. Ellis, C
8. Mark Ellis, 2B
9. Clayton Kershaw, SP
You have to like the 2-5 spots especially, and Herrera has the makings of a fantastic leadoff hitter if he can avoid the sophomore slump. If his production does drop, Cabrera and Castro could both take over the leadoff duties.
Loney and Rivera, if both are still around, would be the best platooning option at first base. They each are approximately .275 career hitters, and while Rivera hits for more power, Loney is a wizard with the glove.
This would give Mattingly a ton of flexibility at the position, and allow him to play matchups in many different ways with the right handed-hitting Rivera and the lefty Loney. Both players should be pretty cheap to withhold.
The rotation would shape up as follows:
1. Clayton Kershaw, LHP
2. Cole Hamels, LHP
3. Ryan Dempster, RHP
4. Chris Capuano, LHP
5. Ted Lilly, LHP/Aaron Harang, RHP
The only difference in the bullpen is Nathan Eovaldi replacing Javy Guerra, and Shawn Tolleson replacing Todd Coffey (who I just really hope we release). And don't forget, we add a solid second base prospect from the Cubs in Ronald Torreyes to eventually take over for Ellis when his contract ends after 2013.
Zach Lee and Rubby De La Rosa should be waiting in the wings to take the spot of either Capuano or Lilly after their contracts end in 2013. The best part about all these happenings, despite the payroll increase, is that we can do a little re-stocking of the devastated minor league system.
Torreyes is a huge addition to the farm system, and we wouldn't have to trade away any of our big picks in the recent draft, like Corey Seager (who could conceivably replace Loney and Rivera at first base), Jesmuel Valentin and Ross Stripling.
Furthermore, we get compensation picks for certain guys walking (now that we aren't desperate to re-sign them) or could get mid to high-level prospects in trades for seasoned veterans. For example, Loney, Rivera, Dempster, Capuano, Harang and Mark Ellis could all be dealt at some point for good minor league names if the current prospects we have behind them continue to rapidly improve.
Harry How/Getty Images
This would take a lot of maneuvering on Colletti's part, and I'm afraid he might not have the brain capacity to actually pull off some of the most common-sense moves I suggest (getting rid of Uribe, trading for Dempster, signing Hamels, etc.). But as a diehard Dodger fan, all I can hope is that we have a roster looking somewhat similar to what I've laid out above.
If so, I have one thing to say before frantically knocking on the nearest wooden material to me:
Hello, World Series.
Follow Jeremy on Twitter @Jamblinman.
This article is
What is the duplicate article?
Why is this article offensive?
Where is this article plagiarized from?
Why is this article poorly edited?

Los Angeles Dodgers: Like this team?