Heat vs Thunder: LeBron, Heat Survive Fourth Quarter Rally, Tie Finals at 1
June 15, 2012

Ronald Martinez/Getty Images
A playoff series never starts until the road team takes home-court advantage in the first two games.
With that said, the NBA Finals has officially begun.
Lightning did not strike twice for the Oklahoma City Thunder, as they came close to making another second half comeback but fell short behind LeBron James' 32 points, eight rebounds and five assists, and the Miami Heat evened the NBA Finals at a game apiece with a 100-96 win in Game 2.
Where on earth do we begin?
Let's start with the fact that no one can ignore: LeBron has recorded five straight 30-point games in these playoffs, and when the Heat have trailed in a playoff series, the three-time MVP has come up huge in the last three must-win situations.
Game 4 against Indiana: 40 points, 18 rebounds, nine assists.
Game 6 against Boston: 45 points, 15 rebounds, five assists.
Add tonight's stat line to the mixture of this awesome postseason that LeBron has put together, and you have yourself a player who continues to show the world why he is, arguably, the best player in the world today.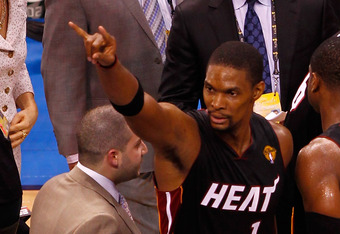 Mike Ehrmann/Getty Images
After a bad Game 1 stat line, Dwyane Wade also got back to his usual superstar ways with 24 points, six rebounds and five assists along with going 10-for-20 from the field. Chris Bosh also started for the Heat for the first time since Game 1 against Indiana and he had a magnificent game of 16 points and 15 rebounds.
It's becoming more clear as the days go by that if Wade and Bosh aren't putting up quality numbers—whether they are hurt or not—the Heat aren't going to win many games. And Thursday night was the kind of all-around game that many have been waiting to see from the Heat.
The defense in the first half was outstanding, holding OKC to just two points for the first eight minutes of the game. Think about that for a quick second. The most dominant offensive team this entire postseason had a total of two points up until 4:39 left in the first quarter.
This is how good Miami can be. We've just yet to see it consistently.
For the majority of the first half, the Miami defense put the clamps on any offensive production they would've received from Kevin Durant and Russell Westbrook. Although Durant had another outstanding game with 32 points on 12-for-22 shooting, he was almost non-existent for the entire first half.
Westbrook also had a pretty good game with 27 points, eight rebounds and seven assists, but all we'll be hearing tomorrow is how he took too many shots—he took 26 compared to Durant's 22. But while LeBron was doing his best, at points, to stop Durant, Westbrook was getting everything he could in the paint, but his shots just weren't falling.
And someone needs to tell Shane Battier that he's not at Duke anymore. Battier had yet another outstanding game for Miami as he scored 17 points and draining five three-pointers. His extra offense from the perimeter and his confidence in shooting the basketball has opened up the play for the other Heat players on the floor.
Overall, this was perhaps Miami's best playoff performance as a team this entire postseason, especially from LeBron, who had the best finals game of his career by far. The Heat defense attacked every loose ball, they made it tough at most times for OKC to drive to the basket and they did a great job at keeping Durant in check for the majority of the game.
But for the second game in a row, the Heat let OKC back into the game and if it wasn't for a non-call on Durant on the final possession—along with a barrage of shots that kept falling for the Thunder—we could be looking at a 2-0 lead for OKC right now.
The beautiful part about the NBA Finals, or any playoff series, is that it doesn't matter how you win, as long as you do it. And it's because of that, that the Heat have tied this thrilling series at a game apiece as we head to Miami for Game 3 on Sunday.
Whatever game plan that Erik Spoelstra utilized, at least for the first half, he should continue to do it. Miami did a great job of getting LeBron in the post so he could use his large frame to abuse the OKC defenders on the low block. When he got in the paint, James made four of his first five shots.
If it ain't broke, don't fix it.
It goes without saying that the Miami crowd will be more than excited than they were a year ago in the finals. There's no question that the Heat can win at least two of these games in their house, and I predict it will be an electric feel on Sunday night.
Durant took Game 1, LBJ responded with Game 2. Your move, KD.