Most Iconic Moment in Every NBA Arena's History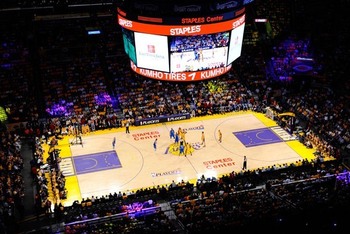 The NBA has an obsession with replacing arenas as soon as they get a bit of dust on the shelves or a crack in the facade, which leads to a lot of short histories in their arenas, but that doesn't make them any less memorable.
Buildings are built by many men, but just 10 men on a court at any time give the building its heart and soul, and they hang the banners in the rafters, which make them just as special as the decades-old football fields.
Oh, you don't believe me? Well, let's just take a look at all the history that's gone down in these arenas, considering the fact that most of them haven't been around for more than two decades and the oldest one wasn't standing when Larry Bird won his last title.
Let's take a look at each NBA arena's most iconic moment with a few special looks thrown in.
Atlanta Hawks-Phillips Arena: 1999-Present, 'Reef's 50
Jamie Squire/Getty Images
There have been some pretty impressive moments in more than a decade since Phillips Arena went up. Off the top of my head. the upset of the Orlando Magic in last year's playoffs come to mind, but there was a single individual performance that stands out all these years.
Back in 2001 on the day after Thanksgiving. Shareef Abdur-Rahim came into the arena with a bit of a swagger and ended up hitting 70 percent of the shots he took, and he took a lot.
Going 21-of-30 from the floor, Abdur-Rahim walked away with a cool 50 points, a Phillips Arena record, to go along with 12 boards and five assists.
Boston Celtics-TD Garden: 1995-Present, Anything Is Posssssiiiibbbbbbllllleeeee!
The new version of The Garden went up in Boston in 1995, and it went years without any of its own banners hanging in the rafters. Every one they had was from the old arena and beyond, but in 2008 they finally added one of their own.
The most memorable, most iconic moment from that season has to be Kevin Garnett's post-game interview after he had finally won his first NBA title.
Boston Garden: 1946-1995, Havlicek Steals It
It's one of those moments that gives you goosebumps, even if it happened decades before you could understand what basketball was (I'm still working on that one), and for that it has become the moment that is identified with Boston sports.
During Game 7 of the 1965 Eastern Conference Finals, the Celtics were up by a point with just seconds remaining, but the Sixers were inbounding.
The pass from Hal Greer came in and wound up in the hands of John Havlicek, leading to Johnny Most's iconic call.
Brooklyn Nets-Barclays Center: 2012-Present, Groundbreaking
There's something about opening a new arena that just feels right. There are no bad memories inside the walls, but there aren't any good ones either.
What the Nets have in the Barclays Center in Brooklyn is a blank canvas for their brushes to work their magic on, and they have the opportunity to turn the building into a great hall of wonder or a shriveling shack of despair.
Either way, it's all up to them at this point. Better hope somebody convinces Deron Williams to stay.
Charlotte Bobcats-Time Warner Cable Arena: 2005-Present, First Home Playoff Game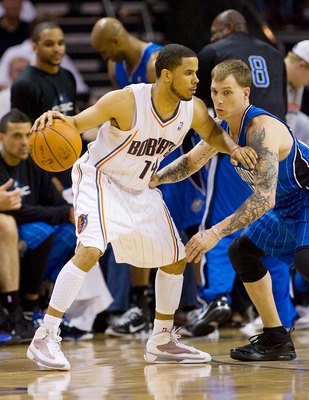 Brian A. Westerholt/Getty Images
As short a history that both the Time Warner Cable Arena and the Charlotte Bobcats have had, it's no surprise that there aren't a lot of big moments popping up in the time that they've been a franchise.
That's why a measly near-victory in their first-ever playoff game comes to mind first.
Charlotte came into the 2010 playoffs expecting to at least threaten the Orlando Magic, but they soon found out that they would be too much, losing four straight, including their first-ever home playoff game, 86 to 90.
Chicago Bulls-United Center: 1994-Presnet, Father's Day Victory
Some of Michael Jordan's biggest moments didn't happen in front of the United Center crowd, instead deciding to do his most cold-blooded work on the road (and mostly in Utah), but few people will argue the magnitude of this one.
In his first full season back since the death of his father, Michael Jordan led his Bulls to the famed 72-10 season, culminating with this victory over the Seattle Supersonics on Father's Day, after which Jordan collapsed onto the locker room floor in tears.
You've got no soul if that doesn't tug at your feelings just a bit.
Cleveland Cavaliers-Quicken Loans Arena: 1994-Present, LeBron's Clutch Moment
The Cleveland Cavaliers were once a team threatening to make the NBA Finals every year, and it was because of the central figure in Cleveland, LeBron James.
His most memorable moment was probably dropping 48 on Detroit in Game 5 of the 2007 Eastern Conference Finals, but that happened on the road, so we'll have to settle for the deep contested three over Hedo Turkoglu to put them past the Orlando Magic in Game 2 of the 2009 Eastern Conference Finals.
Dallas Mavericks-American Airlines Center: 2001-Present, Dallas Takes the Lead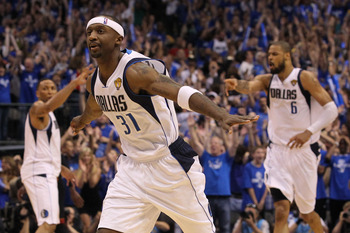 Ronald Martinez/Getty Images
The 2011 Dallas Mavericks didn't get the joy of winning the title in front of their home crowd, but few people can say they didn't put on a show in their last home game of the season.
With 29 points from Dirk Nowitzki, the Mavericks saw to it that Miami's lead in the fourth quarter didn't lead to a victory as big threes from Jason Terry, Jason Kidd and a rim-rattling dunk from Dirk Nowitzki led to a 112-103 victory for the boys in blue.
Denver Nuggets-Pepsi Center: 1999-Present, Trip to the WCF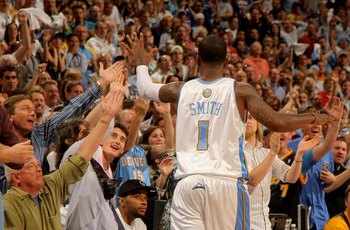 Doug Pensinger/Getty Images
As the Denver Nuggets were on the rise in the Western Conference before they ended up having to trade Carmelo Anthony, the team came to a culmination on May 13, 2009.
There have been more iconic moments in Nuggets history, but the Pepsi Center has only stood for just over a decade, so the game that earned them their first trip to the Western Conference Finals since 1985 will have to do.
Carmelo Anthony put down 30 points and Chauncey Billups added 28 of his own to take them past the Mavericks and into a series with the Lakers.
Detroit Pistons-Palace at Auburn Hills: 1988-Present, the Brawl
It's a shame that such an old arena with so much history is as marred as it is, but this has become one of the most iconic moments in NBA history, let alone one of the most in the history of The Palace.
On that fateful day in November 2004, two teams would alter their histories, one leading to a huge downfall, the other leading to a huge black eye.
It's crazy to watch even to this day, and surreal to think that something like this actually went down.
Golden State Warriors-Oracle Arena: 1966-1967, 1971-1996, 1997-Present, Game Six
There's a little-known fact about Warriors history that came to light to me just now: Back in 1975, The Oracle was still standing (then named a mouthful of words that amounted to "Oakland Coliseum"), but they played their home finals games at the Cow Palace in Daly City.
So, ruling that sweep of the Bullets out, their defining moment obviously comes down to their upset of the No. 1-seeded Dallas Mavericks in 2007 as the crowd went bonkers.
Houston Rockets-Toyota Center-2003-Present
I can remember watching this game live, mostly because I still haven't picked my jaw up off the floor, but also because something like this just stamps into a person's memory.
Anyway, down a dime with less than a minute left, the Rockets had every reason to give up on the game at hand and let it go, but Tracy McGrady wasn't feeling that.
Dunks from Yao Ming and Scott Padgett trimmed the lead to six, and then McGrady took over.
McGrady proceeded to hit four threes (including an and-one) over the course of the last 35 seconds to take the game 81-80.
Indiana Pacers-Bankers Life Fieldhouse: 1999-Present, Reggie in the Finals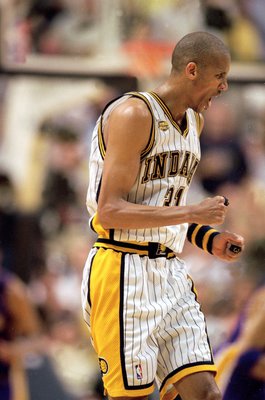 Ezra Shaw/Getty Images
Reggie Miller gets a lot of guff for never winning an NBA title, but being sandwiched in-between a triple-decker of dynasties is never a good way of grabbing a ring.
In his one trip to the finals back in 2000, he made sure to give his home crowd a show when he led the Pacers to two wins in three home games.
Miller put up totals of 33, 35 and 25 points in those three games. Unfortunately the most memorable game of the three was the middle game, which they lost when Miller hit six of nine threes and the Lakers took the game 120-118.
Los Angeles Clipper/Los Angeles Lakers: Staples Center: 1999-Present, Bob's Shot
Sorry that you've got to share an arena with the Lakers, Clippers, but they've stolen your arena's top moment just like they've stolen the limelight from you guys for decades.
Anyway, this series is iconic for all the right reasons, but this game is iconic for all the wrong reasons.
Often thought to be one of the most referee-affected series in NBA history, the 2002 Western Conference Finals are also connected to one of the best buzzer-beaters in NBA history.
The Forum: 1967-1999, Jerry West's Title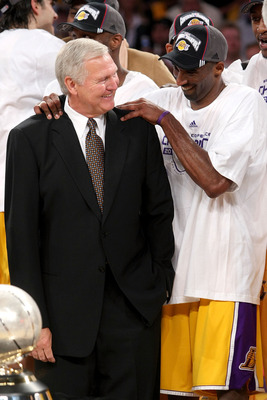 Stephen Dunn/Getty Images
Sure, The Forum was around for decades, but it seems like most of the best moments in Lakers history have happened on the road. Magic's game at center in 1980, the junior junior sky hook and the 1985 win over the Celtics all happened away from The Forum, but this one sure didn't.
Jerry West had to deal with over a decade of losing to the Celtics here and there and never winning an NBA title, but he finally broke through in 1972 when the Lakers finished off the New York Knicks at home for West's one and only title.
Memphis Grizzlies-FedEx Forum: 2004-Present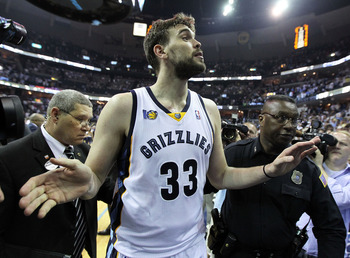 Andy Lyons/Getty Images
It seems like there are far more bad moments in Memphis Grizzlies history than there are good moments, but that's changed for the better recently.
I don't think that anyone can deny that the Game 6 win over the San Antonio Spurs last season to upset the top-seeded Spurs is the most iconic moment that the FedEx Forum has ever seen.
Miami Heat-American Airlines Arena: 2000-Present, the Welcome Party
It's a shame that this had to happen at American Airlines Arena, because I wanted to throw something from the 2006 Finals in here but just couldn't bring myself to do it.
There's just no way to ignore what the Miami Heat did in 2010 after signing Chris Bosh and LeBron James. A welcome party would have been understandable, but welcoming two guys to a party that looked more like a championship celebration was a mistake from the get-go.
It's going to take some big moments to unseat this one, and not just one, not two, not three, not four...
Milwaukee Bucks-BMO Harris Bradley Center: 1988-Present, 2001 Game Six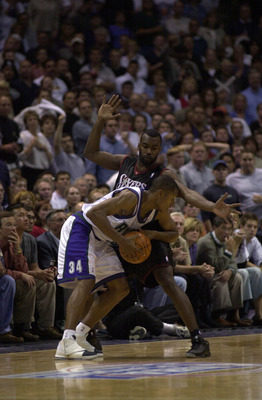 Otto Greule Jr/Getty Images
In one of the most underrated Eastern Conference Finals of all time came one of the most forgotten great games of all time.
The Bucks squared off at home against the Allen Iverson-led Philadelphia 76ers in a Game 6 tilt at the Bradley Center.
Allen Iverson put up a huge 46 points, but it wasn't enough for Ray Allen's Bucks as Allen threw up 41 of his own with nine huge three-pointers as Milwaukee won 110-100.
Minnesota Timberwolves-Target Center: 1990-Present, 30-30
With all due respect to all Kevin Garnett did in his days with the Minnesota Timberwolves, they never did anything that made NBA history (unless you count a tampering case with Joe Smith).
However, Kevin Love did just that last season when he put up the first 30-30 game in nearly 30 years.
New Orleans Hornets-New Orleans Arena: 2002-2005, the Return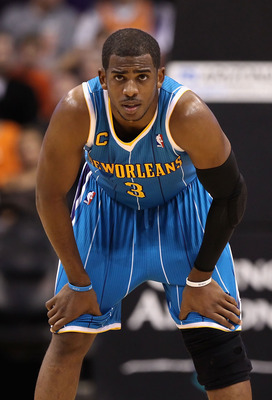 Christian Petersen/Getty Images
The New Orleans Hornets made their big return to the city that loves them in November of 2006, after Hurricane Katrina displaced them to Oklahoma City for an entire season.
New Orleans would still play just five games in New Orleans that season, playing the rest in Oklahoma City, but this triumphant return to their torn-up area came with a happy ending, a 96-90 win over the Houston Rockets and 16 dimes from Chris Paul.
New York Knicks-Madison Square Garden: 1968-Present
There are few moments in NBA history that live up to this one, let alone many others in Madison Square Garden that come close.
This not only included an NBA Championship for the Knicks, but it involved Willis Reed coming down to the court with doubt surrounding whether he would even be able to walk to the court or not.
Reed hit his first (and only) two shots of the game, inspiring the Knicks to a huge Game 7 win over the Lakers.
The only thing that would have made it bigger is if Jeremy Lin were there.
Oklahoma City Thunder-Chesapeake Energy Arena: 2008-Present
At this point the Oklahoma City Thunder have a chance to make history with every game they play, as they're sitting in uncharted territory these days.
The Thunder have played at Chesapeake Energy Arena for just four years, and prior to their first NBA Finals game victory, their biggest win was the win that got them into the NBA Finals. Prior to that? It was the win that tied them up with the Spurs in the Western Conference Finals.
Let's see how many times they can one-up themselves in this series.
Orlando Magic-Amway Center: 2010-Present, 2012 All-Star Game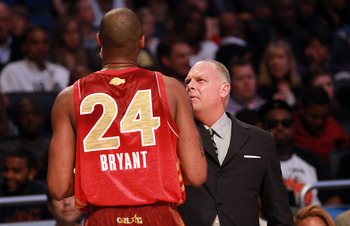 Ronald Martinez/Getty Images
The extremely young Amway Center is still working on iconic and memorable moments to boast about, but they can at least say they hosted the best All-Star game in recent memory.
Seriously, anytime you've got an All-Star game that both teams are within three points of each other and the game features a foul hard enough to break another player's nose, you've got yourself a pretty damn good game.
Philadelphia 76ers-Wells Fargo Center: 1996-Present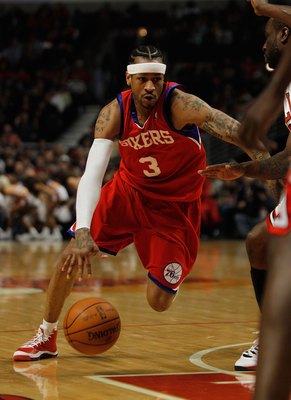 Jonathan Daniel/Getty Images
Allen Iverson had his fair share of huge games in his career. He is, after all, one of the most iconic players of the past decade.
However, his most iconic came on the road when he put up 48 points on Los Angeles in Game 1 of the 2001 Finals, but he had another game in those playoffs that was rather memorable.
In Game 5 at home against the Raptors, AI put up 52 points and led his team to a 121-88 win over Toronto.
Phoenix Suns-US Airways Center: 1992-Present, the Finals Loss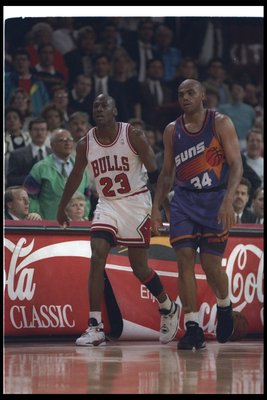 Jonathan Daniel/Getty Images
It's a shame that the Phoenix Suns didn't win a title in their great years with Charles Barkley, and it's even more a shame that Michael Jordan had to go and steal their arena's best moment with his championship-hogging ways.
However, back in 1993 in the first season of the US Airways Center (then the America West Arena), Jordan and his Bulls strolled into Phoenix and grabbed their third-straight championship.
Portland Trail Blazers-Rose Garden: 1995-Present, Brandon Roy's Rebirth
This was a game that creates legends. Unfortunately, the legend in question was forced into premature retirement before the next season started.
Brandon Roy had struggled all season long with this injury and that, but he finally brought it all together in Game 4 against the eventual champions, the Dallas Mavericks.
With his team facing a huge deficit, he dragged them back into the game, putting up 24 points, including eight huge shots in the fourth quarter.
Sacramento Kings-Power Balance Pavilion: 1988-Present, Sac-Town Loses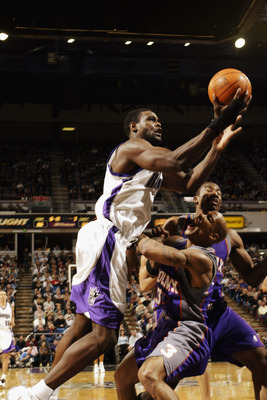 Jed Jacobsohn/Getty Images
Sacramento was torn apart after their Game 6 loss to the Lakers in Los Angeles back in 2002, but they weren't going to let it get to them too much.
They came into Game 7 with their heads held high, but hope evaporated over the next 53 minutes of basketball.
Twenty-nine points from Mike Bibby and 20 points from Chris Webber in an all-around team effort wasn't enough for the Sacramento Kings to overcome the most colluded playoff series in the past decade. The Los Angeles Lakers strolled into Arco Arena back in 2002 and reeled off 65 points between Shaq and Kobe to win the Western Conference Finals.
San Antonio Spurs-At&T Center: 2002-Present, 0.4 Seconds
Sometimes there are moments so memorable that they can overshadow a decade of dominance by a certain team, and that's just what came of Derek Fisher's shot in the 2004 playoffs.
Sitting down by a point in San Antonio and facing a near-certain 3-2 hole and potential elimination, Derek Fisher caught and shot in one full motion, hitting a shot with just four-tenths of a second left on the clock.
Toronto Raptors-Air Canada Centre: 1999-Present, on the Verge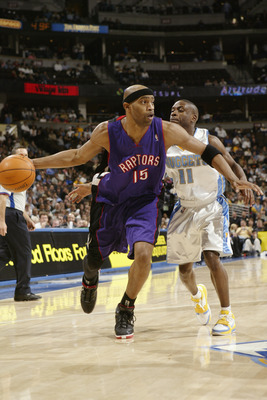 Brian Bahr/Getty Images
The Toronto Raptors haven't had too many chances to shine in their big arena in front of their adoring fans, but they did end up winning a playoff series back in 2001.
When the Knicks came to town for a first-round series in the 2001 playoffs, the Raptors and Vince Carter ran out and tied the series with their final home game of the series.
A 32-point performance by Carter put the Raptors in a position to win the series in New York, which they eventually did.
Utah Jazz-EnergySolutions Arena: 1991-Present, Jordan's Last Shot
It could have been Michael Jordan's fabled flu game, but in the end there's no way anything other than Jordan's game-winner hijacks Utah's arena's greatest moment.
With time winding down, Jordan broke down Byron Russell, gave him a bit of a shove (he pushed off, let's face it, but it's freaking Michael Jordan) and put up a shot right over him.
Chicago won the game and the title, and Jordan promptly retired following the season.
Washington Wizards-Verizon Center: 1997-Present, Gilbert's Gun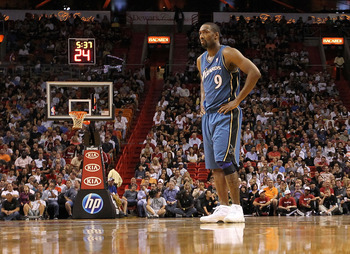 Mike Ehrmann/Getty Images
There's no doubt about it that the Washington Wizards had a great team in the middle of the last decade, but it was all torn apart in a quick moment of stupidity.
Gilbert Arenas pulled a gun on Javaris Crittenton, was promptly suspended and went to court and the team fell apart soon after.
Keep Reading