Julio Cesar Chavez Jr. vs. Andy Lee: Live from the Sun Bowl in El Paso, Texas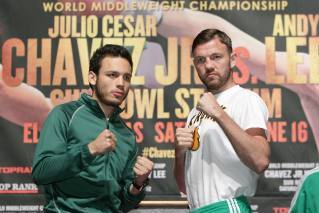 Courtesy of: www.philboxing.com

On Saturday night the WBC middleweight championship showdown between champ Julio Cesar Chavez Jr and Irishman challenger Andy Lee will take place at the Sun Bowl in the border town city of El Paso, Texas.
I will be there ringside at the Sun Bowl to give you updates on the middleweight clash live as it happens.
Chavez Jr. (45-0-1, 31 KOs) is one of the most popular Mexican fighters around today and figures to have much of the crowd attending the bout behind him, while Lee (28-1, 20 KOs) looks to take down the champ in the biggest fight of his career.
Entering the fight off a unanimous decision victory over Marco Antonio Rubio this past February, Chavez Jr. will look to continue his undefeated record and keep his move to the top of the 160-pound division rolling along.
Lee enters the bout off an impressive second-round KO win over Saul Duran this past March, on the heels of avenging the only loss of his career, when he beat Brian Vera via unanimous decision last October.
There are big-time implications to the winner of Saturday's bout, as the winner is supposed to take on Sergio Martinez (per Ring Magazine), the ESPN No. 3 ranked pound-for-pound fighter in the world, in September.
Stay tuned to this live blog for all the action leading up to the fight including the weigh-in on Friday afternoon and all the fight day happenings leading up to the main event.
HBO's telecast is scheduled to begin at 10:00 p.m. EDT on Saturday and can be seen online via HBO GO.
I will put anything else of note in my press conference article later tonight/early tomorrow a.m.
Arum says Julio Cesar Chavez Jr. and Sergio Martinez will meet at the Thomas and Mack Center in Las Vegas, Nev. on September 15th.
Bob Arum takes the stand.
Says he is happy with El Paso and the fight and says Andy Lee won't attend presser.
Says he has announcement for September 15th, which he mentioned he has to do with Julio Cesar Chavez Jr. facing Sergio Martinez.
I will be back shortly with all the action from the post-fight presser.
Lee put up a great fight early on as Chavez Jr. came out tight, but once he loosened up it was all Chavez Jr. from there on out.
Great showing by Chavez Jr., bring on Sergio Martinez!
Round 7:
Chavez Jr. lands a solid hook, waking the crowd back up after a slow start to the round.
Lee's face beginning to show signs of the heavy shits he has taken over the past few rounds, as Chavez Jr. pushes the action forward.
Chavez Jr, gets Lee into the corner yet again and lands a solid three-punch combo.
Again Lee is in the corner and Chavez Jr. lands power shot after power shot forcing the ref to stop the fight.
Chavez Jr wins by TKO!
Round 6:
Lee lands a low blow and receives a warning form the ref.
The action has slowed a bit as we get to the middle of the round.
Chavez gets busier as Lee lands another low blow not seen by the ref.
Chavez Jr. gets Lee on the ropes and lands a flurry of shots.
Chavez Jr. is owning this round as Lee is throwing less shots.
The round ends with a heavy exchange and Chavez Jr. landing two shots after the bell.
Chavez wins the round.
Even 57-57
Round 5:
Lee comes out swinging again and the two fighters begin to clown each other after each lands some power shots.
Lee and Chavez both lean in and intentionally head butt each other in a strange act. The refs warns both fighters.
Chavez Jr. lands a hard counter left hook, followed by a three hit combo, knocking Lee's head back.
Chavez Hr does enough once again to win the round.
Lee 48-47
Round 4:
Chavez Jr, comes out looking to push the action for once and lands a few fan-friendly shots that weren't too strong.
Chavez Jr. rocks Lee in the corner, but Lee quickly moves out of harms way and gets to the center of the ring.
Lee lands a solid three-punch combo, but Chavez Jr. lands a solid hook which moves Lee backwards for the first time in the fight.
Lee is rocked and Chavez Jr. begins to swing on Lee at will.
Lee tries to fight back but Chavez Jr. lands a couple of powerful counters. ending the round.
Chavez Jr. wins his first round.
Lee 39-37
Round 3:
Andy Lee is keeping Julio Cesar Chavez Jr. at bay with efficient use of his jab, as he yet again begins the round as the more active fighter.
Lee lands a solid counter and is fighting his fight right now.
Chavez Jr. lands a solid uppercut then takes Lee into the corner and lands aright hook followed by a strong body shot.
Lee lands a straight left hand and the two fighters end the round with a decent exchange.
Chavez is looking less tense and should begin to open up.
Lee 30-27
Round 2:
Andy Lee begins the round pushing the action again, as Chavez lands a power punch.
Lee returns fire, and takes the action into the center of the ring, before Chavez Jr. gets him on the ropes and lands a few body shots.
Squaring off in the center of the ring Lee lands four big shots, knocking Chavez Jr. back on his heels.
Chavez Jr. is fighting way too tentative and needs to loosen up before he falls to far behind on the scorecards.
Lee: 20-18
Round 1:
Both fighters begin the round with the usual feel-out punches, as Andy Lee is the aggressor early on.
Chavez Jr. has thrown very few punches halfway through Round 1, but no significant blows have been landed this far,
Chavez Jr. with a glancing blow and the crowd reacts with cheers followed by a "Chavez" chant.
The round ends with Lee jabbing and doing enough to win the round.
10-9 Lee
Julio Cesar Chavez Jr. makes his way to the ring with the crowd going crazy for the Mexican fighter.
Irishman Andy Lee has makes his way to the ring, among a string of boo's from the heavily pro-Chavez Jr. crowd.
All right folks the main event is minutes away. Stay tuned as I will post round-by-round results for the big WBC middleweight showdown.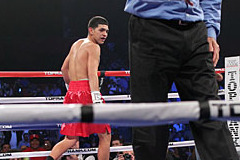 Welterweight up-and-comer Alex Saucedo kept his young win streak alive beating James Harrison to improve to 4-0, winning the fight via a unanimous decision, 40-36 on all three scorecards.
Saucedo landed power punch after power punch in Round 1 and I have to give Harrison credit for not meeting the canvas after the barrage of punches he endured.
Round saw a little less action from Saucedo and a little more form Harrison, but Saucedo still did enough to win the round.
Harrison came out trying to push the action in Round 3, but Saucedo quickly returned fire and continued his dominance of the fight.
Round 4 saw Harrison landing the more powerful shots and easily was Saucedo's worst round of the bout all though he was more active and took the round as well.
Keep an eye out for Saucedo in the near future, as he is sure to become more of a well-known fighter as his career barrels on.
IBF lightweight champion Miguel Vasquez, had a easy time in his non-title bout against Daniel Attath, overpowering the journeyman fighter from Nigeria, winning via unanimous decision 100-90 on all three scorecards.
Vasquez (31-3, 13 KOs) pummeled Attah (26-11-1, 9 KOs) multiple times on the ropes in the 10-round affair, but never landed that devastating blow to end the fight early.
Although Attah met the canvas twice in the fight, no knockdowns were called, as both times they were ruled slips, even though punches were being thrown in both instances.
Vasquez can now set his sights on bigger challengers to his IBF crown, as he sits atop the lightweight division.
The four round swing bout just concluded with Adam Lopez beating Raul Carrillo in a super bantamweight bout.
The co-feature main event is bout to begin with IBF light weight champion Miguel Angel Vasquez taking on Daniel Attah in a 10-round, non-title bout.
Super bantamweight fighter Roberto Marroquin making quick work of Arturo Santiago, knocking him out in the second round.
Marroquin got off to a scorching start, knocking Santiago down twice in the first round and did not let up in the second, ending the bout at the 1:32 mark of the second round.
Marroquin moves his record to 22-1 with 14 KOs and looks like he can make some serious noise in the super bantamweight division.
After taking a beating for much of the bout, Arthur Trevino's corner threw in the towel, giving Casey Ramos the impressive TKO victory in Round 5.
Ramos moves his record to 16-0, with 5 KOs with the stoppage and can look to fight a bigger name in the super featherweight division.
Just now settling in at my seat here at the Sun Bowl in El Paso, Texas. As the bigger fights begin, I will give full recaps of those bouts and give you the blow-by-blow action of the main even between WBC middleweight champion Julio Cesar Chavez Jr. and challenger Andy Lee.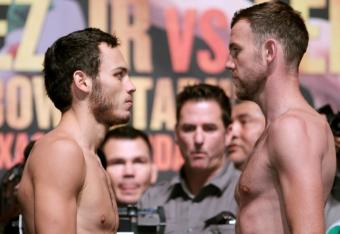 The weigh-in for the WBC middleweight title fight took place earlier today and both fighters came in just under the 160-pound limit.
Julio Cesar Chavez Jr. tipped the scales at 159 pounds as Andy Lee came in at 159.25 pounds, making the WBC title fight officially on.
Both fighters looked ready to go and we should expect a great battle inside the ring at the Sun Bowl tomorrow night.
Check back tomorrow as fight day kicks off, as I will give the blow-by-blow action to all the nights biggest fights leading up to the main event between Chavez Jr. and Lee.
This article is
What is the duplicate article?
Why is this article offensive?
Where is this article plagiarized from?
Why is this article poorly edited?