Trevor Plouffe: Why the Twins' 3rd Baseman Has Finally Figured It out
June 15, 2012

Hannah Foslien/Getty Images
Just when it seemed like the Minnesota Twins were spiraling out of control to a disaster of a season, Trevor Plouffe has come to the rescue.
Wait...Trevor Plouffe? Is this a joke? Are we playing MLB '12: The Show? Is this real life? How could Plouffe, a first-round pick by the Twins in 2005 that was deemed to be a bust in recent years, help this team?
It's easy: Pure. Power.
Plouffe has been on power surges before, but what Twins fans are seeing now could be what the front office saw when Plouffe went on his power surge in Triple-A Rochester hitting .313 with 15 home runs and 33 runs batted in over 51 games.
Since then, the Twins have tried Plouffe everywhere on the diamond to try and unlock his potential. They tried him at shortstop last season, but changed their mind after eleven errors in 45 games.
This offseason, the Twins decided to try Plouffe in the outfield after having some success several years ago when doing the same with Michael Cuddyer. After the Twins realized the traffic jam in the outfield, they weren't sure what to do with Plouffe.
The Twins were stumped at the team's start in 2012 and decided to demote their regular third baseman, Danny Valencia, to Rochester. Out of necessity, the Twins threw Plouffe at third base. The rest has been nothing short of ridiculous.
Over the past 21 games, Plouffe has bashed 11 of his 12 home runs for the Twins. Over that stretch, Plouffe is tearing the cover off the ball hitting .294 and an OPS of 1.050.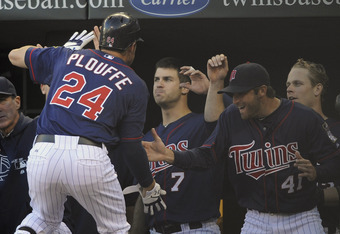 Hannah Foslien/Getty Images
That begs the question of whether this hot stretch by Plouffe is for real, or just a batter getting hot for a couple of weeks.
I seem to believe that this is the real Trevor Plouffe we're seeing. Over his first 21 games of the season, Plouffe hit just .140 with a home run and three RBIs.
It didn't seem like Plouffe was doing much at the plate, but his on-base percentage at the time was .290. That's incredibly high for somebody who's struggling at the plate.
Plouffe also wasn't swinging at many pitches outside of the strike zone during that time, which meant that his pitch selection was good despite not hitting the pitches he was getting to hit.
All of this mean great things for the Twins if Plouffe can stay hot. Valencia simply was not cutting it at third base, and now the Twins could have the power threat at the hot corner they haven't had since Corey Koskie left town.