Michael Bisping on Chael Sonnen: 'I Have Him Quaking in His Boots'
June 15, 2012

Since joining the UFC, Michael Bisping has never been one to shy away from letting fight fans know how he feels. It's that attitude that has both gained and lost fans for the outspoken Englishman.
The middleweight title picture is becoming increasingly crowded, but Bisping appears to be on the outside looking in. He was scheduled to face Tim Boetsch at UFC 149, but had to pull out of the bout with a knee injury.
Prior to the Boetsch fight, Bisping was last seen losing a tough decision against the No. 1 contender, Sonnen. The fight was so close that many fans took to the Internet, claiming Bisping should've had his hand raised—a thought shared by the fighter himself.
It's with that train of thought that Bisping believes he has the mental edge over Sonnen should they meet again in the cage. Bisping spoke to UFC Tonight on Tuesday and MMAWeekly has the strange story about Chael P. Sonnen himself.
Bisping claims Sonnen sent him a private message on Twitter around the time Bisping pulled out of his bout with Boetsch and rumors of Anderson Silva being injured were running rampant.
Bisping continued:
I was actually sat in the doctor's [office] when this came through. "Alright man, here's my guess, you're not hurt and we are rematching. If I am right give me a clue in your tweet. Include the word 'lad' in your next tweet."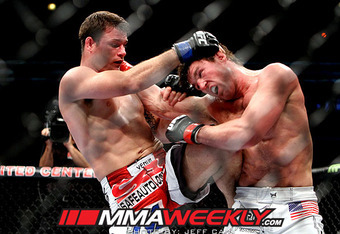 Not concerned with enabling the conspiracy theorist side of Sonnen, Bisping must've shook his head while checking his Twitter account. After moving past the shock value, Bisping believes it reveals a moment of weakness from Sonnen.
"Obviously, he's quaking in his boots at the thought of a rematch cause he knows I won the last fight and he doesn't want to fight me again," Bisping said.
Only a few minutes later, Sonnen sent another message that was just as strange.
"Then another one came through and went 'alright never mind, conspiracy theory is over. Get well soon,'" said Bisping. "So Planet Chael strikes again."
Other than sharing his thoughts on Sonnen's fear of fighting him again, Bisping also let it be known that he has a few influential figures on his side in the argument about the Sonnen bout.
"I think the general consensus is that I won that fight. I know Dana (White) and Lorenzo (Fertitta) said that as well," said Bisping.
Whatever side of the fence fans find themselves on, they will have to wait for the Sonnen-Silva story to play out and Bisping to return from injury. But I don't think the UFC will have any reservations about scheduling a bout between two of the best hype men in the promotion today.